Part 1 - Bouncing back - Results and table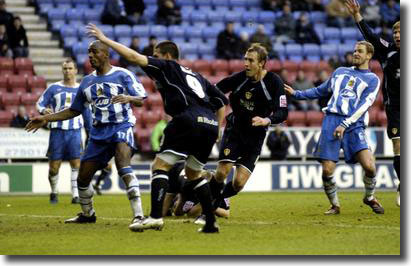 Leeds United's 3-0 win at Plymouth on 2 January maintained their third place spot, nine points shy of an automatic promotion spot and poised to mount a serious challenge. Shortly afterwards, United were boosted by the news that Liam Miller's loan from Manchester United had been extended to the end of the season.
Following the Plymouth game there was a break from league action, with an FA Cup game at Wigan Athletic giving United a chance to test themselves against top class opposition. 2004/05 had brought two defeats against the Latics with five goals conceded and none scored. The match represented a real challenge for a developing team.
Wigan dominated despite resting a number of players, taking a lead through David Connolly after 47 minutes. It looked straightforward enough for the Premiership side after that, but in the 77th minute right-back Ryan Taylor limped off with a broken metatarsal. Wigan had already used three substitutes and would need to see out time with ten men. Healy had already come on for Blake and United now threw on Cresswell for Douglas. With Hulse leading the front line and Lewis supplementing it, Leeds went for it over the last ten minutes.
It looked like Wigan would withstand the pressure, but United won an 88th minute corner. Lewis bent the ball in and it appeared that Matt Jackson had handled the ball. With players waiting for a whistle, Hulse snatched a shock equaliser.
It was a result that neither side welcomed, but it was a feather in the cap for United. Blackwell quipped, 'I was under strict instruction from the chairman to get a replay because we need the cash!' He went on, 'That equaliser was no more than we deserved. I think both of us would have settled for penalties to decide this because we have bigger fish to fry this season and neither of us have big squads. A club like ours, with our history, our infrastructure and our fan base, has to be in the Premiership. But we have to earn the right to be there and that is our main aim this season.'
Strangely, after such a fighting display, Leeds succumbed meekly a week later at the Withdean Stadium to relegation-threatened Brighton, rapidly becoming United's bogey team. Two points from three games over two years became two points from four. Robbie Blake's 38th minute penalty equalised Paul Reid's tenth minute opener, but Gary Hart met a Reid cross to lash home the winner with ten minutes to go.
The one positive note from the day was Sheffield United dropping two points at Ipswich.
Leeds had little time to feel sorry for themselves with their Cup replay against Wigan looming on Tuesday night.
It was an evening of great entertainment for a crowd of 15,243, badly impacted by the presence of Sky cameras. The attendance only just beat the low of 14,970 that had witnessed the Carling Cup victory over Oldham in August.
The match was a classic Cup-tie with United equalising on three occasions in a blistering 120 minutes of football. Gary Kelly's remarkable 30-yard equaliser in the 116th minute - only his fourth goal in a lengthy career - sent the crowd into raptures.
The match went to penalties, and with Healy and Hulse missing their spot kicks, the Latics secured the win after converting all their four attempts.
It was a sad way to end one of the best games of the season, and worse was to come with Matthew Kilgallon sustaining a knee injury that kept him out for nine matches. The England Under-21 international had been in wonderful form, and played out of his skin against Wigan, but was on crutches after the game.
Boosted by Eirik Bakke's return from a loan spell at Aston Villa, and Australian international Joel Griffths' arrival from Neuchatel Xamax of Switzerland, Kevin Blackwell used the anniversary of Ken Bates' United takeover to look back on a successful twelve months.
'When Ken came in we were days away from liquidation. Had Ken Bates not come in there was nowhere else to go. When I first arrived we were having to sign players who, if things had been on an even keel, would not have been worthy of the shirt. But now we have a squad that can be as good as anything else in the Championship. That is down to hard work and a determined set of players.
'Everybody is delighted we have moved quickly forward, it shows what a difference 12 months can make in football. We are just going to keep going - and I'm not going to say anything to motivate Sheffield United.'
The Blades' relegation-threatened local rivals, Sheffield Wednesday, came to Elland Road on 21 January intent on spoiling the Leeds party and held out for 69 minutes. Paul Butler was lucky to get away with climbing all over Owls defender Frank Simek to meet a Gary Kelly cross, but the ball ran wide. Jonathan Douglas chased it down to hook back for Butler to nod home. Richard Cresswell, playing against his former club, added two more in the final ten minutes to complete a comprehensive 3-0 victory. The crowd of 27,843 was the biggest attendance thus far.
United were lucky to snatch a 1-1 draw at Ipswich in a midweek game at the end of January when Healy converted a disputed penalty in the 88th minute. The next evening Sheffield United's 1-0 win at Derby took them 14 points clear of Leeds, and it seemed the Whites' hopes were fading.
EXCEPT…
For some strange reason, just as it seemed that the Blades were a shoo in to accompany Reading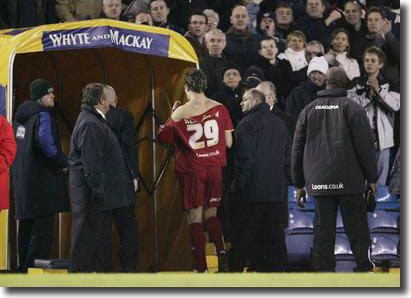 into the Premiership, doubts started to set in over South Yorkshire way.
Leeds worked hard to grind out a 2-0 win against QPR on 4 February. Soon to be deposed manager Ian Holloway dubbed his men Queens Park Strangers - the Londoners had five players (four of them on loan) making their debuts.
Two days later, Watford went to Bramall Lane and thrashed Sheffield United 4-1. Through gritted teeth, Neil Warnock said, 'These things happen. I bet Watford wish they were in our position. We have now got to regroup and put it behind us. We have got to forget about the mistakes and get on at Plymouth on Saturday.'
At the weekend both Sheffield and Leeds figured in sterile goalless draws away from home, and Watford made the most of their chance by hammering Coventry 4-0. That set things up nicely for a summit of the major powers on the evening of St Valentine's Day, a cold Tuesday night, with Sheffield United hosting leaders Reading and Watford visiting Elland Road.
Debutant Bruce Dyer, signed from Millwall in January, lifted the Blades with a 9th minute goal, but Dave Kitson equalised three minutes later.
Over in the West Riding, Watford, after six straight wins, enjoyed some early pressure, though it was a war of attrition. Hornets striker Marlon King caused Sean Gregan no end of trouble and after 40 minutes the defender's attempts to stop the forward brought a free kick on the right hand corner of United's box. Ashley Young bent a wonderful dead ball over an eight-man wall and into the top corner.
Watford went in at half-time in high spirits, confident that they would extend their winning run - but the game was turned on its head in the second half.
United were making some headway and in the 57th minute a slack header back by Stewart left Rob Hulse clear. The striker made to round Hornets keeper Ben Foster, who sent him sprawling. Referee Michael Jones gave the penalty and dismissed the keeper, provoking heated protests. So heated in fact that it was fully three minutes before Robbie Blake was able to take the spot kick. Watford had brought on their substitute goalkeeper, 41-year-old Alec Chamberlain, replacing Chris Eagles. Blake scored with a combination of assurance and power.
The action wasn't over, and a minute later there was another controversial dismissal.
Henderson and Gregan had been at each other's throats all night and when the ball was launched towards United's penalty area, the Watford striker took a quick look to see where the defender was. Gregan had a handful of Henderson's shirt, but that was no excuse for the elbow that was thrust into his face. With his shirt in tatters, Henderson received a red card and his team were down to nine.
They rallied in the face of adversity and kept Leeds at
bay for a while, but the Whites were not to be denied. With nine minutes to go, Demerit failed to cut out Lewis' pass to Cresswell, on for Hulse, and the striker made the edge of the six-yard area before squaring it to Healy. The Irishman's shot was blocked but fell nicely for Blake to gleefully power home a deserved winner.
Watford manager Adrian Boothroyd: 'Call it professionalism or call it what you want, but [Sean Gregan] goes down like he's been hit with a sledgehammer. Henderson had his shirt ripped, I thought he was going to turn into superman. It shows that some kind of wrestling match has gone on.'
Over in Sheffield, there had been no further score. Blades keeper Paddy Kenny saved a Reading penalty in the dying seconds to rescue a point, though Leeds were still the major gainers on the night and Kevin Blackwell revelled in the moment.
'It was an important win against Watford because we knew that we have to try and put the foot on the pedal and move forward. When we came off, we found out that they had only drawn at Bramall Lane, so that was two points gained. There are plenty of games to go and the great thing about football is the twists and turns in the game.'
The weekend brought a reversal of fortunes with Leeds scraping a messy draw at Leicester, Watford victors at Brighton and the Blades winning the Steel city derby.
In the second half at the Walker Stadium, United had failed to land a single shot on target and the result brought angry reaction, with a furious Blackwell saying, 'I'm disappointed because we weren't quite at it and there was a spark missing. I tried freshening it up and even had on four strikers, but we just weren't inventive enough. It wasn't lack of effort; there was just no thought in what they were doing.'
Blackwell gave a first start to Eirik Bakke since his return from Aston Villa, but was unimpressed: 'Eirik has to get used to how we play - this is not fanny football in the Championship, you can't stand off people, you need to put a foot in and get around people and play at a tempo that will suit this team.'
United stalwart Gary Kelly said the whole team had let themselves down. 'Our performance from start to finish was absolute muck. Leicester deserved to win and we deserved to be booed off. Every one of the lads in there would run through a brick wall for this club but sometimes you just need that little bit more quality. There's not a big hole in the ship or anything, we will look towards guaranteeing a place in the play-offs - anything above that is a bonus. It's all about bouncing back now.'
Kelly had been a steadfast rock through all the traumas of recent years, and was well qualified to voice an opinion. There were better times for the full-back a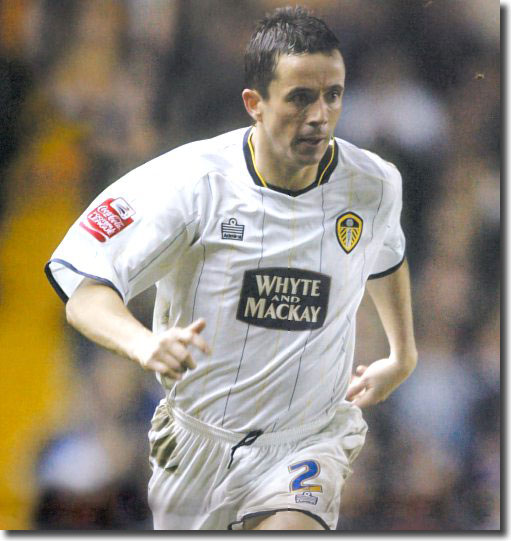 week later when he celebrated his 500th first team appearance against Luton. He was only the 10th Elland Road player to complete the feat.
The 500 club:
Jack Charlton - 773 (no subs)
Billy Bremner - 773 (inc 1 sub)
Paul Reaney - 748 (inc 12 subs)
Norman Hunter - 726 (inc 2 subs)
Paul Madeley - 725 (inc 13 subs)
Peter Lorimer - 703 (inc 27 subs)
Eddie Gray - 577 (inc 18 subs)
John Giles - 527 (inc 4 subs)
Gary Sprake - 507 (inc 2 subs)
Gary Kelly - 500 (inc 15 subs)
31-year-old Kelly made his debut in the Rumbelows Cup against Scunthorpe at Elland Road in October, 1991. He now became part of an elite group of ten who have managed 500 appearances for United, the only non-Revie era player to do so. Kelly received a presentation from Peter Lorimer to mark the occasion.
Kevin Blackwell: 'I have listened to Kells a lot and we sit down and talk about things such as the feeling in the dressing room. A lot of players come here and look up to him because he has a great reputation and he's never been one to look down at others, he's helped everybody and that's been a surprise to some of them because they know he's a big name player. He goes out of his way to help people and if you know Gary Kelly you will find he's a really genuine person.'
Gary Kelly: 'I was part of the team that took Leeds United down so I feel it is my responsibility to help them even more to get back up. It must hurt the fans when they have to listen to things like 'You're not famous any more' being sung at them because it definitely hurts me.'
Appropriately enough, Kelly enjoyed a decent game as United beat Luton Town 2-1, though a late goal from Steve Howard left them hanging on grimly at the death.
The three points reduced the gap to Sheffield United with the Blades losing at home to QPR. They had been 2-1 ahead at the break and looking good for the win when they got a penalty at the start of the second half, but Paul Ifill fluffed it. A Chris Morgan own goal and a winner from Rangers veteran Paul Furlong ensured another shaker for Neil Warnock's men. They now had just five points from five games, unable to buy a win for love or money.
The Yorkshire Post: 'Blackwell is understandably reluctant to talk up his side's chances, preferring instead to point to United's impressive run of just three defeats in 19 league games. But the Leeds manager said: "If we had a game of tag in this office now and I was chasing you, would you rather chase me or be chased?"
'On whether the pressure was mounting at Bramall Lane, Blackwell added: "You will have to ask Neil that. I am not going to come out and say they are a nervous wreck. Neil has his job to do and we are all under pressure. If I lose the next four games, I would be looking over my shoulder for my job."'
Friday, 3 March brought snow to Bramall Lane. Bottom club Crewe looked unlikely to cause Sheffield problems, but when referee Kevin Wright refused to award a second half penalty for a blatant shirt pull on Blades striker Ade Akinbiyi, it seemed the writing was on the wall. Neil Warnock was furious with the official as more points were squandered in a goalless draw: 'I don't understand why we don't get Premiership referees when there are no other games. If you've got referees of the standard we are getting, if they can't see legitimate free kicks then do managers have to teach players to cheat? If you can see 70 yards away that he is being pulled back then surely you can see it from 15 yards. There's no player in the Premiership who wouldn't have gone down. You breathe on them in the Premiership and they go down, and we have a guy being pulled back. Does that mean you have to cheat?'
United faced a stiff away game the following day against Crystal Palace knowing that a win would leave them six points adrift of the Blades with a game in hand. You could almost hear the bottle going in Sheffield.
Kevin Blackwell: 'I hope it's a dour 1-0 win for Leeds because it's about getting the three points at this stage. But if we go down there and make sure we don't get beat then it will still be a very good point. It's going to be a tough game because there will be a full house and Selhurst Park has a great atmosphere because the fans are right on top of you.'
Leeds welcomed back Shaun Derry after a two-match suspension. Kevin Blackwell deployed the midfielder in a role just in front of the back four to negate the threat of Palace's England striker Andy Johnson, and it had the desired effect.
The Whites assumed control early on and in the first five minutes Palace's eccentric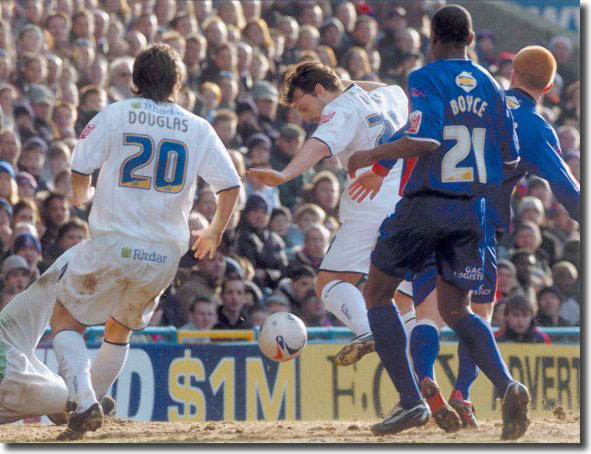 keeper Gabor Kiraly pushed a header from Douglas over the bar. The midfielder got an even better header to the corner and Kiraly had to be on top form to save it.
Palace had their moments, but United scored after 22 minutes following a swift break out of defence. Liam Miller stormed away with the ball and played it on to Rob Hulse on the right. He beat Darren Ward and got to the byline. His low cross was deflected off Ward, deceiving Fitz Hall. It bobbled across the area and Robbie Blake adjusted his feet smartly to touch it home from a yard out.
As the interval approached, Leeds could have gone further ahead. Kiraly badly misjudged Blake's long forward punt and Eddie Lewis should have done better with a header he sent wide.
Six minutes after the break, United scored the second goal their dominance merited. Douglas combined well with Miller on the right and the latter sent in a glorious low cross. Hulse came in at pace to slam the ball in off the underside of the bar.
Palace, bringing on Aki Riihilahti and Mikele Leigertwood, rallied after the break but could not shake United's grip. Both subs tested Neil Sullivan, though Andy Johnson was sadly out of touch and when he did have a chance he fired hopelessly high and wide.
Jobi McAnuff managed a stoppage time consolation when he scored with a spectacular drive from the edge of the area. It was too late to make any difference and United secured a marvellous victory with their most incisive football of the season.
Kevin Blackwell was glowing with pride at the end. 'Palace is always a hard place to come to, they never quit and kept coming forward, but we played with some style and looked well organised. I thought it was a very good professional performance.
'I am pleased with Rob Hulse because he worked his socks off and got his reward, and Robbie Blake too with a poacher's goal and those are the goals I want to see more of from my strikers. And some of the clever touch stuff and passing from Liam Miller helped us so much on the day. It was very important for us to get Liam back here in the January transfer window, because three or four Premiership clubs wanted him. That Liam decided to return proves the club is going in the right direction. He has that little bit of class and guile that you need. Shaun Derry was immense today. He has a great physical element to his game, but he is no mean ball player.
'People talked about pace at the back being a problem for us, but today we saw Johnson and Morrison, the two quickest strikers in the division, and never once did they look like they would hurt them. We were bright, showed invention and put plenty of hard work in.'
Days later, Ken Bates rewarded Blackwell with a three-year contract. There had been rumours of interest from other clubs, and the chairman acted quickly to dispel them.
Blackwell commented, 'I'm delighted. The other interest has been flattering, but there is nowhere else I would rather be. It's a great honour to be manager here. I can look to the future now and we can make plans.'
Over in Sheffield, the mood was less buoyant as Neil Warnock railed at the world: 'I do not want to know what Kevin Blackwell or anyone else has to say now. I will leave the talking to him because he is doing enough for both us. The mind games are at work everywhere. There are that many people talking, you don't know who to listen to. According to some people, Leeds have caught us up now but I still see a six-point gap when I look at the League table. They will try to put pressure on you, quite rightly so, but the same people are going to get pressure themselves over the next few weeks.'
Blackwell laughed off the comments, saying, 'Mind games? I'm not smart enough for anything like that. I tend to leave stuff like that to the experts and Neil is good at it. The players are doing all the talking I need. I'm certainly not going to say anything because I don't want to do Neil's team talks for him. There's 10 big games left and if we don't do our job then it all becomes irrelevant.
'If everything goes our way then it is in our hands. But I'm not looking too far forward and I'm not looking beyond our own results. We've got to win our games, it's as simple as that. You want to win with style and a swagger and score loads of goals. That might happen, but it might not. I'd take 10 wins with goals from people's backsides - that'd do me right now.'
On 11 March, things seemed to be going according to plan when a 20th minute goal by Rob Hulse gave United the lead against Norwich. The mood was improved by the news that Sheffield United were 2-0 down at Coventry after goals in the first half hour by McSheffrey and Adebola. The Elland Road stadium PA relayed the score, inspiring a massive cheer, but it took the players' minds off their football and they slackened off, allowing the Canaries back into the game. Hughes and McVeigh grabbed goals in the second half.
Top of Championship 11 March 2006

Pos

P

W

D

L

F

A

Pts

1st

Reading

38

27

9

2

80

24

90

2nd

Sheffield United

38

22

9

7

64

39

75

3rd

Leeds United

37

20

10

7

53

31

70

4th

Watford

38

19

12

7

67

43

69

5th

Crystal Palace

36

17

9

10

53

36

60

6th

Wolverhampton W

38

14

16

8

42

30

58

7th

Preston North End

36

13

18

5

45

25

57

8th

Cardiff City

38

15

10

13

51

45

55
A point was rescued in the last minute when Eddie Lewis fired a magnificent free kick into the top corner, and there was a massive sense of relief as Leeds clawed another point back on the Blades, now just five points ahead. Watford went down by the only goal at Reading and were a point further back.
Kevin Blackwell was furious about the broadcasting of the Sheffield score, saying, 'I shall be having words with a few people about that. I don't want things outside of our domain affecting us. We don't want to know.
'It is in our hands now. You look at things and say 'when can we get to a point where it's in our hands?' Well, we've got there now and that is a fantastic achievement. If we win our games, win our game in hand and beat Sheffield United, it's there for us. We know that now.'
In the week following, United announced the signing of 22-year-old striker Jermaine Beckford from Wealdstone, 'the most wanted man in non-league football'. He had been tracked by dozens of major clubs, including Chelsea, Southampton, Charlton, Sunderland and Crystal Palace, but chose to sign a three and a half year deal with United.
Kevin Blackwell: 'We are delighted to have signed Jermaine. We were aware that there were a lot of clubs interested in him, we watched him a couple of times this season and were certainly not the only ones. The chairman thinks there are one or two nuggets in the lower leagues and he wants us to try and tap into that resource.'
Beckford watched his new team mates snatch a draw at Coventry when David Healy's 88th minute penalty drew United level, ending City's run of six straight victories at the Ricoh Arena. United went off like a train and had 16 goal attempts to Coventry's 9, but were relieved in the end to escape with a point, especially as Sheffield United lost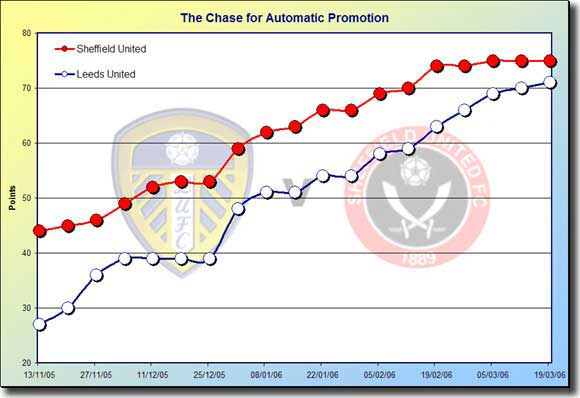 2-1 at Norwich, their fourth defeat in eight games. The gap was down to four points.
Now came the moment of truth, as Leeds played their game in hand, at home to Crystal Palace.
Games in hand have always been of somewhat questionable benefit; prior to the game they are trotted out as a supposed guarantee of three points; the reality has usually been more tricky. One should remember that points in the bag are always more valuable than a game in hand. So it proved on this occasion.
Palace were a completely different prospect from the slack team they had been against Leeds at Selhurst Park and they outplayed United. Three minutes before half time Jobi McAnuff drove the ball home from the right hand side of the area.
Leeds were too one dimensional to pierce the Palace rearguard and even the introduction of Beckford from the subs bench made little difference. The youngster showed some neat touches and came within inches of finding the net when he raced through to meet Butler's header.
It was a rare positive moment as Leeds lost 1-0 and saw their momentum grind to a halt. It's strange how quickly these things change - an eleven game unbeaten run had changed into three games without a victory, and worse was to come.
Goalless home draws with Stoke and Plymouth Argyle sandwiched a 1-0 defeat at Hull. The home draw with Plymouth on 8 April secured United's play off place, but left them nine points shy of automatic promotion with four games to go. When Sheffield United grabbed a 1-0 victory at Cardiff on Good Friday, the gap was up to 12 and only bridgeable by some form of footballing miracle.
The next day, Leeds welcomed champions Reading to Elland Road and played remarkably well, possibly as well as they had all season. Rob Hulse gave United a 47th minute lead with their first goal from open play in 567 minutes. They kept possession well as they sought an opening in the Reading area. Healy moved the ball to the left wing for Derry to fire low across the area. Hulse met it perfectly to sidefoot home from close range.
It couldn't last and Hunt equalised for Reading with five minutes to go. The match ended 1-1, confirming Sheffield United's promotion as runners up.
Kevin Blackwell had received hate mail in the weeks leading up to the game as United's form dipped and hinted that he might quit, saying, 'If people are not happy with what I'm doing, I don't have to hang around here. When I get threats to my well being, you have to wonder why people do the job sometimes. Frustration has a terrible way of manifesting itself, but don't people think we are frustrated too?'
He had recovered his temper and his equilibrium by the time he congratulated Sheffield United on their promotion.
'Neil and the boys deserve all the credit. To get promoted over the course of the season is no mean achievement but we've pushed them all the way. Many of you thought that it was a two-horse race at Christmas but we pulled them in and really worked hard. With the lead they had it should have probably been all over a couple of months ago but we made sure it was a wide open race. But now that they're up, I just want to congratulate them and I'll have a drink with Neil when we go down there on Tuesday.'
United had three games to go, with little on them but the chance to regain some form.
The first was at Sheffield United on Easter Tuesday, a match that had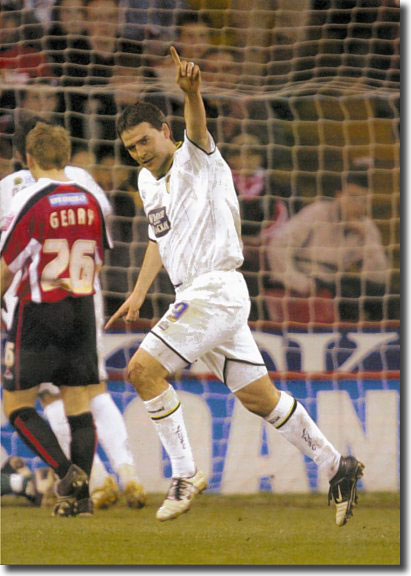 been expected the entire season to have a major bearing on the promotion race. As it turned out, all that was at stake was a little Yorkshire pride.
The Blades were given a lead after ten minutes when Eirik Bakke nodded a corner into his own net.
Leeds fought back resolutely with Rob Hulse playing the perfect lone front runner, and were unlucky to be denied a penalty by Graham Poll midway through the first half when Craig Short pulled Bakke down.
Undeterred, they continued to press and David Healy scored a wonderful individual goal after 42 minutes, cutting across to the left and slotting the ball into the bottom corner to equalise.
Leeds more than held their own thereafter but the game finished level, with the major issue being whether Neil Warnock's blood pressure would get the better of him.
The Times: 'Warnock became embroiled in an agitated exchange with Kevin Blackwell after a bad challenge by Gary Kelly on Craig Short shortly before half time. Poll was called over to the touchline and, upon advice from Paul Robinson, the fourth official, sent Warnock from the dug out. The manager, incredulous, stabbed a finger in the direction of Robinson and Blackwell, with whom he has been on frosty terms since his former partner walked out to join Leeds three years ago. That was the year when Warnock notoriously fell out with Poll after the Hertfordshire official's alleged role in Arsenal's winning goal in the FA Cup semi final, when Fredrik Ljungberg ran through to score despite two Sheffield players lying injured, one of whom had collided with the referee. 'Graham Poll is an Arsenal fan,' the Bramall Lane faithful sang last night.
'Warnock is still awaiting a personal hearing for his second FA charge of the season, after he was accused of misconduct for offering a two-fingered salute to Nigel Worthington, the Norwich City manager, after their match last month. Poll is bound to mention this latest misdemeanour in today's report, so Warnock could yet start his first season in the Premiership in the stands.'
'I'm very disappointed to have been sent off and I don't think it was warranted,' Warnock said. 'I made a comment to Kevin Blackwell about one of his player's tackles. I just think it's a vendetta from this particular fourth official. Some of the comments directed at him by a member of Kevin's staff were far worse. If it had been Graham Poll on the touchline, this wouldn't have happened. I was with Kevin for 16 years - it'll have been water off a duck's back to him.'
Leeds finally got back to winning ways four days later when a Healy goal was enough to see off relegated Crewe, and the Elland Road faithful finally got a chance to see some action from Steve Stone, on as a 61st minute sub.
That only left a game at Deepdale against Preston, with the sides virtually certain of facing each other in the play offs. The result would determine who would have home advantage in the second leg.
Kevin Blackwell took the opportunity to rest a number of players, making eight changes from the Crewe win and giving rare starts to Frazer Richardson, Danny Pugh, Simon Walton, Stone and Ian Moore. He also brought Jermaine Beckford and Joel Griffiths on after the break. He seemed undisturbed as Preston cantered to a straightforward 2-0 win, allowing them to hurdle Leeds and finish fourth.
The general feeling in the media was that the result gave North End a psychological advantage, but Kevin Blackwell was philosophical. He said, 'I could not dare risk picking up any injuries. I wanted to have a look at one or two players who haven't played for a while and for long spells there was not much in it. The team I fielded on Sunday looked really competitive and that was a strong Preston side out there. I think we might have learnt more about them than they did about us.'
Preston's star striker, David Nugent, out for six weeks and five days with a broken metatarsal, came on as a second half sub at Deepdale and promised to be a threat in the play offs. For Leeds, it was clear that captain Paul Butler would be missing after tearing a calf muscle. Sean Gregan came in to replace him, and the fans feared that he would be caught out by Preston's pace.
It was quite like the old times, with a crowd of 35,239 packed into Elland Road for the first leg on Friday 5 May, their best gate since relegation. There was a 15-minute delay to allow everyone to get in.
United started the better and Matt Kilgallon was unlucky not to be awarded an early penalty when Preston centre-back Youl Mawene cynically barged into him. Minutes later Kilgallon nodded an Eddie Lewis cross against the post.
It was goalless at the interval, but Preston took the lead three minutes into the second half after Nugent picked up a long clearance. He ran at the heart of the defence and Gregan simply could not cope with his pace. Nugent danced past Kelly, Kilgallon and Crainey before slotting the ball past Neil Sullivan to open the scoring.
With 16 minutes to go, United were awarded a free kick on the edge of the area. Eddie Lewis curled it expertly over the wall and off the head of Preston defender Graham Alexander, running back towards the line, right into the top corner of the net. It was an immaculate strike and breathed new life into Leeds, though they had to be content with the draw.
The tension spilled over with an onfield brawl involving most of the players after substitute Richard Cresswell tangled with former team mate Claude Davis, both of whom were booked, but it was little more than handbags.
The North End party were ecstatic at the end, convinced that the job was done. Manager Billy Davies triumphantly punched the air.
Kevin Blackwell was undeterred, and spoke optimistically after criticising the referee's performance. 'There were certain things I was disappointed with, I thought the referee was poor. I don't know what half the decisions were for, I don't know whether Preston did and I'm sure [Crossley] didn't.
'Until we sort out a situation where managers have the right to say what they have got to say, I can't say too much. But I have questioned whether it was right to have a referee of his standing at a game of this magnitude. We play a meaningless game at Preston last week and they decide it has to be a Premiership referee - but not tonight.
'We kept going, never buckled and our goal was fully deserved. It's a one off game and the winner takes it all. It's effectively 0-0 and we're going to their place to win.'
Deepdale welcomed a near capacity 20,383 crowd for the second leg on May 8. Kevin Blackwell sent out a 4-5-1 formation with Rob Hulse operating alone up front and a midfield five consisting of Richardson, Miller, Derry, Douglas and Lewis. It was clear from the off that they would try to frustrate Preston and deny them space.
North End had an unlucky start with Brett Ormerod stretchered off after 10 minutes. He broke a fibia after catching his foot when fouled by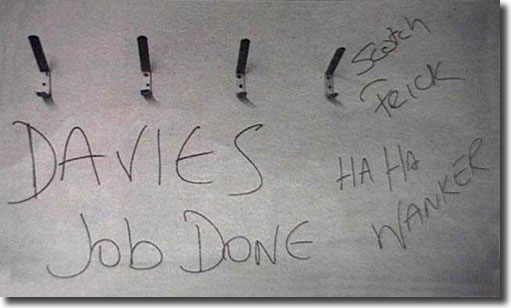 Jonathan Douglas.
There was no score at the break. As the teams trooped off, the lights went out. There was a 25-minute delay while engineers struggled to fix the problem.
The extended interval served to sharpen United's appetite and they clicked into gear when play resumed. In the 56th minute, Rob Hulse lost his marker and rose to flick on the latest in a series of corners, sending it low into an unprotected net. It was a simple and smartly taken goal.
Five minutes later, the striker turned provider when he made space on the left and fired low across the goalmouth. Richardson, unmarked at the far post, had time to control the ball before putting United two-up.
Stephen Crainey was rather harshly dismissed for a second bookable offence after 68 minutes and United were forced into a ferocious rearguard action. Kevin Blackwell brought Richard Cresswell on for a tiring Hulse after 79 minutes and a minute later it looked like Tye Mears had pulled a goal back from a corner. The referee ruled that the kick had gone out before curling back into play and disallowed the goal.
Cresswell was quickly into action and jumped in on keeper Nash when the ball ran loose. There was a mass confrontation, but strangely the referee booked Douglas and Kelly rather than Cresswell.
The striker did pick up a booking for an off the ball challenge, and then, in the fifth minute of injury time, foolishly kicked the ball away and was dismissed for wasting time. Fortunately it was too late to make any difference and moments later the full time whistle went with United on their way to the Millennium Stadium.
It was revealed afterwards that Billy Davies' reaction after the first leg had spurred Leeds on - there were accusations that the United party had vandalised the North End dressing rooms in an act of reckless abandon. Preston chief executive Steve Jackson: 'There was some damage to the sinks, vandalism to the cubicle doors and walls, writing on the tiles and some posters were erected on the walls, which is a minor point but nevertheless it is premeditated. We decided it was best not to bring it to the attention of the media because it could look like sour grapes. Our thoughts are to let sleeping dogs lie with this one.'
United issued the following statement: 'Following publication of a story alleging players trashed a dressing room at Preston, Leeds United have requested photographs to be sent to them. We would welcome an opportunity to inspect the photographs referred to and upon receipt of them will hold our own internal investigation into the matter.'
The row was quickly forgotten as United prepared for the play off final, against Watford on Sunday, 21 May.
Kevin Blackwell spent the days before the match assuring the fans that Leeds would turn up on the day, unlike their previous final, when Howard Wilkinson's side lost 3-0 to Aston Villa in the 1996 Coca Cola Cup final. Blackwell had experienced defeat at the Millennium in 2003 when assistant to Neil Warnock at Sheffield United. The Blades conceded three first half goals to Wolves and he didn't want to repeat the experience: 'We froze that day. We have told our players this time not to play to the occasion but play the game. We are used to performing in front of big crowds and that should help us. We have got players who have experience of big matches like this.'
Unfortunately, the match against Watford, managed by Blackwell's former head coach, Adrian Boothroyd, was almost an exact repeat of his nightmare.
The United back four was under pressure from the off as Watford's long ball game saw them launching everything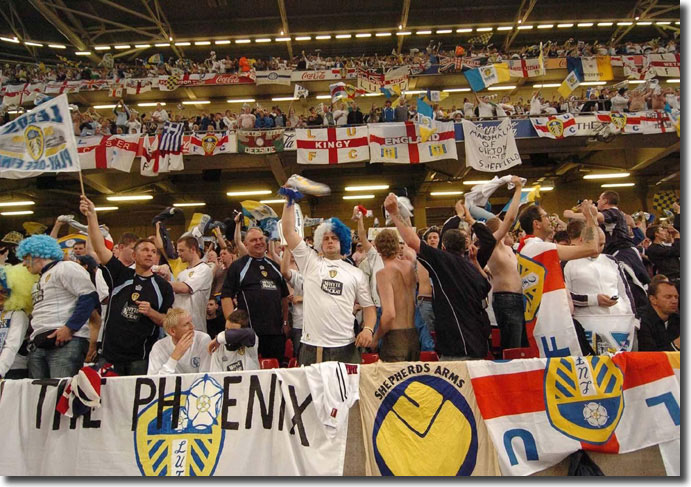 at the heart of the Leeds box, with even throw ins causing danger. Marlon King's pace and power and Darius Henderson's sheer physical presence unsettled United and left them rattled.
Leeds played 4-5-1 with Hulse up front, and never looked remotely like making a game of it, let alone actually scoring. They had more attempts than their opponents, but were never at the races from the moment the bulky American defender Jay Demerit powered home a header after 25 minutes.
The score was 1-0 at the break, but United had been muscled out of it. Despite Kevin Blackwell throwing Blake on for Richardson, there was no improvement. After 57 minutes, Watford took a long throw from the left and found James Chambers in the box. His shot found the net after deflections from Lewis and Sullivan.
That was effectively game over, despite the passion of Shaun Derry and the defiance of 40,000 magnificent United fans. With six minutes remaining, Derry put King on the ground and Henderson converted a penalty to complete a comprehensive victory.
Blackwell was gracious in defeat, but obviously disappointed, saying, 'It's a terrible place to come to and lose. We lacked a spark and were second to the ball all over the park. We deserved to lose. We had efforts cleared off the line but that's what happens in football. We wish Watford all the best.'
Ken Bates emphasised the positives after a season that had seen Leeds United finally get back some pride. He spoke of his words to the players in the dressing room after the game: 'I thanked them for all their efforts and I repeated what I said to the Chelsea players in 1988. They had given what they had and they had given their best. I said that tomorrow is the first day of our Championship season. They have to get over the disappointment of losing, have a good summer and come back again. I told them not to be late for the first day back in training or we would fine them! The fans were magnificent. The support the gave the team when we were losing was terrific and they gave them a great reception after the game.'
Finally, after four years of backbiting, financial ruin and dark despair, Leeds United were once again MARCHING ON TOGETHER…
Part 1 - Bouncing back - Results and table