printer friendly version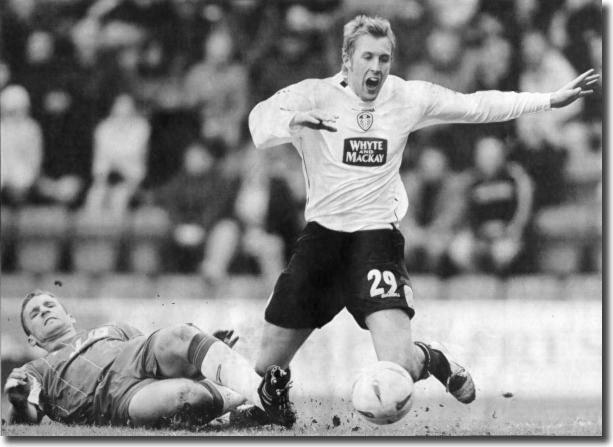 Leeds United have always had a bit of a thing about the FA Cup - which is strange, given the club's generally dismal record in the competition. Neither Leeds City nor United made it through to the last 16 of the competition until 1924, and it was 1950 before a quarter final spot was achieved.
Don Revie's tenure brought unprecedented success in the tournament with one win and three final defeats, but since then Leeds have managed just two semis. The last time they won an FA Cup tie against top flight opposition was February 1997 when they beat Arsenal 1-0 in a fourth round tie with a Rod Wallace effort.
Understandably, therefore, hopes weren't particularly high when the third round draw for 2006's competition took United to Wigan. The Latics had made a strong fist of their debut Premiership season after winning promotion in 2005, when they gained a League double over United.
However, Kevin Blackwell and his men saw the tie as a good test of how much they had improved since then.
Leeds went into the game in high spirits, on the back of four straight Championship victories, the last three of which had come without a goal being conceded.
Top scorer Rob Hulse: "It'll be a good benchmark. If we go there and get battered it shows how far we have to go and what we have to do.
"Wigan are a good side and we're going to need to be on our top form and hope a few of them are off the gas, but it's a good test. We got battered there last season - it was my second game here. It wasn't a good day at all and the only positive we had was that we took so many fans with us.
"But we'll judge ourselves this time. We're on a good run and we'll go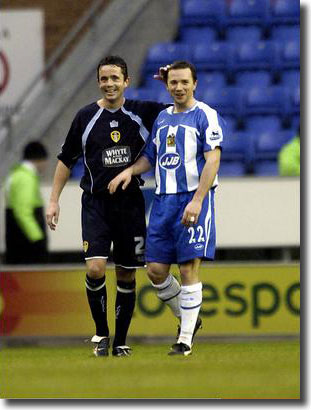 there with loads of confidence.
"We might try something different and some of the lads who haven't played might get a run out, I don't know. It's an opportunity to touch up on a few things, but they are a good side and we are not going to go there and just mess about. We're going to go and see how far we have come in these past 12 months."
The Premiership was the clear priority for Wigan manager Paul Jewell and he opted to give a number of his top performers the day off at the JJB Stadium on 7 January, making eight changes from the team that lost 2-0 at Birmingham. He was still able to field a strong looking eleven, and it looked like things would run to form when David Connolly gave Wigan the lead in the 47th minute, turning in Lee McCulloch's cross.
The Premiership outfit had shown too much class for United and seemed likely to secure the win without the need to get out of second gear.
Jonathan Northcroft in the Sunday Times: "On this evidence, Leeds will require further rebuilding if they do manage to go up. They are as subtle as the blond streaks of Matthew Kilgallon's hair. Long shots and set pieces had been their best bet until Taylor's injury. Jewell was angry that his side hadn't put the game out of sight before then. They had chances, David Connolly going clear twice down the left channel but bending one shot wide after cutting back on to his right foot and hitting the other straight at Neil Sullivan. Andreas Johansson had a sight of goal from a corner but Lewis, manning a post, cleared his header off the line.
"The first half was bland but the second period had intrigue from the moment Connolly came out and warmed up in front of the Leeds end. This was not well received by supporters who had developed a disliking for the Irishman during his time with Leicester City.
"Their decibel level increased when, immediately, Lewis robbed Josip Skoko and crossed to give Robbie Blake a chance from close range, only for McMillan to block. But Connolly hushed them two minutes later. McCulloch chested Taylor's throw, turned well, and flashed the ball across the six-yard box. Connolly saw it late but, with an instinctive toe, turned the ball home.
"Wigan Athletic dominated until right-back Ryan Taylor limped off with, as manager Paul Jewell put it, 'that fashionable injury', a broken metatarsal. That was in the 77th minute.
"Blackwell had 15 minutes to turn the tie around and seized his chance. Taylor's injury meant Wigan had to last out the game with 10 men, Jewell having already used his three substitutes. Blackwell replaced Jonathan Douglas with Richard Cresswell, which meant, with David Healy also on, he had three
centre-forwards on the pitch, who were abetted by an impressive winger, Eddie Lewis.
"Heavy shelling followed. Stephane Henchoz did his best to co-ordinate resistance in the trenches, but finally Wigan were breached. With Lee McCulloch struggling to get back, having injured himself upfield, the home team had to defend a corner with nine men. Lewis bent it in and Matt Jackson appeared to handle the ball. Some players stopped, Rob Hulse didn't and rammed a shot into the net.
"With Steve McMillan also carrying an injury, Wigan were spent and Leeds almost squeezed out a victory in the frantic moments that were left. Both managers agreed a draw was fair - and unwelcome because of the replay."
That replay came at Elland Road ten days later, and the arrangements brought controversy and a wrangle between the two clubs.
Sky TV had arranged to televise the match - providing a major cash windfall for United - and, with the BBC committed to showing the Manchester United-Burton Albion replay the following night, Leeds refused to counsel a rearrangement.
Kevin Blackwell: "The police said initially the game was on the Tuesday and then Sky decided to show it live. The £150,000 we will receive is the equivalent to nearly three Sky games in this division and is a big bonus for us. We still need money, this is lifeblood to us, and we would need to play 10 live games in the Championship to get the same as (Wigan got last Sunday for) one in the Premiership.
"When I was at Sheffield United (in 2002/03), we found ourselves in a similar situation when we played Arsenal in the FA Cup semi final on a red hot Sunday and then had to play Nottingham Forest on the Tuesday. Forest were pushing for the play offs like ourselves and would not move the game back. We just had to deal with it and ended up winning 1-0."
Paul Jewell was fuming at what he saw as rank gamesmanship. The replay came just two days after West Bromwich Albion had inflicted an eighth defeat in 11 Premiership games with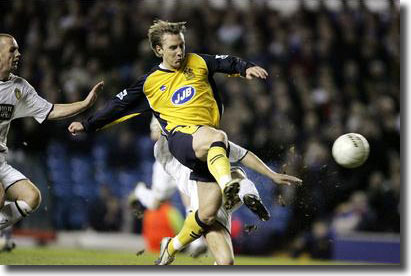 a 1-0 win at the JJB: "Maybe it is a good idea to make us play on the Tuesday, it will give us a bit of a siege mentality and we are really going to be up for the game. We thought Leeds might even have asked us to play on the Monday afternoon.
"It is not an FA decision, they are probably on a yacht in Dubai somewhere and do not even know we are playing.
"It is not a grudge match because I have a lot of time for Kevin and his staff, but it is unfair. We shake hands before a game for fair play and all that, but I do not call it fair to play 48 hours after a difficult Premiership game. It would not happen to Manchester United."
Despite all the disputes, the game was played in good spirits and the players delivered a wonderful Cup-tie for a disappointing 15,243 crowd.
Both teams lined up in 4-4-2 formation, and Paul Jewell did not make the mistake again of fielding a weakened side. In came Pascal Chimbonda, skipper Arjan De Zeeuw, Graham Kavanagh, Leighton Baines and Gary Teale, who, along with Jason Roberts, had only been a sub at the JJB.
Kevin Blackwell rested Shaun Derry, choosing to give young Simon Walton a rare start in midfield, while Healy and Hulse came in up front for Cresswell and Blake, both on the bench. The back five of Sullivan, Kelly, Butler, Kilgallon and Crainey was unchanged for a fifth successive game.
Wigan started more authoritatively than they had ever been in the first game, and Scottish flanker Gary Teale caused Stephen Crainey a lot of anxieties with his trickery out wide. He was a constant threat and there was breathless expectancy every time he got possession.
Nevertheless, it was United who fashioned the first chance inside four minutes. Liam Miller rode a tackle from international team mate Graham Kavanagh and embarked on a 70-yard run to fashion an opening. Rob Hulse dummied to take the Irishman's pass, but allowed it to run on to David Healy, who went wide of keeper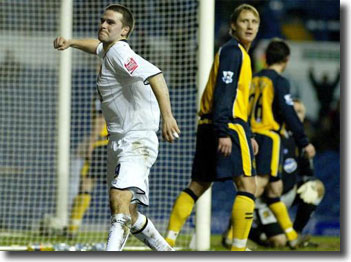 John Filan. He sent his strike from an acute angle the wrong side of the post and into the side netting.
After a quarter of an hour, Healy conceded possession, allowing Teale to surge forward. He hammered the ball goalwards from the edge of the box only to see his viciously swerving shot skim the bar.
The Latics continued to press and took the lead in the 24th minute, albeit with something of a soft goal. A long punt forward from midfield found Jason Roberts and his flick through to Andreas Johansson put the United defence in a panic. Johansson held off the challenge of Kilgallon and Crainey to stride into the area. His shot came back off the upright, but the Swede reacted the quickest and touched the ball home to give Wigan the lead.
United were shaken by the goal and second best for long periods thereafter, but as the match neared the half hour there came a response. Simon Walton fed Rob Hulse, who escaped the close marking of Arjan De Zeeuw around the edge of the box but shot just too high.
United managed to grab an unexpected equaliser four minutes before the break after forcing three corners in rapid succession. Hulse rose to nod Kelly's corner downwards towards the net, but Leighton Baines managed to clear it off the line. Healy, standing close in, sneaked ahead of Johansson at the back post and hooked the ball into the roof of the net.
Early in the second half, Wigan regained their lead in the face of some hesitant United defending.
Jason Roberts was standing a couple of yards outside the area when he was found by Teale's cross from the right. He brought it down smoothly with his back to goal as two defenders stood off him, and turned on a sixpence to flick the ball up for a volley into the bottom left hand corner past Neil Sullivan. The United defence had allowed Roberts far too much time and space.
It seemed likely that the goal would knock the stuffing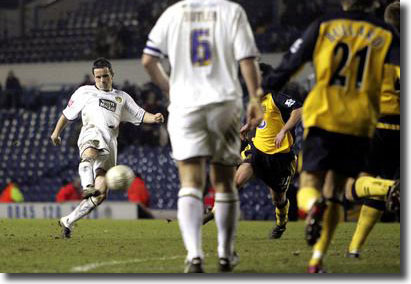 out of Leeds, but no such thing as Eddie Lewis struck the bar with a left-footed shot from an acute angle after dispossessing a daydreaming Pascal Chimbonda.
In the 64th minute United equalised for the second time. Hulse pressurised the Wigan defence from a corner and Matt Jackson raised his arm as he jumped, making the penalty decision easy for referee Graham Poll.
David Healy was coolness personified as his spot kick went beneath Filan's full-length dive.
With 15 minutes to go, Leeds went close to taking the lead for the first time in the tie, with Miller's left foot shot from 30 yards hitting the angle of post and crossbar before bouncing down and out.
That was the last real chance and the game drifted on into thirty minutes of extra time.
Jason Roberts gave Wigan the lead for the third time when he headed home a cross from Graham Kavanagh after 103 minutes and this time it really looked like it was the end for United.
This wonderful, wonderful match was drifting to a close when we had yet another highlight. Gary Kelly, nearing his 500th first team appearance, scored a remarkable goal, easily the best of the night. It was his first score for three years and only the fourth in almost 15 years with Leeds.
John Filan turned a long shot over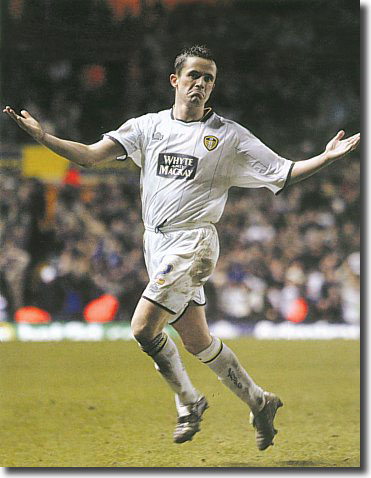 the bar to concede a corner with just four minutes left. The ball was cleared out towards Kelly around 30 yards from goal and he chested it to his right. He ran round the dropping ball and unleashed an unstoppable volley that swerved into the roof of the net.
It was an astounding score and Elland Road was rocked to its foundations with the ecstatic celebrations of the home fans. It was a fitting way to end a classic Cup-tie.
We now had the gripping penalty finale to settle the result.
With four strikers on for Leeds and Wigan understandably deflated by United's resilience, it might have been thought that the Whites would have finished the night victorious. However, when David Healy went for power with the first kick, he skied it over the bar, passing the advantage to the Latics.
Jimmy Bullard capitalised immediately by chipping his kick down the middle with Sullivan's dive leaving a wide open space.
Cresswell's confident and precise finish into the bottom left hand corner brought United level, but Gary Teale was equally precise with Athletic's second penalty - 2-1.
Robbie Blake sent John Filan the wrong way before stroking the ball home, only to see Jason Roberts take the lead again with a fierce strike.
When Rob Hulse's shot clipped the bar and over, it left Graham Kavanagh knowing that a successful spot kick would settle the tie with a kick in hand. The Irish international midfielder kept his head and fired home despite Sullivan going the right way.
United were crestfallen at the end, but they could look back on a memorable game, and one which proved that they could thrive among the big boys.
Manager Kevin Blackwell spoke with pride of his men's sterling display: "Against a side in the top six of the Premiership, we showed how far we have come. I just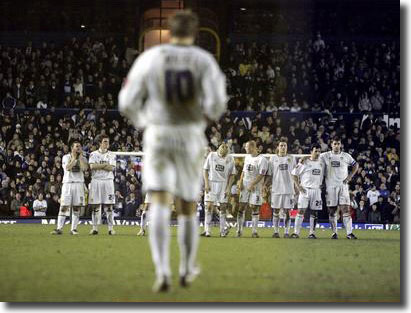 thought the players were magnificent.
"Last night was a great Cup-tie and people all around the world will have been watching the game, gripped to their seats. You have to say that Sky picked a cracking Cup-tie, it was spot on. We took Wigan all the way. It was an absolute cracker. Wigan had to counter wave after wave of attack and credit must go to our players.
"The only downside is the cruel way it turned out, but I think people can see what's happening here now and I think there are some exciting times ahead.
"I'm just disappointed we couldn't buy all those Leeds fans that watched at Elland Road and around the world a celebratory beer at the end."