printer friendly version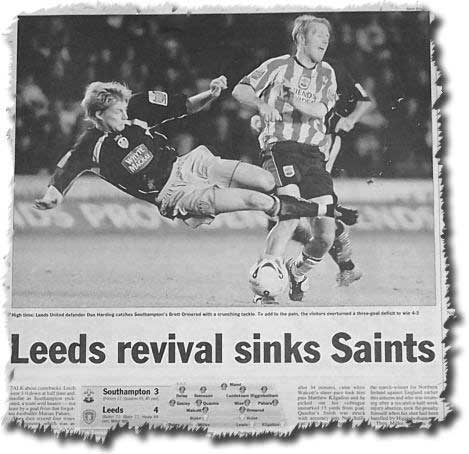 After a decent opening to the 2005/06 Championship season, Leeds United started to lose their way badly in the late autumn.
After a 2-1 win over Southampton at Elland Road on 18 October, United lay fourth in the table with 24 points from 13 games. In the five games that followed, Leeds managed just two goals and three points, also seeing their Carling Cup chances dashed by Blackburn.
A tame goalless draw at home to Preston on Bonfire Night left Leeds sixth, 14 points shy of an automatic promotion place. The only positive note came with a promising performance by Irish international midfielder Liam Miller on his debut.
United boss Kevin Blackwell had seen red after a poor performance ended in defeat at second bottom Crewe on November 1. He said, "I am very angry and have let the players know that I can't tolerate that. If they think they can play sixteen or seventeen good games and then have one day off they are wrong. We got our noses bloodied here tonight and Crewe thoroughly deserved it.
"You can prepare teams, you warn them about what to expect and they go and play like that. I am bloody angry tonight and I have told the players that. People say we have come a long way but I do not want to be going backwards at this stage. If the players are not good enough then we wouldn't be where we are. They are good enough and I won't accept what happened last night.
"There's no one going to rest on their laurels at this football club thinking they've got the shirt and that's it because I've only got 19 players. That's not good enough for me and it won't be good enough for them."
Days later, the club announced the loan signing of 24-year-old Miller from Manchester United, where he had been declared surplus to requirements by Sir Alex Ferguson after the Reds had suffered their own early season problems.
Blackwell: "I felt it was right to bring someone in because we need to make sure we are covered in midfield over these next few months. We have a few players one card away from a suspension and if I lose one of them then my options are limited. Bringing Liam in allows us to cover midfield and also to freshen things up."
Miller had some good moments against Preston and showed the creativity that United had been lacking in midfield. The manager commented, "Liam is accomplished and he made some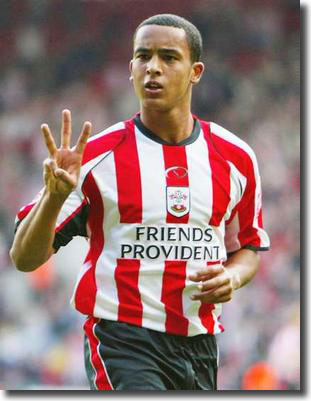 good forays. It's good that he's got the game under his belt and he's now seen what the Championship is all about."
There was a two-week international break after the Preston match, and Blackwell took his men away for a friendly in France to try and freshen things up a bit. They beat Rodez 1-0 and Miller impressed the manager once more: "Liam hasn't had too many first team games and he needs to be playing consistently. If he had rounded that run off with a goal, it would have been sublime, but I want him to be positive and get at people. He's box to box, he likes a tackle and if he get into the last third unnoticed it'll be interesting to see how he does. I knew he wasn't playing regularly at Manchester United and it's about getting as many games as he can while he is here."
United's return to Championship action brought a tough looking trip to relegated Southampton.
The Saints had drawn too many games as they chased an instant return to the Premiership (10), but had only suffered two defeats thus far and were dangerous opponents.
They had been the last team beaten by United, and strongly resented the fact. They felt they should have won after 16-year-old Theo Walcott scored and gave the United rearguard a real chasing over the final hour, forcing Blackwell to bring Matthew Kilgallon on for a struggling Sean Gregan.
A 30,000-plus crowd, beating the Saints' season-best by almost 4,000, was in attendance for the three o'clock kick off and anticipated a victory for the home team.
Saints boss Harry Redknapp sprang a few surprises in a bid to solve some problems in front of goal. Mindful of the way things had gone at Elland Road, he opted for pace rather than power up front. Brett Ormerod, who had played a few games on loan for Leeds a year earlier, was recalled, with Ricardo Fuller dropping to the bench. Marian Pahars was given his first start since April 2004 and Theo Walcott retained his place.
United's sole change was Robbie Blake in for David Healy. The Northern Irish international was still nursing an ankle injury.
The St Mary's crowd gave Pahars a terrific reception after his long lay off and the diminutive Latvian had some good early moments, encouraging the home supporters. His team mates clicked quickly into gear and United were fortunate when the referee gave a foul for a push on Kilgallon after Michael Svensson headed a Dennis Wise cross goalwards.
back to top
Neil Sullivan had to react urgently when a Nigel Quashie cross threatened danger as Ormerod and Svensson challenged, and then a slack back pass by Dan Harding caused the keeper some concern with Walcott rushing in.
After 27 minutes, Southampton earned the breakthrough their promising football fully deserved.
Walcott's pace unsettled the United defence again and his low cross had to be hacked behind by a back pedalling Gary Kelly. From Quashie's looping corner from the right, Svensson looked to have misfired badly with his header back across goal, but an unmarked Pahars headed in from an acute angle two yards wide of the near post. Rob Hulse was booked for arguing too fiercely about the goal.
Within eight minutes, the Saints added a second and again Walcott's pace was key. He was released down the right by Quashie and stormed past Kilgallon. He pulled the ball across goal for the unmarked Quashie to sidefoot round a rooted Neil Sullivan from 15 yards.
If that was not bad enough, things got worse on the stroke of half time. The fourth official had just signalled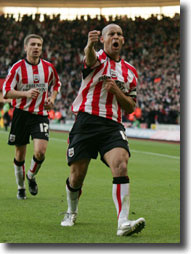 two minutes added time when a cruelly exposed Dan Harding moved to block Matt Oakley's header with his arms raised. Inevitably, the referee awarded a penalty.
The official spoke to Neil Sullivan for too much movement on his goal line as Quashie prepared to take the kick. The Scottish international midfielder wasn't fazed by the delay and blasted the ball high into the right hand corner of the net.
Leeds were 3-0 down and rocking. Only a miracle could save them now…
Gerry Cox in the Observer: "Simon Clifford, the Brazil-inspired coach appointed in September, left last week amid recriminations and suggestions that the players are neither fit nor hard working enough, and the coaching staff are immune to innovation. Yet by half time, that assertion looked like nonsense as Southampton raced into a three-goal lead, while Leeds, as the great Len Shackleton once said, were lucky to have nil. Kevin Blackwell, their bright young manager, admitted: 'Let's be honest, at 3-0 down and not playing very well you would have to be an eternal optimist to think we could get anything out of it. But we thought if we could get a goal back and test their psyche, who knows?'"
Harry Redknapp was forced into three changes at the break with Pahars (knee), Lundekvam (rib) and Wise (torn thigh muscle) all withdrawn to be replaced by Hajto, Fuller and McCann for the second half.
Blackwell declined to make any substitutions, effectively snapping, "You got us into this mess, you get us out". He said later: "We were not playing well and at 3-0 down you couldn't be any lower. I didn't make any changes at half time, I know when you work with people every day you believe in what they can do and how they're doing it, but when you are losing 3-0 and not playing well it's a kick in the wotsits."
After the resumption,
a fourth from Southampton looked much more likely than any United revival with Neil Sullivan having to save at point blank from Ormerod.
The match seemed certain to peter out into a boring formality with twenty minutes or so remaining. Then, suddenly inspired by something from the ether, United found a reviving spark. In the 67th minute Liam Miller blazed a free kick from the edge of the area narrowly over Antti Niemi's crossbar. Kevin Blackwell had already decided to make a change and threw David Healy on for Frazer Richardson immediately afterwards, opting to play three up top with Rob Hulse and Robbie Blake.
The Irishman prompted some stirrings of life and won a corner as the clock ticked on to 71 minutes. Gary Kelly's high corner was met perfectly by skipper Paul Butler in the middle, eight yards out, and his header looped over a Saints defender and into the net.
Even though the ever optimistic United fans chanted gleefully, "We're going to win 4-3", it looked like the goal would be a mere consolation. However, it brought divine inspiration - all the confidence came flooding back into a resurgent Leeds as the Saints started to wobble. Harry Redknapp: "They got nervy. Who knows why? But the team was still dominating. They didn't start suddenly to hammer us. We had corner after corner."
With 13 minutes left, United snatched a second. A deep ball from the left was not properly dealt with by a Saints defender and was fed neatly to David Healy on the right corner of the area. His angled shot across the area ran perfectly for Blake to turn home his third goal of the season from eight yards. He said later: "I think when the first went in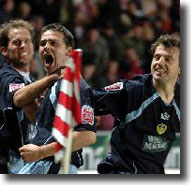 you think 'okay we've got one back'. I was happy to get the second - it was a great ball back from Dave and I managed to turn, swivel on it and get it past him. Southampton have been lucky for me this season, I've managed to get two of my three goals against them. Once we got the second we felt they sat back a bit and felt a bit of pressure."
The Saints were now all over the place and incredibly, after 84 minutes, Leeds were back on level terms. Healy was again at the heart of a move deep inside the box and fired against Danny Higginbotham's hand. The referee had no hesitation in pointing to the spot and Healy fired the ball into the roof of the net from the spot kick.
There was only one side in it now and the home team was a shambles.
With four minutes to go, and only fifteen since they had been 3-0 down, Leeds snatched a fourth goal. Rob Hulse pulled the ball back across the area from the right and a deflection took it right to Liam Miller around the penalty spot. He drove it home precisely with the outside of his left foot, leaving Niemi completely flatfooted.
That was the signal for spectacular and unbelievable scenes of celebration as players, staff and fans joined together in ecstatic frenzy to mark the comeback of the season.
There was no way there was going to be any other outcome and Leeds secured the most memorable of victories without a scare. Kevin Blackwell was over the moon at the end, saying, "It's up there with the top victories I've been involved in because at 3-0 down nobody could see us winning that game. I remember a night with Sheffield United against Leeds when we
were 1-0 down with two minutes to go and we won 2-1. That was some night, but Saturday was a lot more dramatic because the comeback had to be longer and stronger.
"It was pure entertainment at the end - but it doesn't do anything for managers' hearts. Not one person left the stadium and they couldn't because it was just pure theatre."
The manager was mistaken on that particular point, because a horde of depressed United fans had trudged out of St Mary's at the interval, convinced that their favourites were going to be badly embarrassed. The Leeds Leeds Leeds magazine's April 2006 issue featured one of them, Angela Schofield, who slunk out at half time with her mates, Simon Barrie and Bob Hinchcliffe: "I went to the nearest pub, which was full of Leeds fans. On Sky it came up 3-1, then 3-2. By this time I'd necked a couple of vodkas to numb the pain but suddenly it was 3-3 - and quite a few Saints fans started to steam in! Then this guy came running in waving his mobile, saying it was 4-3 and everyone did a 'Let's go flippin' mental' in the pub! Once people found out what I'd done, I was getting complete strangers coming up to me at the next game - Millwall away - telling me that I should be leaving, as it was still 0-0!"
Kevin Blackwell went on: "I sent the lads out at half time and said you've got yourselves in the mire, now get yourselves out of it. Not many teams will come back from that sort of situation. We were not playing well and at 3-0 down you couldn't be any lower, but they've shown unbelievable team spirit. We are frustrated because we feel this is a good side, but we don't feel they know how good they can be. They weigh the opposition up without getting on with their own game.
"What went wrong in the first half? Everything went wrong. We turned up!
"I have said we will get more
belief and understanding in the second half of the season and certainly they've shown the ingredients every team needs to have around the promotion places, and that's spirit. We had that in abundance."
David Healy, the catalyst for the revival, said, "It's never easy coming on as a sub, but sometimes you get lucky and come on and do something that changes the game. The gaffer wants people to come on off the bench and make an impact. We got lucky Saturday because we got a goal early on when I came on and from there on they took their foot off the gas and we caught them out."
Harry Redknapp was understandably in less positive mood, saying, "Unbelievable, I don't know what to say. One of the worst results of my career. With 20 minutes to go I couldn't see Leeds scoring one, let alone four."