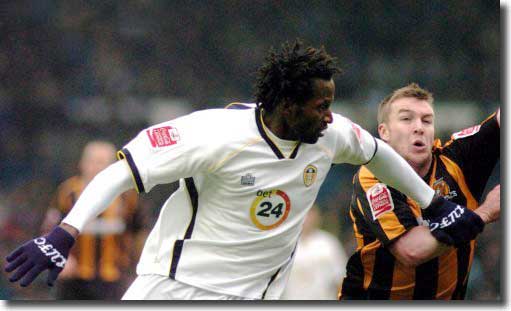 Born: Hackney, London, 3 November 1972
England international defender Ugo Ehiogu evidenced his top-light class and experience in a brief loan spell at Leeds in late 2006, but he could not revive a struggling side. His stay at Elland Road ended on 1 January when he admitted that his body could not stand up to the rigours of playing two games in the space of three days.
Ehiogu, a Londoner of Nigerian ancestry, got his chance at the big time when he signed professional forms for Second Division West Bromwich Albion on 13 July 1989 following a four-week trial. He made two substitute appearances for the Baggies over the next two years before Aston Villa manager Ron Atkinson paid £40,000 for his services in August 1991. The deal included a sell-on clause, which entitled Albion to 50% of any subsequent transfer fee.
Atkinson gave Ehiogu his Villa debut on 28 November 1992 at home to Norwich, but things went disastrously, as he later acknowledged.
'I had an absolute nightmare.' Nerves? 'The opposite. Over-confidence. After gifting Norwich two goals, I was taken off. I just wanted the ground to swallow me up. Reading the papers for the next few days was agony and I didn't feature in the team again for four months. But it did me a favour because I'd never known adversity before and maybe needed to be brought down a bit. Everybody can probably look back to a turning point in their career. That was definitely mine.'
Ehiogu's appearances over his first three years at Villa were sporadic but in 1994 he supplanted Shaun Teale as the regular partner to Paul McGrath, and he missed just three Premier League games in the 1994/95 campaign.
Ehiogu enjoyed a long and successful career in the West Midlands, winning a Coca Cola Cup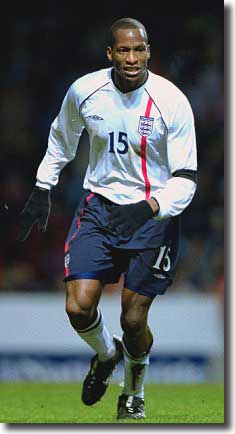 winner's medal in March 1996 when Villa beat Leeds 3-0 in a desperately one-sided Wembley final.
That spring also saw Ehiogu make his international debut. After earning 5 Under-21 caps in 1992 and a B cap two years later, he was given his full England debut against China on 23 May 1996 in a Beijing friendly. He came on as substitute after 77 minutes for Tony Adams; England were already three goals to the good and manager Terry Venables withdrew Adams to safeguard his availability for Euro 96.
Ehiogu did not feature again at international level until he replaced Rio Ferdinand at half time against Spain at Villa Park on 28 February 2001; he scored the final goal in a 3-0 victory which represented a promising dawn to the regime of Sven Goran Eriksson. The centre-back was involved in some of the game's key incidents. He beat Iker Casillas to a Frank Lampard corner and Emile Heskey stabbed the loose ball in for the second goal and then Ehiogu escaped his marker to nod home his goal from another corner with twenty minutes remaining. The shine was taken off his performance eight minutes later when he was penalised for fouling Javier Moreno in the area. Nigel Martyn spared his blushes by saving the spot kick.
Ehiogu won two further caps, both as sub, in August 2001 against Netherlands and March 2002 against Italy at Elland Road.
Back in the Premiership with Villa, Ehiogu suffered a fracture to his eye socket after he got a kick in the face from Alan Shearer during a game against Newcastle on 30 January 1999. There were fears that the incident might cost the player his eyesight, and two operations were required.
Ehiogu: 'Two bones behind the eye were cracked in the collision, which was purely accidental ... This is the first injury I have had in over seven years and things looked pretty bad.
'I had raised my hopes about a possible return to the England squad. I thought I was playing well enough to be considered, despite the fact that Villa's results were already starting to dip in the Premiership.
'There was a crack when Shearer caught me and all the strength went from my body. I couldn't stand up. It might have looked fairly innocuous on television, but it was quickly assessed as a very serious problem.'
Ehiogu recovered sufficiently to regain his first team place within a few months and was a member of the Villa team that lost to Chelsea in the FA Cup final of 2000, though his relationship with John Gregory, who was appointed Villa manager in February 1998, was always fraught.
The Independent reported in November 1999 that Ehiogu 'is to seek guidance from the Professional Footballers' Association after his manager, John Gregory, questioned his commitment to the club after Monday's Premiership derby defeat at
Coventry. "The 27-year-old former England player has been battling to overcome a calf injury sustained against Manchester United in the Worthington Cup which has kept him on the sidelines for five matches. But, after the defeat at Highfield Road, Gregory said: "I think Ugo would have played if it had been a cup final. He would have wanted to play if it had been a cup final. I'll try and convince him Saturday's match at Everton is at Wembley. It might just wake him from his slumbers." The remark has widened the rift between the pair which developed when the player questioned Villa's ambition in the summer. The PFA chief executive, Gordon Taylor, has already condemned Gregory's remarks.'
In November 2000, after 237 league appearances for Villa, Ehiogu moved to Middlesbrough in an £8m deal. The move was nearly scuppered by the money due to West Brom under their sell-on clause. Villa threatened to scrap the transfer if Albion insisted on their full take and eventually a compromise was reached on £1.25m plus 10% of the fee, saving Villa almost £2m.
Ehiogu was forced to limp out of his Boro debut after four minutes with a hamstring injury and he was out of action for four months. He recovered to form a sound partnership with former Villa colleague Gareth Southgate, building the defensive foundations that helped Middlesbrough to stave off relegation that season.
On New Year's Day 2003, Ehiogu suffered broken ribs and a punctured long after colliding with Blackburn goalkeeper Brad Friedel but he was back in the Boro team before the end of the season.
In 2004, the defender won a second Carling Cup when Middlesbrough beat Bolton, but he missed the majority of the 2004/05 campaign with a bad knee injury.
A return to West Bromwich Albion was arranged during the January 2006 transfer window, but the move was called off amidst an injury crisis at the Riverside Stadium.
Four months later, Ehiogu was an unused sub when Boro lost the UEFA Cup final to Sevilla with Chris Riggott retaining his place.
An Achilles injury kept him out of action at the start of the 2006/07 campaign but on 23 November 2006 he was loaned out to Leeds United, then struggling against relegation from the Championship. United had to beat off a number of rival bids to secure Ehiogu's services. He was still recovering from injury at the time, but manager Dennis Wise was desperate to beat the Football League's loan deadline.
Ehiogu remarked: 'There are similarities to when I first moved to Middlesbrough. We were in a bit of a struggle, and the manager said the first season would be tough because it was all about staying in the division.
'Nothing changes in any league in any country. You need to be hard to beat, and you need to have your platforms in defence and midfield. Eventually, you need to score goals to win games. Being in the position that Leeds are, they're obviously low
on confidence. But it's amazing what a bit of organisation and a couple of new faces can do.
'You don't become bad players overnight, but sometimes you forget little things that just need ironing out… With that you get a bit of confidence, you start to relax and things start to flow a little bit better.
'I could have stayed where I was and got fit. But it's not just about fitness, it's about coming to Leeds United and improving them. There's a bit of realisation that, under the rubble here, it's a massive club.
'My match fitness isn't what I'd want it to be, but it's not far off. We need to make a sensible plan. I'm coming back from a major injury and I need to make sure I don't get run into the ground. But I've also got an input that I want to give to Leeds United. I tend to be a natural organiser and I've got experience.
'This is my 17th year as a professional and I've played with some exceptional players. I've been fortunate to have 15 of those years in the top flight. Maybe I can bring on a couple of other people and raise their games. That would be worthwhile.
'The call from Dennis and the lure of playing for a big club … is what attracted me. There were two or three others interested but the main reason for me was coming to Leeds - and Dennis was a big part of that.'
Asked if an extended stay with Leeds would interest him, Ehiogu said: 'I'm certainly open-minded. But my aim is to get back playing in the top flight. I'm not at a crossroads but if something came up and appealed to me, and it was alright with Middlesbrough, then it's something I'd have a look at. At the present minute, it's looking unlikely [that I have a future with Middlesbrough] because of the number of centre-halves they've got there. But you never know in football, there can be so many swings and turns. You can't rule out anything."'
Ehiogu made his United debut at Burnley on 28 November, a 2-1 defeat, though he acquitted himself well.
Phil Hay in the Yorkshire Evening Post: 'Leeds' defence was calm and organised, and clearly improved by the addition of Ugo Ehiogu to Stack's protective line … Ehiogu stepped into the vacancy seamlessly, and the organisation of United's defence was unquestionable before the game swung Burnley's way in the 52nd minute.'
Ehiogu followed up by heading United's equaliser in a 2-2 draw with Barnsley at Elland Road on 2 November, but after that fortunes declined: he conceded an own goal in a 3-1 defeat at Stoke on 30 December, his sixth start for Leeds,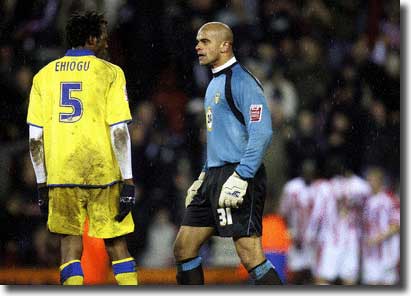 and then compounded matters with a horrendous mix up with goalkeeper Tony Warner that left Ricardo Fuller with an easy tap in for the third goal.
On 1 January Ehiogu returned to parent club Middlesbrough after admitting to Dennis Wise that he could not cope with playing two matches in three days.
Middlesbrough subsequently released the defender after 126 league appearances for the club and on 22 January 2007 he signed an 18-month contract with Rangers. He enjoyed some initial success with the Gers and in April he scored a spectacular goal against Celtic with an overhead kick, an effort which was chosen as goal of the season by Ibrox fans. First team opportunities were limited in 2007/08, however, and Ehiogu was released in January 2008, signing for Sheffield United after making just nine appearances for the Glasgow giants.
Ehiogu suffered an injury against Wolves on Boxing Day 2008 which sidelined him for the rest of the campaign and he was released at the end of the season after the Blades failed to win promotion.
On 3 August 2009 he announced his retirement as a player following a brief spell on trial with League One side MK Dons.
After his retirement, Ehiogu began taking coaching badges and became involved in the music business with the indie label, Dirty Hit Records.