Part 1 - The stuff of nightmares - Results and table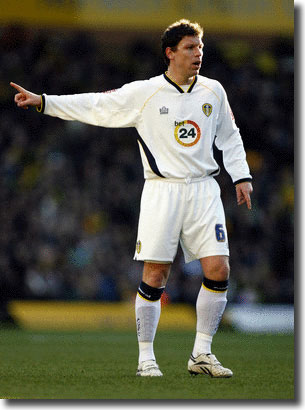 2006 was a year to forget for Leeds United Football Club. It seemed that nothing had gone right at Elland Road since Ken Bates extended Kevin Blackwell's contract in the spring. Wins over the closing months had been the rarest of commodities. Poor form had persisted into the autumn, and by the end of December United had just seven victories from their previous 36 Championship matches and were sat in 23rd place, staring relegation squarely in the face.
Bates sacked Blackwell in September and recruited Swindon manager Dennis Wise to revive United's fortunes. The 39-year-old Londoner brought fresh hope, but had seen only three wins in 13 attempts, curiously the same return as his predecessors.
The outlook was bleak.
The January transfer window offered an opportunity to freshen up a threadbare squad. Paul Butler and Neil Sullivan were released on loan deals, while Geoff Horsfield, Ugo Ehiogu and Tony Warner all returned to their parent clubs. Young England defender Matthew Kilgallon joined Sheffield United in a £1.75m deal and Sean Gregan departed for Oldham.
In came Sunderland defender Robbie Elliott, former Chelsea and Rangers front man Tore Andre Flo, Celtic's Alan Thompson and Armando Sa from Espanyol.
With Hayden Foxe partnering Rui Marques in a new look defence alongside Elliott and Frazer Richardson, United kicked off the New Year with a promising return to form, beating Coventry City 2-1 at Elland Road.
Matt Dickinson gave an insight into the state of affairs at the club in his report in The Times: 'All you need to know about their predicament was summed up as Dennis Wise and Gustavo Poyet, manager and assistant, threatened to squeeze the life out of each other, so tight was their embrace at the final whistle.
'The cause of this delight was a 2-1 win over Coventry City, one achieved with no little anxiety and that still left Leeds second from bottom in the Coca-Cola Championship. It was a first victory in eight league matches. The outpouring of joy must be set against a grim context.
'Sensibly, Wise resisted any temptation to hail this win as a turning point in Leeds' fortunes. Ken Bates has been peddling hope to the Yorkshire public ever since he took over but he has found it a hard sell. They have heard too many false promises in the five years since Leeds stood, on New Year's Day in 2002, at the summit of the Premiership table. The decline has been exhaustively chronicled but it still comes as a shock to drop in at Elland Road and to see the empty swathes of seats and the hoofing clearances of mediocre players.
'Relegation to the third tier of the English game for the first time in Leeds' 88-year history remains a real threat and, even if it is avoided, it is clear that the road back to respectability is a very long one, even for a man with Bates' reputation for getting things done. He used to hang a sign in the lobby at Chelsea declaring that "the Romans did not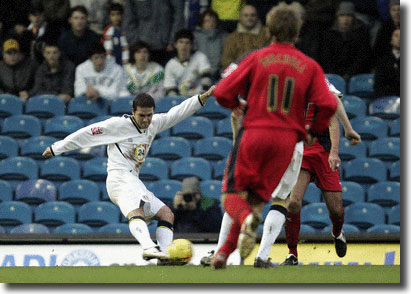 build an empire by organising meetings. They did it by killing anyone who got in their way."
'Age has not mellowed him. He still bans critical newspapers, which was a favoured weapon in his time at Stamford Bridge. The Yorkshire Evening Post has been banished from the press box for attacking the dismissal of Kevin Blackwell this season. The YEP's reporter has to buy a ticket, which is one way of trying to arrest the marked slump in attendances.
'Bates was welcomed by many as a football man with far more to offer than Gerald Krasner, his hapless predecessor, yet some distrust remains. He would help his case if he cleared up the mystery of who owns the stadium. It was recently revealed that Elland Road is in the hands of the Teak Trading Corporation, based in the British Virgin Islands and therefore under no obligation to reveal its directors. Is it owned by Bates? Friends of his? Leeds say only that they still have a long lease, which hardly reassures supporters. Ownership of Chelsea during Bates' time was similarly opaque.'
The FA Cup offered the hope of some much-needed revenue, but United were badly outclassed by West Brom at the Hawthorns and went down 3-1.
A visit to Albion's neighbours Birmingham City a week later in the Championship was postponed because of the state of the Blues' newly-laid pitch and United's next chance to revive their season came with the visit of Albion to Elland Road.
Flo and Thompson both marked their first starts with a goal, but in between the Baggies had netted three times, condemning United to their 18th League defeat.
An irritated Dennis Wise was sent to the stands by referee Neil Swarbrick for pushing Diomansy Kamara as the West Bromwich striker left the pitch at a less than brisk pace after a late substitution. Wise said afterwards, 'He took about four minutes to leave the pitch and I think we'd all had enough of his antics with his gestures to the crowd and so on.' The manager was charged with improper conduct by the Football Association for the incident, receiving a fine of £4,000 and a one match ban.
A break at a training camp in Cyprus seemed to do the players some good. They returned to action with a 2-1 win at relegation rivals Hull, showing some much-needed spirit and fight. A splendid Alan Thompson free kick after 50 minutes proved decisive.
Ironically, the result saw United drop to the bottom of the table on goal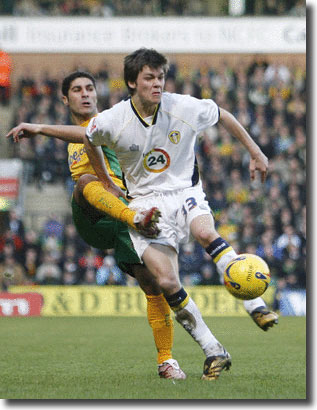 difference as Southend pulled off a shock 3-1 victory at Birmingham.
The same day Dennis Wise secured the services of Danish keeper Casper Ankergren on loan from Brondby but also announced that Tore Andre Flo had fractured his foot in training and would be missing for at least two months. David Healy suffered a broken arm against Hull and would also be out, albeit only for a fortnight.
18-year-old midfielder Johnny Howson gave United a surprise lead at Norwich on 3 February, but goals from Dion Dublin and Darren Huckerby ensured a pointless return to Yorkshire. The games were starting to run out and there was no sign of the sort of sustained upturn in form that was needed.
A week later, Leeds gave one of their better performances of the season to beat Crystal Palace 2-1, though the headlines were focused on an Elland Road mole. Dennis Wise was furious, saying, 'One player gave my team to the opposition. That player's not going to play again for this football club.'
Despite an investigation, the club could not identify the culprit. The popular view was that the mole was former Palace midfielder Shaun Derry, though his agent vehemently denied the rumour. It was later understood that Neil Sullivan was the player at the centre of the storm, following his recall from a loan spell at Doncaster because of injury to Graham Stack. It was later claimed that the whole matter was an innocent misunderstanding rather than a malicious act of treachery.
A 1-0 defeat at Cardiff left United still in deep trouble, but a midweek Elland Road clash against QPR promised an escape route. Rangers were in free fall, losing 11 out of their previous 14 games, and seemed ripe for the taking. Victory would have brought Leeds level with their visitors and could conceivably have taken them out of the relegation zone.
The match attracted a crowd of 29,593, the highest gate for a Championship match since May 2005, thanks to Ken Bates' decision to slash adult ticket prices to £25 and £15. Unfortunately, United were once more found sadly wanting.
Richard Sutcliffe wrote in the Yorkshire Post: 'United could not find a way past a gutsy but limited QPR side and slipped further into the Championship mire. Barnsley's 3-0 victory over Hull City means Leeds are now three points adrift of safety and games are starting to run out for a club who badly needed to return to winning ways last night. United's woeful goal difference makes their position even more perilous.
'There was certainly no mistaking the frustration in the stands with the final whistle being met by boos. Sporadic chants of "you're not fit to wear the shirt" could be heard from a minority in the Kop.
'The loss of Alan Thompson on the half-hour with a recurrence of a calf injury did not help, but United still have enough players supposedly comfortable on the ball not to have to resort to panic football. Unfortunately, that was not evident last night and although a first clean sheet in 10 games ensured a point, there was no hiding from the fact that trips to Crewe Alexandra and Swansea City could be on the agenda for United next season.'
1-0 defeats to Wolves and Birmingham made the position even more desperate and an Elland Road derby against Sheffield Wednesday on 3 March was seen as a must win game. Sadly, victory was just a pipe dream from the moment that Marcus Tudgay gave Wednesday a seventh minute lead.
United managed to exert some pressure thereafter, but went two goals down eight minutes before the break. Chris Brunt had possession just inside the Leeds half when he spotted Graham Stack in an advanced position. He hammered the ball from 45 yards high over the keeper's head and into the back of the net.
Tudgay was given a second yellow card after 49 minutes for arguing with the referee, but five minutes later the game was as good as over. Brunt controlled the ball in his own penalty area and clipped a glorious 50-yard pass down the channel for Burton. Under pressure from Marques, the forward controlled, turned and put the ball into the path of Glenn Whelan, galloping down the centre. Without breaking stride the Wednesday skipper touched the ball on to Jermaine Johnson and the winger smacked a wonderful shot beyond Stack.
Two minutes from the end, Lee Bullen's sliced own goal set off such a panic in the Wednesday ranks that Richard Cresswell was able to add a second within a minute. On loan Owls keeper Iain Turner had to tip the ball over the bar as United threatened an unlikely equaliser, but it was far too late for any real revival.
Once again, however, the headlines were made off the field. Dennis Wise: 'I had a call from Luton's manager Mike Newell, who said he was interested in signing Kevin Nicholls. I said I was not interested in letting him go to Luton. I told Kevin he needed to think about it but he said he had made up his mind, that he made the wrong decision to come to Leeds and wanted to join Luton straight away. I was gobsmacked - he wanted to go to Luton almost straightaway - a team that are fighting us for relegation. We expected him to dig in like the rest, not jack it in. It's frightening.
'I'm disappointed in the way I found out. It takes Mike Newell to ring me up. This is what we're up against. If he wants to go to Luton, give us our money back. Do they think I'm mad, to go and loan him to Luton for the rest of the season? Is he seriously crazy, or what?'
Ian Moore: 'I've never known a captain to do this. He's got to rally the players, and if he's not pulling in the same direction as the rest of the lads you're in massive trouble. To decide he wants to do that is a bit of a kick in the teeth. Luton are down there as well, and we're playing them next week. The timing couldn't possibly be any worse.
'When Dennis Wise came, he made a big decision to take the captaincy off Paul Butler
and give it to Kevin. If I was made captain of a big club like Leeds, I'd be very proud. I just can't understand his motives and I'm sure the fans won't be happy when they find out.'
Just as things seemed bleakest, the troubled players rallied and won the vital clash against Luton on 10 March, as reported by Rob Hughes in the Sunday Times: 'Both these clubs remain in peril of the drop to the third tier of English football this morning, but courtesy of a coolly taken goal by Richard Cresswell and by a penalty save from Casper Ankergren near the end, Leeds were able to claim their first win since February 10 and ignite the first inkling of belief that they will yet survive this nervous end to the season.
'In the match programme, Ken Bates, now two years in the chair, is still accusing others of betrayal, still making vituperative accusations that the people of Leeds have let their club run to rack and ruin. He names names, we dare not for fear of libel.'
The notes in the programme read: 'Three weeks ago the CEO of Alamo Rentacar introduced me, at his request, to a man with £100 million cash in the bank. The man flew down to see me in Monte Carlo. We had a pleasant lunch which was repeated last Sunday with detailed discussions about the way forward. All very enthusiastic. Wednesday morning he rang, apologised, but said he would not be proceeding because of the "Levi factor". Thanks Melvyn [unreadable, crossed out by someone with black marker], you do know that your phone number is in the book don't you?'
The man in question was Melvyn Levi, who had been a member of the consortium that had sold out to Bates. He was in dispute with Bates over loans made and furiously argued the point: 'As you can imagine, I was not very pleased to have my address put in to a programme which is basically Mr Bates' method of putting out what he wants the public to understand and doesn't ask anyone else for their comments. All this that he writes is to deflect away from his management of Leeds United.
'The true story is that when we sold the club to Bates, the Yorkshire consortium consisted of five individuals, we sold the club as a group. We met him for the first time on Monday and by Friday night Mr Bates had bought the club without doing any due diligence whatsoever.
'I am banned from the ground, but I'm not banned if I pay. I don't go as a matter of principle. I have one-and-a-half million pounds plus interest running in the club. I find it a little bit insulting that I should have to pay to go and see the club I've supported all of my life and on top of that I don't feel safe. We're sick of it as fans that everyone else is getting blamed apart from Mr Bates.'
Away from all the behind-the-scenes argument, one of the players who had been doing the business on the field was midfielder Radostin Kishishev, on loan from Charlton, and another loan man, Bolton's Lubo Michalik, had been signed to add steel to the centre of defence. The new men brought fresh heart and during the week, Leeds were unlucky not to win at Leicester. Robbie Blake gave them a lead just before half time, but slack defending and a slip from Casper Ankergren allowed Iain Hume to equalise from the restart. It was an opportunity missed, for a win would have taken United off the bottom of the table and within a point of safety. With Hull and Barnsley both winning away from home, and Southend beating Burnley, the outlook was gloomy.
Bottom of Championship 14 March 2007

Pos

P

W

D

L

F

A

Pts

18th

Burnley

36

10

11

15

36

39

41

19th

Hull City

38

11

8

19

41

56

41

20th

Barnsley

38

12

5

21

44

65

41

21st

Southend United

38

9

11

18

39

58

38

22nd

QPR

37

9

10

18

42

58

37

23rd

Luton Town

38

9

9

20

47

65

36

24th

Leeds United

38

10

5

23

38

63

35
Another chance to climb the table came with a trip to Southend United. It was yet another must win match, but again there was no happy outcome, but plenty of controversy, as reported in the Daily Mail: 'Manager Dennis Wise led a furious protest when Leeds were denied a penalty three minutes into added time. It was cruel on the visitors, who had hit back to draw after going behind to a 24th-minute goal from Mark Gower. But, just when time looked to be running out for the once mighty West Yorkshire club, Wise made a substitution that was to earn his club a point and increase their hopes of avoiding relegation.
'With nine minutes remaining, Wise took off Robbie Blake and replaced him with Northern Ireland forward David Healy. Seven minutes later, Healy equalised with a blistering shot after the ball arrived at his feet direct from a Robbie Elliott free kick.
'But the drama was far from over. As a tense Championship confrontation went into added time, Southend defender Simon Francis blatantly handled the ball inside the box. As Leeds looked for a penalty and the chance to win what had been described as the most crucial match in the club's history, referee Nigel Miller waved play on. Wise and his assistant, Gus Poyet, were enraged and approached the fourth official, but their protests proved useless.
'It was understandable, however. The former Millwall and Swindon manager had already endured an afternoon of frustration born from the inadequacy of so many of his players. It is never pleasant watching a team fighting against the humiliation of relegation - though it can be exciting. When that team is Leeds and relegation would leave them in the third flight, it is an extraordinary experience.'
With seven games remaining (three of them against promotion chasing Preston, Southampton and Derby), United were four points away from safety and desperate.
There was some good news during the international break with Blackburn full-back Michael Gray arriving on loan; he had played for Leeds for three months at the end of the 2004/05 season and was a class act.
United had the chance to steal a march on their relegation rivals, playing on Friday 30 March in a match televised live on Sky. There was the slight problem of the visitors being promotion chasing Preston North End, still smarting from losing to United in the Play-Off semi-finals in 2006.
The Lancastrians were all over Leeds from the first whistle with some intelligent and pacy forward play. Pushing the ball quickly down the inside channels, North End made Heath and Michalik look pedestrian and cumbersome.
It was the combination of two former Leeds players that gave Preston a deserved lead. Danny Pugh played the ball down the left flank to Brett Ormerod, looking offside but played on by Michalik. Ormerod skipped on to clip his shot past Ankergren.
Leeds had not come from behind to win all season, so it looked odds on that this would be another disappointing evening. However, the early goal forced United out of their defensive shell and onto the attack.
Michalik saw a goal bound effort deflected and then Blake fired a low drive marginally wide.
Nevertheless, Leeds were still looking vulnerable and square at the back with the two centre-backs giving their opponents plenty of opportunities. After 23 minutes, Ormerod sprang a naïve offside trap to race in on goal, but this time Ankergren used his legs to block the shot.
In fairness, United were as up for the challenge as they had been for quite some time. Richard Cresswell came close to an equaliser after 28 minutes when he headed an Eddie Lewis corner agonisingly wide. Then David Healy lost Callum Davidson at another corner but misfired wildly. Lewis did wonders to keep the ball in play and hook it across goal and Cresswell's downward header caused panic. The ball came back out to Robbie Blake by the penalty spot, but his shot was deflected wide off Cresswell as the North End anxiety grew.
Despite all the frenetic goalmouth action, Preston still looked a class act, playing neat, controlled football, and it was no surprise when they were still ahead at the break.
After one scare at the start of the second half, when Nugent unsettled the United defence only for Agyemang to miss his chance, United were back on terms after 51 minutes. Cresswell danced clear of his markers on the left byline to fire the ball across the area for Blake to slide home at the far post.
The equality was almost short lived - five minutes later Nugent broke clear on goal but his placed attempt was poorly executed and Ankergren eagerly fell on it.
Former Leeds striker Michael Ricketts came off the bench to nearly win the game in the 77th minute. Nugent's pass found him at the far post with an empty goal yawning. He hit it first time, but his shot clipped the bar as it soared into the crowd. The Leeds faithful were undecided whether to sigh with relief or howl their derision at a player who had enjoyed an unhappy time in West Yorkshire.
The game seemed to be drifting towards a stalemate, but there was a spectacular finish. As the match entered its final minute Eddie Lewis found space on the left and looped a cross over. Cresswell was baulked as he went for it, but as the ball bounced up at the far post, David Healy raced in on Pergl's shoulder to nudge it home with his head and claim a memorable victory that brought the roof off.
The win took United off the foot of the table for the first time since 27 January and they were suddenly three points clear of Luton, level with Southend and only one behind QPR. With the next day seeing Barnsley beaten at home, Hull thrashing Southend and QPR losing at home there was suddenly a light at the end of the tunnel.
QPR beat Preston 1-0 on 3 April, but on Good Friday Hull and Southend were both defeated at home.
On the Saturday, Leeds won a second successive game for the first time all season. Lubo Michalik's 87th minute header gave them a 2-1 victory at Elland Road against Plymouth.
The same day Luton lost and Barnsley were thrashed 5-1 at Ipswich. Only QPR's 1-0 victory at Coventry was a dampener on the occasion as United moved out of the relegation positions for the first time since 25 November. Were the fates conspiring to deliver the Great Escape?
Bottom of Championship 7 April 2007

Pos

P

W

D

L

F

A

Pts

18th

Leicester City

40

11

14

15

44

53

47

19th

QPR

41

12

10

19

48

61

46

20th

Hull City

41

12

8

21

46

60

44

21st

Leeds United

41

12

6

23

43

66

42

22nd

Barnsley

41

12

5

24

47

76

41

23rd

Southend United

41

9

12

20

40

66

39

24th

Luton Town

41

9

10

22

47

69

37
9 April was a crucial day in the relegation battle. While Leeds were away to Colchester, Barnsley entertained Birmingham, Southend were at Preston, QPR faced Luton and Hull were at Wolves.
At 4.35 that afternoon, things looked very bright - Leeds were a goal up at Colchester, and Hull, Southend and QPR were all losing. If the scores had stayed like that United would have been virtually home and dry. But things fell apart as lack of concentration allowed two late Colchester goals to destroy the Leeds world.
With Barnsley beating Birmingham and late strikes from Southend and QPR seeing them gain three points apiece, United were very much back in trouble.
The following week, a Matt Heath goal gave Leeds an anxious 1-0 victory against Burnley. Southend and Luton both lost at home to leave their hopes hanging by a thread, and it seemed that the final relegation spot was down to Leeds, Hull, Barnsley and Leicester. QPR were pulling clear and a late Burnley revival had ended their fears of the drop.
Luton's 1-0 defeat at Derby on 20 April confirmed their relegation and a defeat for Southend at Plymouth left the Shrimpers with only tenuous hopes. Barnsley beat Crystal Palace 2-0 to move to the edge of safety, and late goals again stymied Leeds.
With six minutes to go, Leeds were level at Southampton and Hull were losing at Stoke. United had been playing with ten men since the 34th minute after Alan Thompson's controversial dismissal when all he
appeared guilty of was preventing John Viafara from assaulting Eddie Lewis. A point would have been enough to see United move above Hull. When Bradley Wright-Phillips scored for the Saints after 84 minutes and Hull equalised at the Britannia Stadium in the closing seconds it turned the world upside down. Hull now had 46 points to United's 45, while Leicester and Barnsley were all but safe.
Thompson successfully appealed against his red card and three-match ban and was free to play in United's final two matches. The first was at home to Ipswich on 28 April and Leeds could only hope that Hull would drop points at Cardiff. Even then, United would need something on the last day at Derby. Three points at home to Ipswich was regarded almost as a formality, but this United team was a brittle, limited outfit and there were no certainties any more.
It was to be one of the darkest days in the history of a troubled football club. Paul Forsyth in the Sunday Times: "Anticipating the fall of a footballing institution is one thing. Watching it disappear into the abyss, with scarcely a shred of dignity, quite another. The scare stories that have multiplied with Leeds' every step closer to the trap door became horrible reality at Elland Road yesterday when the club were all but relegated to the country's third tier, and the behaviour of some of their supporters compounded the humiliation.
'During a dramatic finale, in which Ipswich's late equaliser combined with Hull's win at Cardiff to effectively seal the club's fate, thousands of Leeds fans spilled on to the pitch in stoppage time, forcing officials to consider an abandonment. While the majority of home fans chanted "scum" and "you're not fit to wear the shirt," it was at least 15 minutes before the pitch was cleared. Eventually, the players returned to complete the match, but it made no difference.
'It all means that Leeds have 46 points and Hull 49, but the latter's far superior goal difference makes a turnaround in next weekend's final fixtures all but impossible. Agonisingly, the goal that did for Leeds came in the 89th minute, when Gary Roberts' curling corner was glanced into the net by Alan Lee.
'The pity was that this was not the last of Leeds' worries on what had become a black day for the club, on and off the pitch. A huge crowd crammed into Elland Road with a mixture of alarm and sympathy that resembled nothing so much as a state of emergency. While the club have been delivered from European glory to humiliation in the space of six harrowing years, their supporters were not so demoralised that they couldn't rally themselves for one last home game in an effort to prevent the worst.
'The match doubled as a farewell to Gary Kelly, who has made 531 appearances in 16 years at the club. Fans were asked not to invade the pitch at full-time, or his retirement ceremony would be abandoned, but they were on it long before that. After just 11 minutes, in fact, a handful of them had hurdled the perimeter fencing. That was how long it had taken Leeds to relieve the tension with a goal. Alan Thompson collected the ball deep in his own half, turned his man, and sent a long, searching ball beyond the full-back. David Healy dashed on to the opportunity, drove a low shot that the goalkeeper could only parry, and was rewarded when Richard Cresswell stooped to nod it over the line.
'While the reaction bordered on hysteria in the stands, Leeds haven't fallen this far without acquiring a keen sense of their own fragility. Despite Cresswell's continued threat there were nerves in the home defence as Ipswich attacked with growing frequency. Rui Marques was required to make a sliding clearance, and Francis Jeffers also tested the goalkeeper from 12 yards.
'Leeds still had the lead but nobody was more anxious than the home support. They exhaled in collective relief when Roberts' volley rose over the top, and screamed with dread when substitute Jonathan Walters cut a perfect ball across the six-yard area. Had Lee been a fraction earlier in arriving, the equaliser would have been a formality. As the Leeds fans grew ever more tense, lifted only by Cresswell's diving header over the top, suddenly their counterparts could be heard down by the corner flag. Hull, it seemed, had taken the lead in Wales, and the travelling support was in no mood to withhold the news. "Going down", was the chant.'
United were forced to acknowledge their relegation and Dennis Wise could only hope for better times to come: 'We will be doing our utmost to get straight back. The task starts immediately. I take full responsibility for everything that has happened, but I didn't come here for just six months; I came for longer than that and feel I am the man to bring this club back. There is so much potential here and what has happened makes me stronger. Now we must make sure the players we have will be fit and strong enough mentally as well as physically to get us straight back up.'
All the attention now turned to the parlous state of the club's finances with Ken Bates appealing for new investment: 'We will obviously make very deep cuts this summer to balance our budget for next year, but we will do what we can with what we can afford. The fans have to be realistic. Lower ticket prices and big spending on players are not compatible. But I know Dennis will get the best out of our limited resources and the players he signs.
'There are plenty of people talking to us about possible investment but they don't want to put their money in just to carry on subsidising a club. Nobody does. Football clubs have to be run as businesses. Our fans have to appreciate that.
'The people of Leeds tell me they need a successful club. They have to get off their backsides and support us. Most of the criticism comes from people who never come to the club. We will get there and when we do we will remember those people who supported us and, more importantly, we will remember those people who didn't support us. Revenge will be a dish best eaten cold.'
Chief Executive Shaun Harvey was more conciliatory, saying in a club statement, 'We need to make considered and structured decisions both on and off the field over the forthcoming weeks to position ourselves to use next season as a springboard to go forward from. There will be (and has been) a significant amount of speculation as to what the future holds for the club
financially, particularly from would-be investors who want to become involved/own Leeds United. This type of speculation is currently rife both at Leeds United and football in general but our message remains consistent in so much as anyone interested in becoming financially involved should contact us with full details of who they are and proof of funds to show they are able to assist us.'
In the days following the Ipswich debacle, former United chairman Gerald Krasner forecast that the club would be going into administration as a result of relegation: 'I'm 90 per cent sure that before next Tuesday Leeds will be in administration unless a white knight comes along in the meantime. On Radio Leeds last night, I was trying to explain to fans that this has to happen. If things at Elland Road are not sorted out financially, the club will be stuck in the doldrums for years to come.'
Krasner's words were prophetic and on the eve of the final game of the season it was announced that KPMG had been appointed as administrators and that the club would be sold to a new company formed by Ken Bates with Shaun Harvey and Mark Taylor.
Richard Fleming, joint administrator: 'We were asked by the board of directors to advise Leeds United on Monday 30 April 2007. The Club has experienced significant financial difficulty for some years and was burdened with historic debt and wage structures. It was necessary for the Club to enter administration as its balance sheet dated 31 March 2007 indicated debts totalling approximately £35 million, with a cash injection of approximately £10 million required to continue trading. Further, Her Majesty's Revenue & Customs recently issued a winding-up petition for approximately £5 million. If this debt had not been paid by 25 June 2007, the Club may have been forced into liquidation.'
The future of the club would take months to resolve, but for now it seemed that Ken Bates had retained control of Leeds United and at a stroke wiped out the debt that had hung over them like a cloud.
Administration brought a 10-point penalty which was irrelevant given United's position but formally confirmed relegation. Dennis Wise rang the changes for the final game at Derby. Youngsters Rob Bayly, Tom Elliott and Johnny Howson were all given a chance, though Bayly's game ended in disgrace when he was dismissed for retaliation as United lost 2-0.
Richard Sutcliffe provided the epitaph in the Yorkshire Post: 'After nine tortuous months, one administration, 44 players, three managers - or four if you include Dave Geddis's stewardship of last October's Carling Cup defeat to Southend United - 17 loanees, eight captains and 26 league defeats, the worst season in Leeds United's history is finally over. A future in League One now awaits and the United fans who held up a banner reading "We don't deserve all this" at Pride Park yesterday will hope the 2007/08 campaign signals the club's re-birth.'
If ever there was a season to forget in the chequered history of Leeds United Football Club, then surely this was it as they set off, not for the first time, into a thoroughly uncertain future.
Part 1 - The stuff of nightmares - Results and table