Part 1 Pacesetters - Part 2 The Leeds United trial - Part 4 A summer of change - Results and table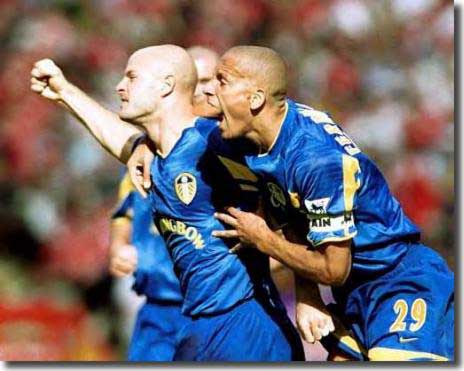 Leeds United began 2002 as the best team in the Premiership by virtue of their position in the league, although their football all season had struggled to inspire. They had consistently attracted home attendances in excess of 40,000, but the topic of conversation among the supporters generally revolved around when they were actually going to start living up to the lofty status of their Premiership placing.
The arrival of Robbie Fowler had brought goals and rejuvenated Mark Viduka, but Robbie Keane had been relegated to bit parts and Alan Smith had to get used to a role on the right of midfield. Rio Ferdinand and either Dominic Matteo or Jonathan Woodgate had brought resilience to the centre of defence, but there was little going on in the creative engine room with Harry Kewell sadly off form, David Batty and Olivier Dacourt mere shadows of their previous season selves and Lee Bowyer's off field situation reducing his contribution to the team's cause.
Danny Mills' temper was far too easily lost (although he had broken through into the England team and was set for inclusion in the World Cup squad, along with Ferdinand, Martyn and Fowler) and Ian Harte continued to look defensively naive, while new signing Seth Johnson had an ongoing struggle with injuries, joining long term casualties Lucas Radebe and Michael Bridges in the treatment room.
Leeds United had struggled through to the last sixteen of the UEFA Cup and retained possession of Premiership top spot, but in many ways appeared a club in crisis, with manager David O'Leary's previously sure touch giving way to frequent angry outbursts and constant irritability.
Their brief involvement with the FA Cup encapsulated that malaise to perfection. They faced a bristling third round tie at second division Cardiff City, and the antics of former Wimbledon chairman Sam Hammam as he wandered round the perimeter of the pitch, inciting a partisan crowd, only added to the atmosphere and O'Leary's unease.
It was against the run of play when a defensive mistake allowed Gary Kelly, operating on the right of midfield, to feed Mark Viduka in the inside right channel just outside the Cardiff area. The Aussie took the ball in his stride and fired home from 20 yards in spectacular style.
Leeds only held the advantage for eight minutes and the Welsh side's star turn, Graham Kavanagh, curled home a free kick from 25 yards to bring the teams level. Cardiff then competed at least as well as their more illustrious opponents before the half ended on a controversial note when Alan Smith received his second red card in six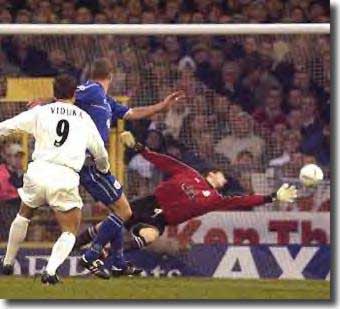 weeks after tussling with Cardiff defender Andy Legg who had hold of his shirt. In attempting to escape Legg's clutches, Smith swung round and appeared to catch him with a stray elbow. Referee Andy D'Urso had little hesitation in ordering Smith from the pitch. Manager David O'Leary later described the dismissal as very harsh and there seemed little intent on Smith's part.
From that moment on, the game became very scrappy and Leeds seemed to be content to play time out for a draw. Unfortunately, with only seconds left, a corner to the gigantic substitute Fortune-Edwards fell loose in the area and was swept home by defender Scott Young to register an astonishing victory.
Afterwards, O'Leary was left fuming, and not just by the result. Coins and bottles had been thrown onto the pitch throughout the contest, and Hammam's actions had intensified the partisan atmosphere, contributing to an ugly confrontation at the end, when the home supporters ran onto the pitch to celebrate, taunting the 2,200 Leeds fans gathered in a corner of the stadium.
O'Leary was involved in a public row with Hammam after the match, a disagreement that only ended when Leeds United chairman Peter Ridsdale stepped in. He was angry that Hammam walked around the pitch, and in front of Leeds fans, in the closing stages.
O'Leary was also unhappy with referee D'Urso, claiming he failed to give his players adequate protection as they were pelted with missiles throughout the stormy Ninian Park encounter. He said: 'I thought the referee was very weak on protecting the safety of the players. What Nigel Martyn was pelted with throughout the game was horrific. Some of my players felt very threatened. The referee and the linesman, particularly the referee, are out there to protect the players, and if they don't feel it is right they should take the players off. We lost two fans going to a football match in Istanbul and I played in that ground for many years and it reminded me of that. We are trying to get this game right.'
Whatever the rights and wrongs of the matter, the result stood and Leeds' interest in the FA Cup was over for another year. The rest of January brought no solace in the Premiership. After taking the lead through Alan Smith after just a few seconds at Newcastle a week later, the centre back pairing in adversity of Jonathan Woodgate and Michael Duberry simply fell apart as the Geordies came back with three goals to seal an important win.
Leeds earned a point in a home draw with Arsenal, but then lost 2-0 at Chelsea and collapsed in a home game against Liverpool on 3 February, slumping to a dismal 4-0 thrashing, leaving them shell shocked and struggling to stay in touch even with hopes of UEFA Cup qualification, having sunk to sixth place.
Even more worryingly, Harry Kewell's interview in the Sunday Times with Joe Lovejoy on the day of the Liverpool match gave an interesting insight into spirit behind the scenes at Elland Road.
'Fears of a bat straighter than Mark Waugh's passed with his opening statement, to the effect that he should have started the match at Chelsea in midweek, when he kicked Leeds up a gear after his 63rd-minute introduction from the bench, but could not avert a damaging 2-0 defeat. Kewell was close to restoring equality in the 27 minutes he was on, his galvanising effect prompting sideways glances all round the press box, and the inevitable question: "Why the hell wasn't he on from the start?" The official line, articulated by the assistant manager, Eddie Gray, was that Leeds's most potent attacker was "not quite ready" after a five-week lay-off with back trouble, but the man himself wasn't having that. "I've been fully fit and flying for two weeks now," he told me. "If they say I'm short of match fitness, the reason is that they haven't been playing me. I'm champing at the bit, and it was very frustrating not to start on Wednesday."
'The suggestion that Leeds were strangely subdued at Stamford Bridge, second-best in terms of performance and desire, brought a nod of agreement from Kewell, who said: "I can't speak for the others, but I was fully fit and raring to go and so was Olly (French midfielder Olivier Dacourt). We've been training together and going well, and we went down there hoping to play, but we don't pick the team, and there's not much we can do about it when we don't."
'Maybe not, but it is safe to assume that there will be ructions in the dressing room, and disbelief among the fans, if Kewell, 23, isn't in the starting line-up at home to Liverpool this afternoon.
'His eagerness to play is intensified by the feeling that Leeds are blowing their big chance. This was to be the season when it all came together for an attractive young team, assembled at monumental cost, but they failed to take advantage of Manchester United's autumnal fit of the vapours, and with just one point from their last three games they are losing ground.
'Kewell is not one for excuses, and sees recent events off the field as irrelevant: "If anything, all that stuff pulled us closer together." The reason for what was threatening to become another season of under-achievement had more to do with headcases than court cases. It was indiscipline on the pitch that was preventing the club from fielding anything like their best team on a regular basis. Leeds, like Arsenal, were undermining their own efforts with not so much a drip-drip as a torrent of red and yellow cards. Last Thursday, Alan Smith and Mark Viduka were charged by the Football Association with misconduct, and Lee Bowyer and Danny Mills face the same fate on Tuesday. Smith, already serving a five-match suspension, could have three more tagged on to it if he is found guilty of an off-the-ball assault on Graeme Le Saux in a Worthington Cup tie two months ago. Mills, who has started a four-match ban, could miss seven in all if the FA accept that he verbally abused an official at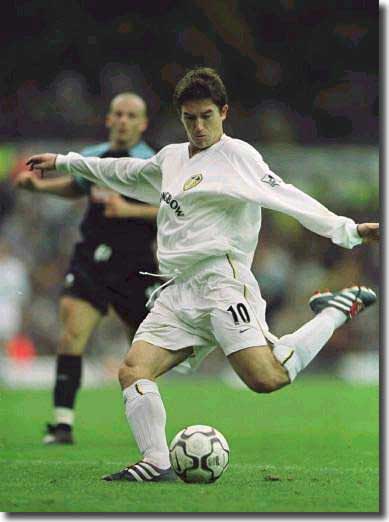 Arsenal in August. Bowyer could be suspended for six matches on two counts - abusing the same official at Highbury and elbowing Gary McAllister in an FA Cup tie. Viduka is likely to miss three games after elbowing Martin Keown on January 20.
'The potential loss of key players for so many important fixtures had Leeds chairman Peter Ridsdale dusting down the Riot Act on Friday, when he said: "Cases where players are getting themselves sent off or charged with misconduct for instances which are avoidable will not be accepted. We pay players to play football, and supporters deserve to be able to watch the best side possible, a side that has cost a lot of money to assemble. I have spoken to David O'Leary, and the players have been told in no uncertain terms what is expected of them. If there are instances of individuals offending on a regular basis, we will have to decide if they would be better off playing their football elsewhere."
'Well said. Wouldn't it be nice to hear something like that from Arsenal, instead of their endless defence of the indefensible? Kewell accepted that the warning was needed: "If you do the sort of things we've been doing, you're going to get punished. In the old days, we'd have got away with it, but not now. You have to remember it is a contact sport, but we've got to learn to go out there and behave. At the moment, it seems we can't help it; it's a spur-of-the-moment thing. We've got to calm down a bit, but when some players cross that white line, they want to win so much that it hurts, and all the good intentions are forgotten." Old habits die hard, especially bad ones. Could the desired improvement be brought about quickly, without changes in personnel? "It's hard for me to say, because I'm not the type of player who goes looking for that stuff. There are a few in our team, just as there are at every club. You'd be better off asking them." When it "all kicked off" on the field, and the usual suspects were scuffling, Kewell's customary role was that of baffled onlooker: "I stand there thinking, 'What's all this about? You're supposed to be playing football.' I probably get tackled more than anyone, but I deal with it without losing my temper. It's the defenders' job. If they didn't tackle me, I'd score every time. They've got to do it. I get a bit annoyed if they don't do it fairly, but it's part and parcel of the game. I'd like to get up and give my marker a slap sometimes, but I know you can't, so I don't. It's all about self-control."
'On the increasingly rare occasions when they were at full strength, Kewell felt Leeds were a match for anybody, Manchester United included: "When we've got a full team and our heads are right, we're fine. It's all there, all ready to come. We've got a great squad, we've just got to keep it together, and eventually it will happen." Yes, you argue, but this was to have been the year. A rueful bite on the cheese and tomato, then: "We have been threatening to do it for two or three seasons now, and we don't want to be remembered as the team that were always in contention but never quite got there. We've got some great footballers here, they've got everything they could ask for in terms of lifestyle, but for a good professional it's all about winning things. Anything else is disappointment. I want to win things with Leeds United because I've been here a long time (Howard Wilkinson gave him his league debut as a 17-year-old in 1996), and I don't want to look back on it as time wasted. It's a great club, it deserves to win something, and I want to be part of that. To be honest, I thought we should have won something this season."
'Spotting my eyebrows heading for the ceiling, Kewell quickly recalled that Leeds were still in the UEFA Cup, where they are drawn against PSV Eindhoven, and it was too early to be conceding the title just yet. "The belief is still there that we can do it," he added, unconvincingly.
'The desire to be a champion was all that was keeping him in England. "I've always wanted to try another league," Kewell said, "to go out into Europe and prove myself all over again. Italy or Spain, I'm not bothered - it could be both. I've always said I'll go at some stage, and I stick by that. It's definitely my intention." For this Australian, the Premiership is not the be-all-and-end-all: "It's probably the most exciting, and therefore the best league for the fans, but Italy's is better football, technically. If you can play there, you can play anywhere. Spain is no easy ride, either, but I suppose it's the same for their players coming over here and adjusting to the pace and power. It's a different game in England."'
This was heavy stuff and indicative of trouble behind the scenes. Olivier Dacourt expressed similar sentiments just a month later, hinting that he may be heading out of Elland Road in the summer with his dream move to Juventus a real possibility. Speaking to the Daily Star, the 27-year-old said: 'Joining Juve would be a dream for me. When a great club like that shows an interest in you, you do not close the door. I have a long contract at Leeds but if I go, I will go to a great club, I will not just leave Leeds for the sake of leaving. Until January, we were in the title race, but since then it has been a catastrophe, and we are completely out of it. The club has spent a lot of money, but results do not match the investment. Leeds will have to sell lots of players in the summer from what I have been told. Everybody is talking about the fact that Bowyer, Kewell, Viduka and myself will be sold. I may be forced to leave to help keep the club alive - as I was at Everton in 1999.'
In between the comments from Kewell and Dacourt, Leeds had more bad news. The club's stumbling title challenge was hit again after the Football
Association imposed six-and two-match bans on Lee Bowyer and Danny Mills respectively, suspensions that left their chances of making England's World Cup squad hanging by a thread. Bowyer pleaded guilty to violent conduct after elbowing Liverpool's Gary McAllister in Leeds' 2-0 FA Cup defeat a year previously, a charge that had been put on hold during the midfielder's court case.
The McAllister incident - which was caught on camera - carried a three-match ban though the disciplinary panel handed Bowyer a further three-game suspension for foul and abusive language towards the referee Jeff Winter during Leeds' Premiership win at Arsenal in August after his sending-off for two cautions. Bowyer was fined £10,000 for the latter incident and would now be unavailable for almost two months.
Mills, fined £7,500, was already halfway through a four-match ban. His absence would now be extended by two games after the full back was found guilty of foul and abusive language to the fourth official Andy D'Urso in the tunnel after that August match at Arsenal. He was now out until March 17.
'Both players pleaded guilty,' confirmed the Leeds chairman Peter Ridsdale, who attended the hearing at Bramall Lane. 'Leeds will not condone unacceptable behaviour. We are happy the FA have now dealt with the matter and we can concentrate on playing football.'
In the midst of all the controversy and tension, The Guardian carried an article exposing the gathering storm around Elland Road, as manager David O'Leary came under further fire.
'The Ronaldo Room, or press conference salon, at the Philips Stadion in Eindhoven doubles up as the biggest free bar in Holland within two or three minutes of the end of a game, so perhaps the most belligerent of David O'Leary's questioners after Thursday's goalless draw between PSV and Leeds United was not the bona fide Dutch journalist he claimed to be. There is an unwritten etiquette at these gatherings that means managerial verdicts are rarely disputed from the floor. If a manager says he did not see an incident, or claims his player did nothing wrong, reporters merely note the opinion and resist the temptation to argue the toss.
'Imagine O'Leary's surprise, then, after claiming he was happy with the overall display, at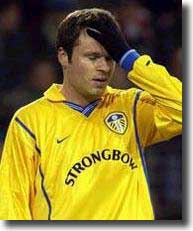 being brought up short by someone who had clearly seen a different match. "How are you going to lift your team for the next leg after such a disappointing performance?" O'Leary was asked. "I don't think I'll have to," the manager replied gamely. "I've just said I was delighted with our performance. It was nice to be able to pick the team I wanted to pick for a change."
'Mr Hard-to-please was not so easily fobbed off. "How can you say you were delighted with that display?" he demanded. "It was pathetic." That is not strictly true. Leeds should have done better against moderate opposition, but were good in parts and Alan Smith was excellent throughout. The watching Sven-Göran Eriksson will have gone home happy on that count alone, but at this point it was possible to feel sympathy for O'Leary.
'Already at odds with his chairman on a selection of issues ranging from his controversial book to the Intertoto Cup, under pressure from the plc over his apparent inability to guide his side into the financial haven of the Champions League, and understood to be in charge of a dressing room full of discontented players, O'Leary was now getting it in the neck from an ostensibly disinterested member of the foreign press. How did Leeds' season go so wrong?
'"One boozy night has brought the club down," O'Leary complained. But that boozy night was over two years ago. The repercussions, though admittedly protracted, were sorted out before the end of last year. "Some people, including a few within our own club, forget what a traumatic time we've had this year," O'Leary has said. Fair enough. Few clubs have had to go through what Leeds have just been through, not that any would want to, but it was last season, not this, when O'Leary kept wishing for summer and the chance to start afresh.
'The irony is that Leeds over-achieved last season, at least in terms of spreading their name across Europe, if not in the plc-preferred manner of staying within the Champions' League echelon. They seemed to prosper when the Bowyer-Woodgate court case was going on, only to collapse at its conclusion. The club's application to enter the Intertoto Cup last week was not quite a fall from grace to match the shock of Juventus doing the same thing three years ago, but for a team who reached the Champions' League semi-final last year it represented a brutal downscaling of esteem and ambition, even if Leeds did take the same precaution at this stage of last season.
'O'Leary has said all along the club's main objective is to finish in the top four and secure a Champions' League place for next season. He reiterated that view in Eindhoven in midweek, adding, revealingly, that the plc might rate him as a manager if he achieved that objective. Like his chairman, Peter Ridsdale, O'Leary always says slightly more than he means to in interviews. Both men are publicity conscious and confident of their ability to deliver a positive message via the media, but the events of this season suggest that confidence is misplaced.
'To take the most glaring example, neither O'Leary nor Ridsdale set much of an example for the rest of the club to follow over the publication of the former's controversial book, Leeds United On Trial. The very title of O'Leary's book contradicted Ridsdale's patient efforts to convince anyone who would listen that the trial was about individuals, not the club. For Ridsdale to claim he knew nothing about the book's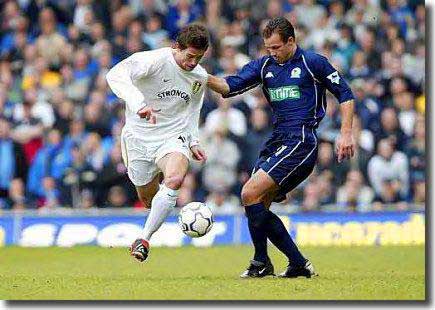 preparation or imminent publication was damaging to his own credibility. He said he had no idea Eddie Gray was writing a book either, but then the assistant manager was not planning a volume of obvious controversy which would be ghost-written by the club's head of public relations. When the book came out O'Leary's bonanza of name-dropping was actually quite tame - the usual managerial attempt to have the last word and put the best possible gloss on events - but the timing and inevitable sensationalism backfired badly. O'Leary called a team meeting in the immediate aftermath of the trial at which he stressed the need to draw a line, stop going over the past and move on together; noble sentiments that the players could not help noticing did not quite square with the revelations in the following Sunday's papers.
'The abysmal handling of the club's fine on Lee Bowyer was another exercise in prolonging, in public, a situation that should have been settled in advance with a minimum of fuss, and again the perceived alienation of a key player ran counter to the manager's plea for togetherness.
'The court case is not the only source of tension, though. In his book, O'Leary defends the promotion of Brian Kidd from youth team supervisor to head coach. "I knew a change was needed for the benefit of the club, it would have been a mistake to let things drift." Gray was effectively moved sideways and relieved of much of his training and coaching responsibilities in the process. The way O'Leary tells it, pre-Kidd he was doing most of the coaching himself. Kidd was appointed immediately after the 4-1 victory over Anderlecht last March, and some fans trace the decline of the spiky defiance that used to characterise Leeds from that very point. Some would go even further. "It is a common view that Leeds have stopped playing football since Eddie Gray was shifted sideways 11 months ago," reports the To Ell and Back fanzine website.
'At least one first-team player has complained that Leeds are not working hard enough in training. An unusual gripe, perhaps, but it should be remembered that Leeds are not quite as individually gifted as Manchester United, Arsenal and Liverpool. It was their work rate and team spirit that lifted them into the elite, only for Newcastle United to come along and pinch their act and their Champions League place.
'Coming so soon after Ridsdale's warning that players might have to be sold to balance the books, the defeat at home to Liverpool refuelled speculation about which players would leave in summer if Leeds failed to make the Champions' League. To Ell and Back conducted a poll, in which Mark Viduka emerged clear favourite. As Jason Wilcox occupied fourth place on the list and O'Leary was fifth, this may just have been wishful thinking, but even a club official in Eindhoven shared the general view that Viduka was unlikely to be around next term. Leeds probably will lose a few players, but that was always on the cards if they failed to win anything this season.
'The important thing now is to keep their heads. For all the nonsense of the past two years, the club is still on the credit side of the ledger under O'Leary. The good news is that Smith and Robbie Fowler will be fresh and raring to go next season, always assuming they survive both the World Cup and the Intertoto.'
Leeds had actually steadied the ship a little after the Liverpool debacle, drawing three straight games, but went out of the UEFA Cup when an extraordinary late goal from PSV Eindhoven at Elland Road settled the fourth round tie.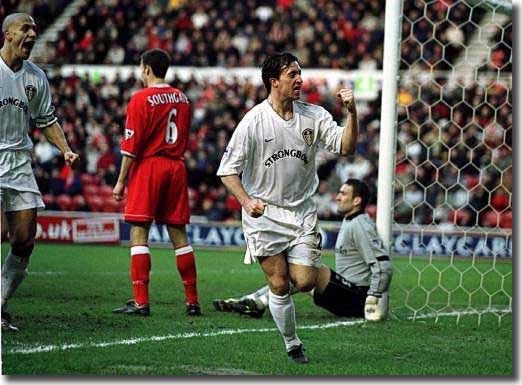 They had had a dismal run in the Premiership - since beating West Ham 3-0 to go top of the table on 1 January, Leeds failed to win until they managed to overturn struggling Ipswich 2-0 on 6 March. They also failed to manage even a goal from 9 February. That run had put their hopes of qualifying for Europe in grave danger. Their chances of a Champions' League spot were all but gone and even a UEFA Cup spot looked dicey.
Leeds managed a run of three straight victories against Ipswich, Blackburn and Leicester City, but then had a poor Easter, getting overturned 4-3 at home by Manchester United and losing 2-1 at Tottenham. David O'Leary warned his underachieving squad that they could be set for a busy summer, with the Irishman confirming the Intertoto Cup was firmly on the agenda. That lacklustre tournament offered a route to the UEFA Cup but demanded action in the summer months, which few players relish.
O'Leary knew the financial importance of a European bid, and was set to put his charges through the rigours of a summer campaign even though many would be away on World Cup duty. The Irishman said: 'We still have a chance of qualifying for the UEFA Cup but if we fail we will take any chance we have of getting into Europe. We have applied for an Intertoto Cup place even though it will mess up our summer because we will have a lot of players away at the World Cup with England and Ireland.'
He also castigated his defenders for their poor performances against United and Spurs: 'These two defeats have come at the wrong time for us, but once again it was down to diabolical defending. Once again we paid the penalty for defensive errors, which ultimately cost us the game. I couldn't believe we were two goals down as I thought overall we were in control. But we have conceded six soft goals over Easter and that is not what my team is about. I am always confident we can score goals but I also believe in having a solid base at the back and that hasn't been the case again today.'
The Irishman singled out Danny Mills and Jonathan Woodgate for making uncustomary individual errors. 'Woody has perhaps lost a bit of confidence over what he's been through during the last two weeks. He knows that he can play a lot better and so does Danny Mills. It was a big blow losing Rio Ferdinand, particularly with the two games we faced, so that has been a major loss. But the six goals we have conceded over the weekend have been gifted goals and that's not good enough.
'We had an international keeper and four international defenders out there and I don't know how they keep making mistakes like that. We've still got some games we can win but if we're going to do anything in our remaining fixtures, we've got to defend a lot better than we have in our last two games. The plc have told me what is required financially depending on where we go next season. People talk about the £60 million transfer deficit, but there is a lot of quality here.'
It was not the first time that the question of money had been raised as a major issue. The Guardian carried the following report a month earlier: 'The scale of the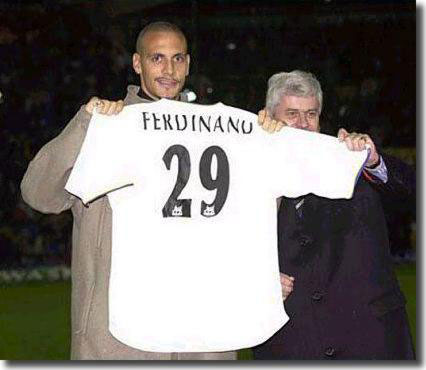 financial implications of Leeds United's underachievement this season became clear yesterday when the chairman Peter Ridsdale announced that they had lost almost £14m in this financial year and that they would have to sell £30m-worth of players this summer in order to reduce their debt by £15m to £20m.
'Leeds are believed to have received a bid of £30m for Rio Ferdinand alone but would not countenance selling their captain, so the mooted sale of Mark Viduka to Roma should account for half the £30m. Internazionale and Juventus have offered a similar sum for Olivier Dacourt but his season has been affected by injury and the likelihood of him not making France's World Cup squad will affect his value. Despite all the speculation surrounding Harry Kewell, Leeds have not received one bid for the Australian.
'The ease or difficulty of reaching the £30m figure then depends to a degree on how Leeds finish this season. Were they to secure a Champions' League place, their players would end their season on a high note and values would rise correspondingly. However, if Elland Road experiences another downturn, the marketability of fringe players such as Stephen McPhail and Robbie Keane will decrease. The manager David O'Leary will also want to bring in at least two new faces, so Ridsdale's estimate that up to six players may leave the club could be correct.
'He said: "One of the transfers will probably be more than £10m with three or four more smaller deals made up of squad players who are not regular first-teamers. The amount left for the manager to spend will depend on European qualification."
'The situation has been forced on Leeds as they try to reduce long-term borrowings that have risen to more than £85m after a £90m spending spree that has brought no silverware. An indication of how results-driven the economics are is that when they topped the Premiership in September, Leeds's shares were worth 14p. Yesterday they fell to 7p.
'Ridsdale was speaking after Leeds unveiled a £13.8m full-year loss which served to compound fears in the City that the stock market-listed club has borrowed too much in its quest for success on the pitch. Leeds have had the squad independently valued at £198m but the City values the entire club at just £25m. But Ridsdale remains bullish. "There are a lot of people waiting for Leeds to have a hiccup," he said, "but we're committed to a strategy of building one of Europe's biggest clubs and all our shareholders support us. We have no concerns about either our cash or debt levels."
'A sign of Ridsdale's confidence, or concern, is that along with his fellow director Allan Leighton he is preparing to buy out one significant investor in the club, the bank UBS Warburgs, who own 11%. At yesterday's prices that would cost around £3m.
'Explaining the yearly loss, Ridsdale said the uncertainty surrounding the Lee Bowyer-Jonathan Woodgate trial and the injuries to Lucas Radebe and Michael Bridges had forced Leeds to carry more players on their wage bill than they had originally wanted. "We didn't know who was going to be available to the manager," he said. "It was not an ideal situation."
'Ridsdale also insisted that plans to move to a new stadium and fund it by selling naming rights were unaffected by the impending player sales. He said: "We're in discussions with three multinationals over naming rights and already have one indicative offer."'
It was an astonishing turn of events and few supporters could recall when financial pressures had put the club's on-field performances so much in the shade. Better news came in April, however, when Arsenal and Chelsea managed to reach the FA Cup final. The semi-final results, which saw Middlesbrough, and Fulham both lose by the odd goal, meant that a UEFA Cup place was confirmed for Leeds, ending the need for Intertoto action. Relief was all around Elland Road at the news, but it was unsatisfying that the club had to rely on the achievements of other clubs rather than their own abilities.
David Batty said: 'It's good that we have qualified for Europe and we want to finish the season on a high. But this has been a disappointing season, there is no doubt about it, and when that happens at a big club like ours you can expect some players to come in and some to go out. None of the players are safe in the knowledge that they will be here next season so it's a question of waiting to see what happens during the summer. I'd like to think I still have a lot to offer the club though obviously the older I get the less influence I have and the fewer games I will play.'
Lee Bowyer, who had recently been partnering Batty at the heart of the United midfield, spoke in similar guarded tones: 'People have been wondering whether I am going to stay at Leeds, certain things have happened here that I wasn't happy about but that is not going
to be enough to push me away from here. Hopefully my advisor and the chairman will agree terms and I will still be here next season.'
A couple of weeks later, after Bowyer's winning goal at Derby and Alan Smith hit the only goal of the game at Elland Road against Middlesbrough to ensure a fifth place finish, the reason for the caution in Bowyer's words became evident. He was placed on the transfer list after turning down the offer of a five-year contract to stay at Elland Road until 2007 for reasons detailed to be 'a career move'. The 25-year-old midfielder had been in talks with the club since December but rejected the final offer, believed to be in the region of £2m a year.
Chairman Peter Ridsdale announced the club was prepared to listen to offers for the midfielder, with Liverpool and Arsenal reported by the media as interested parties: 'Leeds United today announce that Lee Bowyer has made the decision to turn down a new five-year contract. Lee's accountant David Geiss has informed us that the terms of the contract are not the issue but that Lee has made the career decision to move on. With Lee having one year remaining on his current agreement, the club has no alternative but to place him on the transfer list with immediate effect. This initiative has been taken with great reluctance. Given the contract offered by the club, which would have elevated Lee to the elite of the highest paid players at Leeds United, and given the support the club has shown Lee during the past turbulent 30 months, we are disappointed to have reached this juncture. We are surprised that this is the outcome after months of what appeared to be positive talks.'
The announcement came as a shock, but was only a symptom of the malaise that had descended over Elland Road, with the club apparently descending into a situation of farce, and events were soon to take an even more dramatic turn.
Part 1 Pacesetters - Part 2 The Leeds United trial - Part 4 A summer of change - Results and table