Part 2 - The Leeds United trial - Part 3 A season falls apart - Part 4 A summer of change - Results and table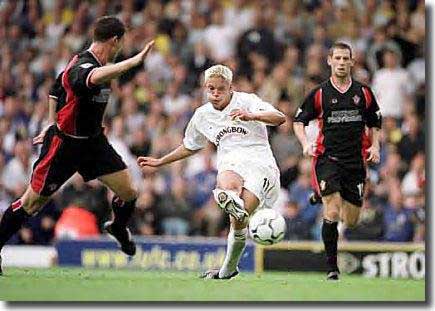 After the heady excitement of Leeds United's debut season in the Champions' League, the summer of 2001 was one of consolidation, as manager David O'Leary and chairman Peter Ridsdale concentrated on retaining their players rather than strengthening the squad.
There were no close season signings, while the club's rivals were splashing out big money to reinforce their own assault on the silverware. Arsenal brought in Francis Jeffers, Giovanni van Bronckhorst and Sol Campbell, while Chelsea strengthened their midfield by signing Frank Lampard and Emmanuel Petit. Champions Manchester United went even further by breaking the British transfer record twice, first by finally capturing long-term target Ruud van Nistelrooy, and then adding the Argentinian midfielder Juan Sebastian Veron.
The management at Elland Road instead concentrated on securing the future of a number of their stars, with Mark Viduka and Olivier Dacourt negotiating improved five-year deals, despite the constant rumours that they would soon be plying their trade on the continent.
A lack of signings, however, had to be set in the context of the team's excellent form in the spring, when they had been so close to unexpectedly seizing another Champions' League qualification. They had been the outstanding form side of the last four months so began from a position of strength.
Leeds kicked off their season with a satisfying 2-0 win at home to Southampton. The win flattered United, who had struggled to break down a tight defence, and there was a lack of sharpness up front. It took until the 68th minute for Lee Bowyer to break the deadlock with a low shot from the edge of the area after a corner had only been partially cleared, but substitute Alan Smith, who had been left on the bench as Viduka and Robbie Keane got O'Leary's initial vote of confidence, gave the scoreline a comfortable look with a well taken second ten minutes from time.
The ball had been played up to Smith on the edge of the area, with his back to goal, but his smart back heel and turn threw Dean Richards completely off balance, giving the new England international the space to finish in some style. O'Leary acknowledged that it had been Smith who had made the difference: 'Alan always livens things up and he scored a wonderful goal. They came to nullify us. But Manchester United often win with late goals in games. They grind people down and that's what we have to do. We must be clinical.'
The side's resolve and patience were to be tested to the extreme three days later when they faced one of their biggest challenges of the season, a trip to Highbury to meet a powerful Arsenal side, who had kicked off their own season with a heavy win at Middlesbrough.
Relations between Leeds and Arsenal had been bad tempered for years. With 41 bookings and two red cards in the previous six encounters between the two sides, referee Jeff Winter had reason to expect a busy night and he wasn't disappointed. Tension was high and neither side was willing to give any quarter. Challenges flew in from the off, and the Leeds performance was reminiscent of some of their more ugly encounters of the 1960's, as they fought like tigers for the points.
Mark Viduka escaped with a lecture for a tackle on Robert Pires inside the first minute, while Danny Mills got a strong word from the referee. Winter's patience failed him, however, after eight minutes following a tackle from behind on Ray Parlour by Eirik Bakke, and the Norwegian received a yellow card. Bakke's midfield partner Olivier Dacourt followed him into the book a couple of minutes later after a foul on his fellow Frenchman, Patrick Vieira.
Leeds' characteristic spirit was getting out of hand and Lee Bowyer and Mills soon also received cautions for ferocious challenges on Arsenal players. United were determined not to allow the Gunners to get into their stride, but allowed their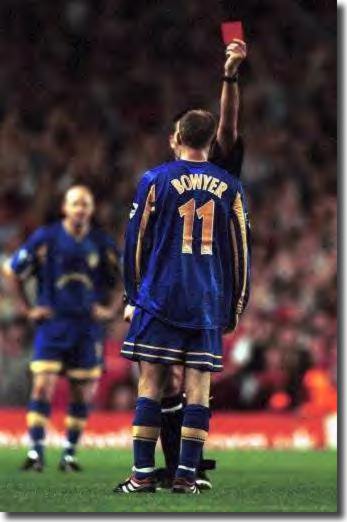 rashness to run over, and Arsenal were having the better of the football that did take place.
However, Leeds continued to battle for possession and as the half-hour mark passed they gained an unexpected reward. Mills went racing towards the area and was checked just outside by Robert Pires. Arsenal keeper David Seaman began lining his protective wall up, but Ian Harte showed great presence of mind, asking the referee if he could take the free kick quickly. The Irishman curled a 20-yard shot inside the left hand post as Seaman was caught completely cold. Arsenal protested vehemently that they had not been ready, but all their arguments were waved aside by Winter.
The Gunners, however, quickly forgot all the perceived wrongs when they fashioned a neat equaliser soon afterwards. Full back Ashley Cole was given too much space on the left flank and fired a low cross into the area. Sylvain Wiltord threw himself at the ball and guided a low header through a crowded area and into the far corner of the goal.
David O'Leary made a smart tactical change just one minute after the restart when he pulled off Alan Smith, who had taken a knock on his ankle in the first half, and sent on David Batty to bolster the midfield, with Harry Kewell deployed out wide on the left. The change allowed Leeds to compete more evenly against the Gunners' dominating midfield.
Clearly, the Yorkshire side's primary target was to avoid defeat, but they regained the lead after 52 minutes with a sweetly worked move. Kewell was having some joy on the left flank and fed Mark Viduka on the left hand corner of the box. The striker bought himself some space and slipped away from his marker, Tony Adams. The Aussie didn't need a second chance and drove the ball back low in at Seaman's right post to leave the Gunners deflated.
Leeds retreated into their shell after that, content to hang onto what they had got. However, they had little other option as both Bowyer and Mills were dismissed after second bookable offences. Gary Kelly and Jonathan Woodgate were sent on in the closing stages to bolster a stretched defence, and somehow Leeds held on for a precious three points against one of their fiercest rivals for the Premiership.
Manager O'Leary paid tribute to the resilience and magnificent spirit of his side afterwards, insisting it had 'not been a dirty game'. The Leeds boss hailed his gutsy team's performance: 'It's right to want to clean the game up but some of the bookings for both sides left a lot to be desired. I would rather leave it to the experts to discuss though. They don't get into trouble but I do. I enjoyed getting the three points.
'If you are going to do anything good, like getting into the Champions' League, you have to come to places like this, a great stadium and a great team, and get three points when you are not playing well. I have twice won a championship here and it's about getting results when you are not playing well. These are three fantastic points as this is a club who can beat anyone here.
'We showed a great spirit of togetherness. They did superbly at the end trying to block and cover for each other. The spirit got us through.'
Outside of Elland Road, the club got fierce criticism for an ugly lack of discipline, but the side had two wins out of two and lay second in the table. Two goalless draws, at West Ham, and then at home to shock pace setters Bolton Wanderers, kept the club in the early running, but seemed to confirm that Leeds did not have enough to offer up front, although their record of just one goal conceded in four games highlighted a new found meanness at the back.
Danny Mills had missed the Bolton game through suspension, but the back five of Nigel Martyn, Mills, Rio Ferdinand, Dominic Matteo and Ian Harte which had been so outstanding throughout the closing run of 2000/01 had carried their wonderful form into the new campaign. When Mills' goal against his former club Charlton, following a Robbie Keane opener, secured a 2-0 victory a week later, Leeds moved to top spot for the first time, and then a 3-0 demolition of Derby at Elland Road, with Harry Kewell bagging a couple, confirmed Leeds' ability to win points, although they were still not firing on all cylinders.
Either side of the Derby match, UEFA Cup action had kicked off, and an unexpected 1-0 reverse away to Portugal's CS Maritimo in the first leg was rendered irrelevant by a routine 3-0 victory in the return at Elland Road. Leeds had been dreadful in the first leg, although the goal had been unfortunate, and even at home they were still scrapping for true form.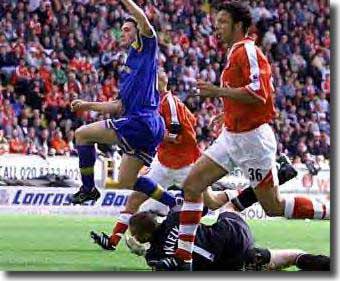 However, O'Leary's team had flattered to deceive with their form in previous seasons, and now it was the results which mattered rather than the manner in which they were achieved.
Back in the Premiership, Leeds came from a goal down at Ipswich to win 2-1, while something resembling decent form returned when a struggling Leicester team were demolished 6-0 at Filbert Street in the Worthington Cup. Robbie Keane's hat trick was the highlight of a game in which Leeds always had the upper hand, after the young Irishman opened the scoring with eleven minutes gone.
That wonderful victory put the side in good heart for a testing run of Premiership challenges, Liverpool at Anfield, Chelsea at Elland Road and Manchester United at Old Trafford, as October drew on. Those three games would reveal a lot about Leeds United's mettle as true challengers for the title.
Leeds kicked off at Anfield on 13 October with the confidence built by their good opening run, and a three point advantage over their nearest rivals, Arsenal and Manchester United. Leeds just about shaded the contest and went in at the interval with the lead their football deserved. Harry Kewell had been marshalled well on the left flank by Jamie Carragher, but won a corner after 27 minutes. Ferdinand rose at the far post to nod the ball back across the area and Leeds old boy Gary McAllister could only head weakly out towards Kewell. He shot from 12 yards out at some pace and the ball beat goalkeeper Jerzy Dudek after a deflection.
The interval came at the right time for the Anfield side for Leeds had started to exert some control. During the break Liverpool boss Gerard Houllier felt some chest pains and abandoned his team talk, leaving for checks in hospital. He was to miss much of the season. Reds assistant Phil Thompson took charge and withdrew Emile Heskey, throwing on the Finn Jari Litmanen after the break, and the Reds were transformed, coming much more strongly into the game.
Litmanen was at the heart of all Liverpool's best moves now, although they were still only rarely troubling Nigel Martyn. However, just as Leeds looked to have weathered the storm, the Anfield club unexpectedly fashioned an equaliser.
England striker Robbie Fowler was given far too much space on the edge of the box, finding the room to turn onto his favoured left foot and chip Martyn. The crossbar saved a scrambling keeper, but only temporarily as the ball bounced down, allowing Danny Murphy to nod home into the unprotected net.
Both teams pushed for the winner from then on but there were relatively few clear chances and the match finished with honours even and Leeds still heading the Premiership table, although their lead was now down to a single point.
A week later, while Liverpool won 4-1 at Leicester to move up to fourth, Arsenal and Manchester United both dropped points, with Bolton's startling win at Old Trafford further evidence that something was seriously wrong with Sir Alex Ferguson's side.
Leeds remained on top after a bad tempered goalless draw at Elland Road against Chelsea. The main talking point was a clumsy two-footed challenge by Graeme Le Saux on Danny Mills, which merited a red card but only brought a caution. David O'Leary was less fortunate when he berated referee Paul Durkin in the tunnel at half time over the incident, being dismissed for his trouble!
A week later, and a third massive challenge, with a trip to Old Trafford to face Manchester United.
Despite the dropped points against Liverpool and Chelsea, Leeds still retained a confident air, and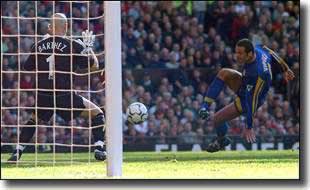 even though United pinned them back in the first half with a succession of chances, the Elland Road side were unlucky on several occasions. Surprisingly there was still no score at half-time, but the ill feeling between the two sides surfaced at the start of the second half. England captain David Beckham fouled Robbie Keane, and the Irish striker was lucky to escape with a yellow card when he retaliated with a push.
Keane celebrated his escape by seemingly giving Leeds the lead on the hour mark. He took a quick free kick that left Fabien Barthez without a prayer, but Dermot Gallagher disallowed the goal because he was still trying to get the United wall back the full ten yards.
It was one of Keane's final contributions as David Batty replaced him after 70 minutes in a move designed to shore up the Leeds midfield. Harry Kewell was pushed up on the left and brought a new threat. Olivier Dacourt released the Australian on the left, creating an opening for Ian Harte to fire a cross through the area. Mark Viduka, running across to the right, looked like he had miscalculated the ball's flight, but somehow reached it on the edge of the six-yard box to hook the ball back past Barthez to give Leeds the lead after 78 minutes.
Manchester United rose to the challenge and pressed the Yorkshiremen back, but it looked like the Ferdinand-Matteo combination would be good enough to secure the win. However, with just four minutes remaining, the ever-reliable Norwegian Ole Gunnar Solskjaer, brought on to replace Nicky Butt, rose at the far post to beat Martyn with a looping header.
Leeds could even have lost in the last few minutes when Martyn pulled off two last ditch saves to deny Ruud van Nistelrooy, but it would have been cruel justice indeed if they had returned to Yorkshire pointless. Nevertheless, they lost their lead in the Premiership with Aston Villa's win over Bolton later in the day enough to relegate Leeds to second.
Afterwards David O'Leary admitted he was disappointed that his side had not gone for the win, saying 'It was a good match, a terrific match. I'm disappointed because when we got the goal we sat back and I wanted us to go from there. I felt we should have won because we were controlling the game. This is why we've got to mature and we've got many years yet to do that. They are a fantastic bunch of lads who give everything for me. There's great spirit here, believe me, there's a great hunger.'
O'Leary could console himself with the thought that his side had emerged relatively unscathed from a tricky run, during which they had won through to the third round of the UEFA Cup and secured another promising young player in England hopeful Seth Johnson.
Johnson had been signed for £7m from Derby County and at just 22 was further evidence of O'Leary's policy of signing young British players. His new captain Rio Ferdinand was convinced of the quality of the signing: 'Seth is a good young player who has obviously chosen to come to Leeds to improve as a player and win things. He's a quality player who has played for England and I was with him on that occasion. Having been at Derby for a couple of years he has made his name, and if he regards this move as a step up then brilliant, as this club is only going in one direction and that is up.'
Leeds' progress in Europe had been uncertain and only a late goal by Robbie Keane in the away leg against France's Troyes in the second round managed to see them through. Their form had been as patchy as in the first round against Maritimo and the French team had shown the better spirit in their 4-2 defeat at Elland Road. In the return, Troyes had taken a 3-1 lead to move ahead on away goals before their tricky winger Loko had the chance to put the tie beyond doubt on the hour mark. However, he panicked when put clear eight yards out and fired over the bar.
With just 13 minutes to go, David Batty's uncharacteristic break into the area allowed Mark Viduka to chip ahead and Robbie Keane ran on to head home an undeserved goal. Nevertheless, few United fans complained at the result.
It was odd really, because in the previous few seasons Leeds had failed to secure the points their football had merited, while in 2001/02 the reverse had applied. It was noticeable that the team still had to catch fire and had demonstrated only patchy moments of quality. Their defensive strength was reminiscent of former triumphs, but an irritable, frustrating approach also echoed the style that Don Revie's team had perfected in the 1960's. Danny Mills, Lee Bowyer and Alan Smith had earned reputations for poor discipline, and David O'Leary seemed singularly unable to do anything about it.
Another patchy victory, against Tottenham at Elland Road as the season entered November, saw Leeds regain top spot, but they were desperately lucky with only two defensive blunders in the second half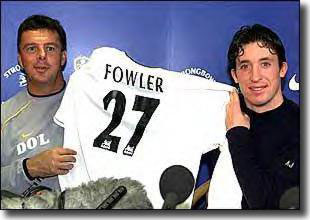 allowing them to come back after falling behind to Gus Poyet's opener. A couple of weeks later, their luck gave out when they crashed 2-0 at Sunderland, losing their unbeaten record in the Premiership and their leading spot.
A week later there was another bad-empered clash, at home to Aston Villa. Alan Smith was dismissed for the fifth time in his career after apparently elbowing Turkish defender Alpay. Smith had earlier given Leeds the lead, and United didn't allow the pace to drop after his dismissal, but let their concentration slip, giving Hassan Kachloul the chance to equalise after 33 minutes. They had opportunities to restore their lead as they dominated the rest of the game, but struggled to score.
Just days later, it seemed that David O'Leary had lost all patience with forwards who were guilty of foregoing chance after chance and agreed a fee of £11m with Liverpool for the transfer of Robbie Fowler.
The 26-year-old had suffered under Liverpool's rotation system and found himself falling behind Michael Owen and Emile Heskey in the Anfield pecking order, which he quoted as the main reason for his move: 'I have had nearly 15 years with Liverpool and eight wonderful years in the Liverpool team. But I think it must be obvious to everyone that the time has come to move on. It was always going to be a difficult decision to leave Liverpool, because even if I have my own reasons, the fans there were a powerful reason for me to stay. But Leeds are a great club, and the chance to be part of what is happening at Elland Road was too good to miss, particularly under the current circumstances. Like every footballer, I just want to play, and I want the chance to be part of things. I'm not interested in recriminations, but I think this is the best thing now for me and for Liverpool. Leeds have a fantastic young side, and it is clear that things are happening there. The chance to be part of that is a very exciting prospect for me.'
It took Fowler a while to find his shooting boots, and his debut came in a drab goalless draw at Fulham, as Leeds started to struggle to see off supposedly lesser opposition. Two goals from a very off colour Harry Kewell earned a well deserved 2-1 victory at Blackburn, but even a two goal lead at home to Leicester, who were struggling against relegation, could not secure a win as the Filbert Street side fought back in the closing seconds to escape with a 2-2 draw.
Even when Fowler did manage to find the net, with two at home to Everton on December 19 helping to establish a 3-0 lead, a suddenly frail Leeds defence evaporated, leaking two goals and only just holding on for a now rare victory. It was enough, however, to move Leeds back up to third place.
Off the field, however, more significant matters were coming to a head. Things were happening which had a long term impact on both Leeds' season and spirit within the Elland Road club.
Part 2 - The Leeds United trial - Part 3 A season falls apart - Part 4 A summer of change - Results and table