Part 1 Pacesetters - Part 2 The Leeds United trial - Part 3 A season falls apart - Results and table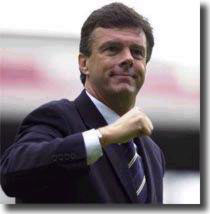 Leeds United Football Club experienced an extraordinary close season in 2002, during which the lack of success in the previous season cost their manager his job, and a big name successor replaced him. The story is told in two major features by The Sunday Times.
David Walsh: How O'Leary lost the plot
As David O'Leary drove his silver Mercedes from his home in Harrogate last Thursday morning, he believed it was just another day at the office. An 11 o'clock meeting with club chairman Peter Ridsdale at Elland Road, a few other loose ends to tie up, and the next day he and his wife, Joy, would be on their way to Sardinia. Two weeks when the world of football could go to hell.
If there was one quality that defined O'Leary's life in the game, it was an ability to dodge the bullets. He survived 20 years as a player at Arsenal, and though management had been more precarious, he had come through. Didn't he always? 722 first-team games for Arsenal: know what that takes? Things at Leeds, though, were not good. Only two days earlier he had met Dick Wright at the training ground at Thorp Arch. Wright worked for the club's media department.
'Morning, Dick, how are things?' 'Haven't you heard?' 'Heard what?' 'I've been made redundant. Finished two weeks ago. I'm in to collect some things.'
Wright had worked for eight years at Leeds. O'Leary offered his sympathy and carried on. Poor Dick; nobody was safe any more.
What could the chairman want? Something about Rio, probably. O'Leary had suggested the club should not sell Rio Ferdinand, and the plc was getting touchy about any hint of dissent. If this was Ridsdale's problem, he would argue that his comments were only going to push up Rio's price. Surely the chairman would understand that. People didn't realise how many balls a manager had to juggle.
As his Mercedes headed for Elland Road, the sky was blue and the sun was shining: so brightly that O'Leary never saw the train coming. And was it travelling! There was no preamble, no small talk. Ridsdale simply told O'Leary of the board's decision to fire him. There were no tears, no histrionics; just the brutal reality of dismissal
and a vague agreement to present the decision as an agreed separation. Ridsdale said he would speak to O'Leary's adviser, Michael Kennedy, about compensation.
O'Leary had once described Ridsdale as 'the best chairman in the game'; Ridsdale had called O'Leary 'the best young manager in the Premiership'. Like so much of what was said at Leeds over the past three seasons, the compliments were written in sand. Now two men, who could have talked for their respective countries, had nothing to say.
Less than three minutes after entering, O'Leary left Ridsdale's office. Leeds issued a statement saying their manager had departed from the club 'by mutual consent'. Ridsdale then telephoned Kennedy and briefed him on what had taken place.
'What do you mean, "mutual consent?",' asked Kennedy. 'You sacked David.'
'But the statement has already been released.'
'Well, you're going to have put out another statement,' said Kennedy.
Leeds issued a second statement, this time telling what had truly taken place. The first shots in the battle for compensation had been fired.
On the way back to Harrogate, O'Leary stopped off at the club's training ground near Wetherby, cleared his office and said his goodbyes. Sad day, but that's how it goes. The man who was bullet-proof had taken the biggest hit of his football life.
In charting his subsequent fall, there is a piece of advice he offered to his players that could now be inscribed on his own tombstone. 'The sad thing in football today,' he said more than three years ago, 'is that people who earn a lot think they have to change. They get arrogant, even though they've done nothing. They lose touch with their friends and inherit the so-called 'in people'. In-crap. These people, I wouldn't call them friends, they like you for what you are today but tomorrow they'll drop you.'
But it was O'Leary himself who seemed most vulnerable to the temptations he warned his players about. When he went to the US Open at Southern Hills Country Club, he travelled with Lee Westwood. At the Formula One grand prix in Monaco, he fraternised with Eddie Jordan. He spoke also of his close friendship with Leeds's deputy chairman and most influential director, Allan Leighton. But without realising it, O'Leary was losing the respect of those who could have saved his skin - his own players.
The difficulties came with defeats. Prepared to accept credit when things were going well, the manager couldn't stop himself publicly criticising players on the bad days. Woodgate was castigated for a performance against Leicester in December 2000; Smith was often scolded for a lack of discipline, Harry Kewell for lack of form. Mills, too, got the treatment.
At first, there were pockets of disaffection. Respected senior players and former England internationals, Batty and Jason Wilcox, were not impressed. The disaffection spread until it was rampant. Even a player as easy to manage and as much in love with the game as Gary Kelly became demoralised under O'Leary. It was clear, too, that Kewell had lost his zest for the game.
What the players saw was a manager who said one thing and did another. At the end of the Woodgate/Bowyer trial, he warned them against speaking publicly. Not a word, he said. The chairman would speak for the club. That was Saturday morning. On the very next day, the News of the World carried exclusive extracts from O'Leary's book, Leeds United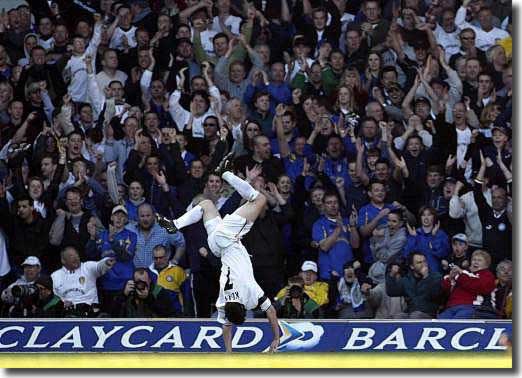 On Trial, and the Sunday People carried O'Leary's exclusive column. Both contributions were given over to the trial of Woodgate and Bowyer. For both, O'Leary was paid.
Other inconsistencies were noted. O'Leary spoke about the need for discipline but was unconvincing when it came to dealing with outbreaks of indiscipline. The players wondered what would happen when the substituted Robbie Keane was caught on camera mouthing 'f***ing w***er' at his manager as he walked from the pitch. Next day at training, O'Leary told Keane that with so many cameras at games, he needed to be more careful.
Towards the end of the season, tension between O'Leary and Mills manifested itself in a fierce training-ground row. Such was the ferocity of the full-back's reaction to O'Leary's criticism, that the players expected Mills to face disciplinary action. Instead, the manager tried to placate him.
When O'Leary complained publicly about big-name players not performing, they remembered that when they were training at Thorp Arch on the day before the home game with Arsenal, he was in Dublin signing copies of Leeds United On Trial. He could say what he liked in public, but they knew what was happening in private. Towards the end of the season, Dacourt said: 'If I play for the reserves on Thursday, I am not going to play for the first-team on Sunday.' He got the weekend off.
In the circumstances, it was no surprise the team under performed. Fifth in the Premiership was wretched for a team that had cost £66m to bring together. Failure to qualify for the Champions' League was catastrophic for the plc that Leeds had become. Non-executive directors Leighton and Richard North began to look more closely at the running of the club and they were unnerved by what they found. They discovered the relationship between Ridsdale and O'Leary had broken down, they sensed disharmony between O'Leary and his players, and they decided something had to be done.
The initial plan was to give the chairman and manager the first two months of the new season to improve things, but events overtook that strategy. Now watching more closely, the board was annoyed by O'Leary's criticism of Mills in his Sunday People column. At the World Cup, Mills could be a liability, said O'Leary.
Asked for his reaction, Mills was measured but damning. Sir Alex Ferguson and Arsène Wenger, he said, made their criticisms in-house. Elaborating, he asked: 'Would anyone be happy if the boss walked into the middle of the office and had a go?' Referring to a specific criticism that O'Leary had made of the Leeds team, Mills said: 'Sometimes saying the hunger has gone is an easy way to paper over the cracks. Sometimes you have to look deeper.'
By the time the World Cup began, the Leeds board was doing just that. Such was the growing disunity, the directors felt change could not be stalled until early in the new season. They were helped by O'Leary's failure to recognise the perilous nature of his own position. Advised by Ridsdale that he should toe the company line on any proposed transfers, the manager went public and said he was against selling the team's principal asset, Ferdinand.
That act of minor defiance cut the final thread that held the sword over O'Leary. It was not the reason he was fired, rather it was an excuse to get rid of him. Before Ridsdale delivered the board's verdict on Thursday morning, Leeds had sounded out Celtic about Martin O'Neill's availability and made other enquiries about the possibility of Ireland manager Mick McCarthy accepting the job.
In Japan, David Beckham and Paul Scholes talked to Ferdinand of how life at Old Trafford was good. Leeds are adamant that Ferdinand will not leave. Inside the club, it is speculated that the £35m Leeds need to ease financial pressures will be raised through the transfers of Dacourt, Bowyer, Keane, Kelly and Ian Harte.
O'Neill remains Leeds's first choice, but they are unlikely to prise him away from Celtic Park. A source close to O'Neill insists he will not take the job. From the moment he was sacked, O'Leary sensed Leeds had already agreed to replace him with McCarthy. This is far from certain, and Middlesbrough's Steve McClaren may yet emerge as a candidate. O'Leary believed McCarthy's friendship with Leeds's media director, David Walker, could help his case.
It was Walker who ghost-wrote Leeds United On Trial for O'Leary, and it seemed that their friendship would endure. There is now no guarantee of that. Not surprisingly, O'Leary has changed his opinion of Ridsdale. Another casualty has been the once-admired Leighton, who was a key player in the ending of a beautiful affair.
It would be easy for O'Leary to blame his former friends. He took Leeds from dull, mid-table anonymity to within touching distance of glory; then, after the first setback, he got the sack. But the deposed manager should not blame anybody else. Rather he should recall the words of his old sparring partner, Mills: 'It is easy to paper over the cracks. Sometimes you have to look deeper.'
O'Leary has never been a bad fellow. In the end he just could not see there was a bullet with his name on it. The £1m-plus compensation will help his recovery, and after his family holiday he intends to try to get back into football. He was 15 when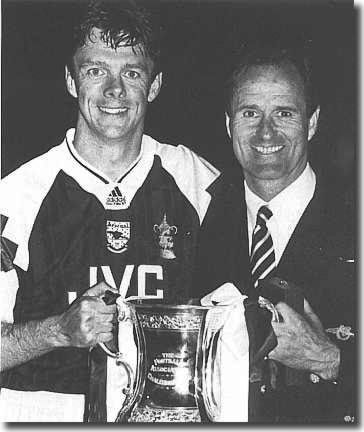 he left Dublin and returned to London. For 29 years, football has been all that he has known. As a player, he won two championship medals, two FA Cup medals, two League Cup medals and 67 international caps for Ireland. When he passed Geordie Armstrong's coveted record of 621 appearances for Arsenal, his wife, Joy, asked what he would do next. 'Break 700,' he said. He did. As an individual player, he could control his life. He never understood how different management would be.
O'Leary once talked about a golfing trip in Ireland where he would play with his son John, dad Christy and brother Pierce. Just the four of them: he and Pierce against John and the lad's granddad. He can now find more time to spend with his immediate family. The breathing space offered by unemployment could be what he needs. For it would be a time to work out where it all went wrong. But like all former managers, he will be conscious of the danger of being out of the game for too long.
The greater danger is that he will come back too soon.
Following the departure of O'Leary there were several days of media speculation over who would replace the Irishman, with Celtic manager Martin O'Neill thought to head up a short list of three which also included World Cup managers Mick McCarthy of Ireland and South Korea's Guus Hiddink. Middlesbrough boss Steve McClaren was also reported to be ready to be installed, but in the end it was an outside bet who became the new incumbent in the manager's office.
Hugh McIlvanney of the Sunday Times on 14 July: Return of the Messiah
It seems to be the professional destiny of Terry Venables to cut a far larger figure in the lore of football than in its record books. Many of us who admire his unquestionable gifts as a coach, and feel they are unfairly represented by the brief list of practical achievements against his name, naturally have hopes that he will be able to adjust the balance during the managerial contract he has just entered with Leeds United. But the continuing effects of the recent turmoil at Elland Road should discourage towering expectations. Rather than a glorious late chapter, we would perhaps be more realistic if we anticipated a spirited, characteristically entertaining postscript to his career.
Of course, though Venables will turn 60 halfway through the first season of the two-year tenure he has agreed with Leeds, it may be premature to see his spell there as the last major assignment he will undertake in football. Now that he has rediscovered his appetite for first-hand involvement, the hunger could conceivably persist beyond whatever happens in Yorkshire.
There is, however, a clear sense that this will probably be his final opportunity to thrust himself into the trophy-winning elite of Premiership managers (he won a Second Division title with Crystal Palace in 1979 and his FA Cup triumph with Tottenham came in 1991, before today's top league was formed).
Age can hardly be considered a handicap at a time when appreciation of hard-earned experience is reflected in the conspicuous maturity of the men in charge of clubs who have lately been leading contenders for domestic honours. Arsène Wenger at Arsenal and Gerard Houllier at Liverpool are both in their fifties, Sir Alex Ferguson did not let the passing of his 60th birthday dissuade him from extending his reign at Old Trafford and Sir Bobby Robson, at 69, shows no sign of any waning of his zest for managing Newcastle United. The years sit lightly on Venables, as is certain to be demonstrated at Leeds by his infectiously enthusiastic presence on the training ground. It is not his age but how he has led his football life that may make the new challenge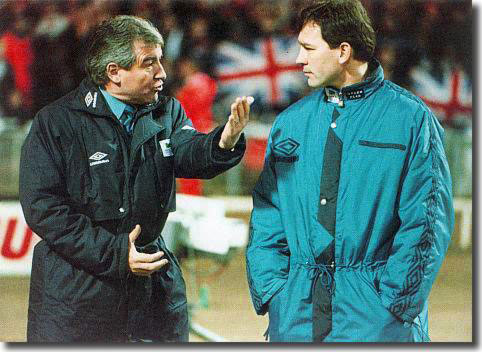 particularly demanding for him.
His career has been nomadic, littered with comparatively short-term engagements and punctuated by sporadic diversions into other areas of interest, from fiction writing to club owning, to television punditry and various versions of often ill-fated entrepreneurialism. Nobody should be foolish enough to deny that, running through these diverse strands of activity, there has been a powerful commitment to the world he knows best. He has never, for a moment, ceased to be an out-and-out football man. But the flirtations and infatuations have suggested a reluctance to marry his substantial talents totally to the game.
What should be regarded as a given is that he will bring genuine inspirational qualities to the task of reviving the Leeds squad's combative vigour and belief in themselves in the wake of David O'Leary's disruptive departure. There is a distasteful eagerness among Venables' more insistent critics to try to twist the lack of big-occasion accomplishments on his CV, and the discreditable baggage accumulated by his commercial ducking and diving, into a case for declaring counterfeit his huge reputation as a coach. They are spitting their venom into the wind. All the professionals who have worked closely with him, and they cover a wide spectrum of generations and backgrounds, come together in a unanimous salute to the creativity and effectiveness of his instructional and nurturing skills.
Their testimony tells us he has a deep understanding of the traditional imperatives of football (as opposed to the jargon-laden theories that impersonate profundity among less valid practitioners) and consistently enriches it with original, innovative tactical thinking and a cunning eye for specific ploys that will unhinge the opposition.
Confronted with so much eulogising from players and coaches who express gratitude for his improving influence, it is scarcely appropriate for a reporter to toss in his tiny endorsement, but countless conversations with some of the liveliest minds ever focused on football in Britain at least entitle me to imagine I can recognise the right stuff when I hear it. And I heard it for sure throughout two or three hours spent one-to-one with Venables in a Barcelona hotel in the mid-Eighties (his feat of taking the great Catalan club to their first Spanish championship for 11 years in 1985, and then on to a European Cup final, is still his supreme achievement). When we parted that day, I felt, accents apart, as if I might almost have been talking to Jock Stein. There is no higher compliment I can pay.
The most virulent of Venables' denigrators use words that are liable to send a shudder through anybody who hasn't met him. To me, their picture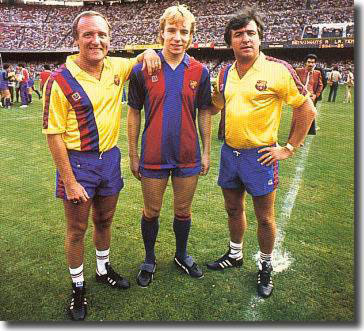 is a bitter, indefensible distortion. I like him a great deal. More to the point, he has effortlessly kept the friendship and esteem over 40-odd years of men whose solidity of character and all-round integrity make me count it a privilege to know them. So, for all the worries about his conduct of his financial affairs, in terms of human relationships he plainly has quite a lot going for him.
But can he lift Leeds into real, to-the-wire contention for the league title? Anything less could not be seen as improvement on O'Leary's regime, during which they finished fourth, third, fourth and then (amid last season's gathering problems) fifth in the Premiership, and reached the semi-finals of both the UEFA Cup and the European Cup. The notion that Venables merely has to take over the baton and quicken the club's stride is ridiculously simplistic, as is the suggestion that he can instantly advance his cause by recapturing the faith of the dressing room that his predecessor so crucially lost. For a start, there is alarming uncertainty about who will be in the dressing room. Lee Bowyer is poised to move to Liverpool, there is a widespread assumption that Olivier Dacourt will join Juventus and a meeting scheduled for today with Rio Ferdinand, the centre back who could reasonably be designated the most exciting young footballer in the country, threatens to result in a transfer request meant to facilitate relocation at Manchester United. The incoming manager may find that his immediate concern is to avoid losing ground rather than seeking confidently to gain it.
His endeavours are bound to be inhibited by the harsh lessons about budgeting that have had to be absorbed at Elland Road. Leeds's monetary affairs have apparently been irrationally affected in the past by a willingness to gamble beyond their means on qualifying for the bonanza provided by the Champions League. Stricter monitoring of expenditure on players will reduce flexibility when he turns his thoughts to recruiting personnel capable of reinforcing the squad to emphasise his own priorities on the pitch. Venables will have to produce something thoroughly remarkable if he is to free himself from the predicament of being richer in golden opinions than in silverware.
Part 1 Pacesetters - Part 2 The Leeds United trial - Part 3 A season falls apart - Results and table