Part 1 Pacesetters - Part 3 A season falls apart - Part 4 A summer of change - Results and table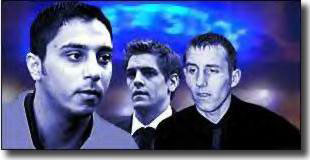 Leeds United have never been strangers to controversy … the questionable tactics used to become one of the most difficult sides to beat in the Sixties … the oft-alleged hints of bribery and corruption by Don Revie … dubious refereeing decisions at key moments which always seemed to go against the team … the thuggish displays of violence by their followers. Indeed, Leeds United Football Club owed its very birth to the scandal that surrounded their predecessors Leeds City in 1919.
However, even that particular period in the history of West Yorkshire football pales into insignificance when set against the extraordinary events which surrounded the club in the first few months of the New Millennium, culminating in what became notoriously known as the Leeds United Trial. The club itself was not in the dock, but it may as well have been, for the media feeding frenzy that arose threatened to engulf and destroy everything to do with Elland Road.
The story began in January 2000, while David O'Leary's youthful side was enjoying a quite extraordinary season, launching a challenge to the all-onquering Manchester United's Premiership dominance. On 9 January, Leeds enjoyed a breathtaking 5-2 win away to Manchester City in the FA Cup and then faced a couple of weeks of on-field inactivity. The break arose because of the decision of Manchester United to forego their defence of the FA Cup, preferring instead to chase the glory of the World Club Cup competition in Rio de Janeiro.
Some of the Leeds United players decided to go out drinking on the evening of Tuesday 10 January in the city centre, including Lee Bowyer, Michael Duberry and reserve striker Tony Hackworth. Jonathan Woodgate, who still lived in his Teesside home, went out on a bender in Leeds the same night with some of his old friends from Middlesbrough including Neale Caveney and Paul Clifford. Woodgate and his mates got riotously drunk and ended up in the early hours of Wednesday morning at a city centre nightclub.
According to David O'Leary in his book, Leeds United On Trial, 'On the dreadful night of the attack Woody hadn't been out with Leeds team-mates, he was partying with his Middlesbrough friends. As the court was to hear, one of them, James Hewison, who was not on trial, was very drunk and got into a ruck at the Majestyk Nightclub. Woody spotted his friend holding a bottle and looking as if he was about to hit someone. The club bouncers threw Hewison out, only for the trouble to continue on the steps outside when a group of Asians mocked him for being unable to hold his drink. It was Woody who tried to calm him down; Woody who tried to push him into a taxi to defuse the situation. But several attempts to placate his friend were to no avail. I remember Mr Justice Poole pointing out in his summing-up that the comparisons made by lawyers between Hewison and a gorilla or orang-utan were 'not particularly accurate' as those animals were quiet and sensible.
'In the early hours paramedics were called to an emergency in a side street in Leeds city centre. They found Sarfraz Najeib, a student, lying on the pavement in Mill Hill. His face was fractured in six places and his leg broken. He bore teeth marks from a bite on the side of his face, together with the imprint of a shoe left by a kick or a stamp.'
Sarfraz Najeib had gone to the nightclub with his brother Shahzad and three friends, all students at Leeds Metropolitan University. When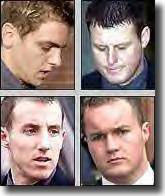 the students left they got involved in a verbal confrontation with one of Woodgate's friends, who had just been ejected from the club. A spokesman for the West Yorkshire force said the five Asian youths were being chased along Mill Hill when one of them fell over. The group of white men then attacked him.
Bowyer, Woodgate, Hackworth, Caveney and Clifford were charged with causing grievous bodily harm with intent to Sarfraz Najeib. All five were also charged with affray, and all apart from Bowyer were charged with conspiring to pervert the course of justice.
Everyone at Elland Road was shocked at the accusations, especially as initially there were hints that the attack had been racially motivated. A media circus soon descended and all but destroyed United's season. There may have been other factors, but certainly the team's form fell apart in the weeks that followed.
Events were creating a siege mentality around the club and David O'Leary echoed the feelings of many: 'My suspicions of a political agenda were intensified by the debate surrounding the date of the trial. In September 2000, after the players had been committed for trial, the Crown Prosecution Service said that their case would be ready for January 2001. Leeds United's lawyers had pointed out that if the trial took place during the season, the club would be 'severely penalised in financial terms from the loss of a number of players as defendants in the case, and to a lesser extent as witnesses'. Mr Justice Henriques decided to delay the court appearance until June 2001, explaining that the club's representations were one of the factors he had taken into account in choosing to wait until the end of the football season.
'Suddenly we found the decision taken by a High Court judge called into question. Lord Dholakia, a Liberal Democrat home affairs spokesman and former adviser to the Judicial Studies Board, said that he would be "seeking an explanation" for the delay from the Lord Chancellor, Lord Irvine. "I'm shocked and surprised that the judge should take into account representations of that nature," he said. "It is wrong because if justice is delayed, it is denied to people who are striving to find the courts will deal adequately with cases of this nature."
'Mr Justice Henriques responded: "Any company chairman making representations of this nature would have them considered by a judge in the setting of a trial date involving a number of that company's employees." However, he said that the principal reason for the date he had selected was fitting the trial into the court calendar: the new legal term beginning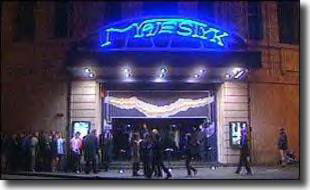 that autumn was too early and the Easter term too short for a trial expected to last six weeks, which left only the Trinity term, beginning in June 2001.
'Nevertheless the judge's decision was overturned and the date was set for 29 January 2001. I imagine that the defence legal teams must have realised from that moment that the politicians would continue to involve themselves in the business of the courts.'
As players on the verge of selection for the full England squad, Woodgate and Bowyer received most of the press attention. However, they coped very differently with the speculation and the condemnation.
Woodgate virtually disintegrated during the trial, becoming thin and haggard and betraying the impacts of many nights' lost sleep in the dark circles under his eyes. He played no more games that season following the commencement of the trial. A convenient ankle injury was cited as the reason, but in reality it was psychological problems rather than physical ones that kept the defender on the sidelines.
Bowyer was a completely different case, playing the best football of his career and eventually winning the accolade as the club's Player of the Year in the eyes of both players and supporters. That his performances came against some of the best teams in Europe made them even more remarkable.
David O'Leary: 'Lee Bowyer's performances for Leeds during the trial were phenomenal. His ability to deal with the situation and deliver on the football pitch was epitomised by his performance against Anderlecht in February, when the prosecution evidence was being heard. Having chased from the court to Elland Road for the Champions' League match, he scored the winning goal in a 2-1 triumph with four minutes remaining. On the eve of the game, Anderlecht players had suggested that they would attempt to exploit Bowyer's temperament and he was hit with a couple of tough challenges from Bart Goor. But Lee simply picked himself up, dusted himself down and got on with the game. Any hopes the Belgians might have had of rattling him were totally unfounded. Neither Bow nor the rest of the Leeds team could have wished for greater support from the Elland Road faithful. Deafening chants of "Bowyer for England" rang out around the stadium, especially after he had driven home our last-gasp winner to defeat the supremely confident Belgian champions.'
Luckily, with the trial being held in Hull, it was usually possible for Bowyer to get from the day's proceedings to Elland Road for mid-week games, although some away matches were impossible to reach. Bowyer was the star turn as Leeds went undefeated throughout the period of the trial.
Midway through proceedings, the case against Tony Hackworth was dropped when Mr Justice Poole ordered the jurors to acquit him after deciding there was insufficient evidence against him.
However, other matters were not going so positively and some of Michael Duberry's testimony proved damaging to Woodgate, Caveney and Clifford. He told the jury: 'I asked him where he had been, and he said they had just had a fight with some Asians. He was walking and talking at the same time.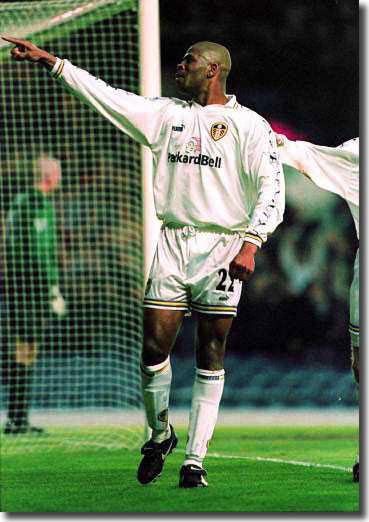 I didn't ask him who was involved, that was the only thing that came out.' Things looked bad. The matter led to long-term acrimony between Duberry and Woodgate.
The jury retired to consider their verdicts at the beginning of April, and not guilty results on conspiracy were the first to be given, on 5 April. The jury continued to consider the other verdicts over the weekend of 7/8 April.
On Monday, 9 April came some sensational news - the trial had been halted following the publication of a 'prejudicial' newspaper article. Trial judge Mr Justice Poole said the case against Bowyer, Woodgate, Caveney and Clifford could be prejudiced by an interview with the alleged victim's father printed in the Sunday Mirror. He said the article's suggestion that the attack was racially motivated, when the jury had been instructed otherwise, was deeply concerning.
The judge dismissed the jury of seven men and four women - who had been considering their verdicts for 21 hours over three days - after learning that some of them had seen the Sunday Mirror article. 'It is, to put it mildly, not at all desirable that a crime and therefore a suspect, should be labelled racist when it is the prosecution submission they are no such thing,' said Mr Justice Poole. 'The whole misleading issue of a racial motivation which the prosecution and defence have sought to exorcise has been revived and placed before the jury in highly emotive terms.' The judge said there was 'a clear and substantial risk of prejudice raised by the article', adding that justice would not be served if the trial continued.
The court hearing, which had already cost £8m, was postponed until October when Bowyer, Woodgate and the others would be tried again.
Leeds chairman Peter Ridsdale said he was not allowed to say anything about the trial itself but told reporters he was stunned by the ruling. 'After I read the newspaper article, I knew it could be very damaging,' Ridsdale said. Like everyone else, he had been expecting a verdict so that Leeds could plan ahead with or without Woodgate and Bowyer. 'We are all so surprised that no-one is yet in a position to comment in terms of how this will impact the club.'
It was very much a worst-case scenario, then, with the speculation and newspaper intrigue going on for a further six months. There had been some speculation that the retrial would never happen because justice was impossible given all the damaging publicity, but this was a vain hope and proceedings commenced, again in Hull, at the beginning of October 2001.
The retrial lasted another couple of months, and it was on Friday, 14 December 2001, that the final verdicts on events that had taken place almost two years previously were announced.
The Times: 'Both Jonathan Woodgate and Lee Bowyer were cleared at Hull Crown Court of assaulting Sarfraz Najeib, 21. However Woodgate, 21, was found guilty of a lesser charge of affray. The central defender, who has played once for England, escaped a prison sentence that could have ended his footballing career because the judge said he had suffered enough after two trials and 23 months with the prospect of jail. "You have suffered agonies," Mr Justice Henriques told him. "It is etched on your face."
'Mr Bowyer, 24, was cleared of all charges but was ordered to pay his legal costs of more than £1m because of the numerous lies the judge said he told in police interviews. Woodgate also faces paying costs of well over £1m.
'Paul Clifford, 22, from Middlesbrough, was sentenced to six years in jail for his leading role in the assault. Like Woodgate, Neale Caveney, 22, of Nunthorpe, was found guilty of affray. The verdicts came after almost five days of deliberation by the jury. Woodgate was initially found guilty of the lesser charge of affray, while Mr Bowyer was cleared of grievous bodily harm. The jury of seven women and five men were sent back to try to deliver verdicts on two remaining charges: grievous bodily harm for Woodgate and affray for Mr Bowyer.
'More than 90 minutes after the jury had first appeared, Woodgate was cleared of being involved in the attack. He looked stunned. After another 20-minute wait, the judge sentenced him to 100 hours' community service. As soon as he left court, Woodgate hugged his father, Alan, his sister, Stephanie, and Linda Purnell, his former teacher, who appeared as a character witness.
'Mr Bowyer puffed out his cheeks in relief as he was acquitted. Outside the court he said: "I'd like to thank everybody for sticking by me, that is the people who have, and I won't forget that. People from the club at Leeds United who stuck behind me for the last two years were the manager, the chairman and the players and especially the supporters."'
Peter Ridsdale gave the club's reaction in a press conference: 'You can't quantify the damage that this has caused. None of us have wanted to go through this and despite the fact that we as a club were not on trial the mere fact that we are here today demonstrates that the two linked together and at the end of the day people have perceived Leeds United to be as responsible as anybody else. But Leeds United have not been on trial. I would like to say that there is no hint of racism at this club and I was very happy to hear the judge in the case say that there were no racial motives in the attack. Leeds United has been in a very difficult position but we allowed both men to keep playing because we believe that they were innocent until proven guilty. The trial is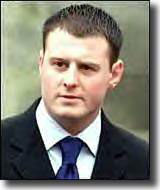 now out of the way. We now want to go back to playing football and try to get back to some kind of normality.
'We recognise that all of our players are in the public spotlight. If they do anything deemed inappropriate we know they are made sure of the consequences of that. We will be taking internal disciplinary action against Jonathan. We considered very carefully what we would do in certain circumstances and we do not take this lightly.'
The affair rumbled on over the weekend as the Sunday Times ran several pages on the affair, including a focus on the reaction of David O'Leary, who seemed particularly irate at his two players:
'David O'Leary last night said Lee Bowyer and Jonathan Woodgate had told him lie after lie when he attempted to establish the truth about what happened to Sarfraz Najeib. O'Leary also criticised them for damaging the reputation of the football club and undermining his quest for Premiership glory. "When the full picture began to emerge I sat all the players down and, pointing at Bow and Woody, I said: These two have disgraced us all. They were running round Leeds drunk that night. The terrible consequence of the evening was that a human was left lying on the floor as though he was nothing more than a piece of meat."
'There have been times over the past three years when David O'Leary has confided his dissatisfaction with the drinking habits of some of his players. He disapproved of players socialising in Leeds city centre and preached to them about the dangers of alcohol abuse. Among those who listened were some who would not hear.
'O'Leary will renew his campaign to ensure his players behave more responsibly. Yesterday the club announced a new scheme to promote a better lifestyle and to offer guidance on the consumption of alcohol. 'We will make it clear to players throughout our club that excessive drinking will not be tolerated,' said a club official. Whatever the new guidelines, no player is now in a position to demur.
'The irony is that the vast majority of the first-team squad at Leeds are excellent professionals. Players such as Nigel Martyn, David Batty, Olivier Dacourt, Danny Mills, Rio Ferdinand, Jason Wilcox and Mark Viduka do not need to be lectured on the dangers of alcohol. The young striker Alan Smith is a non-drinker.
'Had they been in the gallery at Hull Crown Court last week, the Leeds players would have perfectly understood the potential consequences of alcohol abuse; there would be less need for new schemes and old sermons. The harrowing details of the beating suffered by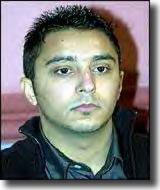 Sarfraz Najeib and the ordeal necessarily inflicted on the accused were the most telling commentary on the dangers of alcohol abuse.
'Leeds United are, unquestionably, the most exciting young football team in Britain. O'Leary is the man who has created the team, encouraged them to play attacking football and raised expectations to a level last experienced at Elland Road during the halcyon days of Don Revie's team in the early 70s. Unlike Arsène Wenger at Arsenal, Gerard Houllier at Liverpool and various managers of Chelsea, O'Leary has sought to build an empire based largely on English and English-speaking players. He has avoided buying continental Europeans and has nurtured an ethos at the club that is primarily British. It is an admirable aspiration that has been deservedly praised. But it was certain that O'Leary's homogenous group would reflect both the strengths and the weaknesses of the native football culture. As well as the grit and the spirit of the English footballer, there is also the drinking culture that has long been part of the British game.
'The situation was compounded by Leeds' greatest strength also being the weakness. Because so many of the players are young, the team has uncommon potential. But it is the youthful players who are most vulnerable to temptation and least likely to drink sensibly. All that happened that January night would not have taken place without staggering consumption of alcohol. Neither was it the first time that some Leeds players had drunk stupidly and misconducted themselves.
'For O'Leary, this has been particularly difficult to accept. During his 20 years at Arsenal, he was an exemplary professional and a virtual non-drinker. He lived then like the modern continental footballer. Saturday was his night out and it involved nothing more than eating at a Chinese restaurant with his girlfriend Joy. Later, when they married, he would take home the Chinese food.
'Though he preached to his players on the dangers of alcohol abuse and warned them about socialising in city-centre bars, the message never quite got through. O'Leary's abstemious reputation as a player would have made it harder for him to convince the players; just as a celibate priest is often disadvantaged when dealing with marital difficulties.
'While O'Leary cannot be blamed for the excessive drinking that led to so many problems for Woodgate and Bowyer, it will be expected that he can ensure proper behaviour from his squad in the future. It was regrettable that the manager did not speak publicly on Friday, and his decision not to do so raises questions about his judgment.
'Officially, Leeds said it was their decision that Ridsdale should deal with the matter. But on one of the biggest days in this team's evolution it was important for O'Leary to address the issues. The more plausible explanation for his reticence lies in his exclusive column in the Sunday People. It is not uncommon for newspapers to demand exclusivity from well-paid columnists on more newsworthy occasions, and O'Leary's silence may have related more to the Sunday People than to club policy. The difficulty for the man who demands the highest standards of behaviour from others is that he himself must be beyond reproach. Leeds's explanation for keeping the manager on the sidelines was also undermined by the knowledge that his forthcoming book, Leeds United On Trial, is serialised in today's News of the World. The book is an account of the traumatic 2000-01 season and is one O'Leary was genuinely keen to write.
'However, it deals with the investigation and trial of Woodgate and Bowyer and leaves O'Leary open to the accusation that he stands to profit from an appalling chapter in the club's history. Asked on Friday if he saw a danger in the timing of this serialisation, Ridsdale said: 'I can't comment on what David has done as an individual, the club have not done anything. If people perceive what David does in that way (that he is profiting from the controversy surrounding the trial), well, that's disappointing. We, as a football club, are not profiting out of the events that have happened. We will merely take stock of the
events and try to do the right things for the future.'
'Asked if he would prefer if the book was not serialised today, Ridsdale said: "That's out of my control." He then refused to comment on whether he approved, adding that the manager had the right to say in the public arena what he wanted to say: "That's what I do and if the manager has chosen to do that, so be it."
'While the future is uncertain, nobody can question that the Woodgate-Bowyer affair marks a turning point in the development of O'Leary's young team. If it accentuates its maturation, it will have a positive effect. There will be no difficulty re-integrating Woodgate and Bowyer into the first-team squad, for they are naturally fit footballers and they will want to prove themselves again on the pitch. Both were back on duty at the club yesterday.
'O'Leary must deal with the rift between Woodgate and his fellow centre-back, Michael Duberry. The two players were once close friends but have fallen out since Duberry responded to a subpoena and testified in the retrial. His testimony implicated Woodgate and fellow defendant Clifford.
'It is not uncommon for footballers in the team not be best chums but O'Leary will want Duberry and Woodgate to make up. How can the team move on if the coolness between the two players continually reminds them of the past? The club believes Woodgate has a duty to be receptive to whatever is asked of him. "In the case of Jonathan," said Ridsdale, "he has an even harder job to restore everybody's confidence in him as an individual and I think we would expect more from Jonathan than we would from other players. He has let his family down, himself down and he's let down the football club. He has damaged our reputation."
'Leeds say Woodgate will face internal disciplinary measures and may have to move from his home town of Nunthorpe, near Middlesbrough, to a location closer to Leeds. The club has never approved of Woodgate commuting from Middlesbrough or of the company he keeps when he returns home.
'It is equally true that there is tremendous affection for Woodgate at Leeds. The misdemeanours of his past constitute one side of his nature and by no means the dominant side. To his teammates, he is a little daft but hugely likeable. Everybody accepts his enormous quality as a player. Should he be accepted back into the England fold, he would be a contender for a place in Sven-Göran Eriksson's World Cup squad.
'In terms of the team's challenge for this year's Premiership, last Friday's result at Hull Crown Court is crucial. There is no certainty that Leeds, with Bowyer and Woodgate free to give their best, will go on to take the title. But without them, the team would not have had a chance.
'Though the defence has performed admirably this year, O'Leary will be thrilled at the prospect of re-discovering the old Woodgate. When he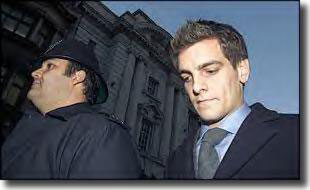 was charged almost two years ago, Woodgate's form dipped and once the first trial began last February, it slumped. He has been a shadow of a once great centre-back.
'With Woodgate back in training, O'Leary can dream of teaming him and Rio Ferdinand in the middle of his defence. Potentially, they are the best central defensive partnership available to any side in the Premiership. The events of the past two years will not be easily forgotten, but they ensure the club's fortunes will be followed more closely than ever before.
'The jury at Hull Crown Court returned last Friday, so Woodgate and Bowyer will be part of the club's immediate future. The jury in the case of David O'Leary and his team are still out.'
It was a startling piece of writing and the first stirring of any real public criticism of O'Leary since he took up the role of manager at Elland Road. His book, Leeds United On Trial, was seen as cynical manipulation of the media interest, and all the former good natured ribbing of his 'naïve young manager' image now became much more pointed and unforgiving. The pressure had clearly started to eat away at the likeable Irishman.
And while Lee Bowyer may have been found innocent of all charges, the affair was not over for him yet. He still had to face two outstanding charges for misdemeanours on the pitch that had been postponed until the trial was over, and they were seen by some as a way of keeping the all action midfielder out of contention for international selection.
Just as damaging, however, was the feud that erupted between player and club. Peter Ridsdale: 'Following the conclusion of the trial last Friday, Leeds United Football Club, as previously indicated, has reviewed appropriate internal disciplinary action against Lee Bowyer and Jonathan Woodgate.
'The club acknowledges and accepts the verdict of the jury that Lee Bowyer was innocent of all charges. Nevertheless, and in his own admission, he was under undue influence of alcohol in the city centre late at night, which is against the club's code of conduct.
'Jonathan Woodgate was found guilty of affray and was sentenced at Hull Crown Court. The PFA maximum fine ceiling is two weeks' wages. Following the internal disciplinary meeting between the manager, David O'Leary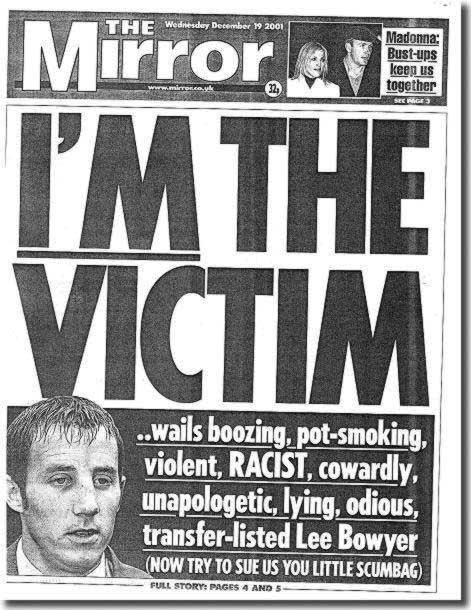 and myself, Jonathan Woodgate has been given a fine of eight weeks wages. Jonathan has asked that this money be put towards funding work within our inner city communities, which we are more than happy to agree to. Jonathan will commit to work within our community programme. Jonathan has also been given a final warning regarding his future conduct.
'Leeds United has imposed a fine of four weeks wages against Lee Bowyer, we would also insist that Lee work at the forefront of our community programme for the whole of the balance of his contract. Lee has also been warned regarding his future behaviour both on and off the field.
'Regrettably, Lee Bowyer has refused to accept this club disciplinary sanction and has, therefore, been placed on the transfer list with immediate effect. As a result of this Lee Bowyer will not be available for team selection by David O'Leary unless he accepts the club's disciplinary sanction.'
In the end Bowyer accepted his punishment, albeit grudgingly and resumed his first team duties, but harboured bitter resentment for months afterwards and refused to accept a new contract when it was offered because of what he saw as an injustice.
Clearly, the affair was not done, but it seemed to make little difference to Bowyer's performances on the field. He returned to the side for a home game with Newcastle United on 22 December, with the Geordies now themselves in contention for the Premiership. Bowyer was as outstanding as he had ever been in a white shirt, but the story was a different one for Leeds United.
The Sunday Times: 'Early in the second half, the swirling snow formed faint shades of white on the Elland Road pitch. It came to purify the atmosphere, to belatedly bring the festive season to the beleaguered men of Leeds. But then, 3-1 in front, the home defenders swirled as incoherently as the snow. Before the end, a white Christmas had become a black and white Christmas.
'It was at once painful and demoralising for the home team. To lose a two-goal lead in the final 30 minutes is one thing, to throw away a match winning lead at home is quite another. But Leeds didn't just fade in the final quarter, they disintegrated. Yesterday they squandered another two-goal lead in the last 30 minutes. It was all the more difficult to take because this was Leeds with their prodigal son returned from exile: Lee Bowyer started, scored a goal and performed well.
'Seven weeks have passed since Bowyer last wore his No 11 jersey. Since then he has sat in the dock of Hull Crown Court and wondered how long it would be before he played his next game. Since walking free from the courtroom, he has been vilified. But he is a man of uncommon resilience: the slings and arrows seem not to wound him.
'Not only did Bowyer seamlessly return to the company of his fellows, but he played with restraint and good manners. If he means to show a better attitude in the future, this was an encouraging start. In danger of making a late tackle, he held back; when decisions went against him, he didn't so much as demur and he gave everything he had to the team.
'Perhaps the least surprising aspect of his performance was that he was still the same gifted young footballer. His goal, six minutes before half time, reflected the essence of his quality. Leeds had just gone a goal down and needed to get back into the game. Few saw the opportunity as the ball was played through to Mark Viduka, but Bowyer did. Surging from midfield, he cut through Newcastle's defence and when Viduka played the pass, it was as if the prodigal son had never been away. His first touch steered the ball inside Nikos Dabizas's tackle, his second nudged it into position and, half a second later, the net was shaking.
'Much of the week's angst was released in the players' celebration. Their joy was palpable and barely controlled. Near the Leeds dugout at halfway, Brian Kidd quietly turned and shook David O'Leary's hand. Theirs was a different emotion, more relief than joy, but no less intense.
'The goal seemed a turning point: why else had the gods ordained that Bowyer would score, if not to lead the team to victory? That was how Leeds saw it and their morale soared. Ten minutes into the second half, they were 3-1 up and the Yorkshire air was speckled with dancing snowflakes.
'But this Christmas card from Elland Road is rather sombre. Doleful, in fact. Leeds leaked three goals in the last 30 minutes and, just now, they are far from a good team. Without the injured Dominic Matteo, they moved Danny Mills to centre-back and Gary Kelly to right-back. Defensively, they were shocking.
'Mills and Rio Ferdinand were unnerved by Craig Bellamy's pace and never formed a partnership. On the left side of Leeds's defence, Ian Harte's fragility has moved on from being a weakness to being a burden. Kieron Dyer skinned him for the first goal, while Nolberto Solano got past him for the fourth.
'It would be wrong to see yesterday's collapse solely in terms of the defence. When Leeds were 3-1 up, the game was theirs. It was the time to shut up shop and protect what they had. It is an art this young team has yet to acquire. Neither should anybody think yesterday's vulnerability was a one-off. A coasting is a dangerous business and Leicester came up with two goals and earned a draw. Four days ago, Leeds led Everton 3-0 but too easily conceded two late goals to their rivals. It was going to catch up with them and, my goodness, how it did.
'Afterwards, O'Leary sat wearily down to rake through the ashes of the dead match. He praised Bowyer for his performance and expressed his disappointment at the loss of the two-goal lead.
'Thinking a little ahead, the Leeds manager looked forward to being able to concentrate on the management of the team. 'After what we've been through, managing the actual team will be a doddle,' he said.
'It will certainly be easier than dealing with the aftermath of the most traumatic week in the history of the club, but a doddle? Not after yesterday. O'Leary has much to do before he rediscovers his team.
'It is a test of his management and he will relish it. Just now, at the turn of a bleak year for the club, the team does not look good enough to win the Premiership. Self-belief has been one of O'Leary's strengths. He will need it through the coming months.'
Four days later, the result seemed a lifetime away as Leeds put all their cares behind them when a hat trick from Robbie Fowler secured an impressive 3-0 victory at Bolton. 'He's a clinical finisher,; O'Leary beamed, although the penalty that the Scouser missed seemed to suggest otherwise. The manager was likewise delighted with his defence, now with Woodgate reinstated alongside Ferdinand: 'I think there's a partnership there that will be as good as anything in the country for years to come. Our concentration was a lot better at the back. It's about finishing games off, learning to keep the ball.'
When Bowyer grabbed the only goal in the 89th minute away to Southampton on 29 December, it looked like Leeds United had finally put their sluggish run behind them and were back in the groove. O'Leary was once again brimming over with enthusiasm: 'It was typical of the goals Lee can score over the season. The goal he got is his game. I had to get him to play out of position, on the left side of three in midfield, but he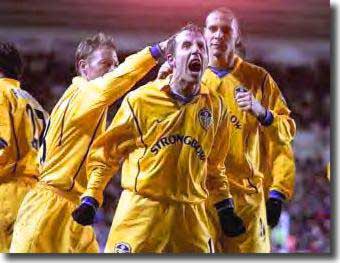 was able to receive the ball and get in the box. If we have a sound base defensively, we've always got players in the team who can pop up and score a goal like that. It wasn't the prettiest of games, but we were unlucky not to be a goal up at half time. It was a good, solid, workmanlike performance. We know we can play better, but we have a spirit of togetherness. We stayed solid and were always liable to score a goal. But we're not the finished article by any means - we're a good team with a lot of maturing to be done.'
The revival seemed to be complete when two goals by Mark Viduka and a special from Fowler gave Leeds an easy 3-0 victory at Elland Road against West Ham on New Year's Day, restoring their position at the head of the Premiership. It was as good a performance as the side had enjoyed all season.
It seemed at long last, after a couple of turbulent years, that Leeds United were finally going to realise all the potential they had hinted at for three years under the leadership of David O'Leary. Unfortunately, things are never that simple and everyone connected with Elland Road may look back and wish that 2001/02 had ended on the first day of the New Year.
Part 1 Pacesetters - Part 3 A season falls apart - Part 4 A summer of change - Results and table