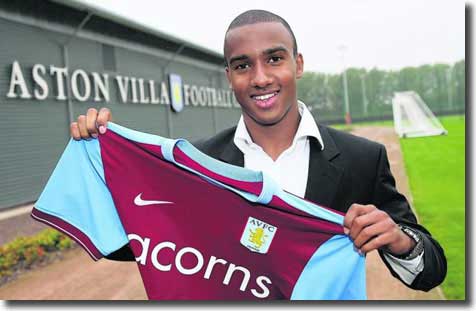 Part 2 Off field setbacks - Part 3 Cup highs and League lows - Results and table
Simon Grayson's impact as Leeds United manager in the five months since his appointment in December 2008 had led to great expectations as the club prepared for its third season in League One. Everyone acknowledged that Leeds was a club playing beneath its 'true level', with a massive following and stabilised finances at last; the outfits relegated from the Championship, Norwich, Charlton and Southampton, were big names with recent Premiership experience, but surely, surely, this would be the year that United took the first steps back up the football ladder.
For the long-suffering and passionate supporters of the club, promotion was the minimum requirement: it was a case of now or never. In that respect, the situation was uncannily similar to 1989, indeed almost a carbon copy, with everyone then expecting Howard Wilkinson to lead the Whites out of the Second Division wilderness and back into Division One.
On the eve of the new season, Simon Grayson manager spoke of his promotion hopes: 'We don't want another season in League One and I'm well aware of that. I don't need to tell the players either ... They don't want to play in this division for much longer.
'My mind has to be focused, as it has been since I came in. I followed the club through thick and thin for years, but I'm here now to be a successful manager - one who can take them back into the Championship. That has to be the target. It's the level of expectancy we put on ourselves... The bottom line is that we have to get promoted, finishing in the top two or going up as champions if we can. If we have to go through the Play-Offs, then so be it.'
The summer's transfer speculation chiefly related to who would be departing Elland Road.
The overtures for gifted midfielder Fabian Delph eventually proved irresistible; after months of speculation, United accepted a bid from Aston Villa, an initial fee of £6m, potentially rising to £7.5m. Delph was off for pastures new.
But, crucially, Jermaine Beckford was not.
The striker was in the final year of a contract signed in 2007 and jealously coveted by a number of clubs. In May, Beckford rejected the offer of a new three-year deal and was transfer-isted. Chief executive Shaun Harvey: 'As a policy we will always look to retain our most effective players, however we will only do so within the financial parameters that we believe are appropriate. The offer we have made to Jermaine is what we believe to be a very good offer, but he has exercised his right to turn it down. On the basis that he has 12 months remaining on his current contract and could leave on a free transfer next summer, we feel we must consider any offers that are forthcoming for him.'
Middlesbrough, Coventry, Sheffield United, Newcastle United and Barnsley were said to be interested, but no one matched the rumoured asking price of £2.5m; on 20 July, Ken Bates announced that Beckford would be staying at Elland Road.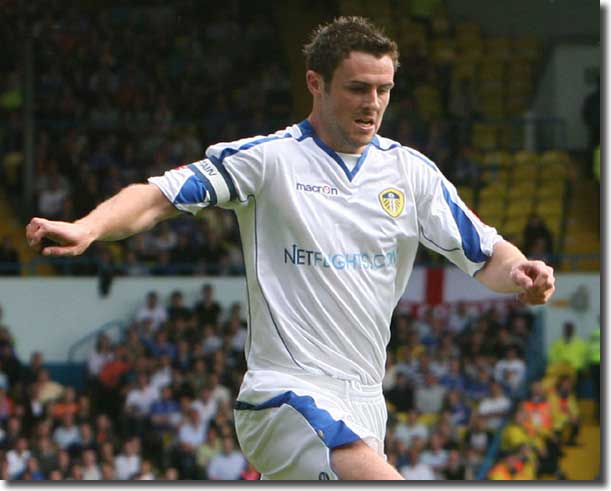 'I've discussed the situation with Simon and we've taken Jermaine off the transfer list. We're quite happy to keep him, he's under contract until the end of the season, and we're looking forward to him playing his part in getting us promoted this season. Hopefully he will score another 34 goals this season!'
The contracts of Jonathan Douglas, David Lucas and long-serving Frazer Richardson were not renewed and they were allowed to move on, the first two joining Swindon and the latter Charlton; Peter Sweeney's contract was cancelled by mutual consent and he signed for Grimsby. Promising young defender Luke Garbutt was poached by Everton, with the Professional Football Negotiating and Consultative Committee fixing the fee at an initial £600,000, with add ons taking the package up to a possible £1.5m.
Grayson signed a number of reinforcements: Northampton right-back Jason Crowe and 32-year-old Cheltenham keeper Shane Higgs took the place of Richardson and Lucas, while Coventry's Irish midfielder Michael Doyle arrived on a season-long loan.
Possibly the biggest new name was Leicester centre-back Patrick Kisnorbo, an Australian international. He opted to join Leeds despite competing offers from several Championship clubs.
Grayson: 'Patrick is an experienced defender who has played regular football in the Championship. He is strong, aggressive, and has leadership qualities. Having spoken to him, his desire and hunger is clear and he is just the type of character I want at the club. It's a big coup for us … It says a lot about the player and a lot about this club.'
United had a straightforward opening, at home to newly promoted Exeter City on 8 August. Higgs, Crowe and Kisnorbo debuted, with Rui Marques and Ben Parker completing a new look rearguard. Doyle joined Robert Snodgrass, Jonny Howson and Bradley Johnson in midfield, while Beckford and Luciano Becchio continued their partnership up front.
Leeds enjoyed a host of early chances, and Beckford might have had a hat trick. They took the lead after 13 minutes, Beckford coolly slotting home a cross by Parker, made after an excellent attacking burst. The striker was denied by the crossbar twelve minutes later and even when Parker limped off after 28 minutes with a hamstring strain, there was no hint that victory would be anything other than a formality.
Exeter threatened a revival at the start of the second half, but the dismissal of striker Barry Corr just before the hour promised to derail them. Leeds had eased up, however, and Alex Russell silenced a 27,000 Elland Road crowd when he curled home a free kick after 73 minutes.
The visitors grew in confidence and were heading for a shock draw until two minutes from the end when Beckford rose high to nod home a cross from Crowe to secure all three points.
Grayson's preferred 4-4-2 formation made the most of United's assets: Becchio's strength and ability to shield the ball, coupled with Beckford's lightning pace offered a constant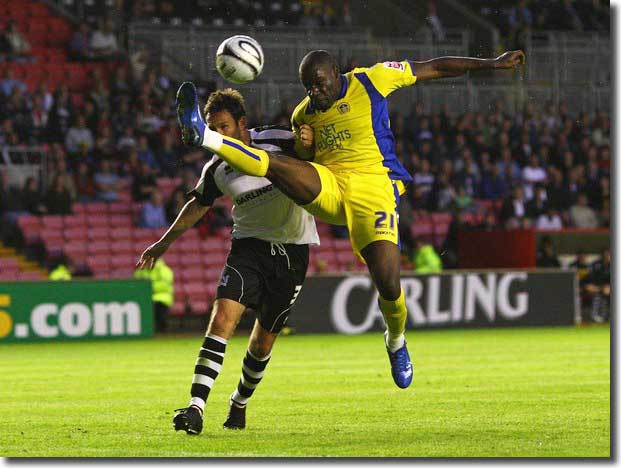 threat. Snodgrass was given freedom to press forward on the right and Johnson's power on the left made him a danger. Doyle's defensive qualities provided new substance in front of the back four, while Higgs, Crowe and Kisnorbo looked to be excellent signings.
United followed up by beating Darlington 1-0 in the Carling Cup. The goal came courtesy of an opportunist 54th minute flick from Enoch Showunmi, who had made his comeback as a late sub against Exeter. The towering striker had been out for months following the discovery of a life-threatening blood clot near his lung.
On 15 August Leeds faced a second promoted side, Wycombe Wanderers, and secured another win via Becchio's long range strike after 61 minutes. Andy Hughes continued at left-back in place of Ben Parker, a role he was to fill for most of the season.
Three days later, Leeds started well against Walsall at the Bescot Stadium and an upright was all that stood between Beckford and an opening goal in the first half. But it looked like their 100% start was over when Sam Parkin calmly slotted home an 80th-minute penalty after Rui Marques had brought down Steve Jones.
But Grayson's Whites were nothing if not resilient and three minutes later Bradley Johnson headed the equaliser following a corner from substitute Andy Robinson. Leeds were not yet done: in the 87th minute Beckford got to Marques' long ball and lashed it home for a victory. It was well merited with Leeds having 62% of the possession and Walsall never threatening a goal in open play.
Simon Grayson: 'They have a belief in this team that even when they go behind they can get something… We can go to the bigger stages and perform, but promotions can be won and lost at places like Wycombe and Walsall. We lost here last season, but we showed the right attitude and desire on Tuesday to make sure that didn't happen this time.'
United continued their strong start four days later by hammering Tranmere Rovers 3-0 at Elland Road with goals from Johnson, Beckford and Becchio. All three men also hit the woodwork, in Beckford's case on three occasions.
It was a 13th successive victory at home, equalling a sequence achieved by Don Revie's side in 1969. Grayson: 'It's not something you can say often as a manager, but I really enjoyed watching that. I felt like a fan again watching some of the football we played and it was really entertaining and enjoyable ... On another day it could have been a lot more ... Sometimes you can win five, six or seven and use all your goals up, so I'm quite happy with how it finished.'
On 25 August, United were cast in the unusual role of potential giantkillers, hosting Watford of the Championship in the Carling Cup. Grayson made his first change in four games, resting Becchio to give Mike Grella a run.
There was little evident difference in class between the two sides, and United were first to score, after 38 minutes.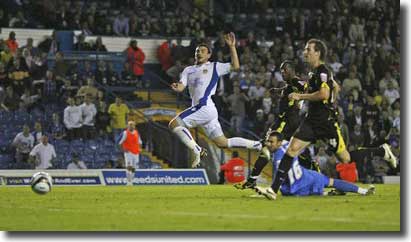 Robert Snodgrass opened his account for the season, curling a beautiful shot past goalkeeper Richard Lee from the edge of the box. Leeds had the best of things after that but Watford's Marvin Sordell snatched an equaliser three minutes before the end to send the contest into extra time.
Leeds quickly regained the advantage. Snodgrass picked up the ball from substitute Showunmi's knock down, bustled his way through the defence and flicked the ball home to complete a 2-1 victory.
On 29 August, United faced their most challenging fixture thus far, away to third-placed Colchester. Phil Hay in the Yorkshire Evening Post: 'Joe Dunne, caretaker of the army town's football club, describes Colchester as a place "built on fighting spirit" ... In a match of seven yellow cards and an underlying mood of friction, his players were scarcely found wanting on that front, but he is not the first coach to discover that spirit alone is a meagre weapon with which to attack Simon Grayson's Leeds United. On occasions last season, Leeds were justifiably viewed as a softer touch among the more ambitious clubs in League One, but that accusation is no longer levelled at Elland Road.
'Colchester did not go so far as to pick a fight on Saturday but they made plain their intention to examine what Dunne might have perceived to be a weakness in Leeds, an inability to outwit opposition who give as good as they get ... Winning ugly is a difficult skill to explain but Saturday's victory came fairly close to defining that talent. As a performance, United were lacking the cohesion exhibited against Tranmere and missing the flair responsible for their most conclusive victory of the season.
'United's defeat of Colchester was scruffy, but League One as a whole is a scruffy division. If their opposition thus far - Colchester, Tranmere, Walsall, Wycombe Wanderers and Exeter City - have had one constant, it is a prevalence of elbow grease and a lack of gold plating. Grayson has the rare distinction of being able to see both qualities within his squad. When Leeds are in full flow, the team controlled by Grayson does not differ drastically to that managed by his predecessor, Gary McAllister. Both have been capable of inspiring consummate performances on their day. Where Grayson has succeeded is in teaching his players to smash their way through the belligerent obstacle presented by a club like Colchester, one who will not go quietly. Many managers have argued that it is entirely possible for a team to play their way out of League One; on the evidence of United's last two seasons, the value of unflattering victories is significantly higher.
'Beckford's goal epitomised Saturday's game, coming while confusion and disorganisation took hold of Colchester's defence with slightly more than an hour played. The striker saw his chance when a bouncing free kick aimed into the box by Andrew Hughes dropped in front of him and his natural reaction was to prod the ball into the net. Beckford's fifth goal of what is shaping into another season of reliability was a strike that Colchester could not reply to.
'The performance of referee David Phillips and his linesman did little to soothe the atmosphere … It was also down to Phillips' assistant, Michael McCoy, that United did not carry a 1-0 lead into the interval. McCoy correctly flagged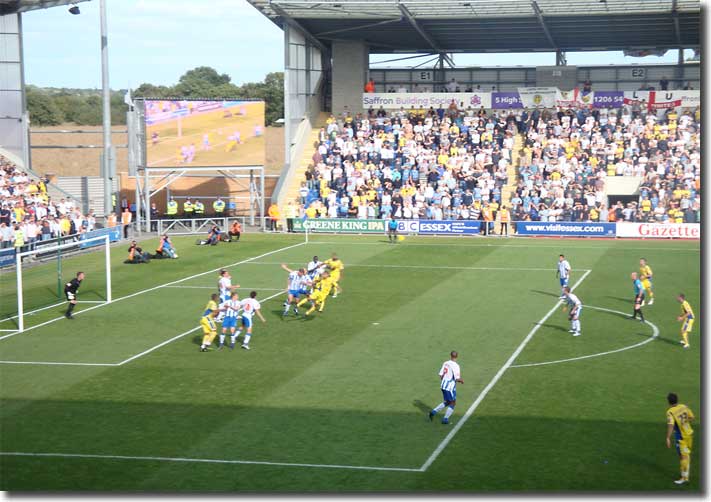 for offside when Beckford rolled Jonathan Howson's pass into the net in the seventh minute, but his judgment erred when the striker struck again eight minutes later, apparently legitimately. Luciano Becchio's gentle touch played Beckford in behind Colchester's defence and McCoy's decision to disallow the goal was dubious in real time and patently wrong when reviewed later.
'Shane Higgs, United's goalkeeper, produced the only save made in the first half, beating David Fox's 20-yard shot to the left of his goal, but the second half was only 60 seconds old when Johnson scored. Phillips had changed his shirt at the interval, wearing green as he left the pitch and re-appearing from the tunnel in blue, but his contentious performance remained unaltered. The Sussex official sided with Snodgrass when the Scot tangled with Magnus Okuonghae on the far left hand side of Colchester's box and Snodgrass' curling free kick reached an unmarked Johnson six yards from goal. The midfielder applied the finishing touch, nodding home a header he could not have missed.
'Higgs was powerless to protect United's lead after Lisbie danced around Rui Marques and teased the Angolan defender into clipping his heels. Lisbie's 56th-minute penalty, driven high to Higgs' left, was beautifully placed.
'Colchester sensed an upset, but they reckoned without Beckford and without the bloodymindedness of Leeds, typified by Patrick Kisnorbo throwing himself in front of Anthony Wordsworth's injury-time shot on the edge of United's box. At this rate, the club's first defeat will come over dead bodies.'
On the final day of August Simon Grayson bolstered his squad by signing defender Leigh Bromby from Sheffield United, providing defensive cover with Patrick Kisnorbo (Australia) and Rui Marques (Angola) both due to be away on international duty the following weekend.
29-year-old Bromby, a United supporter, was rumoured to have cost around £250,000. He said, 'Had it not been Leeds United, I wouldn't have dropped down to League One ... I'm not sure I'd have left Sheffield United for any other club. Whatever league Leeds are in, you can hardly call a move here a step down. You're walking into a club where the manager and players are making no secret of their intentions.'
Bromby was given his debut on 5 September against Stockport County, partnering Lubo Michalik in his first League One start of the campaign. Jermaine Beckford was out injured but replacement Mike Grella opened the scoring after eight minutes with his first United goal. He exhibited great control to set up Bradley Johnson. His effort was blocked but Grella followed up to curl the ball into the far corner. Michalik added a second in the 37th minute.
The 2-0 victory was United's 14th straight league win at Elland Road, breaking a record established by the 1969 side. It also set a record for successive wins in all competitions at the start of a season, going one better than the seven achieved in 1973.
The perfect record came to an end at Southend on 11 September, a goalless draw being earned via a splendid penalty save by Shane Higgs after 65 minutes. The Friday evening result took Leeds a point clear of Charlton, but the Addicks drew level the following day with a draw at home to Southampton.
There was clear air between the sides the following weekend with Charlton held 2-2 at Norwich, while United hammered Gillingham 4-1 at Elland Road. The victory was built on two goals from Bradley Johnson.
Phil Hay in the Yorkshire Evening Post: 'For Johnson, his brace was the continuation of a renaissance that seemed wholly unlikely at the turn of the year. Even on the first day of pre-season training, it was impossible to predict with any certainty that the midfielder would reach his current level of involvement at Leeds, a club where he has never before found a niche. His heading ability, without question, is reminiscent of Gary Speed, a comparison which has been drawn before and which was highlighted again when Johnson ran in to nod home Robert Snodgrass' corner in the 14th minute. Gillingham had placed Danny Jackman on the near post but the power of Johnson's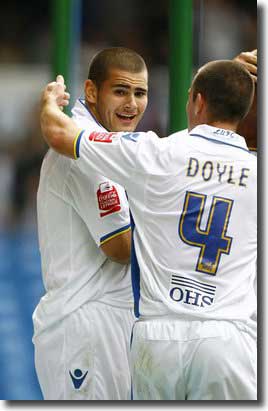 header gave him no time to do anything other than flick the ball into the roof of his own net. His second goal was a more creative strike, conjured up by a tidy exchange of passes with Beckford on the left wing. Johnson broke into Gillingham's box and held off Danny Fuller, maintaining his balance and forcing a low shot under keeper Simon Royce.
'Whatever [Gills manager Mark] Stimson hoped to do with his players during the interval did not come to pass. United took no more than 40 seconds to claim a third goal when Beckford flicked on Snodgrass' chipped pass and left Jonathan Howson to control the ball with his knee and thrash it past Royce. And the keeper was beaten again when Beckford's instinctive shot crashed against his crossbar.
'The temptation to showboat was evident but Gillingham replied in the 50th minute with an opportunistic goal, tucked into the corner of Higgs' net by Barcham after Leigh Bromby failed to apply a firm clearance to Kevin Maher's free kick.
'Leeds drew blood with their next attack as Michael Doyle struck the frame of Royce's goal and Beckford cushioned the ball into an empty net. With that, Gillingham were confirmed as the 13th different club that has failed in succession to win at Elland Road.'
The game was somewhat overshadowed by the forthcoming Carling Cup-tie, which brought Premier League giants Liverpool to West Yorkshire.
Leeds worried the Reds with some strong attacking football, inspired by Snodgrass, but Liverpool won the game through a David Ngog goal after 65 minutes. United had one effort chalked off for offside against Becchio as he made sure Beckford's attempt crossed the line.
It was back to the bread and butter battle for League One points on 26 September, with a visit to fourth-placed MK Dons.
United seemed to have an advantage in a close contest when Jason Puncheon was given a red card in first half injury time for a reckless, two footed lunge on Michael Doyle. Shane Higgs injured his thigh and was replaced by Casper Ankergren after 62 minutes, but Leeds continued to dominate and Beckford had a strike ruled out for offside in the 71st minute. However, a goalless draw seemed inevitable as the game neared its end.
The referee's assistant signalled four minutes of injury time; after three of them Johnson whipped in a free kick from the left and Snodgrass bulleted home a priceless winner.
The injury to Higgs left United short of goalkeeping cover with Alan Martin on loan to Accrington Stanley, and by the time Carlisle visited Elland Road three days later, Blackburn's England Under-21 cap Frank Fielding had arrived on a month's loan.
United dropped their first home points in a 1-1 draw with Carlisle, which marked the return of club captain Richard Naylor after back surgery in the summer. Beckford opened the scoring after half an hour, but Scott Dobie equalised in the 75th minute.
Charlton's 3-0 defeat to Colchester that same afternoon allowed Leeds to open up a three point gap at the top of the table. They were the only remaining unbeaten team in the country, but were held to a second successive home draw when Charlton came away with a goalless draw on 3 October.
Goals from Andy Robinson and Tresor Kandol saw them through in the Johnstone's Paint Trophy against struggling Darlington on 6 October, while the League One fixture at Bristol Rovers on 10 October was postponed because Kisnorbo, Snodgrass and Michalik had all been called up for international duty. Charlton missed the opportunity to draw level at the top when they could only draw 0-0 at home to Oldham.
United returned to action on 19 October with a televised Elland Road clash with Norwich City. Earlier in the day Simon Grayson completed a couple of loan deals, bringing in striker Sam Vokes from Wolves and Leicester winger Max Gradel. Vokes made his debut against Norwich with Gradel on the bench. Shane Higgs returned in goal.
The game was fiercely contested: Johnson headed Leeds in front from a Snodgrass corner in the 15th minute, but the Canaries fought back strongly. Higgs limped off a minute later with a recurrence of his thigh strain and Norwich went on to give an emphatic demonstration of their accurate passing game. Grant Holt slid in to score his tenth goal of the season seven minutes before the break and the Canaries took command thereafter.
Nevertheless, the game seemed likely to end in stalemate until Grayson brought Gradel on for Snodgrass with ten minutes remaining. His pace and trickery forced Norwich onto the back foot and gave Leeds new momentum. In the dying seconds, less than a minute after Jermaine Beckford had missed an open goal from a Gradel cross, Canaries keeper Fraser Forster fluffed a clearance. His scuffed kick fell straight to Beckford who ran twenty yards unchallenged before chipping the advancing keeper to net a winner.
Simon Grayson: 'Norwich have given us the most difficult game we've had. The way they pass the ball around and look after possession, they're the best team who've been here ... It's a big win because they're going to be major, major contenders ... The diamond system they played in midfield caused us problems. I was settling for 1-1 at half time and sometimes you have to give credit to the opposition and the way they played.'
United's unbeaten run came to an end in the following game, at Millwall on 24 October. Neil Harris put the home side ahead in the third minute and though Paddy Kisnorbo's first goal for the club brought the scores level eight minutes later, Gary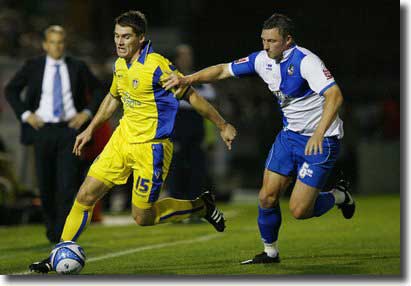 Alexander scored the winner after 83 minutes.
Happily, Leeds were back to form the following Tuesday night; facing a stiff-looking test away to Bristol Rovers, they were simply unstoppable, running in four goals without reply. Beckford scored twice, Vokes got his first United goal and substitute Kandol finished matters off with an effort three minutes from the end.
Simon Grayson had kept faith with the starting eleven beaten at Millwall and saw his decision vindicated: 'I felt that the players who lost at the weekend should have the chance to put it right ... I did think that we might tweak the team here or there. I thought about that long and hard before going with the same team.
'It's a brilliant result for us. We asked for a performance and a reaction and we got both. This epitomises our work ethic and the fact that we've got an awful lot of quality when we're firing on all cylinders.
'This was a difficult place to come after losing at Millwall but we coped with everything they threw at us. Collectively, we were excellent. I wanted us to crank it up and to get back to the level that we're used to playing at. When we got possession of the ball, we played as well as we have done for two or three weeks.'
There was another 4-0 victory on 31 October, at Elland Road against Yeovil, increasing the advantage at the top to seven points. United followed up with a routine 2-0 defeat of Oldham at Boundary Park on 7 November in the FA Cup first round and three days later beat Grimsby 3-1 in the Johnstone's Paint Trophy to qualify for the semi-finals of the Northern Section.
United had the following weekend off thanks to international call ups and when they returned to action on 21 November they cruised to a 3-0 victory at Brighton. Simon Grayson claimed it was their best performance of the season.
Three days later, Leeds had to wait until the 89th minute of their home game with Leyton Orient before Max Gradel scored the only goal.
Simon Grayson sought to freshen up his squad, bringing in three more loan signings on 26 November: Liverpool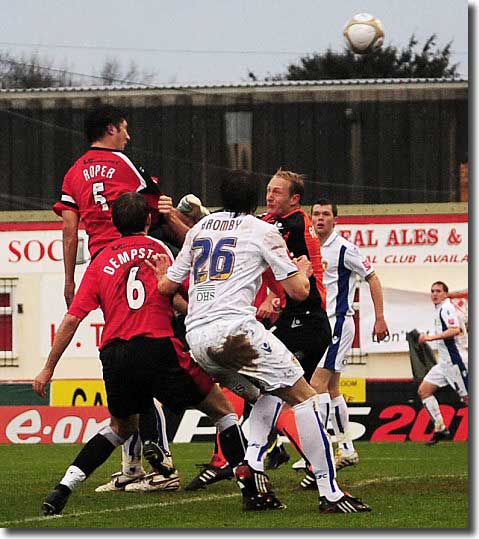 keeper David Martin, Cardiff's Northern Irish international left-back Tony Capaldi and winger Hogan Ephraim from QPR.
Capaldi made his debut in the FA Cup second round on 29 November at Kettering Town.
Poppies defender Ian Roper headed his side in front after 63 minutes to hint at a repeat of the previous season's giantkilling act by Histon, but Beckford put an end to those hopes when he scored fifteen minutes later. It was just reward for Leeds who dominated the game.
December began with a victory, the sixth in succession in League One. Kilkenny and Becchio were the scorers in a 2-0 win at Oldham. Four days later they dropped two points at home to Huddersfield, despite twice being in front. It could have been worse with Town's Anthony Pilkington striking the bar with a long range free kick after 90 minutes.
On 8 December, Elland Road staged the Cup replay against Kettering. Becchio headed United in front after 20 minutes. That should have been the start of an easy night, but former Leeds striker Anthony Elding equalised in the 62nd minute as Kettering unexpectedly rallied. United could not get a second and the game went to extra-time.
It was still level at the end of the first half of the extra thirty, when Mike Grella came on for Andy Hughes. The American inspired a purple patch for Leeds, scoring within a minute of entering the fray. A further minute gone and Kandol headed home United's third. Another seven minutes and Grella added his second, the best goal of the night, curling the ball home delightfully. Beckford added a fifth goal two minutes from time.
Simon Grayson would have been grateful for just one of those goals the following Saturday when his men were held to a goalless draw at Brentford, the home side packing midfield. Beckford fluffed two second half chances when one-on-one with the keeper.
'We can't win every game,' the manager remarked, adding, 'We've created the best chances and hit the woodwork twice, but if we don't win then the next best thing is to draw. Their keeper made a great save from Jermaine in the first half, and maybe if that had gone in, things would have opened up a bit. In the first half we didn't quite get the composure we needed and sometimes we rushed it a bit.'
Midweek goals from Hogan Ephraim and Neil Kilkenny were enough to see off Accrington Stanley in the semi-final of the Johnstone's Paint Trophy Northern Section to set up an appearance in the final against Carlisle.
Of rather more import was the stunning strike from Snodgrass after 76 minutes that won the League One clash with improving Southampton on 19 December. The victory increased United's lead in the table to four points.
'That is not far away (from our best performance of the season),' said Grayson. 'We competed when we needed to, battled when we needed to, but also had the quality players to pass the ball around too. The defence has worked ever so hard today and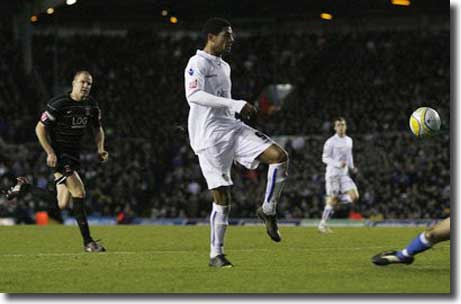 we closed down excellently. I'm delighted by the performance.'
The result was overshadowed by a spat with Jermaine Beckford after Grayson withdrew him just a minute before the goal. As he came off, he petulantly spurned the manager's outstretched hand and stormed straight down the tunnel to concerted booing.
The matter was quickly resolved, as revealed by Grayson: 'We had a chat first thing on Monday. Jermaine explained and apologised for his actions which I fully accept. I made it clear that I don't need it to happen again and he's bought into what I've said. It's been put to bed now and I expect to see Jermaine in a Leeds shirt on Boxing Day looking to knock the goals in over the Christmas period.'
Beckford made up for his indiscretions by scoring twice in a 3-1 defeat of Hartlepool with United having to come back after conceding in the 25th minute.
Two days later, Leeds were even luckier, away to bottom club Stockport. They were twice behind and with two minutes left the game was still 2-2. Then Bromby smashed home his first goal for the club, an absolute beauty. In the third minute of injury time, it was Beckford on the scoresheet again, heading home from a Kisnorbo cross.
4-2 flattered Leeds, but they were not complaining with eight points' advantage on Charlton and a further three in hand on Norwich.
It was a perfect end to a wonderful year at Elland Road for Simon Grayson. He offered these seasonal thoughts to United fans on the club's official website.
'There's been some ups and downs over the past 12 months, but for me, the big thing is that I believe we are progressing closer to where we want to be.
'The Millwall semi-final was disappointing in terms of the result, but I couldn't fault what had gone before and sometimes you have to take things on the chin and learn from them ... I felt we could go on and do that and this season so far has been terrific. We have found a level of consistency and to be sitting here at Christmas with 50 league points and one defeat is terrific - but it will only count for anything if we build on it.
'During that time there's been some performances I've been particularly proud of, Bristol Rovers and Brighton away were two, along with our efforts against Liverpool at home. That night against Liverpool at Elland Road was an indicator of what we all want for this football club, and that's what we are working towards. Your support that night was amazing, but that's been the case since I joined the club, and I want to take this chance to say thank you to one and all for your support.'
With such a significant advantage on the third-placed club, it seemed certain that 2010 would be the year when Leeds United would finally reward their loyal fans.
Part 2 Off field setbacks - Part 3 Cup highs and League lows - Results and table