Part 1 End of the honeymoon - Results and table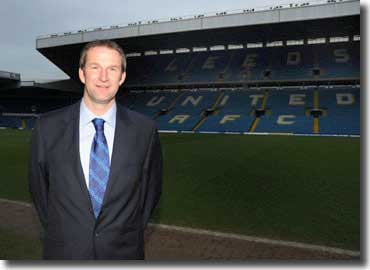 The appointment of Simon Grayson as new Leeds United manager just before Christmas 2008 revived spirits at Elland Road after a lengthy losing run.
The new man was delighted with the opportunity: 'What I couldn't turn down was the chance to test myself ... The attraction for me is that I want to be the one who makes this club successful again ... Managers have come and gone and not been able to do that. I think I can.
'This Leeds team are outside the Play-Off positions and I'm not saying that we're going to win 10 on the trot like Blackpool did, but it's always a possibility. That's why I'm not prepared to concede that automatic promotion has got away from us.
'I told Karl (Oyston) straight away that I wanted to come. I think he knew that I'd give him that answer and so did everyone at Blackpool. From there it was down to the two clubs to sort things out, but there was no way I was going to let this opportunity pass me by ... I do wish it had been sorted in the manner I would have wanted after six good years there and that I'd walked away without any of this legal stuff going on above me, but these things happen in football.
'The expectancy level at Leeds is higher than it is at a dozen clubs in the Championship and certainly every club in this division ... I don't want to be making wild statements about what I'm going to achieve as manager and it would be foolish to say that within three years we'll be back in the Premiership or that within five we'll be back in the Champions League ... The only thing that matters at this moment is getting out of League One.'
The New Year brought inevitable speculation about Grayson's plans for the transfer window, but there was more interest in whether he could hang on to his most valuable assets.
Ever since the emergence of 19-year-old midfielder Fabian Delph in the autumn, there had been rumours of a multi-million deal. The Daily Mail reported that Manchester United were readying a £10m package, while Fulham had already tabled a £6m cash bid. So intense was the speculation that when Delph's name was missing from the squad listing on the club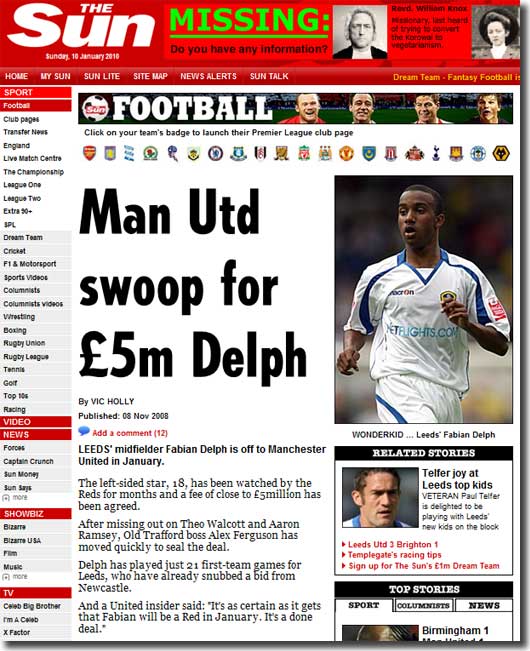 website it was assumed that he had departed. The explanation was mundane: an error in a computer data feed.
Ken Bates derided the speculation, confirming that United had turned down two offers, and added that he had told the bidders, 'We don't deal in petty cash.'
Bates kept his promise and Delph was still a United player at the end of January, along with top scorer Jermaine Beckford. Some peripheral players departed: Malcolm Christie, defender Mansour Assoumani, Ian Westlake, making a loan move to Cheltenham permanent, and Scott Gardner, who joined Mansfield after his contract was cancelled by mutual consent. Tom Elliott went out on loan to Macclesfield, and when Tresor Kandol's loan spell at Millwall ended, he was immediately on his way to Charlton Athletic in a similar arrangement.
Bradley Johnson returned from his loan period at Brighton intent on making a new start under Grayson. Ipswich defender Richard Naylor, Bristol City striker Lee Trundle and Carl Dickinson, a left-back from Stoke City, all arrived on loans, with Naylor's deal made permanent at the beginning of February.
United's first game of 2009 was due to be at Hereford on 3 January, but was postponed because of a frozen pitch. They kicked off a week later at home to Carlisle, but were beaten 2-0, with former Leeds strikers Danny Graham and Michael Bridges getting the goals.
Naylor, Trundle and Dickinson were all given first starts at Brighton on 17 January with Johnson also included. Trundle opened the scoring and Delph added a second to secure an impressive 2-0 victory. It was the first clean sheet since 1 November and only the second in 24 matches.
The manager was impressed with Naylor and Dickinson, saying, 'Those two were outstanding and the other players in the back four responded to them being in the team. It gave me an opportunity to put a couple of leaders and ... hungry defenders in there. I'm always trying to bring in quality players and hopefully I've shown that with the three who have come here.
'We deserved a clean sheet and every one of the players put a shift in ... It should boost the players' confidence because it's been a long time coming. It shows the resilience of the players that they recovered from the shock of missing a penalty. It could have knocked us confidence-wise, but they showed the attitude I want and the characteristics you need to win matches.
'The team are grasping what we're trying to do. They're playing in the areas where we want them to play and they're using no risk football in defensive positions … We do want to play football, but defensively we have to take no prisoners.'
The only bad news from the game was the thigh injury suffered by Frazer Richardson, which was to keep him out for virtually the rest of the season. Richard Naylor took on the role of captain with effect from the home clash with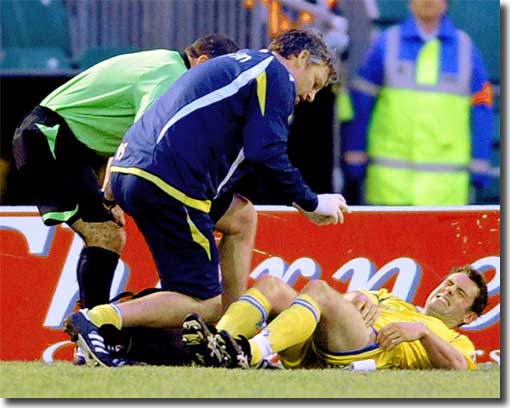 promotion rivals Peterborough United on 24 January.
Jermaine Beckford was fit again after a hamstring injury but Grayson decided to leave him on the bench, giving Andy Robinson his first start in a month, and moving Andy Hughes to cover for Richardson at right-back.
Peterborough were in good form and sitting third in the table. They lived up to their reputation with a disciplined display that saw them shade the first half. Casper Ankergren twice had to react smartly to deny George Boyd, the contest's outstanding performer.
The Posh's dominance continued in the second half and after 52 minutes Boyd lifted a shot clear of the bar before Aaron Mclean fired over from a tight angle. It was then that Simon Grayson decided to unleash his star striker, bringing Beckford on for Luciano Becchio.
There was almost immediate reward, with Beckford drawing defender Craig Morgan into a needless foul on the edge of the penalty area. Johnson took the free kick and unleashed a shot so powerful that England Under-21 keeper Joe Lewis could only parry it. Beckford was on it in a flash to flick the loose ball home. Within ten minutes, he repeated the dose, clipping a through ball from Trundle past Lewis.
Peterborough fought back to give Leeds some late jitters and after 80 minutes Craig Mackail-Smith slipped home an easy chance after Boyd's header came back off the bar.
There were anxious gasps when four minutes of injury time were signalled, but the issue was settled within the first sixty seconds when Beckford played in Jonny Howson, who made it 3-1.
Beckford's brace took him onto 21 goals for the season and he thus became the fastest United man to achieve 20 in a campaign since Peter Lorimer in 1967/68.
Simon Grayson was delighted, saying, 'In the first half I felt we were quite comfortable. We had opportunities and their keeper made some good saves. They had a couple of long distance efforts, but I thought we looked decent and lively. We passed it well and you can see the confidence and belief coming back … When players come off the bench you look for an impact and that happened … Jermaine is a goalscorer, that's why he has got the goals he has.'
Three days later, goals in the first eleven minutes from Rui Marques and Richard Naylor secured a victory against Southend that brought Leeds within three points of the Play Off positions. January closed, however, with a disappointing single goal defeat at Walsall.
There was a flurry of comings and goings at the beginning of February. Former United player Glynn Snodin was appointed assistant manager, American youth international striker Mike Grella signed an 18-month contract, while Paul Telfer and young keeper Jonathan Lund departed after their contracts were cancelled by mutual consent.
One move that didn't go through was the planned loan signing of Derby County striker Liam Dickinson. Terms were agreed between the clubs and the player but the 5pm deadline for receipt of documentation by the Football League was not met. The forms arrived at 5.14.
Chief executive Shaun Harvey: 'It is disappointing that the Football League stuck rigidly to the 5pm deadline … The FA Premier League made arrangements for their clubs to register players after the deadline and if the Football League had adopted the same approach then Liam Dickinson would be a Leeds player until the end of the season.'
United returned to onfield action on 9 February with a tasty looking Elland Road tussle with promotion rivals Millwall.
It was a competitive encounter, covered by Sky TV. Jermaine Beckford scored two goals, one in each half, to earn the points, but Millwall protested that he shouldn't have been around to add the second, in injury time. The cameras captured the striker tangling with Lions keeper David Forde at a corner and he clearly caught Forde in the face with an elbow.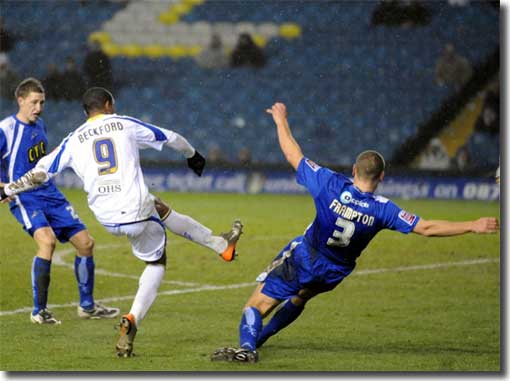 Beckford was booked by referee Alan Wiley, who hadn't seen the blow, but should have been dismissed.
The FA found Beckford guilty of violent conduct and gave him a three game ban. United lost the first two of those matches, at Huddersfield and Hereford, without scoring. The travelling supporters weren't happy, particularly with the Hereford performance, which came to be seen as a water shed.
Phil Hay in the Yorkshire Evening Post: 'Simon Grayson's influence on Leeds United was once limited to shouts from the terraces and, in his capacity as the club's manager, he knows better than to turn a deaf ear to the thoughts of the masses ... A chant of "we're s*** and we're sick of it" echoed around Edgar Street in the few remaining minutes of a game that humiliated Leeds in a way which would surely have hurt Grayson in his days as a fan. It visibly pained him as he faced up to the media after full-time.
'The cutting criticism was sounded for the benefit of Grayson and his players, and it can be assumed ... that United's players feel as severe a wound as their manager seemed to when he aired his thoughts on an unacceptably bad night. It may not have helped the atmosphere in Leeds' dressing room to hear such open abuse - the berating of Carl Dickinson by one fan at the end of his last performance for United was uncalled for and ill-deserved - but the squad at large cannot feel mistreated.
'The crowd's opinion was brutally honest and in tune with many of Grayson's own comments. The irony of United's fan base is that their enduring loyalty does not need to be earned. It is apparently permanent and almost unequivocal, particularly away from home.
'The sickness the supporters spoke of last night indicated the length of time they have been asked by the club to bear and tolerate disappointment. Grayson, for his part, has not seen a performance as inept as that produced by his players at Edgar Street ... Until a week ago, the progress made under Grayson had been deliberate and positive. Sixteen points accrued from his first eight matches as manager was essentially Play Off form, but he was thrust into the job in December with ground to make up and must always have known that defeats like that sustained at Hereford would be the biggest threat to his priority of qualifying for League One's Play-Offs.
'The fixture at Edgar Street pivoted on Lee Trundle's missed penalty after 37 minutes, coming two minutes before Hereford opened the scoring, but Leeds did not play well enough before or after that moment to use it as a valid excuse for their defeat.
'Grayson was yearning for the type of opening which presented itself when Andy Robinson's run into the box was ended unceremoniously by a sliding tackle from Kris Taylor … Trundle took hold of the ball but saw his effort parried with a save of exceptional instinct by Gulacsi, low to his left.
'Within two minutes, a surging Hereford attack saw Sam Hewson combine with Myrie-Williams to find the winger inside United's box. Myrie-Williams brought the ball under control and drilled a low shot past Ankergren and into the far corner of Leeds' net. Grayson's players looked understandably bewildered as they traipsed back towards the halfway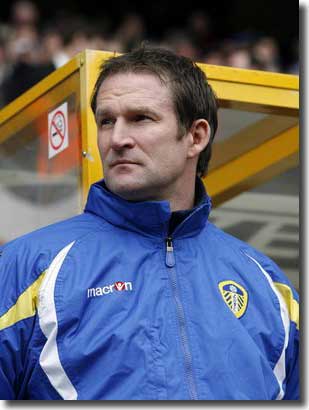 line.
'Although Mike Grella and Bradley Johnson were called up from the bench, neither player had touched the ball before Hereford scored again in the 63rd minute. Myrie-Williams' free kick dropped to Antwi at the far post, and his header back across goal gave Febian Brandy a simple chance which the striker converted with an appreciative flick.
'When Becchio was finally played through with 11 minutes remaining, he slipped his shot wide of a post. The chance was United's one and only moment to drive Hereford out of their comfort zone but a solitary goal in the closing stages could scarcely have improved Grayson's evening. Proud after Saturday's defeat, his mood last night edged towards disgust after a result and a performance which he would not have stomached as a player or a supporter, and cannot accept as United's manager.'
Victory in the two games would have left United in third place, but as it was they were 8th, a massive twelve points off automatic promotion.
Grayson: 'When you hear your own fans singing things like that at the end of the game then the players should be hurting ... We've got to use this result as an example or an inspiration between now and the end of the season ... We didn't play with any quality and our decision making was poor, and that's from a team who played very well at the weekend and been on a decent run. I'm not going to criticise individual players because that's not my style but we've had words in there ... One or two might not play for the club again.'
Months later, Grayson recalled, 'There are defining moments in any season and that was certainly one for us. The criticism they got from the fans was justified. The meeting that we had afterwards as a group ... really focused us on what we needed to do. We knew that after that game the players could either sink or swim... It was a big game in our season.
'There were the 16 players, plus three who travelled, me and the staff ... it wasn't the biggest of dressing rooms, but it got everybody together. There was no hiding place. In big dressing rooms you could perhaps look away but there everyone was tightly squeezed in and very focused on the conversation that we were having ... There was no tea cup throwing. It was all calculated and sensible conversation.'
Happily, fortunes improved after that and two goals from Jonny Howson earned a 2-0 victory against Cheltenham on 21 February. When Beckford returned from suspension with two goals in a 3-2 defeat of Scunthorpe a week later, United were back up to sixth spot.
Grayson asked Jonathan Douglas to take over at right-back with both Frazer Richardson and Andy Hughes out injured, a position he was to retain for the rest of the season.
The manager was delighted with the victory: 'Jermaine will get all the credit due to the goals he's scored, but to have a good season you have to have a good, close bunch of players, a tight unit and a good team spirit and that's what it's all about. The players have dug in there. They recovered from letting a 2-0 lead slip away and from being down to 10 men. We were throwing bodies all over the 18-yard box and you have to grind out results throughout the course of the season ... Individuals can win you the game in parts of it, but it's more about collective units and players who have not been in the 16 coming in and taking their chances. We've had players playing with injuries, players playing out of position and that's what will get us through from now until the end of the season.'
Howson was sent off for two bookable offences, but the manager refused to complain, continuing, 'The players have dug in with 10 men, had to defend with their lives again, we saw Richard Naylor coming off with blood all over his head and it typified the type of performance needed to see the game through and win it.'
Two days later, United were featured in another televised clash against promotion rivals, away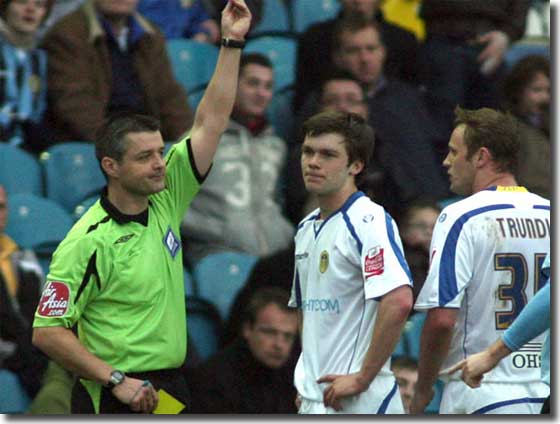 to Oldham, who sported an all-pink strip to support a fundraising campaign for the Victoria Breast Unit at the nearby Royal Oldham Hospital.
Lee Hughes gave the Latics the lead in the 51st minute with an opportunist effort, but within a minute United were back on terms when Luciano Becchio headed home powerfully from a corner. The game finished 1-1, moving United up to fifth.
Grayson: 'Everyone talks about Leeds having a big budget, a big squad and everything else but we had 17 players available and that does limit your options. We tried to get a couple of loan signings on Sunday but that was almost impossible to do. A lot of players were injured or suspended and it's credit to the other players that they've worked really hard.'
Talk of promotion rang hollow on 7 March when Joe Kuffour snatched a last minute equaliser for Bristol Rovers. A 2-2 draw saw Leeds slip to seventh. Grayson admitted to being 'hugely frustrated and disappointed' by the last gasp equaliser. 'When you concede an equaliser that late it feels like a defeat. We had enough chances in the second half to make the game safe and didn't show the ruthless streak you need ... As a team, we didn't have a killer instinct.'
There were no complaints when Beckford's hat trick plus another from Neil Kilkenny brought a 4-0 victory against Yeovil. With Oldham not playing and Scunthorpe losing at Peterborough, United moved up to fifth.
Days later Lee Trundle's loan spell ended and he returned to Bristol City. After a bright opening for United, he had lost his way and made precious little impact. His place in the squad was filed by Derby County's Liam Dickinson, who finally completed a long awaited loan move, signing until the end of the season.
The striker made his debut, coming on as late substitute, against Swindon on 14 March, but it was Beckford, with the only goal three minutes from time, who secured the win. It was a seventh successive home victory, something that United had last achieved in 1999. But the day ended in frustration with Beckford dismissed in injury time for a second bookable offence, petulantly showing his dissent after being flagged offside.
A one-game suspension followed, which was discharged at Crewe on 21 March. It didn't look like there would be any lasting damage as goals from Kilkenny, Becchio and Snodgrass brought United a 3-0 lead within 32 minutes. But then the struggling home side, down to ten men since the 18th minute, threw caution to the wind and Tom Pope pulled two goals back in the second half. Leeds looked anxious, but held on for all three points.
Simon Grayson: 'We were outstanding in the first half. We scored three good goals, passed the ball around and were cruising ... When they went down to 10 men we used the spare man well and it was a polished performance. We have a group of talented footballers and we played really well during the first half. We moved it quickly and that was really pleasing.
'We became a different team in the second half, we stopped doing the things we had been doing, and people thought they could win it on their own. At half-time, we said to keep working and they could have enjoyed themselves and got four or five goals, but for some reason we stopped doing that. In the second half we looked like a team of eight or nine men playing against 11.
'I've had to change things round as a manager, get the team playing in a different way, bring one or two players into the club and get the players playing better because they have under-achieved. They had a good squad on paper, now they are showing some sort of consistency with five wins and two draws in their last seven games.'
Grayson moved to bolster the defence on 26 March, loan deadline day, signing Reading's Nigerian international centre-back Sam Sodje and Crystal Palace keeper Darryl Flahavan. The custodian was recovering from a broken nose, but Sodje came in for his debut in the Elland Road clash with promotion rivals MK Dons on 28 March. Jermaine Beckford returned from suspension to score both goals in a 2-0 victory, taking his season's total to 31; he was the top scorer in the country and the first United man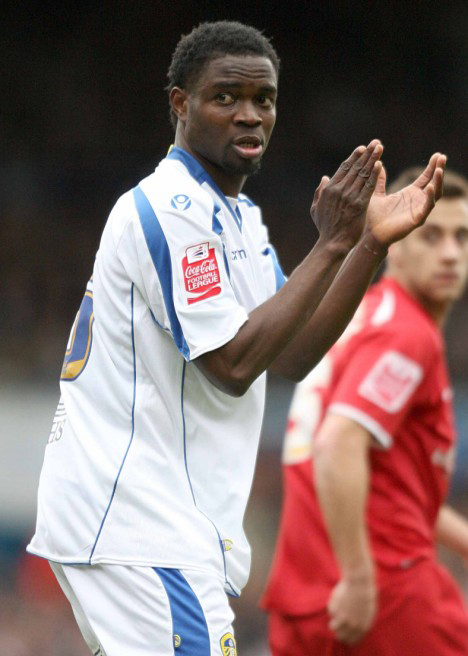 to break the 30-goal barrier since Lee Chapman in 1991.
Beckford's strike partner, Luciano Becchio, scored the only goal at Colchester on 4 April, consolidating United's fifth place position. A place in the Play Offs looked a formality now, while Grayson continued to hope for automatic promotion. A nine-game undefeated run, including seven victories, was certainly promotion form. A major blight on those aspirations was the consistency of second-placed Peterborough United. They had won seven games on the bounce, all bar one by a single goal, and remained ten points clear of Leeds. United had a game in hand, but were running out of matches.
When two strikes from Rob Snodgrass brought a two-goal cushion at Leyton Orient on 7 April, the winning run seemed set to continue, but the Londoners came storming back over the last half hour, despite being down to ten men. Sean Thornton pulled one back five minutes after Snodgrass' second and Simon Church earned a draw with an equaliser five minutes from time.
Before United were in action again, the dispute over the recruitment of Simon Grayson came to a head with a Football League panel convening to hear the case in Manchester on 9 April.
The affair was concluded before the panel could adjudicate, with the clubs settling matters amicably. It was thought that Blackpool had sought £200,000 in compensation, but no details were released.
Jonny Howson's goal after nine minutes against Stockport on 11 April secured a ninth successive home win. The gap to Peterborough was down to seven points, after the Posh had drawn at home to struggling Cheltenham the previous day.
United thus went into an early Easter Monday clash at table-topping Leicester City in great spirits.
It was a terrific clash, with little to choose between the sides, though City had much of the possession. A goalless draw seemed more and more likely to be the outcome until Leicester were awarded a corner in the second minute of stoppage time. Striker Steve Howard bulleted home a header from close in to end United's eleven-game unbeaten run.
When Peterborough lost 2-0 at Millwall later in the day it only rubbed salt into the wound.
Simon Grayson was clearly disappointed, saying, 'We looked like we were the team who were going to go on and win it. We at least deserved a draw, but full credit to Leicester ... We have to use the party afterwards as inspiration for what we want in May.'
United were close to guaranteeing a Play-Off berth and now faced one of the two teams that could still deny them, Tranmere Rovers, coming up on the rails with a late run.
Fabian Delph was suspended for his second spell of the campaign, but United welcomed back Jermaine Beckford after three games out with a thigh injury - the striker put Leeds ahead after 15 minutes. Howson had already slammed a volley against an upright, but Beckford was more successful. Snodgrass made the opening, feeding the striker with a beautifully weighted pass beyond the defence. Beckford's chip over the keeper was deft perfection.
11 minutes later, United were two up. Douglas launched the ball forward from deep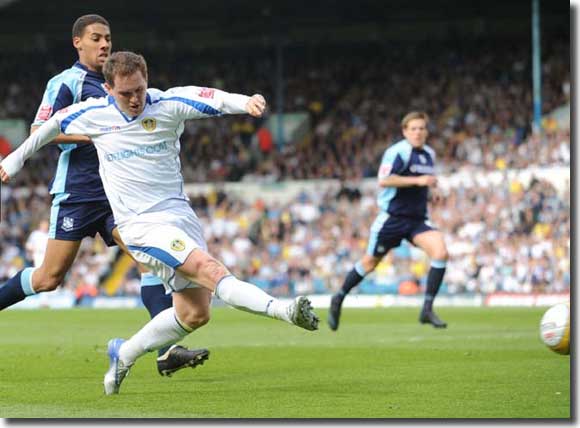 and Beckford touched it on for Kilkenny to slip the ball home from a narrow angle.
That should have knocked the stuffing out of the Merseysiders, but within a minute they had been gifted a goal, Sodje nodding a bouncing ball over the advancing Ankergren and into his own net.
Tranmere were revived by the goal and they nearly equalised before the break. It was United, though, who went further ahead after 56 minutes. A Snodgrass free kick flicked off Beckford and then cannoned home off Becchio's shins, a scrappy goal but enough to secure the points.
Ten successive home victories represented the club's best run since Don Revie's men managed 12 in a row in their 1968/69 championship season.
Peterborough's defeat of Stockport formally ended any hopes of automatic promotion, but three days later, Scunthorpe's failure to win at Northampton confirmed United's place in the Play-Offs.
A Beckford goal earned victory at Hartlepool on 25 April. He scored again in a 3-0 defeat of Northampton on 2 May, which ended United's League One campaign. The other goals came from Becchio and Snodgrass with a tremendous airborne scissors kick. Leeds thus finished the season fourth, confirming a Play-Off semi-final with Millwall.
The first leg was at the New Den on 9 May, in a 12.45 kick off designed to lessen the chances of crowd problems. Rory Smith in the Telegraph: 'Supporters bussed in under police escort, a tense, fractious game played in something approaching a state of war and horses drafted on to the pitch at the final whistle to keep the peace. The 991 Leeds fans who braved the New Den may have been reminded of football's dark past, but they will be much more concerned with the present, which threatens to be even worse.
'There was spite in the stands but no blood on the streets, the easy prediction of doom-mongers when football's two great pariahs found themselves paired in a sudden-death tie ... Jermaine Beckford's every touch was jeered, Jason Price limped off after barely quarter of an hour after one heavy tackle too many. Robert Snodgrass and David Martin butted heads, the otherwise subdued Fabian Delph was cautioned for a wild swipe at Graham Alexander. Amid the snarling aggression, the din of the Millwall roar and a litany of fouls, there was little time for anything resembling football. Grace was sacrificed for tenacity, silk for steel.'
United's disciplined display served them well in the first period, with Sam Sodje a rock at the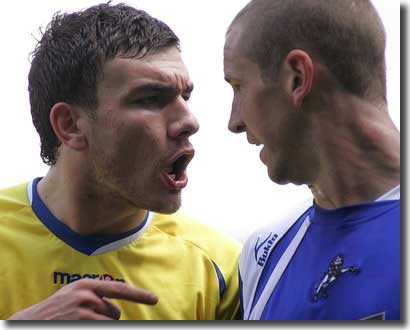 heart of a steadfast defence. The Nigerian's brave heroics continued in the second half - he even managed to restore his own dislocated shoulder in one particularly stomach turning incident. Becchio twice went close just before and just after the break and nearly set Beckford up with a neat back heel.
They could not keep Millwall completely at bay, and with eighteen minutes remaining Leeds were torn apart by a right wing move. Gary Alexander was released on the flank by Jimmy Abdou. United skipper Richard Naylor, who had given a tremendous display, misjudged the bounce as he dived to head clear the low cross. It looped on to Neil Harris, who controlled it and evaded the challenge of Jonathan Douglas, firing past Casper Ankergren into the bottom corner.
That was the cue for a pitch invasion, with one home supporter gleefully jostling and shoving Ankergren, as others threw missiles at him.
Simon Grayson brought on Johnson and then Robinson for Howson and Snodgrass in an effort to snatch an equaliser, but the changes were in vain and there were no further goals.
Grayson began the second leg in Leeds with the same eleven, but after 35 minutes was forced into a change when midfielder Neil Kilkenny had to be replaced by Andy Robinson after suffering a foot injury as he blocked a shot.
There was inevitably a passionate mood around Elland Road, inspiring United into lengthy periods of heavy pressure, though they struggled to make their possession tell in front of goal. 24 minutes had gone before Beckford got in the first shot of any note, forcing keeper Forde into a save and there were few real opportunities in the first period.
Three minutes into the second half, however, Leeds had the perfect opportunity to bring themselves level on aggregate. Referee Mark Halsey adjudged that Millwall's Andy Frampton had pulled Sodje's shirt in the area and he awarded United a penalty.
Beckford took the spot kick, but his shot was poorly struck and Forde parried it wide of the post.
The visitors had little time to enjoy their reprieve, and in the 53rd minute United opened the scoring. Ben Parker set off on a storming run down the left, advancing to the byline before drilling across a hard, low centre which Becchio slid home to trigger excited celebrations.
Bolstered by the breakthrough, Leeds poured forward, but were caught by a sucker punch with 17 minutes remaining. Millwall sprang a rare breakaway and winger David Martin found space wide on the left to loft a cross beyond the back post. Lewis Grabban cut it back to the centre of the six yard area and Abdou scored from close in to silence the home support. It was Millwall's only attack of the night.
The move was incisive and one sensed that Leeds would not have the resilience to come again. They had neither the craft nor the cutting edge to pierce a heroic Millwall rearguard and had to resign themselves to a third season of League One football.
Simon Grayson refused to criticise his men: 'It's a bitter pill to swallow. The players were outstanding tonight, we gave it a right go. We limited Millwall to very few chances and had the momentum, but probably just lacked a bit of quality in the final third to really test the goalkeeper. We're hugely disappointed. It was a great atmosphere and the fans deserve to go up, but the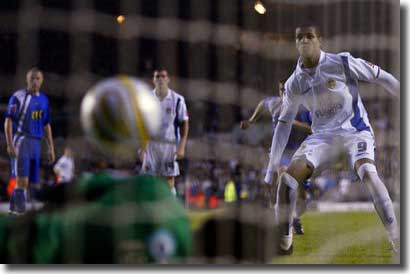 players can be proud of what they've achieved.
'The support was unbelievable yet again and I can't thank them enough. The reception at the end meant a lot. Since the day I walked through the door in December the fans have been with us every step of the way. I think the fans appreciate what we've done as a group, and that's how we will do it next year by all sticking together as a group. The fans knew we'd had a go at it ... I'm more disappointed that we couldn't reward them, but we'll all come back stronger.'
United chairman Ken Bates was also quick to praise 'the best fans I've ever seen ... The players were given a standing ovation ... There were no pitch invasions, it was simply great support ... I have to say these fans are the best I've ever seen in football. They've had nothing to celebrate, but they've been fantastic.'
Another season had ended in anti-climax, but there was a genuine feeling among the Elland Road faithful that United finally had the right man in the manager's chair and that Simon Grayson would deliver Championship football without the need to suffer the nerve-jangling lottery of the Play-Offs.
Part 1 End of the honeymoon - Results and table