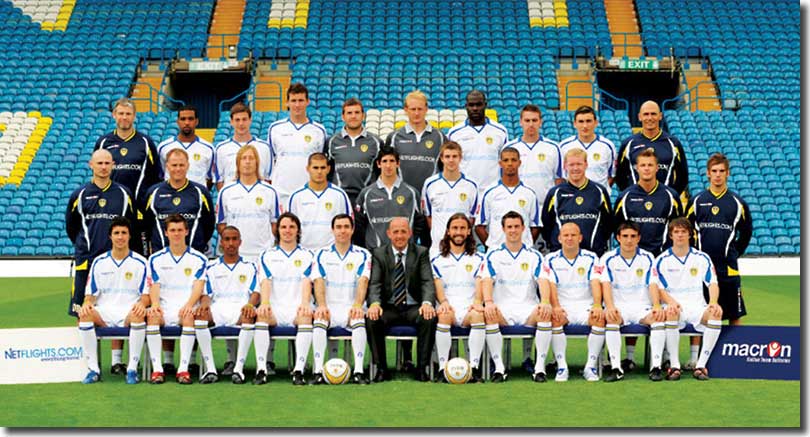 Part 2 Bouncing back with Grayson - Results and table

Leeds United supporters were delighted with the appointment of former skipper Gary McAllister as manager in January 2008, welcoming the link with the club's glorious past after the reign of Dennis Wise. They still passionately resented Ken Bates and his Chelsea connections. The fans were even happier when McAllister inspired enough of a revival for the team to qualify for the Play Offs. It was disappointing to lose the Wembley final, but there was genuine promise at last.
After the turmoil of the previous summer, the 2008 close season was in stark contrast an oasis of tranquillity and preparations for the new campaign almost perfect. McAllister persuaded Swansea wide man Andy Robinson to forsake the certainty of Championship football and throw in his lot with Leeds. Leicester left-back Alan Sheehan made a loan move permanent and he was soon joined by Bristol City target man Enoch Showunmi, young Livingstone winger Rob Snodgrass and the Argentinian, Luciano Becchio.
The South American striker began his career with Boca Juniors, around the same time as Carlos Tevez, before spells at Barcelona and Mallorca. He came to prominence in the Spanish Third Division with Merida UD, scoring 28 goals in 50 appearances.
There was some extensive pruning. Alan Thompson retired, while Darren Kenton, Matt Heath, Rob Bayly, Curtis Weston, Seb Sorsa, Leon Constantine, Tomi Ameobi, Anthony Elding and Seb Carole all moved on; Tresor Kandol left for 6 months on loan to League One rivals Millwall.
Pre-season was encouraging - United were unbeaten, ending with an impressive 4-1 victory against Belgian top flight outfit FCV Dender. A week later McAllister completed his preparations by signing 36-year-old Scottish defender Paul Telfer on non-contract terms and appointing long serving right-back Frazer Richardson captain.
The manager spoke of his hopes for the future: 'This coming season is the first time this club has been able to look forward in many, many years ... I want the players to have the same mindset as last season ... They utilised the points deduction in making it a case of "we are Leeds, no one likes us but we just don't care." It was a siege mentality. It has to be the same again. Everything is in place in terms of our facilities and our crowd. There is no doubt in my mind that Leeds United will get back in the Premier League, it is just a matter of when.'
United got their campaign off the mark with a trip to relegated Scunthorpe. With the Iron desperate to bounce back at the first attempt, the game represented a major test.
Snodgrass, Robinson and Showunmi made their debuts. Casper Ankergren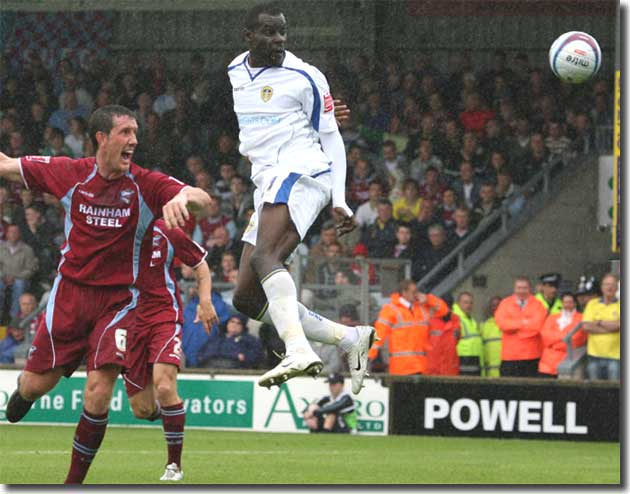 retained the goalkeeping position, behind a back four of Richardson, Paul Huntington, Rui Marques and Sheehan. The side was completed by David Prutton, Jonny Howson and Jermaine Beckford.
Leeds were forced back early on, and after 28 minutes Izzy Iriekpen nodded home from a free kick but the goal was disallowed for offside. Ten minutes later they were back again with Paul Hayes volleying wide, but the Whites then twice went close. Suddenly it was all Leeds, and two minutes before the interval they nearly took the lead. Goalkeeper Josh Lillis fumbled a Snodgrass effort and the ball appeared to drop over the line. Despite protests, the goal did not stand.
In the 57th minute Scunthorpe took the lead. Marques lost his footing in the box as Hayes flicked on and Gary Hooper fastened on to the loose ball to fire home coolly from 12 yards. Leeds were not behind for long; on the hour Showunmi rose to head home from a lofted Snodgrass free kick.
The Whites now had the bit between their teeth. With ten minutes remaining, they worked a short corner to Prutton. His drive cannoned off the bar and Beckford rammed home the rebound to secure the three points.
Gary McAllister: 'We scored two good goals, we played some good football in the second half, and we created some good chances. The first half was a reminder that we won't get things all our own way ... They gave us problems and we found it difficult to get a foothold ... You have to grind out the right to play.'
The manager went on to praise his two wide men, Snodgrass and Robinson: 'I thought they had fantastic second half debuts. The first half was difficult for them because we were under a bit of pressure and we didn't have much good possession. But they worked hard for the team and they got their reward in the second half.'
For the midweek Carling Cup-tie at Chester, McAllister gave Becchio his first start in place of Showunmi and omitted Prutton to offer young Fabian Delph a run in midfield.
Jermaine Beckford turned on the style for the Sky cameras, snatching a hat trick in 35 minutes, the third being a spectacular lob from the corner of the penalty area. United were 5-1 up by the break and rang the changes, bringing on Jonathan Douglas, Bradley Johnson and Showunmi. The changes upset the side's rhythm and they couldn't add to their score. Chester pulled one back from a penalty with fifteen minutes remaining but never threatened a revival.
Delph demonstrated maturity beyond his years with a wonderful display, though his evening was marred by a booking for a rash tackle. It was Beckford, though, who monopolised the headlines, fuelling speculation that he would be sold during the transfer window. McAllister: 'I'd be disappointed if I didn't have people interested in Jermaine but we're trying to get things going at our place and he's one of our better players. He's on a lengthy contract and nobody will leave the club unless I want them to go. The first goal was opportunistic, the second was a bit more of a trademark Beckford finish, and the chip was exquisite.'
Any early optimism was put firmly into perspective when United lost 2-0 at home to Oldham after controlling the first half. Latics' winger Chris Taylor scored twice within twenty minutes of the resumption.
United couldn't come back and Oldham finished easy winners. McAllister was furious, saying, 'They were scrappy goals; poor goals … There's no excuse … Sometimes you just hold your hands up and say you've been outfought, or they did something tactically that we couldn't cope with, or they were technically better. I don't think it was any of them, I just think it was purely a case of us not having any players who were at it today.'
The manager promised there would be no knee jerk reaction when United met Yeovil at Huish Park on 23 August. Nevertheless he gave Luciano Becchio his first league start and the South American made the most of it, scoring within 25 seconds. He had little space when Rui Marques found him from range, but he turned to sweep the ball into the far corner. It was the fastest goal by a United player since Jermaine Wright's after 11 seconds against Burnley in 2004.
That should have rendered the result a formality but United conceded a second half penalty. Lloyd Owusu squandered the chance but was allowed to score from the rebound and earn Yeovil a draw.
The Yorkshire Evening Post: 'It was telling that the Leeds players who berated Dean Whitestone, the match official, afterwards were also moved to express disappointment at their own collective display. Before Whitestone's most contentious decision, the hosts had created only one opening ... but they ran Leeds hard during the final third of the match.
'Their impetus after half time was not aided by Whitestone's display. It hindered the referee's own afternoon that he failed to impose his authority on a game which had a combative feel from the start. Though a total of eight bookings represented a high card count, it was reflective of the underlying niggle that existed between the two sets of players ... McAllister, meanwhile, was left to digest an unusual collection of bookings which included a yellow card shown to Robert Snodgrass for diving, one to Jermaine Beckford for dissent and one to Luciano Becchio for a clattering foul on Terry Skiverton. None, however, will have irked him more than the caution shown to Paul Huntington in response to the centre-back's role in the 61st minute penalty. Huntington was attempting to defend a high ball on his own penalty spot when Warne went to ground in front of him, apparently brought down by a foul from the youngster.'
After the lacklustre display McAllister shuffled his pack for the Carling Cup game against Championship outfit Crystal Palace; only Richardson, Beckford and Becchio retained their places and there were first starts of the season for
David Lucas, Paul Telfer, Lubo Michalik, 16-year-old Aidan White, Andy Hughes, Jonathan Douglas and Neil Kilkenny. Fabian Delph completed the eleven.
United ran out impressive 4-0 winners, comprehensively outplaying their opponents.
Douglas gave United an 11th minute lead with a fine opportunist effort, reacting quickest to poke home a bouncing through ball. Leeds pressed again and again over the next twenty minutes and just before the half hour Beckford made it 2-0, nodding home Kilkenny's corner. 10 minutes into the second half the contest was over when Becchio rose to nod a Richardson cross past keeper Darryl Flahavan and substitute Showunmi completed the scoring after 72 minutes.
Phil Hay in the Yorkshire Evening Post: 'The defeat that McAllister's team inflicted on Palace at Elland Road last night gave perspective to the issue of their fluctuating results ... There are no underlying problems at Elland Road beyond the question of which 11 players will combine to provide the most coherent team ... Their display against Palace was so convincing that McAllister will find a queue outside the door of his office if certain individuals are not allowed to retain their shirts against Bristol Rovers this weekend. As an added bonus, McAllister was able to watch 16-year-old left-back Aidan White complete his senior debut with all the poise and natural ability that United's academy staff have spotted in him and Fabian Delph's performance in the centre of midfield was beyond his teenage years ... The complication for McAllister ... is not a shortage of talented players but deciding how best to fit those players into his regular line up. There are nine midfielders effective enough to warrant a start ... and it will take patience and good judgment ... to find the most suitable blend.'
Leeds slipped again in that League game on 29 August at home to Rovers, dropping two points. McAllister was annoyed but praised Beckford who grabbed both United goals: 'It only takes a split second for him to produce a bit of magic and his finishing was top drawer.'
The player's agent, Nick Rubery, confirmed the striker was happy at Elland Road and rubbished gossip of a bid from Charlton Athletic.
As the transfer window came to a close, there was speculation about other comings and goings, but little concrete activity, though there was news of a surprise windfall of up to £1m from a sell on clause activated by Newcastle's sale of James Milner to Aston Villa for £10m.
Leeds struggled to beat Bradford City 2-1 in the Johnstone's Paint Trophy on 2 September, but then impressed as they hammered Crewe 5-2 in the League. The only black mark came with the concession of two last minute goals. The first came from a free kick after Michalik pulled back a Crewe forward, the Slovakian being dismissed for the offence.
By now the selection of Hughes, Douglas, Kilkenny and Delph as midfield combination was almost second nature for McAllister; Delph was attracting interest from other clubs and United were quick to secure his future by offering him a four year deal.
Two goals from Beckford sandwiching one from Kilkenny delivered a 3-1 victory at Swindon on 13 September which saw United climb to fourth in the table, their highest thus far. Victory came despite the dismissal of Alan Sheehan after just eight minutes for a two footed tackle. Leeds followed up with a 2-0 success at Carlisle with Becchio and Beckford each scoring.
The Carling Cup-tie with Hartlepool on 23 September was a real nail biter with United twice having to come from behind before Andy Robinson snatched a last minute winner with a speculative shot cum cross from the corner of the area.
It was Robinson again, four days later, with the only goal at home to lowly Hereford after Leeds struggled for 72 minutes to break down a resolute defence.
As September drew to a close it was announced that the club would be fined £7,500 with a further fine of £12,500 suspended until 1 September 2010. A Regulatory Commission had been formed to investigate allegations regarding the involvement of Lorenzo Paolo, an unlicensed agent, in the signing of Anthony Elding from Stockport in January. There had been concerns that there would be a significant sanction so United were relieved at the outcome.
Just when it seemed that Leeds were about to stamp their authority on the title chase, they began October with a disappointing 2-0 defeat at promoted Peterborough.
David Lucas had gradually emerged as Gary McAllister's first choice keeper, but broke a finger in the pre-match warm up and Casper Ankergren was called on to replace him. United played well in the first half without making a clear chance. They paid the price two minutes into the second half when George Boyd opened the scoring. That gave the Posh confidence, though it was United who next got the ball in the net, eight minutes from the end. However, Becchio's effort was chalked off for offside and in injury time Craig Mackail-Smith broke out to score and make the points secure.
When United made the short trip during the week to Rotherham in the Johnstone's Paint Trophy they came away with only an embarrassing 4-2 defeat.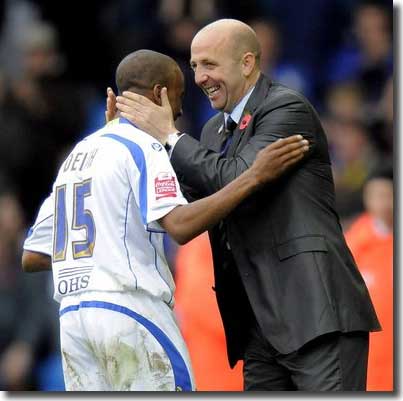 McAllister: 'Defensively we were poor … There's a lot of nice things being said that we like to pass the ball, and our forward play has been excellent, but we've only kept a couple of clean sheets and we have to step up.'
United bounced back strongly as two Beckford goals brought a comprehensive 3-1 defeat of Brighton which kept them within two points of the leaders. Even then, the manager was annoyed with the concession of an injury time goal; the brittleness of the defence was a continuing anxiety.
The point was emphasised on 18 October when they could not protect the 31st minute lead that Becchio earned at Millwall. Within seven minutes Gary Alexander equalised and two second half goals from Neil Harris condemned Leeds to defeat. Gary McAllister's refrain was all too familiar: 'I'm concerned that we've lost three goals and with the manner in which we lost them. There are no excuses and there's a lot of hard work to be done, especially when we don't have the ball.'
During the week United fell a goal behind at home to Leyton Orient but responded in some style. Despite Beckford missing an early penalty and several times being denied by the woodwork, they were 2-1 ahead by half time. They might have won at a canter but for wasting opportunities, but they were good value for the points. They followed up a week later with a crushing 3-0 defeat of Walsall, featuring two breathtaking goals from Delph. The win took them to second spot in the table.
Once again, however, they could not build on the success and lost 1-0 at Southend in midweek. Poor away form was a real bugbear - it was the fourth successive reverse, contrasting with seven straight wins at home.
November opened with the double bonus of a clean sheet and an away victory when an early goal from Becchio was enough for victory at Cheltenham. McAllister was delighted and had words of reassurance for Jermaine Beckford, who had gone five games without a goal. 'As long as we keep supplying him with ammunition he'll come good. Strikers go through these little patches.'
The manager rested Beckford for the FA Cup-tie against Northampton on Friday, 7 November. United fell behind after nine minutes, but the visitors were down to ten men when Giles Coke was sent off in the 26th minute after a number of dangerous tackles. Leeds struggled to make their possession count but the game ended all square thanks to an Andy Robinson penalty eight minutes before the break.
During the week that followed they had a Carling Cup fourth round tie at Championship side Derby County. The Rams were 2-0 ahead after 18 minutes and it seemed set to be a long evening. But United battled on and ended up looking the better side after pulling a goal back with a Becchio header before the break.
Try as they might, they couldn't get on terms, but earned high praise from Rams boss Paul Jewell: 'Give Leeds credit, they absolutely dominated possession and scored a good goal and hit a post. In between the two boxes they battered us for 70 minutes ... We rode our luck.'
It was a real disappointment, then, to lose the local derby with Huddersfield after taking an early lead through Robert Snodgrass, with the Terriers' winner coming in the second minute of injury time. The defeat left McAllister exasperated. 'They scored with two breakaways when I thought we had the bodies to deal with them. Ours was a good goal and came at a good time, but after that we didn't push on enough. They came to do a job on us and they did that. The goals weren't too dissimilar to what we've conceded this season. We are keeping the ball pretty well, but we have to be more ruthless in our attacking and more determined in defending our own goal ... It might be time for change.'
One change that did happen came two days later, for the FA Cup replay at Northampton, with a surprise debut for former Derby and Middlesbrough striker Malcolm Christie.
The 29-year-old had been training with the club for a few months, featuring in one reserve game and two closed door matches. He had been about to sign a short term contract in 2007 before a back injury sabotaged the deal. Christie had been working his way back to match fitness after a succession of injuries and had impressed McAllister with his work ethic. It was the recalled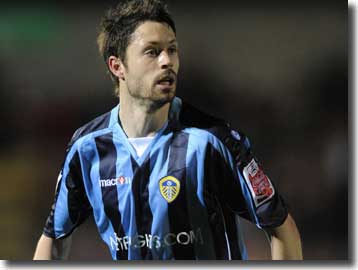 Beckford who took the honours, though, with an opportunist hat trick as Leeds won 5-2 to register their first FA Cup victory in five years.
The striker scored twice more on 22 November as Leeds hammered Hartlepool 4-2. He scored again at Northampton in the League three days later, raising his total to 19 goals from 24 appearances. Unfortunately, he limped from the field with a hamstring strain. His strike had brought Leeds level but an 87th minute goal from Marcus Bignall sent United away pointless.
The following day, the club announced that in the 14 months to 30 June they had made a profit of £4.5m on a turnover of £23.2m, with an operating profit before player trading of £902,000. The financial improvement was emphasised by chief executive Shaun Harvey: 'The figures are good but we won't be complacent because we know there is still plenty of hard work to do ... We haven't got millions of pounds swilling around in the coffers, but we're no longer in a position where we need to sell players to meet financial demands and we can strengthen the squad if that's what we need and choose to do. Our club has been through hard times and has had its problems ... But the most important thing now is that we keep looking forward and this financial performance gives us something positive to build on.'
The week ended bleakly when United came a cropper in the FA Cup at non-league Histon. The mud bath of a pitch suited the part timers and United were undone by a first half goal following a corner. It was their first ever defeat to a non-league outfit.
Gary McAllister had looked downhearted throughout the game, but stoutly defended his record amid mounting speculation that he was on borrowed time; he got the dreaded vote of confidence from chairman Ken Bates, who had met with the manager, chief executive Shaun Harvey and technical director Gwyn Williams after the game.
Bates: 'I'm not sure of some players' priorities and the manager is aware of some of the weaknesses and that will be rectified in January … I'm not going to be specific about our plans, but we're clear on what we want and the new players we sign have to be coming here in the first week of January, not the last.
'Our league position's not as good as it should be. That's pretty obvious. It's a case of must do better, can do better, will do better ... But anyone who thinks Gary will change his style of football can think again ... Kick and rush isn't Gary's way and he's not prepared to listen to people who think that's how we should play. Don't forget that he took over a long ball team and he's changed things gradually. We wanted a manager who sticks to his principles and you get much further by doing that, not by chopping and changing every time someone moans.'
Days later Phil Hay wrote this article for the Yorkshire Evening Post: 'McAllister set out in pursuit of automatic promotion this season, but his team lie seventh in League One. He put a high value on a place in the third round of the FA Cup but saw it sacrificed against a Blue Square Premier club … His defence is fragile and the club's results away from home during the past two months have been unspeakably poor. To say otherwise would be a distortion of the truth.
'The consolation for McAllister … is the fact that Ken Bates never takes decisions on the advice of the public. When he recruited McAllister, Bates made the point of stating that, although the appointment was popular, it would have been made even if it was not. That is how United's chairman works. At times like this, his attitude is agreeable. There are those who would have thrown McAllister to the lions after Histon's victory, but to do so would ignore all the good that McAllister has brought to Elland Road. It would also be virtually unprecedented … for a club to rule that seventh place at the start of December was grounds to hand their manager his P45.
'McAllister's preferred style of football … is easy to enjoy and encourage … There is an argument that attractive football is worth less than points, but I don't recall Dennis Wise receiving such grace in the run up to Christmas last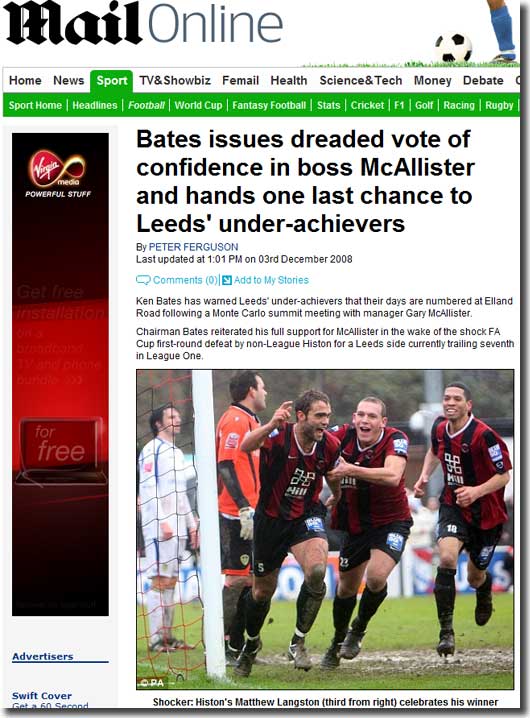 year. Good results … but not much of a spectacle. Patience wore thin eventually.
'Individually, certain players have blossomed under McAllister. Delph's development has been a treat, and it took assurance on McAllister's part to involve him as heavily as he has this season. Jermaine Beckford is a more rounded player than he was 12 months ago and Jonathan Douglas … has been at his most effective since joining Leeds permanently in 2006 … There is frustration in the battle to find a defined role for Andy Robinson, who was projected as a key player this season but has been largely peripheral, and the low confidence among McAllister's defenders. As a group, they are struggling. But, in general, the bulk of United's squad have made a good contribution to the season.
'Leeds also have much to value in McAllister's persona. Wise was a fiery and passionate individual who showed a tendency to bring the club and himself into disrepute … United will be better served over a long period of time by a less impulsive boss with a smaller appetite for picking fights … McAllister made no attempt to hide behind the shocking pitch or any other excuse at Histon on Sunday.
'One complaint emanating from the mud bath at Bridge Road has been McAllister's lack of animation on the touchline … McAllister spends plenty of time in his technical area and would probably argue that overblown gestures are for the benefit of the media and spectators.
'The fact is that premature calls for his departure … were not due to the defeat at Histon. They were due to the build up of dissatisfaction caused by seven defeats from nine matches away from home and the frailty in United's defence.
'That failing first displayed itself in a big way at Rotherham United in October and almost two months have passed since then. It is far from ideal to be heading into December without a settled defence or a line of four that McAllister can rely on ... The goals conceded by Leeds recently have seen repetition of the same faults - a lack of organisation and a lack of concentration - two factors that the players must be held accountable for.
'This is his 11th month as manager and arguably the first time he has needed the supporters to trust him. On the evidence of his previous 10 months, he has earned that trust. Football is so ludicrously fickle that there is more chance of McAllister claiming the manager of the month award than losing his job in December.
'There is no doubt about the professionalism, the commitment or the enthusiasm shown by their manager; he now has a chance to show that he can manage his way out of a corner. Leeds did not regret changing their manager midway through last season, but it is doubtful whether the same would be true this term. While McAllister gave United's campaign a shot in the arm 12 months ago, it took the club a full month to get going again. The most likely cost of that lull this season would be automatic promotion.
'The scrutiny on McAllister is not unreasonable. It comes with the desk. What would be unfair is demanding an improvement in results while at the same time denying him support in achieving that. At this challenging time, it is the least he deserves.'
Despite Hay's support, the shock at Histon was followed by three further defeats, against Tranmere, Colchester and MK Dons, sending United slithering down the table. The day after the Dons defeat there was a long expected announcement on the club's official website: 'Leeds United have today relieved Gary McAllister of his position as first team manager ... The decision was made to ensure that the new manager, when appointed, has the maximum number of games possible to move the club up the table and also before the transfer window opens in January to allow him to identify any new players he thinks can strengthen the current squad.'
The Yorkshire Evening Post: 'Eleven months ago, McAllister wore the honoured look of a man who had returned to two of his spiritual homes - to Leeds United and to professional football. At no point then or since did he reveal any suspicion that reacquainting himself with Elland Road might have been the wrong decision. What his prior career could not guarantee him was a successful tenure, or immunity to the consequences of poor results. The same rule applied to Billy Bremner, the iconic captain of United who was sacked as Leeds boss without a second thought in 1988.
'McAllister's exit will seem like a sensible, inevitable decision to many - not least the 4,000-plus fans who watched Leeds capitulate to MK Dons on Saturday, the 43-year-old's day of reckoning - but it is deeply regrettable that a man who gave so much to United as a player could not reach his first anniversary as their manager.
'What Leeds have lost is a decent, diligent character who adored his job and was desperate to fulfil the potential it offered him. He was clean cut, polite and extremely professional, the last man to pick a fight in an industry which encourages conflict.
'Ken Bates, United's chairman, was one of the 17,073 spectators at Stadium:mk on Saturday, and he could not ignore what his eyes were telling him. The fragility of McAllister's team was exposed by their concession of two goals inside the first 17 minutes, and the issues confronting the manager were displayed in full. His team did not often look like scoring yet were liable to concede whenever MK Dons turned the screw. It was telling that within six minutes of Robert Snodgrass swinging the momentum towards Leeds, Aaron Wilbraham's 54th minute header put the game to bed. In that moment, Bates may have asked himself where United's backbone had gone.
'I still maintain that McAllister had the qualities and the vision to carry Leeds forward, but Bates was entitled to push for change. The League One table on Saturday night made damning reading. United are 15 points behind leaders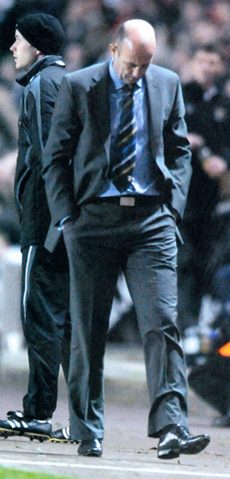 Leicester, and 11 behind MK Dons who lie second. Probability says that Leeds will not overturn those margins, especially if the decline which set in under McAllister continues into next month. More troubling still for Bates should be the five-point margin between Leeds and the Play Offs, a deficit which brings home the reality that United are dicing with a third season in League One.
'The uncomfortable reality is that United have not moved forward from their defeat in last season's Play Off final. Their squad is better man for man but, in terms of their standing in the league, the club have gone backwards, falling to a position which is only one place higher than the lowest ranking held under McAllister last term. Blessed with one of the largest pools of players in the division and, quite possibly, the highest wage bill, it has been clear for several weeks that Leeds are punching below their weight … No result was more damaging than the 2-1 win collected by a mediocre Colchester at Elland Road on a day when Leeds were expected to steady their ship in time for a difficult run over Christmas. It was that game more than any other which pushed McAllister to the edge of the cliff. United's muddy defeat at Histon and narrow losses away to Northampton Town and Tranmere were poor results, but their performance against Colchester was devoid of confidence and riddled with nerves.
'In the end, McAllister's fate was intrinsically linked to the shortcomings of his squad, and the failure of his defence to grasp the advice that he and assistant manager Steve Staunton were offering them. United's production of clean sheets has been appalling, and it was the failing from which McAllister was most likely to hang. Dissecting the root of their defensive problems has been almost impossible, for him and the fans.
'Prior to the campaign starting, he gave no indication that his squad was weaker than he would have liked … The ineptitude of his defenders must therefore have staggered him. United do not lack quality in defence … but there is no explaining the endemic loss of form. Professionals who performed impressively and consistently in 2007/08 have visibly regressed. On Saturday, Lubomir Michalik's half-time substitution was a fair reflection of a player whose confidence and reading of the game has deserted him. Michalik looked shell shocked during the first half, and he was not alone.
'On reflection, the Scot might agree that it was a mistake not to add to his squad before the end of the emergency loan market. Financial issues appeared to hinder him and he also implied that persuading players to drop into League One was extremely difficult (without question, the move for Hull City's Wayne Brown met both obstacles). But I wondered in November whether the extent of the defensive problems on McAllister's hands dawned properly after Leeds' defeat at Northampton, a result which came 48 hours before the emergency loan deadline and too late for decisive action. The lack of fresh blood left him to work with his existing squad and players who were struggling to make first team shirts their own. In no position has the absence of a definite first choice been more unsettling than that of United's goalkeeper, something which McAllister may well have looked to address next month. It was symptomatic of a defence built on sand rather than rock.
'The sacking will not please United's chairman … but it would have been difficult for
him to hand a transfer budget to a manager in whom he lacks confidence. January could be the last chance saloon for United's season.
'In a sense, Leeds are back where they started when Wise departed Elland Road at the start of 2008 - without a manager and with their term in the balance. The only difference is that McAllister's replacement will have a window to play with and a little more time. Yet to describe it as a difficult job is a crass understatement.'
Assistant-manager Steve Staunton was also sacked, while first team coach Neil McDonald had already left Elland Road under his own steam to become Sam Allardyce's assistant at Blackburn.
There was speculation that Gus Poyet or Aidy Boothroyd would return to Elland Road, but two days after McAllister's departure it was reported that 39-year-old former defender Simon Grayson would be the new man in charge. After spells with Aston Villa and Blackburn and periods on loan at Sheffield Wednesday, Stockport, Notts County and Bradford City, he ended his playing days at Blackpool. He was appointed manager at Bloomfield Road in 2005 and guided them to the Championship in 2007. After two years without a contract, he had signed a deal tying him to Bloomfield Road until 2010. He had earned extensive credit for transforming Blackpool into a team able to compete at Championship level.
The Seasiders were furious at the news of Grayson's departure; when United approached them to speak to Grayson, they rejected the request out of hand. Blackpool chairman Karl Oyston promised legal action. There had been negotiations over compensation, but they ended in stalemate.
Ken Bates: 'We approached Blackpool with a view to speaking to Grayson. Blackpool refused us permission. They then told Grayson that they had an approach from us, and Simon wanted the job. It's a dream job so he jumped at it. By telling Grayson that we'd made the approach, and by putting it on their website, it was in the public domain. We felt therefore that we had the right to approach Blackpool again, which we did. Meanwhile, Grayson had gone in to see the chairman and they had a bit of a disagreement because Simon felt he'd done a good job at Blackpool and he wanted this opportunity. He thought Blackpool shouldn't stand in his way. After that altercation he resigned, which he's entitled to do, and then when he was a free agent we offered him the job at Leeds and he's taken it.'
Grayson himself was delighted, saying, 'It's a club that's obviously close to my heart, being here as a player and supporting the club ... I certainly would not have dropped down a division to go to any other club but Leeds United.'
For much of Grayson's first game in charge, on Boxing Day at home to pace setters Leicester City, it looked like it would be a disappointing start. Matt Oakley gave the visitors a 24th minute lead, but deep into injury time Robert Snodgrass snatched an equaliser.
Grayson: 'I'm smiling because we got a point against the league leaders when it didn't look like we would get one ... If it had gone on for another five or 10 minutes we might have won it. We need to get into a position to be able to push on, and this is the first point of a campaign from now until the end of the season.'
Two days later, goals from Becchio, Delph and Christie gave Grayson his first victory, by 3-1 at Stockport, to continue the feelgood factor and bring a happy end to 2008. The new manager effect had brought fresh belief to everyone connected with Leeds United Football Club.
Part 2 Bouncing back with Grayson - Results and table