Part 1 Minus 15 - Part 2 The fightback begins - Results and table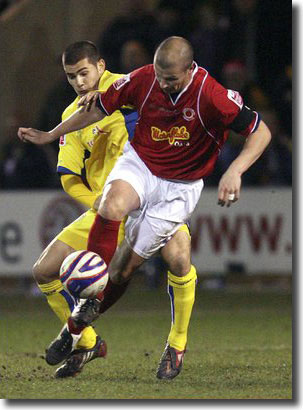 In the history of Leeds United Football Club, 2007 was for the most part a year to forget: relegation, the descent into administration, bitter disputes with the taxman and a gutting 15-point penalty. But a stunning opening to the season indicated that United might have reached the nadir of their fortunes and could at last start to dream of a return to prominence. Even a stuttering run of results after Gus Poyet quit Elland Road for Tottenham in October could not prevent their seemingly unstoppable rise and by the end of the year they were sitting in an improbable third spot, six points behind leaders Swansea City.
United's year kicked off poorly, New Year's Day bringing a 3-1 defeat at home to Oldham.
Richard Sutcliffe in the Yorkshire Post: 'In truth, the Latics did not have to display too much quality to smash what before kick off had been the best home record in English football with Leeds being so poor that their display evoked memories of the horror shows that polluted so much of last season. United, to be quite blunt, were unable to pass, cross or tackle during an opening 45 minutes that drew deserved jeers from the crowd of 25,906 at the half time whistle. The defeat, which means United have taken just one point from a possible nine since Christmas, saw Wise's side slip to fifth and he recognises reinforcements are badly needed.'
Wise was quickly into action in the transfer window, signing 23-year-old winger Sebastian Sorsa from HJK Helsinki as his contract expired on 31 December. He was less successful with attempts to court Walsall left-back Daniel Fox and a £300,000 bid was turned down. Leicester's Darren Kenton came in on loan as cover for Rui Marques, off to represent Angola in the African Cup of Nations. Wise also chased Bolton's Slovakian centre-back Lubo Michalik, who had a loan spell at the club in 2006/07, but those particular negotiations dragged on for several weeks. The midfield was bolstered with the signings of Birmingham's Australian midfielder Neil Kilkenny, Stoke City's Peter Sweeney and Northampton's Bradley Johnson.
It was hotly rumoured that Jermaine Beckford would be on his way to the Premiership with Derby County, but United resisted all overtures and hung on to their man. One player who did leave was Shaun Derry, making a loan move to Crystal Palace permanent. Alan Thompson was also away, on a short-term loan deal to Hartlepool.
Kilkenny had been on loan at Oldham and he impressed Wise with his performance for the Latics in their victory at Elland Road. He moved initially on an emergency loan move, so that he could appear for United on 5 January against Northampton. He was outstanding in a 3-0 victory and the deal was made permanent days later.
When United faced Crewe at Gresty Road in a televised fixture on 14 January, Kenton, Sweeney and Johnson all made their debuts. It was a telling outswinging cross from Sweeney that gave Beckford the chance to bravely nod home the winning goal.
Phil Hay in the Yorkshire Evening Post: 'Beyond the result, United's performance was another indication that Wise's activity in the transfer market has successfully tackled the problematic areas of his squad. Sweeney made an excellent debut on the left wing, supplying the thrust and quality of crossing that Leeds have been yearning. Darren Kenton was asked to fill the sizeable shoes of Rui Marques at centre-back, and did so with the confidence of a player who has coped at a level far above League One. He and Paul Huntington kept Crewe in check, and though United were not always comfortable beneath high deliveries into their box, their clean sheet was only briefly threatened.
'Titles are not won in January, as Wise reiterated before kick off, but this month had the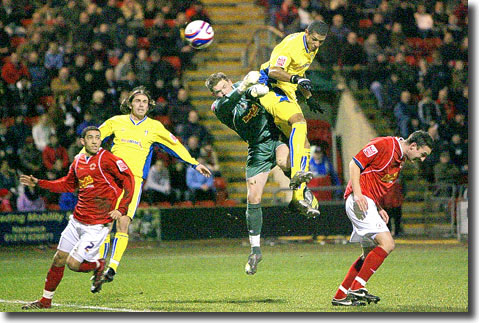 potential to break Leeds. The early weeks of the transfer window, however, have rejuvenated United in the way that their manager predicted, and the club have reacted responsibly to the problems experienced in the closing weeks of 2007. A spectacular victory was not essential last night; a win of any sorts was.'
Another 30,000-plus crowd packed into Elland Road for a local derby against Doncaster Rovers on 19 January eager to see if United could bolster their challenge against a team who were just two points below them. They couldn't, and Rovers were well worth a single goal victory.
United's early season successes had often come courtesy of late goals, but when they faced Luton at Kenilworth Road on 26 January, the boot was on the other foot. Paul Huntington, making a fist of things with his fourth successive start, gave United a 27th-minute lead and it seemed that would be that, but a goal from Sam Parkin in the fourth minute of injury time rescued an unlikely point for Luton.
Two days later there came the shock news that Dennis Wise had decided to leave Elland Road, accepting a back room position at Newcastle United.
The move came out of the blue and a clearly disappointed Ken Bates commented, 'There was a speculative article in the Mail on Sunday last week which we just ignored, then on Friday I got a phone call from Shaun Harvey who said Newcastle had asked for permission to speak to Dennis. I wasn't too surprised, but we wouldn't allow permission until we had it in writing that they would pay compensation. Dennis had a one-year rolling contract, and if either party breaks it we have to agree on compensation. I thought it only right to advise Dennis. He said he would like to talk to them and I said he could once we had it in writing. That duly arrived and I told Dennis first thing this morning that he could meet the Newcastle chairman, and he said he would like to take the opportunity if he could.
'He said he was sorry it was such short notice, but it was too good an opportunity to miss. In football you never stand in the way of anyone who wants to improve themselves. We've agreed that he will prepare the team for tomorrow, but it wouldn't be appropriate if he was at the game. He will get them ready for the game and hopefully he will go out on a high.'
With Dave Bassett dismissed following Wise's departure, technical director Gwyn Williams was in charge for the game at Southend on 29 January as the Dennis Wise era ended with a disappointing 1-0 defeat.
Earlier in the day it had been confirmed that former United midfielder Gary McAllister would be the new man at the helm, at least until the end of the season.
The 43-year-old had been at the heart of the United team that won the league title in 1992 and he made almost 300 appearances for the club. He also played for Motherwell, Leicester, Coventry and Liverpool, won 57 Scottish caps and managed Coventry for a couple of years before resigning in 2004 to care for his late wife as she battled cancer.
The Scot was delighted, saying, 'When I was first approached I couldn't quite believe it. It's a great honour to be back at the club and I can't wait to get in and amongst it ... I'm here until June initially and quite simply my job is to come here and
kick start it. There's a lot of hard work to be done.
'When a new manager is appointed late in January it's usually to pick up the pieces of failure, but this is different. The boys are in a fantastic position, they can go second tonight, and I'm joining a winning club.'
Bates was just as pleased with the move and said, 'We decided to move quickly and Gary was always in our minds ... He has a philosophy about how Leeds should go forward. He wants to play football and he wants his team to play football, but he also knows that's not always easy in League One. I said 20 years ago I wanted my team to be cheered off for entertainment and I want that to happen here. I think Gary will give us that.'
McAllister's appointment was a smart move by Bates, and he was welcomed with open arms by fans who had never fully accepted Dennis Wise, though he had earned their grudging respect for the way he turned things round.
In contrast McAllister was seen as a Messiah. The talk was all of a more cultured style, something that McAllister emphasised after it was announced that Steve Staunton would be his No 2. 'It's not often that you're able to appoint an assistant with the experience of management that Steve has. I've worked with him before and what I like about Steve is that he's been brought up in the Liverpool way. We'll benefit from that influence because I want the players here to approach the game in the right way, with a certain type of performances. It's an important appointment and I'm in the process of looking for a first-team coach to work with us.'
Former Carlisle manager Neil McDonald quickly arrived to fill that gap.
Staunton was with the Republic of Ireland for more than two years, leaving in 2007 after the country's failure to qualify for Euro 2008. His availability appealed to McAllister after a move for Sammy Lee was complicated by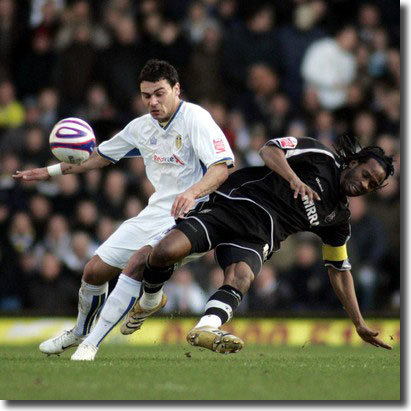 the terms of the 48-year-old's departure from Bolton Wanderers in October. Lee left the Reebok having replaced Sam Allardyce in April, and negotiations over the severance of his contract hampered United's attempts to bring the former Liverpool midfielder to Elland Road.
McAllister had no time to make his mark in the remaining hours of the transfer window and merely sanctioned moves that were already in train. 25-year-old striker Anthony Elding was signed from Stockport, while United paid £200,000 for Bolton's Lubo Michalik. Darren Kenton's loan deal was made permanent and his former Leicester team mate, 21-year-old Irish left-back Alan Sheehan, joined on loan until the end of the season.
There was a positive atmosphere around the club, but the early signs were not encouraging. McAllister's first game in charge saw United lose 2-0 at home to Tranmere, slipping out of the play-off positions in the process.
McAllister: 'The game did not have a great deal of quality in it ... It is obvious there is a bit of work to be done to get us back on track. We have a free week now and will be putting in a lot of work on the training ground. I am going to encourage them to play football. We have to snap out of this rut quickly. The job I expect of them is simple - to get us out of this division in 16 games. But we will have to be better than we were against Tranmere.
'First of all, we have to compete and win battles across the pitch before you have the right to get the ball down and pass. There is loads I can work on. There were a couple of plusses with Jonny Howson and Bradley Johnson, two of the younger players, showing little bits of bravery to get on the ball.
'We don't want to be sitting after games saying we've played well and not won. That's the crux of it. We've got to enjoy playing but we've got to be winning ... it's about finding the balance between getting the ball down and playing, and making sure the performance level is high.'
McAllister had to wait a while for his first win, with United playing out three successive 1-1 draws following the Tranmere defeat, slipping to ninth spot in the process.
After the third draw, at home to struggling Crewe on 23 February, the seventh game without a win, the manager spoke out. 'We're not going to hide behind the fact that we did get a late equaliser and take pats on the back for that. It wasn't enough. We've made it clear to the guys that when teams in the lower half of the division come here, they'll most definitely raise their game. We didn't raise our game enough. As a group of guys in that changing room, we know we've got to be a lot better than that.
'We've got 13 games left now, and we need points. Dropping points at home is not going to get us where we want to be. I'm seeing signs of improvement, but ultimately it doesn't matter what happens at the training ground or what we see during the week. It's what people can produce on match day.'
On 1 March, United finally won under McAllister, by a single Tresor Kandol goal at Swindon. The manager was delighted, saying, 'When you come back into the game after being out for a while, there's nothing like winning. There's an old adage that I've used all the way through my career which is that the harder you work, the luckier you get, and these guys have been working really hard. They deserved a break.'
McAllister remained concerned about an inability to turn chances into goals and he made overtures to Crystal Palace's Scottish striker Dougie Freedman in the last week of February. Initially Freedman rejected the move, but then changed his mind and on 6 March agreed to move on loan to Elland Road until the end of the season.
Around the same time, McAllister released Leon Constantine, Curtis Weston, Ian Westlake and Matt Heath on loan, while Tore Andre Flo announced his retirement.
Top of League One 23 February 23 2008

Pos

P

W

D

L

F

A

Pts

1st

Swansea City

32

21

7

4

60

25

70

2nd

Nottingham Forest

32

15

11

6

47

23

56

3rd

Doncaster Rovers

32

16

8

8

48

29

56

4th

Carlisle United

31

16

7

8

45

31

55

5th

Walsall

33

13

13

7

41

27

52

6th

Tranmere Rovers

34

14

10

10

39

31

52

7th

Southend United

33

15

5

13

52

46

50

8th

Leyton Orient

34

13

10

11

39

44

49

9th

Leeds United

33

18

8

7

52

29

47
First United goals for Bradley Johnson and Neil Kilkenny secured a 2-0 victory against Bournemouth, but then came an inexplicable home defeat to Cheltenham. Freedman came on as sub in both games and looked a good signing. He made his first start in the 15 March visit to bottom club Port Vale and he confirmed his class with two goals. But more important than the goals was the way that Freedman influenced United's play with his guile and movement. He was the perfect foil for Beckford and his experience would prove invaluable.
Unfortunately United were brittle against Vale. They were two goals ahead at the break, but allowed Vale to draw level with goals in the 65th and 67th minute. A second goal from Freedman, four minutes from time, looked to have sealed the win, but Luke Rodgers snatched an equaliser in the third minute of injury time to leave McAllister bemoaning defensive fallibility.
The result saw Leeds slip to tenth, two points outside the play-offs, and McAllister acknowledged the missed opportunity. 'To come away from home and create a few chances as well as the three goals we scored - it's just hugely disappointing. The facts are that if you come away from home and score three goals, you should be going home with the points. We're going to have to stick together. We really need to have the sort of mentality the club probably had at the start of the season when everyone was writing them off then. People are maybe looking and saying "their push is maybe fading a little bit", but I can assure we'll be working extremely hard to get ourselves back in there.'
United had won just two of the previous eleven games and now faced a crucial run of five games against teams in the promotion shake-up.
The first was in a televised match at home to Walsall on the evening of 22 March. With Freedman catching the eye, United gave one of their best displays in winning 2-0. The goals, one in each half, both came from smart Beckford finishes following killer through balls from Neil Kilkenny. To round off a fine night, captain Jonathan Douglas came on as a second half sub to complete his recovery from the injury he sustained before Christmas.
A week later United were stymied in a goalless home draw with Brighton, but they bounced back instantly when Alan Sheehan's glorious free kick into the top corner of the net was enough to earn a victory at Doncaster Rovers. Sheehan picked up a yellow card in the game, his tenth of the season, resulting in a two-game ban.
Gary McAllister was fulsome in his praise for the full-back: 'It was a fantastic goal. I'm pleased for Alan Sheehan. He arrived from reserve team football and it was clear he was pretty leggy at first. But he's worked hard to get to this level and he's showed the qualities he's got. It's a big step from reserve team to competitive football.
'It was a big game for big players and we had some big performances. We rode our luck on occasions ... During those times when we had to defend we had people throwing their bodies and heads in front. If we'd have done that at Port Vale when they scored three times ... it shows we have learned from that.'
On 3 April, the club announced that McAllister had been awarded a 12-month rolling contract, with Ken Bates commenting, 'We've been impressed with what Gary has done and we decided it was fair to offer him a rolling contract to enable us to plan the future of Leeds United with confidence and security.
'We met in Leeds a fortnight ago and went through every player on the books, from the highest earners to the kids on £15 a week. He told us who he thought was surplus to requirements and who he thought we should keep. The depth of knowledge that Gary showed about every player, and not just the senior players, was extremely impressive. He goes to every reserve game and his knowledge showed how dedicated he was to the job.
'Shaun and I made the decision with the board that he deserved a new and longer contract. I'm delighted that he's accepted because, from the club's point of view, we know the direction we're heading in and we can start planning for next season.
'The most important thing about Gary was that when Gwyn Williams first asked him whether he wanted the job back in January, he said yes. Full stop. There were no questions about "how much", and no arguing about the contract. I think he feels as if he's come home.'
Two days later, United's impressive run continued with a 2-0 victory at Leyton Orient which took them back into the play-off positions. The decisive second goal came from Jermaine Beckford, who thus became the first United player to notch 20 in a season since Mark Viduka in 2003.
The position was reinforced with a home victory against second-placed Carlisle. The visitors took the lead through Scott Dobie in the 17th minute and were still ahead at the break, with Leeds not getting in a meaningful shot.
They were far better in the second period and Dougie Freedman bundled in a 50th-minute equaliser when the Carlisle keeper failed to gather a Neil Kilkenny cross. Nine minutes later Jonny Howson ran in to hammer Leeds ahead after Tresor Kandol's shot was parried. On the hour Danny Graham forced home an equaliser following a corner. Freedman volleyed home a winner in the 69th minute after Kilkenny's free kick ran loose.
It had been a breathtaking game and McAllister praised Freedman's contribution: 'We've spoken about his guile and his touch of class, but we have to applaud his physical state. We sent him home last night and he reappeared this morning and wanted to play. As soon as he looked me in the eye and said he wanted to play I had no doubts.'
United came unstuck during an evening derby at Huddersfield on 15 April. Jermaine Beckford had damaged an ankle against Carlisle and was unavailable, giving Tresor Kandol a recall, but that was the only change to a side that was now quite settled.
Skipper Jonathan Douglas and Town's Jon Worthington were both dismissed in the first half for two bookable offences and that ruined the game as a spectacle. It looked like the match would end as a tepid draw, but Huddersfield grabbed the only goal in the second half to end the Leeds run.
Happily, United's main rivals for the final play-off spot, Walsall, lost 1-0 at home to Bristol Rovers that same night to leave Leeds relatively secure in sixth spot. Victory would have virtually guaranteed the Whites a place in the play-offs.
McAllister: 'Obviously there was a lot of disappointment in our changing room, but we'd had a good run, and it's certainly not a disaster. It was a very scrappy game and the sending offs had something to do with that. They contributed to it being a game of knock-downs, free-kicks, and petty tackles.
'I felt Dougie's was for two soft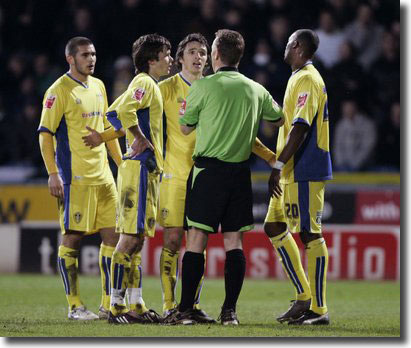 yellows and their man looked to make an honest attempt when he was sent off. It went to 10 v 10 and became very bitty. These things happen. They are sent to test you and we didn't react well enough to Dougie going off. We lost the calmness that he brings. When you need to force things you need a calm head and that's what we need from here. We'll deal with it, move on, and prepare for Millwall on Saturday.'
For that trip to Millwall on 19 April, David Prutton was recalled for the suspended Douglas, while Elding and Sheehan replaced Kandol and Kenton.
Phil Hay in the Yorkshire Evening Post: 'On the afternoon when Gary McAllister was welcomed to Elland Road by a 2-0 defeat to Tranmere Rovers it may not have occurred to him that Leeds United might reach the sanctuary of the Play-Offs with a game in hand. McAllister's first job was to oil United's creaking engine and the fruits of his labour were rewarded by the sight of Leeds monopolising sixth place in League One in London yesterday.
'A splendid volley from David Prutton and a close-range finish from Andrew Hughes put paid to Millwall at the end of a frenetic game at the New Den. And the assistance of results elsewhere carried United to a position where their involvement in the play-offs is just one more positive result away from being ratified.
'A late winning goal for Brighton against Hartlepool United prevented Leeds from travelling home with complete assurance, but the situation has been placed in their hands so comprehensively that it would surprise Albion's manager Dean Wilkins if their fingers released the prize. Brighton - the only club now in touch with sixth position - are at the stage where divine intervention is required.
'A defeat to Huddersfield Town on Tuesday was in danger of being followed by a goalless stalemate yesterday, a result which would not have been disastrous but which would have cast a degree of doubt over United's final league position. There is every possibility, however, that United's last game of the season at home to Gillingham will be meaningless in a competitive sense.
'If, as seems likely, a Play-Off position belongs to United by the end of next weekend's game at Yeovil ... the city of Leeds will breathe a collective sigh of relief at the end of a compelling and exceptional year.
'It is easy, nine months on, to overlook the fact that United have negated a points penalty which equated to five League victories, and to forget that the win gained yesterday secured their 85th point of the term. To be on the cusp of reaching the play-offs at all is a stellar achievement; to do it with a game remaining would be a creditable bonus.
'The loss of Jermaine Beckford's pace had been an obvious factor in United's 1-0 defeat at Huddersfield on Tuesday night and he was missing again yesterday, held back by the ankle injury which McAllister had hoped would heal before kick off.'
A 4th-minute goal by Dougie Freedman in the Friday night fixture at Yeovil was enough to secure the required win, but they had to cope with the dismissal of Alan Sheehan after 65 minutes. The red card meant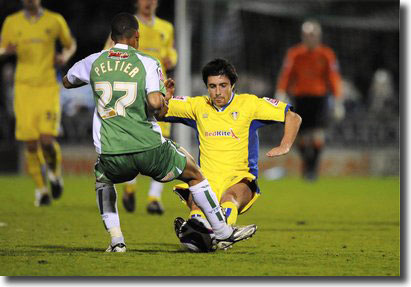 a suspension that would keep him out of the play-off semi finals.
United still harboured hopes that their appeal against the 15-point deduction would lead to an even happier outcome to the season. The reversal of the penalty would have guaranteed automatic promotion.
Ken Bates had not been deterred when League chairmen voted to confirm the penalty in August and had insisted that United would fight on.
They wrote to the Football Association in August asking for a review of the case. The FA rejected that request at the end of September. United continued to pursue their fight in October, writing to the FA chairman to draw his attention to 'what we perceived as inconsistencies in the FA's decision and asked them to look at it again. The reply to the second request was rejected by the FA's director of corporate affairs. This is the same person who rejected the original request. In effect, the same individual confirmed his own earlier decision. There was no independent review.'
The FA refused to budge their position and it was decided that the matter should be referred to an independent arbitration panel, which was eventually set for the week commencing April 14.
The panel was chaired by former High Court judge Sir Philip Otton, an experienced football arbitrator. He had been involved in some controversial hearings, such as those surrounding Chelsea tapping up Arsenal's Ashley Cole in 2005 and West Ham's 'ownership' of Carlos Tevez.
Completing the panel were lawyer Peter Cadman, who had chaired previous Premier League disciplinary commissions, and former Premier League Chief Executive Peter Leaver.
Originally it was thought that the hearing would last for three days with the decision to be announced before the game at Millwall on 19 April. It was later reported that the hearing would go into a second week and that the verdict would be returned 'within three to four weeks'. The decision was announced on Thursday, 1 May, just three days short of a year after United had entered administration.
The club argued that the Football League did not have the power to impose a 15-point penalty, that they had acted unfairly and unreasonably and that the chances of an appropriate CVA were dashed by the conflicting demands of the Football Creditors rule and HMRC's intransigence.
The panel rejected the appeal outright. They found that the club had freely agreed to the conditions of the League's decision to grant them the Football Share, chief of which was the points deduction. There had been an agreement that United could appeal, and that this would be heard by the other League chairmen. The panel also found that there had been an unreasonable and inexcusable delay on the part of the club in commencing proceedings.
Click here to read the full text of the panel's findings.
It was no compensation for Ken Bates, but the panel also criticised the League's Insolvency Policy and appeals procedures, and the United chairman was quick to call for Lord Mawhinney and the League's board to resign.
Phil Hay in the Yorkshire Evening Post: 'The claim by Ken Bates that defeat in his battle with the Football League was not the same as foregoing the war is clearly a matter of opinion, but it was not altogether the cry of a sore loser. To all intents and purposes Bates was beaten yesterday, outflanked on the issue of most immediate significance to him and his club's supporters. Vague the Football League's reasoning for a 15-point penalty may have been, and warped its appeal process most certainly was, but the success of Leeds United's case was bound to be judged on the recovery of some or all of their deducted points.
'Defeat is not a sensation that will sit well with Bates, a man who backs himself to fight his way out of any corner, but the conclusive ruling published by the arbitration panel yesterday served to enhance the importance of a problem thrown up and highlighted by United's suffering. As a direct result of the hit taken by Leeds in August and the legal case which has followed, other English clubs may have cause in future to thank Elland Road's chairman.
'Insolvency was, until the turn of this century, a foreign language to football supporters, and a matter over which few had any interest. When Bates presented a Company Voluntary Arrangement to United's creditors while Leeds were in administration last summer, the majority were required to ask exactly what a CVA was. The arrangement ... was voted through by a fine margin ... but many commentators assumed that the acceptance of his terms was a formality, the final and natural step back into solvency. In the end it was anything but, and it is clear today that the approval of a CVA put forward by any professional club is as far from a formality as it could possibly be.
'It was highly appropriate that, on the day the three-man arbitration panel sided with the Football League, Rotherham United announced that their own administration was likely to end without any such CVA. Leeds United are out of the Football League's hair but a crisis of insolvency is sticking to the organisation like glue. It is inevitable that United's case will bring about necessary - and perhaps fundamental - changes to its rules on administration.
'The ruling of the arbitration panel did not specifically blame Leeds for the failure of their CVA, the catalyst for both the sale of the club directly to Bates by KPMG in July and the 15-point deduction which followed in August. It stated instead that the Football League acted within its own rules and guidelines by imposing a penalty for what it believed was a breach of its rules (an accusation which Leeds have always contested). Whether or not United were actually guilty appears to have been left to the judgement of the League's board. Before even considering the validity of the penalty handed to Leeds, the panel dismissed the club's claim on the grounds that they had delayed arbitration for an "unreasonable and inexcusable" length of time and had already signed a legal and binding document preventing them from appealing against the 15-point deduction for a second time. For those reasons, it was ultimately a case that Leeds had no chance of winning.
'A victory for Bates was secured by persuading the panel that it was inappropriate for Football League clubs to decide an appeal made by one of their rivals, a system which is clearly open to abuse and prejudice, and if nothing else yesterday's ruling will instigate a new appeals process which relies on independent consideration rather than the opinion of potential competitors.
'But it is on the matter of the CVA, and the stance of HMRC towards Football League regulations, that the impact of United's case should be most profound. Leaving administration without a CVA was not standard practice last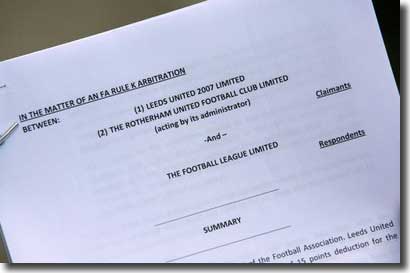 summer, but Leeds have been trendsetters in that field. Rotherham appear resigned to reclaiming solvency without the necessary arrangement and have already admitted that they anticipate a points deduction, possibly in line with United's 15-point penalty. Bournemouth and Luton Town have also been in grave peril, prevented from agreeing CVAs in part by the fact that HMRC will not support them. On the contrary, HMRC will contest every one.
'The Revenue is often the largest creditor of financially-stricken Football League clubs. United's arrears alone were in excess of £7m last May. But as a result of Football League rules, which require football creditors to be paid in full by any insolvent club, the Revenue is no longer prepared to agree to any CVA which sees players, managers and clubs paid every penny they are owed while the taxman goes short. The League's reasoning for insisting on the payment of football debts is sound in principle. It argues with justification that its competition would lack integrity and credibility if member clubs failed to meet their financial obligations to those involved in it. But with HMRC adopting such an aggressive stance, that insistence is also potentially flawed.
'Leeds predicted last summer that the absence of a CVA in their case would be the first of many. That prediction has proved accurate, and probably more quickly than Bates expected. The frustration for United's chairman is that his CVA was approved initially then scrapped because of the timescale involved in the legal challenge made against the agreement by HMRC. Whether the Revenue would have seen its case proven is a moot point, but Bates has always argued that the grounds of the challenge were 'spurious'.
'United's chairman will not delight in aiding the clubs who voted against his original appeal against the Football League's 15-point penalty but inadvertently he has. The tribunal's ruling read: "These proceedings have brought to light the necessity for a review of the insolvency policy. We were told that there are 40 or more current or anticipated insolvencies. In many cases it will prove impossible to exit administration via a CVA. The League in the course of the hearing appeared to recognise the need to amend the policy to make specific provisions where there is no CVA. It is to be hoped that this can be achieved during the coming close season."
'One option for the Football League is to agree a 15-point penalty as a mandatory sanction for any club that exits administration without a CVA. Given that rule changes require the agreement of its members, that law seems improbable. More likely is that the insolvency rules will be relaxed in a way which is more sympathetic to a climate in which many clubs are breathing with difficulty. Above all, the conflict of interest between the Football League and HMRC is one that can no longer be ignored.
'United called a halt to their struggle yesterday, declaring in a statement that "the matter is closed". It will now require a successful Play-Off campaign to give Leeds the promotion their players and supporters deserve, and to ensure that a case which may be to the long-term benefit of English clubs is not to United's immediate cost.'
A Play-Off place confirmed, Gary McAllister rested some players during the final game of the League season, at home to Gillingham on 3 May. Frazer Richardson, Jonny Howson, Neil Kilkenny and Dougie Freedman were all allowed an afternoon off, while Jermaine Beckford's ankle was given further time to recover. Peter Sweeney, Anthony Elding, Scott Gardner, Tresor Kandol and Andy Hughes were named in the starting line-up with Bradley Johnson asked to fill the suspended Alan Sheehan's position at left-back.
United were a goal behind after 20 minutes, but blinding goals from Johnson in the 69th minute and Kandol in the 88th secured the points and condemned Gillingham to relegation. The points took Leeds above Southend United and into fifth spot, confirming a Play-Off semi-final clash with Carlisle United.
The first leg was on 12 May at Elland Road, but Leeds were never in it. They had plenty of chances and both Freedman and Beckford went close in the first half with curling efforts to the far post. However, goalkeeper Keiren Westwood, who had endured a difficult time in Carlisle's defeat at Elland Road in April, gave an inspired display, stopping both shots and, indeed, everything else that came at him all night.
Carlisle were smarter and sharper in midfield and took a stranglehold on the contest. Leeds' quartet were caught between the devil and the deep blue sea, never sure whether to hang back or push on, and left acres of space for the visitors to exploit.
After 32 minutes, Carlisle were awarded a corner kick that should have gone the other way, and the clearance fell to Simon Hackney on the left wing.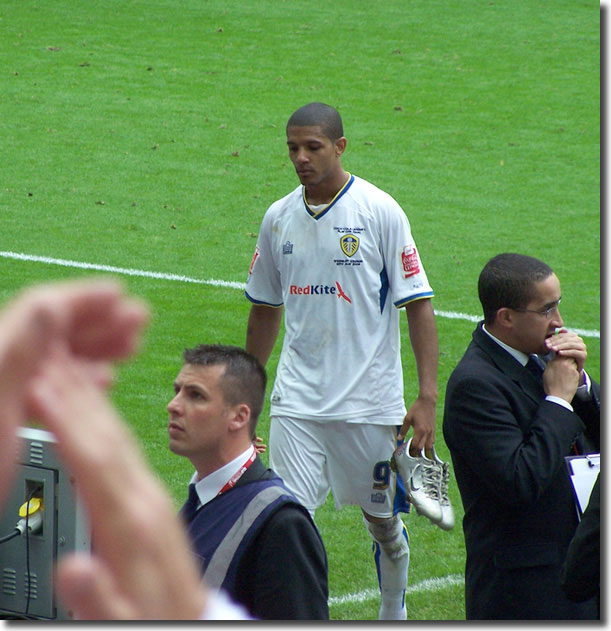 He volleyed it first time and the ball struck Danny Graham as he turned his back on it, deflecting into the bottom corner off his backside.
That left United in disarray and they struggled to get any control. The chances kept coming but either they squandered them or found Westwood in the wrong place at the wrong time.
Five minutes after the break they were undone when Carlisle broke swiftly, with two men overlapping to leave Frazer Richardson in no man's land. The cross found Bridge-Wilkinson storming in to force home despite the close attentions of Michalik.
Gary McAllister rang the changes, throwing Kandol on for Beckford after 58 minutes, claiming that the striker was feeling his damaged ankle. Then Carole came on for Prutton, and in the dying seconds Hughes for Howson.
But it all looked over for the Whites.
Five minutes of injury-time had gone when Paul Huntington got the ball around half way. He evaded a Carlisle challenge and came inside before launching a huge lofted ball to the far post. Kandol was in the mixer, causing panic in the back four but couldn't get a telling touch. As it ran loose across the box, Freedman was on it in a flash to fire home.
In a season of late goals, none had come later. There were seconds remaining and United had pulled the irons out of the fire at the last. They would still face an uphill struggle in the second leg, but they went there with a fighting chance.
McAllister stood by his men, despite the disappointing display, selecting the same eleven and was rewarded when Jonny Howson scored in the tenth minute after a one-two with Freedman.
After that, United got a grip on the game. Despite having a number of chances they couldn't get a second goal and as time went on it seemed the match would go to extra-time.
Just as the extra minute's injury time began, Freedman flicked a ball across the face of the Carlisle area and Howson controlled it and sent a low shot bobbling inside the post to settle the contest.
The United players and supporters went wild with excitement. Just seconds later the game was over and Leeds were on their way to the Wembley final.
Unfortunately, their moment of glory had passed. Though their performance in the final against Doncaster Rovers did not plumb the depths of the 2006 Championship Play-Off debacle against Watford, they were outplayed by a high quality team. They fell to a dead ball sucker punch early in the second half when James Hayter headed home from a corner and never remotely looked like beating former Elland Road keeper Neil Sullivan in the Rovers goal.
It was a sad and disappointing end to an extraordinary season when United had come back from the very brink of extinction as a club. There could easily have been a fairytale conclusion to the story, but that has rarely been the way for Leeds United Football Club.
Their long-suffering supporters trudged sadly away from the scene of yet another tragic defeat on the big occasion, but at least they had the satisfaction of knowing that they would live to fight another day, something that had seemed quite unlikely for a while in 2007.
Finally clear of the massive debts that had dogged them for a decade and ready to start a new season on level terms, Leeds United could look forward to a campaign when they could realistically hope to be starting the long and tortuous climb back to the top of the English game.
Part 1 Minus 15 - Part 2 The fightback begins - Results and table