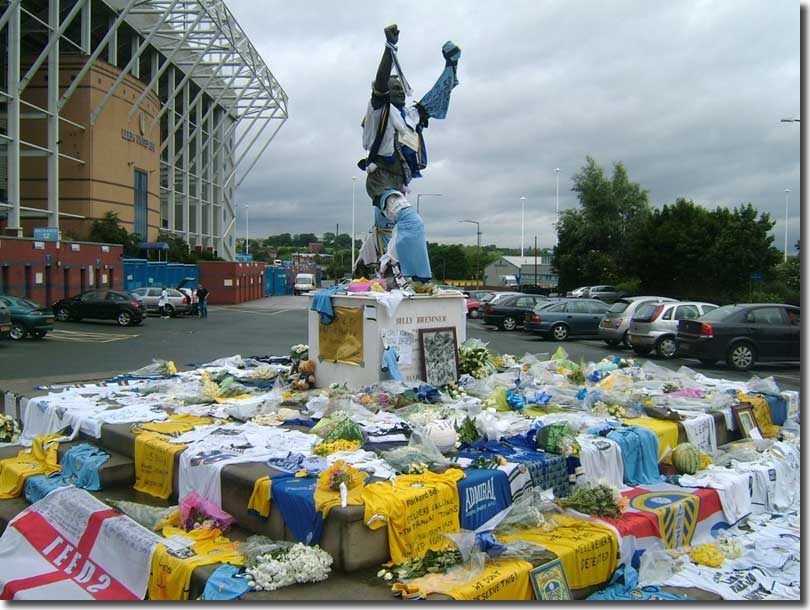 Part 1 Minus 15 - Part 3 Return of the Mac - Results and table
So crippling was the wrangling that followed Leeds United's decision to enter administration in the spring, that it would be difficult to imagine how the club's preparations for the 2007/08 season could have been less ideal. At a time when the Elland Road club desperately needed to pull together, they were in the gravest danger of falling apart completely.
As if contemplating a first ever campaign in English football's third tier wasn't bad enough, there was a multitude of barriers put in their way. They were barred from signing any new players until the first week of August when they were finally granted the League Share, though an earlier clearance would not have dispelled the uncertainty that left any transfer target knowing a move to Elland Road represented a massive gamble.
The turmoil was perhaps best illustrated during the pre-season win at Darlington when Leeds took to the field in shirts with tape covering the name of the lapsed sponsor. Only six of the starting line-up - including two youngsters who had never appeared for the first-team - were contracted to the club. The club's financial strictures meant that they had to ask players to defer their wages until the sale to Ken Bates was agreed.
Then there was the biggest demotivator of all: the League's decision to impose a 15-point penalty. It was enough to make a grown man cry and there was enough weeping and wailing at Elland Road to last anyone a lifetime.
United fans were in despair at what was happening to their club. They had been suspicious of the motives of Ken Bates since his takeover in 2005 and the crisis caused by administration just made matters worse. They decided to take a stand.
On 21 July, with the team in the Czech Republic and the club still not certain of being granted the Football Share, a number of fans launched one of the most well-orchestrated demonstrations of supporter togetherness ever seen in the English game.
In a spontaneous demonstration of support, hundreds of fans began laying white, yellow and blue flowers around the statue of Billy Bremner at Elland Road, together with football shirts and messages appealing for the club to be rescued from its current plight.
The management claimed it as a show of support. The protesters were quick to disabuse them, as reported in the Evening Post: 'Leeds United fans reacted with dismay today to what they saw as the club's attempts to hijack a flower power protest staged at the Billy Bremner statue on Elland Road ... the official website was quick to claim the laying of flowers and shirts as a spontaneous show of support for the current regime, ignoring the fact that many of the messages penned alongside the flowers and shirts call for chairman Ken Bates to go.'
An e-mail to the club from Norman6 was copied to the waccoe.com website: 'I've just read your biased report about the Flower Protest at Elland Road. You fail to mention the number of messages telling Ken Bates to get out of Leeds United. This protest is about the way the club has been allowed to plummet into the position we're in. It also about telling the world that Leeds United fans want their club back. What you are doing is perpetuating the myth that Leeds fans are behind what the club are doing. Most Leeds fans are convinced that the way the club has been run for many years, including all the time that Ken Bates has been in charge, is the reason we are in the current situation. Make no mistake we support the club and not the owners who have ripped the heart out of Leeds United over many years. Any attempt by the club to spin this otherwise will only increase the contempt that most feel towards the temporary owners.'
There was a 'Love Leeds, Hate Bates' website set up and T-shirts printed contrasting Billy Bremner's 'Side before self every time' mantra, with a 'Self before side' slogan attributed to Bates.
Then came the sight of supporters waving their footwear in the air during a friendly at Burnley at the end of July, chanting in unison, 'Shoes off if you hate Ken Bates.'
The exodus of players began with the lapse of a number of contracts. Among the leavers were Ian Moore, Neil Sullivan, Robbie Elliott, Hayden Foxe, Stephen Crainey, Armando Sa and young Sam Hird, while loanees Radostin Kishishev, Michael Gray and Jemal Johnson all returned to their host clubs and long serving Gary Kelly announced his retirement.
A number of players were sold when United began trading, with David Healy to Fulham, Richard Cresswell to Stoke City, Kevin Nicholls to Preston North End and Robbie Blake to Burnley the biggest names, though young starlet Danny Rose moved to Tottenham in a £1m deal and another youth team player, Ben Gordon, turned down the offer of a new contract to sign for Chelsea.
United had a poor run in pre-season, winning just 2 of 9 games, and a low point came during a tour of Germany when Jermaine Beckford and Jonathan Douglas were dismissed for dissent and assistant manager Gus Poyet sent from the dugout as United lost 2-1 against Energie Cottbus. Happily the players only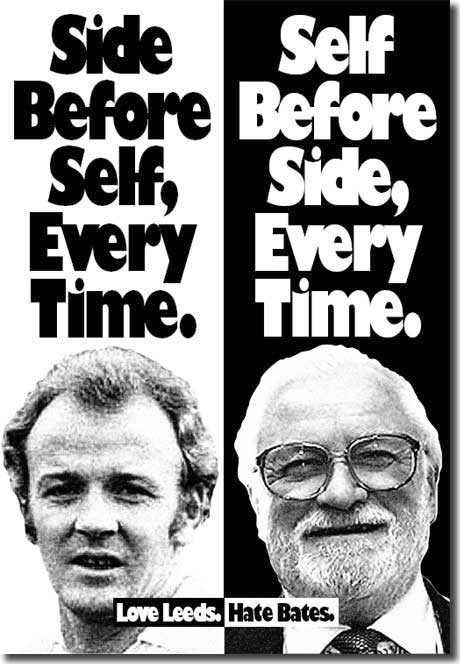 received bans from reserve team games.
When United received clearance to start signing players they quickly took advantage. Alan Thompson, Casper Ankergren, Tore Andre Flo and Matt Health all made short contracts or loan deals permanent, while youngsters Ben Parker, Gavin Rothery, Scott Gardner, Tomi Ameobi and Tom Elliott were given new deals. A number of players were still under contract: Frazer Richardson, Eddie Lewis, Rui Marques, Beckford, Douglas, Ian Westlake, Jonny Howson, Gylfi Einarsson, Seb Carole, Rob Bayly, Tresor Kandol, Shaun Derry and Fabian Delph. There were new arrivals in the shape of Leon Constantine, Curtis Weston, David Prutton and Andy Hughes as Dennis Wise assembled something resembling a first-team squad.
Striker Constantine signed a two-year deal after being released by Port Vale, for whom he had scored 32 goals in 72 games. Unfortunately he damaged ankle ligaments during pre-season and missed the first three months of the campaign.
20-year-old midfielder Weston had played under Dennis Wise before, at Millwall and Swindon, and was the youngest player ever to feature in an FA Cup final, coming on as sub for Wise in the 2004 final.
25-year-old Prutton was the best known newcomer, having made over 300 League appearances for Nottingham Forest and Southampton. He earned notoriety in 2005 when he was sent off against Arsenal and then argued vehemently with the officials, pushing referee Alan Wiley as he tried to get at assistant referee Paul Norman. That earned him a 10-match ban and a fine of £6,000.
Hughes moved from Norwich in the last few days before the season began. He had made over 300 league appearances for Oldham, Notts County, Reading and the Canaries.
With a mass clear out of United's big name strikers and Constantine and Flo injured, it was clear much would depend on Kandol and Beckford. Dennis Wise was impressed with Beckford in pre-season and expected great things of him, opting to give him a run in the side after loan spells at Carlisle and Scunthorpe.
Wise told the Yorkshire Post: 'We have missed out on targets, there is no hiding from that. But the players I have got so far ... are very much together as a group. Last season, the group was not together. I want people here who want to play for Leeds and want to be part of it. A lot of them maybe couldn't get their head round League One and felt they were maybe too good for it, and that is why they left. The one player I would not argue with is David Healy. It was pretty obvious that David was not going to be here because he wanted to progress and I would never stop that. David was probably the only one who said "I don't want to leave a sinking ship."
'He now has a chance to play at the top level, but I think there are some that have just decided to get out for the sake of it. Kevin Nicholls was someone who told me he wanted to go south, but has stayed in the north. It really is amazing, isn't it? He claimed to be homesick and a lot of other things, but maybe that was not the truth.'
Asked about the points penalty, Wise said, 'Not only have they taken my arms and legs off, now they've cut my b***s off as well. It's just not funny at all. I'm disappointed with the whole thing. Minus 15 points. We have to get 106 points to win the league, 92 points to get in the play-offs and 70 points to stay up. Lovely. Thank you very much.'
United kicked their season off on 11 August at Tranmere, one of the teams fancied to be in the promotion shake up.
Wise had named Alan Thompson as skipper and he lined up in midfield alongside Ian Westlake and debutants Andy Hughes and Curtis Weston. Casper Ankergren was in goal behind a back four of Frazer Richardson, Rui Marques, Matt Heath and Eddie Lewis, with Kandol and Beckford forming the expected striking partnership.
Rovers started the better and deservedly took the lead after 21 minutes. Calvin Zola had already gone close on two occasions in the first ten minutes and some wretched defensive play allowed Chris Shuker to break into the area from the left. He drilled across a low ball for Chris Greenacre to slide home at the far post.
Shortly afterwards Shuker had a penalty appeal rejected despite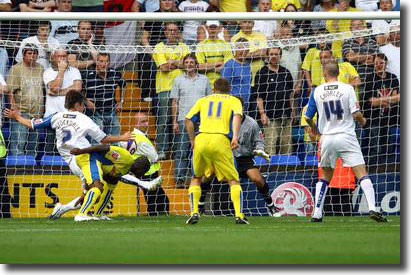 appearing to be held. It was a lucky escape and Dennis Wise left his players in no doubt that things had to improve. They had taken a hiding and were jeered as they left the field at the break. Wise admitted afterwards, 'We didn't play well in the first half, and we had a little argument at half time. That sorted a few things out and we were so much better second half.'
United came out fighting and were level after ten minutes. From a free kick on the angle of the Tranmere area Thompson curled the ball to the far post. It was clearly a rehearsed move as Heath raced from behind the defensive wall on a curving run to nod home.
The confidence came oozing back, accompanied by a new aggression that saw Kandol, Beckford, Thompson and Westlake all receiving bookings.
It looked like the game would finish all square, but Leeds kept going and earned their reward with a last minute winner. Richardson took a quick throw to Hughes who sent a looping cross to the far post, where Kandol stooped low to nod home before going into a trademark acrobatic celebration.
It had looked most unlikely in a grim first half but a summer of despair ended with a memorable triumph. Wise said afterwards, 'It was nice to get this game out of the way, because of all the hype and everything that's happened. What you don't want is a situation where you're waiting to win a game after so many games, and you're miles behind.'
Wise was SO right in his assessment; a decent start was vital. To have lost their first game would have been a doomsday scenario, pointing to a relegation struggle.
Another late goal, but this time with 12 minutes remaining, was enough to see off Macclesfield in a midweek Carling Cup-tie and then came a tremendous 4-1 victory against Southend United.
Alan Thompson opened the scoring in the third minute with a trademark swinging free kick from 30 yards. Leeds dominated the first half, but could not add a second and jangling nerves took over as they started to defend the lead. Then, when Southend captain Adam Barrett equalised after 69 minutes, the alarm bells started ringing.
Dennis Wise had already brought Seb Carole on for Ian Westlake, and now he threw on Tore Andre Flo for David Prutton. It looked like desperation stuff, but a pre-season spent building the players' fitness and stamina paid off.
With five minutes remaining, Carole crowned a long run with a telling cross. A Southend defender nodded it back across goal, but Flo hammered the ball home on the volley.
The Norwegian had struggled with injury since arriving at United in January, and said later, 'This has been the most frustrating time of my whole career. At first, we thought it would be a small thing but it ended up being seven months. I broke the bone, had an operation and then broke it again at the end of the season ... I did not want to give up, but we needed to see if I could come back because I was in plaster and not even close to playing again. This goal makes everything worthwhile. It is nice to give the manager something back.'
Three minutes later, Rui Marques headed his first goal for the club from a corner and in the final minute Jermaine Beckford broke his United duck after running on to a long ball.
It was a startling transformation and had Dennis Wise quipping, 'Only 99 more points now to win the league.' He went on, 'Momentum is an important thing ... It was important we won at Tranmere, and again on Saturday ... but there's a long, long way to go.'
Days later Eddie Lewis was sold to Derby County, with Wise commenting, 'I wanted to keep Eddie, but this is a wonderful opportunity for him ... I was never going to stand his way ... I think he would have been annoyed with me if I'd have done that. He's been a good pro.'
Wise moved swiftly to replace Lewis, taking Wolves left-back Jamie Clapham on loan. He tried to sign Hibernian centre-back Rob Jones, Tranmere winger Steve Davies and Blackpool full-back Shaun Barker but was unsuccessful on each occasion.
Undaunted, he pulled off three transfers in the hours before the transfer window closed, signing Motherwell's 18-year-old Scottish youth international keeper Alan Martin, young Newcastle centre-back Paul Huntington and Portuguese winger Filipe Da Costa from Greek club Ionikos. The latter deal was not completed until October with Ionikos claiming Da Costa was on contract until 2011.
Departing Elland Road was Icelandic midfielder Gylfi Einarsson, whose contract was cancelled by mutual consent. He eventually earned a deal with SK Brann of Norway.
Just before the flurry of late moves, United pulled off a third straight League win, away to fancied Nottingham Forest. Tresor Kandol had given them a 17th minute lead after smart combination work with Jermaine Beckford before Kris Commons equalised. There was another late winner as Beckford found space in the area to meet Carole's mishit shot and fire home from close range with 30 seconds remaining.
It was a smash and grab raid but Leeds were getting into good habits. Their knack of snatching late goals was an enviable one.
There was an ugly altercation when United met Luton Town at Elland Road on 1 September. Leeds won a tight game by the only goal, and at the end Town boss Kevin Blackwell was fuming. It might have been the result, or bitterness at the way he was sacked by the club in 2006, but Blackwell got so close to Wise that the men's foreheads touched briefly.
Wise remained calm throughout, refusing to react, but said afterwards, 'I don't think Kevin wanted to shake my hand. He told me to F-off … The emotion was very high, but if you don't get the result you want you don't spit your dummy out in front of everyone … I don't know why John Carver was about, and I don't know why he needed to grab me by the neck.'
Blackwell played the incident down, saying, 'Nothing happened really. If you don't have passion for the game you shouldn't be in the game. I don't think Dennis heard what I said. He brought his head forward to hear. Maybe it was misinterpreted. The game was entertaining and it was entertaining afterwards too, so the fans have enjoyed it.'
A week later, Beckford and Kandol again made the difference, each scoring in a 2-0 win against Hartlepool. United had been under the cosh for long periods with Pool hitting the woodwork three times but Beckford's sweet lob from the edge of the area was a goal fit to win any game. The win saw the 15-point deficit nullified. Leeds were still bottom of the table, on zero points, but clearly on the march, the only side left with a 100% record.
Two more Beckford goals and one from Kandol saw United win their Friday evening game at Bristol Rovers 3-0 and edge their way up to fourth from bottom.
Beckford had been the subject of a bid from Scunthorpe and the goalscoring returns of the strikers (both had five to their name) had persuaded Wise to extend their contracts. It took a while for terms to be settled,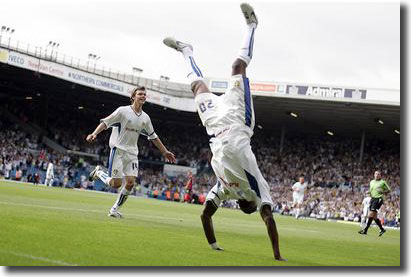 but in October Kandol extended his contract by a year to the summer of 2011 and Beckford signed a deal committing his future until 2010. An easier negotiation had been done with ex-Sheffield Wednesday keeper David Lucas. The 29-year-old signed a short term contract after being released by Barnsley. Wise signed Lucas as cover for Casper Ankergren with young Alan Martin likely to be unavailable for a number of fixtures through Under-19 commitments with Scotland.
22 September saw fourth-placed Swansea visiting Elland Road with United needing just one win to equal the record run of seven successive opening victories set by Don Revie's formidable championship-winning men of 1973/74 and their confidence was sky high.
Leeds comfortably dominated the first half, with Tresor Kandol shooting against the post and the Swansea keeper saving a Rui Marques header on the line. They also had legitimate claims for a penalty waved aside after David Prutton had his legs taken from under him.
The game reached the break without a score, but United took the lead after 62 minutes when Carole's free kick was volleyed home by Jermaine Backford.
Swansea complained in vain that the free kick had been taken from the wrong spot, and they were still moaning when Prutton settled the game five minutes later, firing home a loose ball from 25 yards.
A crowd brushing the 30,000 mark cheered as United matched their illustrious predecessors, climbing to 18th place in the table as a result.
It had been a breathtaking start, and all the more astonishing as the team had yet to hit full stride. They had been carried forward on a wave of righteous indignation, determined to exact revenge on the Football League, but at times the luck had been with them. Nevertheless, it was difficult to argue with a goals record of 16 for and just 3 against in 7 league games.
Just as the doubting Thomasses were starting to believe that United would sweep all before them, there was a nasty shock, away to relegation-threatened Gillingham.
Things looked good after Seb Carole's 28th-minute goal; Beckford had already had an effort chalked off for offside and it seemed Leeds would just steamroller their way on.
Kandol was booked two minutes before the goal for appealing that he had been fouled, and five minutes before the break he was shown the red card for sarcastically applauding when referee Danny McDermid awarded him a free kick.
Nevertheless, United continued to look good with Beckford playing alone up front. The referee booked him for chipping the ball past the keeper after the whistle had gone for offside. Beckford was fouled a few minutes later, by Sodje, who had been involved in Kandol's dismissal and had been relentless in his challenges. The referee awarded the free kick without cautioning the defender. However, when Beckford challenged Sean Clohessy, the red card was waved and United were down to nine men.
Dennis Wise immediately made a double substitution, introducing Huntington and Westlake in place of Clapham and Hughes. The latter had already been booked and Wise didn't want to lose anyone else. Douglas was next to see yellow after Gillingham's Graham fouled Carole and escaped with only a free kick. On 68 minutes Ankergren was handed a yellow card for reasons unclear, and the game threatened to become a farce.
United were still ahead, and set out their stall to defend the lead. They almost made it, but conceded in the first minute of injury time. Veteran Neil Cox rose to nod home a corner and a remarkable run was over.
The referee's display had Dennis Wise fuming. He had been sent to the stands at half time after criticising McDermid and Wise claimed that the official had sworn at him at the end of the game: 'When a referee tells a manager to f-off after a game, it's not acceptable. I've got five witnesses, and three security guards heard him say it ... I will be reporting him.'
With Kandol and Beckford both banned, and Flo and Constantine injured, United's only fit striker was 19-year-old Tomi Ameobi. Wise had little option but to dip into the loan market and he signed Wayne Andrews from Coventry and Mark De Vries from Leicester. Both men were given their debuts in midweek at Oldham.
It was an uneventful occasion and was drifting to a goalless draw until Ian Westlake came on for Alan Thompson in the last minute and scored with his second touch. United climbed to 14th and a 1-0 defeat of Yeovil on 6 October saw them rise two more places.
A header from a corner by Paul Huntington in his first start on 9 October was enough to beat Darlington in the Johnstone's Paint Trophy, but Leeds struggled when they hosted second placed Leyton Orient at Elland Road on 13 October.
The Londoners took the lead when midfielder Sean Thornton scored from a free kick in the ninth minute and nearly went further ahead when Demtriou hit the post. But United had a lucky break when Thornton was sent off for using his elbow in an aerial clash.
That let Leeds back in and Seb Carole struck the equaliser in the 55th minute, working a short corner with Alan Thompson before firing into the top corner.
The referee awarded United a penalty with ten minutes remaining but Kandol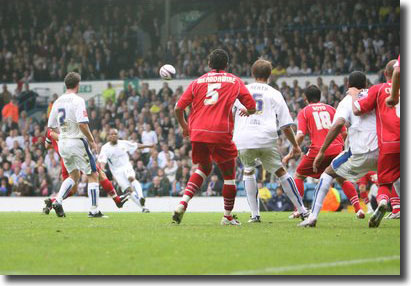 hammered it over the bar and then the home side had a lucky escape. Orient broke away and Adam Boyd got in a shot which Ankergren got to, but he allowed the ball to slip under his body and over the line. He quickly fished it out and amazingly got away with it, the referee waving away all appeals.
Suitably relieved, United won 1-0 at Brighton on 20 October. The three points left them ninth in the table, just six points off top spot, and when they beat Millwall 4-2 a week later they were in the play-off positions after 13 games. It was an astonishing achievement.
However, matters off the field now took a hand.
Tottenham Hotspur had parted ways with manager Martin Jol after a poor start to the season and when they appointed Sevilla coach Juande Ramos it quickly became clear that they wanted United assistant manager Gus Poyet, a fluent speaker of both Spanish and English, as his number two. After the customary assertions that Poyet would not be leaving the club, United agreed a compensation package for the release of the Uruguayan.
With Dennis Wise facing a touchline ban, it was essential that United found a replacement as quickly as possible. On 1 November, 63-year-old Dave 'Harry' Bassett, who had worked with Wise previously at Wimbledon, Leicester and Southampton, joined the club on a fixed term contract to the end of the season.
United also brought in former Notts County assistant John Gannon as first team coach.
Poyet's departure had a lasting impact on United's season, with many critics claiming that he was the brains behind the team's revival rather than Wise.
United's first challenge following the departure of the Uruguayan was a visit to table topping Carlisle on 3 November. The Cumbrians' biggest crowd for more than thirty years flocked into Brunton Park to witness an intriguing clash.
It looked like the juggernaut would go rolling on when Beckford put United ahead in the 28th minute with a tap in, but the home side came storming back over the last 30 minutes. Simon Hackney powered home a half volley from 25 yards. Nine minutes later, Joe Garner nodded home at the near post to put Carlisle ahead.
Up until that time, Leeds had been giving one of their best performances, pounding the home defence. After the goals it was Carlisle who had the impetus and the 13-game unbeaten run was clearly coming to an end long before Bridge-Wilkinson hit a third goal in the fourth minute of stoppage time.
United bounced back immediately with a 3-1 midweek win at Bournemouth, but were clearly off colour in the weeks that followed.
They were lucky to emerge with a goalless draw from a televised FA Cup-tie at Hereford on 9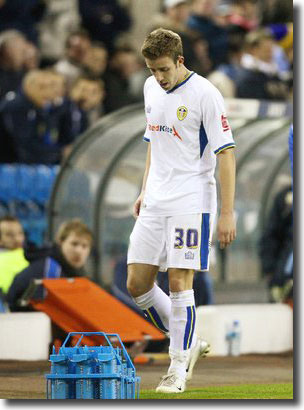 November, but things went even more poorly the following Tuesday, when they hosted Bury in a Johnstone's Paint Trophy quarter final. With fans dreaming of a trip to Wembley for the final after Leon Constantine's 8th-minute opener, United were shaken by two Bury goals in five minutes and then were down to ten men when Filipe Da Costa was red carded for a dangerous tackle. They were fighting a lost cause from then on.
The cups were not a priority, and Dennis Wise gave first starts to Constantine and Da Costa as well as Simon Madden, with David Lucas, Mark De Vries and Paul Huntington making rare appearances. Nevertheless, the result did nothing to boost flagging spirits.
They had a narrow 2-1 win at home to Swindon on 17 November, but then contrived to lose 1-0 to Hereford in the Cup replay. Worse still, they were undone by a single goal four minutes from time at Cheltenham, rooted to the bottom of the table with only two wins.
Dennis Wise said afterwards: 'We dominated the game - I think we had 19 efforts at goal, while they only had two shots and one of them ended up in the back of the net. We should have won it - Jermaine Beckford's disallowed goal was very tight. To lose in the last couple of minutes was frustrating, but I can't argue with the commitment or the way they played.'
United were still fifth and on course for promotion, but a 13-game run that had seen them drop four points had given way to a spell of four defeats in seven games. It was an extraordinary turnaround that corresponded exactly with the departure of Gus Poyet.
Wise would only comment, 'It's a big month, and we need a strong run through December. It's such an important part of the season.'
Just as it seemed the train was coming off the rails, they bounced back with two impressive home wins, 3-0 against Port Vale and 4-0 over Huddersfield. Beckford got three of the goals and Flo two as United left themselves just a couple of points off top spot.
United had to rely on an injury time goal from a 25-yard Alan Thompson free kick to snatch a draw at Walsall on 15 December. On the downside, Jonathan Douglas twisted his knee in the closing minutes and was likely to be sidelined for three months. In his absence, Leeds struggled to overcome Bristol Rovers a week later, requiring an 84th-minute own goal to secure the points.
On Boxing Day, Beckford got a goal in the closing seconds at Hartlepool to snatch a 1-1 draw. It might have been a case of two points dropped, but the early kick off meant that for a few hours at least the one they secured left them top on goal difference. Later in the day Swansea and Nottingham Forest overtook them, but it had been a remarkable recovery from their disastrous close season.
Unfortunately, United's five-game unbeaten run came to an end three days later when they visited pace setters Swansea.
The Welshmen took the lead in the ninth minute but Beckford quickly equalised. Gary Monk headed the home side ahead, but they were down to ten men when Ferrie Bodde was sent off for a foul on Jonathan Howson seven minutes before the break. It didn't unhinge them and they went 3-1 ahead on the stroke of half time when Jason Scotland fired home.
United were back in it when Alan Thompson scored from a free kick a minute after the resumption and he hit the post from another set piece moments later, but Leeds could not fashion a comeback and lost the game 3-2. Dennis Wise was seething with Bodde's foul which left Howson fearing he had suffered a broken leg. It wasn't as bad as he feared but he was out until the beginning of February.
Wise: 'It was a disgraceful tackle. He's gone straight over the top of the ball and you could see how upset everyone was. My players were disgusted. He knows exactly what he's done, and it's very clever of him. I'm pleased that the referee was on the ball. It was a broken leg tackle and he deserved to go.
'Swansea played very well but overall our defending was what let us down. We gave away silly free kicks at the wrong times, got caught at a corner, and the one that really killed us was 30 seconds before the end of the first half. I don't know what my two centre-halves were doing. They made a mess of it and it put (Swansea) in a good position for the second half. If we'd gone in at 2-1, it was a different game.
'The players are disappointed, but we've had 23 games and we've got 52 points. I think they've done fantastic so far. We've got to produce exactly the same in the second half of the season.'
It was a desperately disappointing way to end the year, but there is no doubt that Wise would have taken third place had he been offered it during the close season. United were nicely poised for a promotion push if they could maintain their early season form.
Part 1 Minus 15 - Part 3 Return of the Mac - Results and table