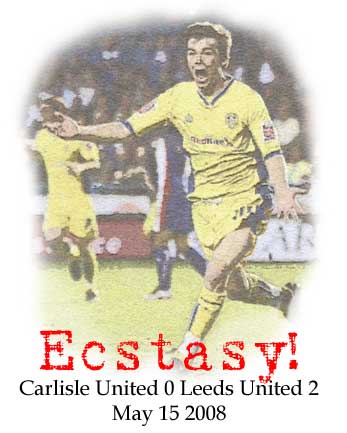 After the high drama and controversy of the previous twelve months, it was almost inevitable that Leeds United would finish the 2007/08 campaign in the end of season Play-Offs, prolonging the tension for as long as possible.
Gary McAllister's appointment as manager at the end of January, following Dennis Wise's defection to Newcastle, revived United's season after a post-Christmas hangover, and a succession of victories against promotion rivals in the early spring cemented a Play-Off position.
Their fifth place finish meant Leeds would face Carlisle United, who had held runners up spot from 22 March until 19 April, when their own jitters saw them slide away to fourth. The Cumbrians had been in the top six all season and were formidable opponents. They had enjoyed the best home record in League One with 17 victories, including the 3-1 defeat of United on 3 November which ended Leeds' unbeaten start to the season. They had also pressed the Whites hard when losing 3-2 at Elland Road in April.
United had home advantage in the first leg on 12 May, but struggled to make this count for much. The Whites created more than enough chances to win the game but they were held at bay by an inspired display from Carlisle keeper Keiren Westwood, who owed his team mates something for a less than commanding performance when the teams had met the month before.
Gary McAllister said afterwards, 'Their goalkeeper was excellent and probably man-of-the-match. We made their keeper work and their keeper produced. The save in the first half from Jermaine was particularly spectacular. From our angle in the dugout it was a goal all the way. It was a fantastic save. He's a keeper that's obviously impressed a few people over the season and he's lived up to his billing tonight.'
A Leeds victory would have been unmerited. They were always second best, with the Cumbrians exerting a midfield stranglehold and leaving the Whites chasing shadows.
Carlisle took the lead in the 32nd minute when a long range effort from Simon Hackney was deflected in off the backside of Danny Graham.
Five minutes after the resumption, Carlisle broke away and combined cleverly on the left wing to isolate Frazer Richardson and provide Marc Bridge-Wilkinson with the chance to increase the lead. His confident finish as he slid in at the centre of the box looked to have ended the game as a contest.
After 58 minutes Gary McAllister withdrew Jermaine Beckford, still suffering with an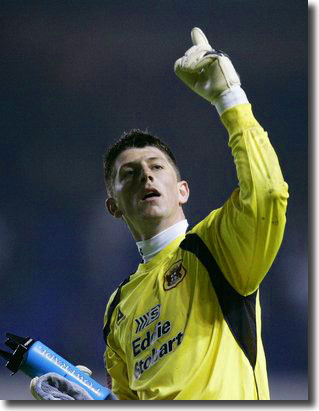 injured ankle, and introduced Tresor Kandol, but the move was jeered by disillusioned home fans. The tall target man made little impact, apart from one long range drive that was almost as high as it was wide.
With the match in its fifth minute of injury time, Kandol's lumbering presence unsettled the Carlisle defence when a long punt forward from Paul Huntington fell into the heart of their penalty area. Dougie Freedman, in a rich vein of form after his arrival on loan from Crystal Palace, swept the loose ball home to give United a glimmer of hope and sent the Leeds fans away with something to remember.
Asked if the goal had given Leeds the psychological edge for the return leg at Brunton Park, McAllister insisted: 'I think it's got to. It puts a different perspective on the whole game. I said it would be a game of 180 minutes and I've got a feeling this tie will go to the final minutes at Carlisle.
'We got done with some of their counter-attacks. They played some nice football. I was impressed by Carlisle. They came here and played well and possibly deserved their victory, but it's still game on. I'm looking forward to it. It's going to be exciting up there.
'Many people saw us as favourites at Elland Road, but with Carlisle now having a goal start they will be seen as favourites. It means we will go in as underdogs. They have the expectation and pressure of the home fans, which we had the other night. The roles are reversed and we will see how they cope with that. Pressure can make a player's decision making and touch be a little bit out. It is the same with a choice of pass. Our performance on Monday did surprise me, but that first leg is out of the way now.
'We have seen in the last few days that the home teams in these games are feeling under a bit of pressure. That is to be expected. We have relinquished that now. We are going away from home and the shackles are off. The pressure is on Carlisle. The onus will be on the home side and the weight of expectation is on them. We have to take advantage of it.
'It is half-time, but the fortunate thing from our point of view is that there are 90 minutes left and not 45 to get the goal back. We do not need to go gung ho. We have to play with our heads. It is not a case of flooding people forward, what we need to do is recognise the situations when we should commit men forward. And be brave enough to do it.'
Dougie Freedman: 'We do finish very strongly. We've shown that in the last eight or nine games we've a never say die attitude. Having said that, I thought we performed well throughout, but it's that attitude that has kept us in it. Credit to Carlisle, they played well, passed it, and gave us a good game. It's 2-1 though and it's game on.
'The whole atmosphere changed inside the ground with the goal. It showed the belief we have, and the manager said the attitude was there again.
'I enjoyed it on Monday. You want to play in front of big crowds in big games and there's no game bigger than Thursday night.'
United had been surprisingly poor in the first leg and no one would have blamed McAllister for ringing the changes, but he stuck to his guns and sent the same starting eleven out in the second game, with Bradley Johnson continuing to deputise for the suspended Alan Sheehan at left-back.
Carlisle were widely regarded as bankers for an appearance in the final at Wembley but it was clear that the first goal would be vital and it was Leeds who got it, after ten minutes.
Carlisle had some early pressure, but United were clearly in a better frame of mind than had been the case in the first leg and showed their sharpness on the break. They were determined not to be outplayed in midfield, quick and strong in the challenge, and uncompromising in defence. They could have been struggling if referee Alan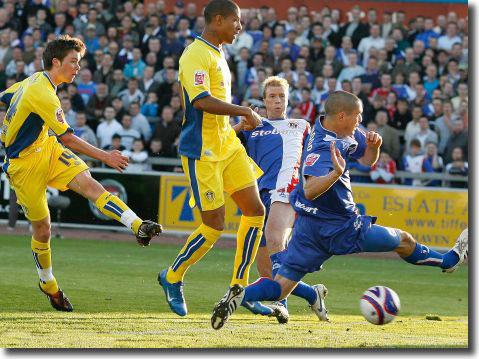 Wiley had penalised Lubo Michalik in the eighth minute for a risky challenge in the area on Scott Dobie, but any doubts were dispelled soon afterwards.
Casper Ankergren's long goal kick drifted across to David Prutton on the left. The midfielder nodded it to Jermaine Beckford in the centre. He challenged for the dropping ball and flicked on to Jonny Howson, bursting through from midfield. Howson played it out wide to Freedman on the left and the Scot instantly cut the ball back to the centre of the box where Howson, continuing his run, chested it on and slotted home left-footed to bring Leeds back on level terms. It was a hammer blow to Carlisle, whose confidence was visibly shaken.
The goal served to settle Leeds, who warmed to their work with the midfield quartet in outstanding form. Jonathan Douglas gave a real captain's performance, providing splendid protective cover for his back four. Freedman and Beckford were always a handful for the Carlisle centre-backs and offered mobility up front. It was a combination that made United difficult to penetrate and always likely to create a chance.
After thirteen minutes, Beckford was weak and wide with a header from a looping Johnson cross, but United soon offered a more meaningful threat.
There was some neat United interplay round the edge of the home area before Neil Kilkenny fired in a shot which Westwood held and then a Johnson cracker cannoned clear off a defender. Beckford was adjudged offside in a tight decision, though the keeper blocked his effort anyway. Then Westwood had to parry a Freedman shot after Carlisle defender Evan Horwood's headed back pass was short.
The home men had a couple of chances as the half drew to a close. They broke away and Johnson had to be brave under pressure in getting his head to a Simon Hackney cross before Scott Dobie fired wide from a Danny Graham knock down. Just as the half was ending Ankergren was forced to use his legs to block a shot from Marc Bridge-Wilkinson.
Bridge-Wilkinson had been a real thorn in the United flesh at Elland Road, but he was never allowed to have the same degree of influence in the second leg, while Simon Hackney was rendered a passenger on the left flank, wasting what possession he did get with aimless crosses. Carlisle's supply line was snuffed out by a Leeds midfield that finally seemed to realise they were playing for promotion. They were outstanding, erasing the memory of their dismal display in the first leg.
It was a classic away performance and the United players had more confidence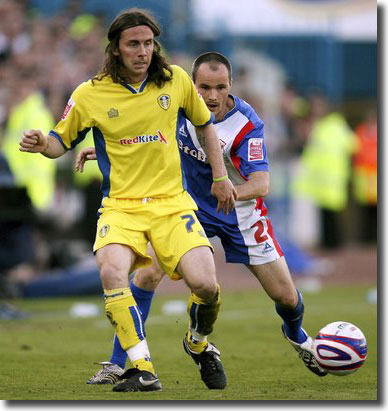 and space than Carlisle, who seemed to sense that the task was beyond them. The game opened up in the second half, but Leeds always looked to be the side more likely to score with Neil Kilkenny pulling the strings in midfield. Both full-backs offered attacking options and the strikers provided an outlet for the long ball.
Keeper Westwood was called into action a minute after the break to catch a fierce shot from Freedman after he cut in on his right foot, though the Cumbrians had the best chance when Graham had a clear header in the 50th minute but could only nod it into the hands of Ankergren.
All evening Huntington and Michalik had swallowed anything pumped down the middle and United were winning most of the second balls in midfield as Carlisle grew frustrated with their inability to fashion a clear opening. When Hackney finally put in a decent cross after 67 minutes, Bridge-Wilkinson's shot was blocked by a defender, and in truth they never looked like getting the breakthrough.
United were in control of the game, but seemed content to contain the home eleven, reluctant to throw too many men forward. In one smart move after 71 minutes there was close and patient United interplay in and around the Carlisle area before Prutton's fierce cross shot from the edge of the six-yard box was blocked by defender Livesey.
Carlisle broke back and Bridge-Wilkinson hooked a decent chance well wide of Ankergren's right hand post.
In the 76th minute Freedman and Beckford combined sweetly on the edge of Carlisle's box for the Scot to get in a fine shot which Westwood was happy to turn round a post. The resultant corner was swiftly followed by another and Johnson was unlucky when his running header struck the outside of the post. It was all Leeds now and they were playing with cool assurance.
With eight minutes remaining Jonathan Douglas fired in a fierce effort, but a deflection saw it balloon over the bar with the goalkeeper rooted to the spot. It could have gone anywhere.
Referee Wiley had signalled there would be just one minute of injury time as United picked up a loose ball on the left and started to play their way through midfield. Kilkenny pushed a pass forward to Freedman, just outside the penalty area, and he laid it off left to Howson. The young midfielder shifted it further left into space and then clipped a shot back towards the bottom corner. The keeper saw it late and could not reach it as the ball ran on inside the post to put United ahead.
The crowd went into ecstatic celebration as the players rushed to congratulate an overjoyed Howson.
Carlisle had time to restart the game, though there was little conviction in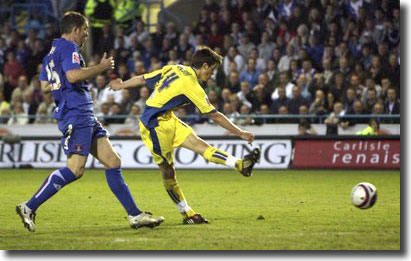 their long ball forward, which Ankergren claimed calmly and United played out the remaining 41 seconds to secure a memorable victory.
Gary McAllister paid tribute afterwards to the travelling United supporters: 'I know what 40,000 of them sound like. I've been in front of them before and tonight again they were fantastic and the Leeds fans know that. That was for them tonight. The players would be first to admit that. It was a bit of a damp squib on Monday night at Elland Road, but I think the fans got the reaction they wanted.
'I'm very proud of the players and pleased for them. Everything that's been put in front of them they've dealt with and I've not heard one murmur of complaint. We move on again. I don't want to be a killjoy, but nothing's been achieved yet. We've still got to go and try and win a game at Wembley.
'The ugly side of our game was missing the other night. We didn't win any headers or tackles or ugly bouncy balls, Carlisle were first to most. But we reversed it tonight. And you know what I feel about Jon Howson. He's been an ever-present since I arrived and he's a young man with great potential. We keep drip-feeding him information so as not to try and stifle him. He's got a lot of raw energy and power, so we're just going to try and protect him and make him progress as a footballer.'
Howson: 'If Gary McAllister had put me on the bench, I would have had no complaints. The other night I was way below my standard but I can put it down to being one of those games. As soon as I found out I was starting, I thought "I have got to repay him" because he kept faith with me.
'The thought that he would drop me had crossed my mind a few times because I had been nowhere near the performance I was capable of. But he had a word with me, said I wasn't good enough on Monday and that I needed to up it.
'I was very confident we could go to Carlisle and win. The first goal was always going to be important so it was great to get that. And when the second one went in the net, I didn't know how to react. It was a brilliant feeling. We have been through a lot as a team this season but, in a funny way, everything that has happened has brought us together. If I was not playing for Leeds, I would have been at Carlisle as a fan or watching it on television.
'Going to Wembley is a massive achievement but we can't settle for that. I have never been before. I did go to Cardiff a couple of years ago when we got to the Play-Off final but this will be something else. All I will have to do now is find enough tickets to go round. I had a few requests before the game from my friends asking if they could have one if we got to Wembley. I will do my best for them.'
Asked how qualifying for the Play-Off final ranked among his footballing achievements, McAllister modestly replied: 'It's definitely up there, but it's not about me. It's about the players.'
Chairman Ken Bates was fulsome in his praise for the manager: 'Gary's a natural manager and a natural leader. Those were the qualities we were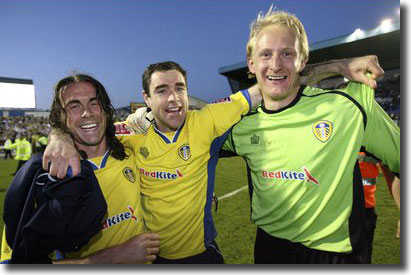 looking for when we asked him to take over at a difficult time ... He's due a lot of the credit for the fact that we're in the Play-Off final. His leadership's been inspirational and being at Wembley is the result of a lot of hard work from everyone involved.
'Football clubs don't rely on one or two people. The successful clubs are the ones where every single person plays their part. I like the way Gary goes about his job - there's no fuss and no drama. He gets on with it quietly and thoughtfully. I don't think he can be faulted.
'We not only won the game but we won it with style and a bit of class. The players are responsible for that but I do think it's a reflection of the manager as well. We've become a very good team.
'I wouldn't want to sound over-confident, but in my own way I'm quietly cocky. I'd expect [the final] to be a very difficult game, but we're going into it on the back of a classy performance at Carlisle. I've got a lot of faith in Gary and his squad.
'I've said before that I'm immensely proud of these players, not just for reaching the Play-Off final but for the way they approached this season and the way they've fought back from an unjust 15-point deduction. They've been tremendous.
'One big difference between this season and 2006 is the age of our players. If you worked out the average age of Gary's team, you'd be quite surprised by how low it is. We're younger and fresher this time round. We also deserve to be promoted after the season we've had, and I think the players know that. We'll see on Sunday what I have to say to the players afterwards but they've already earned an awful lot of credit for what they've done.'
The performance had been outstanding, one of the best of United's season; and this was one of the most enjoyable days experienced by the club since its Champions' League exploits in 2001. The smile was firmly back on the face of Leeds faces and they had every reason to be proud of their achievements. Whatever came next could never change that fact.