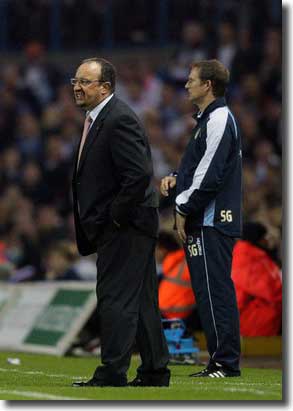 printer friendly version
The draw for the third round of the 2009/10 Carling Cup paired Leeds United with Liverpool, reviving memories for Whites fans of the glory days when they regularly mixed it with the Anfield giants and the other powers of the English game.
The fixture, staged at Elland Road on 22 September, was a fitting reward for League One United after their creditable defeat of Championship outfit Watford in the previous round.
It was the first time United had met Liverpool since a 2-2 draw in February 2004, just weeks prior to the Yorkshiremen's relegation from the top flight.
Leeds boss Simon Grayson said, "It's a terrific draw for the club and it should be a great evening. It's a good test for us and a great tie for the fans. It is something to look forward to, but it's not something we'll be thinking about until nearer the time.
"When you look back through history, there have been some classic Leeds v Liverpool games. Everyone remembers Mark Viduka's four goals and Tony Yeboah scoring that spectacular goal at Elland Road. Looking further back to when I was here as a YTS player, there was the game we lost 5-4. We might not have won but it was a fantastic game to watch as a schoolboy.
"I accept the fixture is a reminder of how things used to be, as not so long ago we played Liverpool on a regular basis in front of a full house. This club has been on a downward spiral since then but an occasion like this can act as an inspiration to get back there. Certainly, I do not see our past as a burden. What I say to the players is 'Be part of a group that becomes the new legends'. I want them to become part of a team that people will still be talking about in 15 years.
"I did the same thing when manager at Blackpool when we had Jimmy Armfield and Stan Mortensen around at Bloomfield Road. I challenged the players to become legends for the new generation. Leeds United has fantastic memories of the Revie team so it is up to the players here now to live up to that, to try and emulate what they did.
"I expect Liverpool to be strong whoever they bring in. They are a fantastic club with world class players who can't even get in their 18 on a Saturday. But I am also sure Liverpool won't be looking forward to it too much. They may play in front of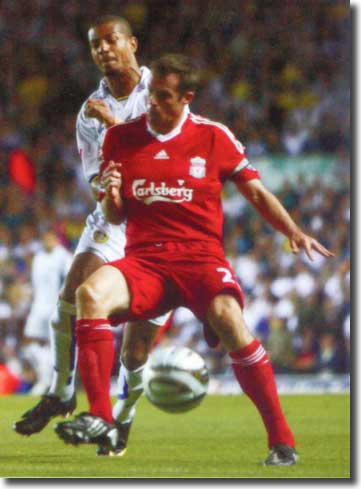 big crowds most weeks but our fans can be hostile. It can make for an intimidating atmosphere. Maybe whoever comes in will be thinking 'Leeds are a League One club' and that they just have to turn up to get a result. I am sure they will realise that is not the case when they walk out at 7.40pm and there are 40,000 in the place.
"Winning games breeds confidence. The players deserve to play in games like this because of what they have been doing week in and week out.
"We can take inspiration from what Burnley did last season. They were 30 seconds away from getting to the final at Wembley. It helped their confidence in the League as the wins in the Cup kept their season alive and kept them going in the League. They went on to win promotion.
"Playing Liverpool is a big challenge and one we are really looking forward to. We know the tie is a League One club taking on one of the best teams in the world but there is always one upset in each round of the Carling Cup and we want it to be us. We will try and replicate what the Leeds teams of the past have done against Liverpool."
In his programme notes, chairman Ken Bates claimed he had offered Steven Gerrard the chance to "widen your horizons, leave your provincial town and come to Leeds" when he bumped into the Liverpool captain in a London restaurant. "I said I could only offer a grand a week but he could have all the Yorkshire pudding he could eat," he added.
Grayson's men went into the game on the back of an outstanding string of results, with nine victories from ten competitive matches played, and they were two points clear of Charlton at the top of League One. Deprived of the services of cup-tied defender Leigh Bromby, United were otherwise at full strength with Lubo Michalik coming in to replace him.
Grayson described the match as a "no lose" fixture, with his side free of both pressure and expectations. For Liverpool manager Rafa Benitez a victory was not just desirable, it was essential; United enjoyed the rare luxury of being underdogs with their opponents expected to win easily.
Benitez was confident enough to rest a number of first teamers, making nine changes from the side that beat West Ham the previous Saturday. Nevertheless, the eleven he opted for had more than sufficient class to give United pause for thought.
Javier Mascherano filled the holding role in midfield, with the gifted Dutchman, Ryan Babel, on the right and the reserve, David Ngog, playing lone striker. Also in the starting line up were Albert Riera, Fabio Aurelio and Jamie Carragher. It was the Liverpool bench, however, that offered the clearest indication of the gulf between the two sides. Benitez had Gerrard, Glen Johnson, Martin Skrtel and Fernando Torres to turn to should the need arise.
If the strength of the replacements was a surprise, the general composition of the starting line up was not. It had been widely anticipated that Liverpool would rely on their second string.
For Grayson there was no such complication. His was a straightforward strategy: a combination of United's strongest possible selection and as many crossed fingers as he could manage. If Leeds were to win, luck was bound to play a part.
The home side did enjoy one significant advantage: a crackling atmosphere permeated a ground that could still accommodate a crowd of almost 40,000. In League One, the stadium was something of an anomaly, but when staging a contest such as this, Elland Road allowed Leeds yet to consider themselves capable of mixing it with the biggest teams in the country.
Despite the gulf in class on paper, United began the contest the more brightly; Robert Snodgrass beat left-back Andreas Dossena with comparative ease before getting in a cross that tested goalkeeper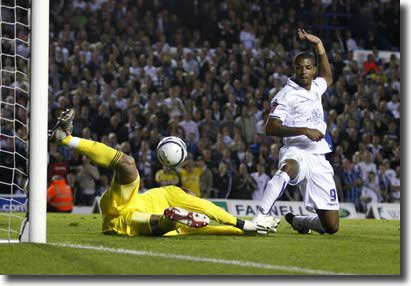 Diego Cavalieri.
In the eleventh minute Leeds came close to taking a surprise lead. Jason Crowe put Snodgrass clear out on the right and central defenders Carragher and Sotrios Kyrgiakos might as well have been on their holidays for all the protection they offered when the looping cross came over. Michael Doyle was unmarked in a perfect position, but he headed wide when it seemed easier to score. It was a shame that it was the midfielder rather than United's strikers who had the opportunity.
Two minutes later, Liverpool were even more fortunate. From a corner by Snodgrass, Lubo Michalik rose to send a powerful header goalwards. Jermaine Beckford and the goalkeeper both went for the ball inside the goal area, but Beckford got the decisive touch to send it goalwards; Luciano Becchio dived in to force the ball over the line though his intervention seemed superfluous.
Assistant referee Andy Garratt flagged instantly for offside, presumably against Becchio, though there were some who felt that Beckford was the guilty party. It looked a marginal call in either case, but it was endorsed by referee Alan Wiley who disallowed the score.
Despite the disappointment, United continued to hold their own. Snodgrass contrived to make the evening a nightmare for Dossena, regularly punching holes in the full-back's defensive cover. Within minutes Becchio went close again, firing wide, as Leeds took up the running.
However, Liverpool had managed to get a foothold in midfield, with Jay Spearing combining well with the experienced Mascherano.
After 30 minutes, goalkeeper Shane Higgs was forced into his first save of any note. When a United move broke down, Babel carried the ball at lightning pace to the other end of the pitch. The shot he got in was a smart one but not smart enough to beat the keeper's excellent reflexes.
United came again as Beckford fed Snodgrass, allowing him to loop over another fine cross. Cavalieri managed to touch the ball away as Becchio awaited his opportunity.
On the stroke of half time Higgs made another great save. Aurelio slung a free kick into the danger zone for Albert Riera to get in a header from close range. Had the Spaniard been able to place it either side of the keeper, a goal would have been inevitable, but he could only nod it directly at him. Higgs instinctively parried the ball. It did not clear the danger area but the defenders managed to scramble it away for a corner.
Simon Grayson may have thought United's opportunity had passed them by, but there was little evidence to substantiate that conclusion as they began the second half on the offensive. Becchio shot wide and then Beckford was denied as he looked to get on the end of a pull back from Jason Crowe.
After 53 minutes Beckford had another opportunity, his clearest one yet. He fastened onto a long clearance downfield by Higgs and broke at pace between Carragher and Kyrgiakos. But he was stretching when he got his shot at goal, without venom and easily blocked by Cavalieri's legs. The striker was unlucky to overrun the rebound and the chance was gone.
There was a moment of controversy around the hour mark when Mascherano tangled with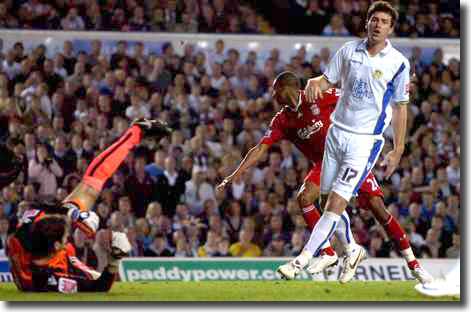 Beckford near United's area. The striker was nagging away at the back of the Argentinian, who swung round and caught him with a flailing elbow. Beckford fell to the ground clutching the back of his head, but Mascherano strongly protested his innocence, claiming it was an unintended accident.
Alan Wiley either did not see the impact or accepted Mascherano's version of events, for he failed to show a card of either colour.
United almost made Liverpool pay a few minutes later. Doyle put Johnson through down the left channel and the midfielder got over an acrobatic centre. Beckford fashioned an overhead kick from it, but his effort narrowly beat the bar.
After 65 minutes, as it seemed that the game was moving in United's direction, Liverpool scored. Patrick Kisnorbo did well to stop Babel at the expense of a corner, but when Becchio headed away the ball fell to Mascherano. He got in a shot which Ngog controlled, got out from under his feet to move it right and away from Michalik before clipping it back past Higgs into the net. It was a supreme piece of opportunism. If only Beckford had been half as composed with his chances...
The goal was a devastating blow after what had gone before, but United refused to concede defeat and continued to push on.
As the game entered its final twenty minutes, a spate of substitutions broke up what rhythm United managed to generate. The first, after 72 minutes, saw Liverpool bring England international Glen Johnson on for Degen.
Four minutes later United's own Johnson, Bradley, chanced his arm, firing in a shot from distance to test Cavalieri.
Benitez clearly still considered Leeds a threat and in the 78th minute he replaced Ngog with Gerrard. It bolstered the Reds' midfield but left them with no obvious forward outlet. A minute later Grayson made his first change, sending Neil Kilkenny on for Andrew Hughes. Mike Grella came off the bench in the 81st minute for Becchio and quickly combined with Kilkenny before testing the Liverpool keeper.
The visitors came back strongly, having an Aurelio free kick deflected narrowly over the bar by Crowe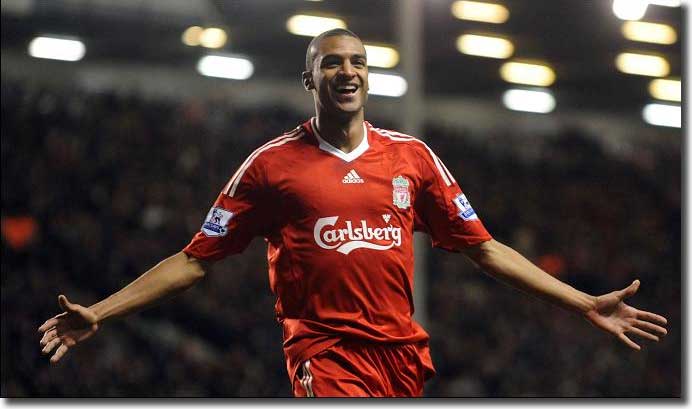 and then Babel's shot cleared the same bar after he cut inside from the left. The game, however, was now confined to midfield skirmishes for the most part.
In the closing seconds, Enoch Showunmi came on for Doyle and Martin Skrtel replaced Babel. Neither man had the chance of anything more than a cameo contribution.
Referee Wiley allowed United four minutes of injury time to snatch an equaliser but it never came. The visitors showed sufficient class and know how to keep Leeds at a safe distance to win by virtue of their single goal. Nevertheless, the narrow margin made the outcome something of a moral victory for Grayson's men, who received a standing ovation at the end from a crowd of 38,168.
"It was as tough a game as we have had all season," said Jamie Carragher afterwards. "It was a great performance by Leeds and they've been a little bit unlucky that we've won." Carragher said that he had warned "the foreign lads of what to expect" from a fixture with a long and proud tradition.
It could have gone either way and Leeds emerged with honour very much intact. The clash had been full of heart and endeavour as United stood toe to toe with Liverpool. The performance of Rob Snodgrass in particular had been of the highest order, and he was a constant threat down the right flank, substantiating his burgeoning reputation.
Henry Winter in the Telegraph: "These are the meetings that Leeds United crave. These are the scenes their fans dream of, the sight of white-shirted players taking the game to vaunted visitors and a free transfer winger called Robert Snodgrass utterly humiliating a £7million Premier League defender in Andrea Dossena. In unluckily going out of the Carling Cup last night, Simon Grayson's side reminded the watching world why they are climbing back up the ladder again.
"Liverpool's line up may have been drawn primarily from fringe players but most were full internationals. The two first choice starters hardly starred: Jamie Carragher was troubled by Jermaine Beckford and Luciano Becchio while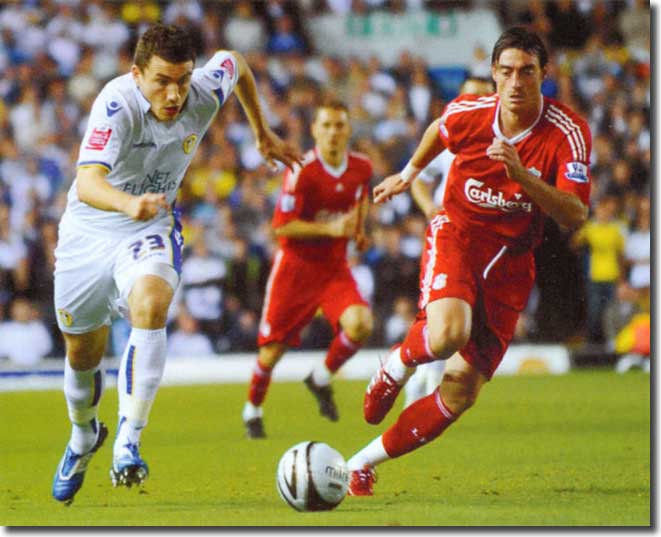 Javier Mascherano could have been dismissed for raising an arm at Beckford... In the current climate, the spiky Argentinian could receive a call from the Football Association but Leeds refused to complain.
"Mascherano's stroppiness was a compliment to Leeds. Liverpool struggled, reflecting the reality that Rafa Benitez's squad still requires reinforcing and also that Leeds have decent players, a prodigious work ethic and an inspiring manager. Grayson was never outthought by Benitez, his players were never outfought and their fans were certainly never outsung.
"Leeds lost simply because David Ngog took his one real chance well while Beckford squandered three opportunities, although he was desperately unfortunate to have a legitimate effort chalked off for a phantom offside. Leeds will also have noted with pride that Benitez eventually scrambled some A-list names in Glen Johnson, Steven Gerrard and Martin Skrtel to close out the game. 'That showed the problems we caused them,' said Grayson.
"In a way, this was the perfect outcome for Leeds because it allows them to concentrate on getting into the Championship while the memory of a good display will stir even more self belief... For a club that sings about 'marching on together', Leeds' unity was unmistakeable. Grayson's players were given a standing ovation at the final whistle and the manager's name was sung loudly. 'I hope they are singing at the end of the season when we get promoted,' said Grayson. 'There is a feelgood factor here at the moment.'
"Leeds certainly showed their hunger for contests against such celebrated opponents. No wonder Elland Road was packed to the rafters. Leeds fans yearn for a return to the days when they challenged for the highest honours in the land, when Don Revie pitted his wits against Bill Shankly, when Mark Viduka was putting four past Liverpool here nine years ago.
"Until Ngog's well-taken goal settled Liverpool after 66 minutes, Leeds caused Benitez's shaky defence endless problems, particularly when the outstanding Snodgrass ran at Dossena. During one mazy dribble, the winger beat the left-back twice. One more and Snodgrass would have got to keep Dossena. Elland Road loved it."
Simon Grayson was more than satisfied with the way his team had got at the Reds. He was less impressed with the decisions of Alan Wiley, particularly with the disallowed goal and the lack of any punishment for Mascherano.
"I find it frustrating. It could have been a goal in the first half. Jermaine was level with the centre-back and for me the goal could have stood. And Mascherano could have been sent off for an elbow on Jermaine. It's one of those things. He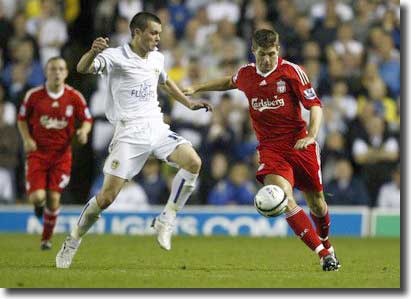 turned and his arm went up, but you'd have to ask him... Sometimes these things happen and I'm not one to complain. Sometimes players are sent off for those things, sometimes they aren't.
"I'm not one to criticise referees, decisions go for you or they don't. We're not being bitter, we put in a performance and we'll use it as motivation to get back to playing these teams on a regular basis.
"I am immensely proud of my team because they have stood up and been counted. We have matched a top team and that says a lot about the problems we have caused them and we can take heart from that... I thought we were excellent and we created really good chances but sometimes you don't get the breaks.
"Our players have been fantastic. They put in a fantastic performance against a top drawer team. We gave them a real test tonight and the players can be immensely proud of what they've done. Unfortunately we just didn't get the win we could have had.
"We want to be out of this division and tonight was a highlight of what we can produce performance wise and what we can do as a club. We want to get back to this level and hopefully it's an inspiration but our bread and butter remains the League.
"That was a strong Liverpool team and I'm delighted with where we got to. Decisions didn't go for us at times, but we can't be disappointed with what we did. The lads did nothing differently to how they have approached the other games. We passed the ball well, matched them physically, and defended when we had to. Rob Snodgrass had their left-back on toast at times, with the way he twisted and turned.
"We have a work ethic where we work hard for each other. They stood up to be counted and we can be immensely proud.
"I hope people who saw them for the first time will come back."
A couple of days later, as he looked forward to United's next game, Grayson added: "The players have got great belief and camaraderie. We were back in Thursday morning, and we're getting ready for the weekend now. We had a few tired bodies after Tuesday, but there was bound to be. We chased and harried all night, but we're on for MK Dons now.
"We can only grow in confidence from Tuesday because we matched a top team, and the players that Liverpool used on the night was a compliment... We put on a performance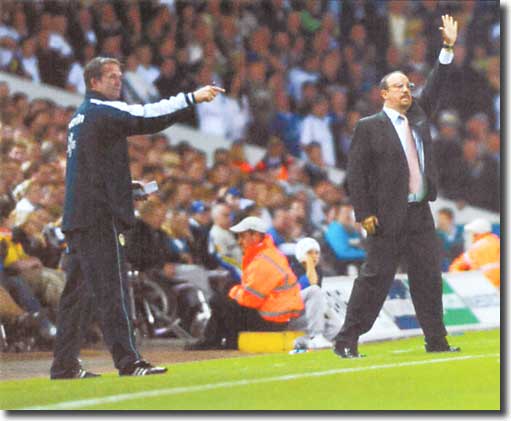 and didn't look out of place and it can only bode well for the future.
"There is a feelgood factor about the club. The fans are backing the players and the players are giving them something to shout about. And that's all you ask for.
"Hopefully that is how we will get promotion this season.
"It was a terrific crowd on Tuesday and there'll have been people there who haven't seen us for a while. We want those people to come back on a regular basis, and hopefully that will be the case.
"The result wasn't the end of the world because we said that Gillingham and MK Dons were the games. As I said before Tuesday's game, the biggest game of the week for us is at MK on Saturday."
It was a professional and pragmatic reaction from a manager who continued to offer ample evidence that he was exactly the man Leeds United required to lead them back to their former heights.