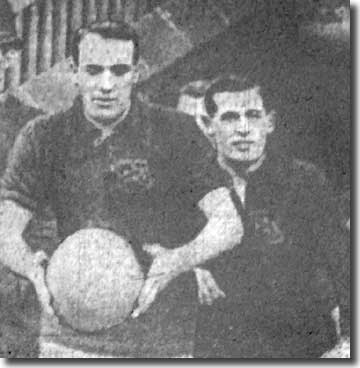 Born: Grimsby, Lincolnshire, 14 September 1884
Tom Morris was a stalwart of the Leeds City team for most of Frank Scott-Walford's time in charge and survived the transition to Herbert Chapman's regime. Martin Jarred and Malcolm Macdonald described him as "A thoughtful centre-half whom many thought was future management material".
After beginning his playing career with Haycroft Rovers of the Grimsby League and then moving on to Grimsby Rovers, Morris secured a deal with Second Division Grimsby Town in February 1906. He appeared twenty times in the League and a further twice in the FA Cup before joining Brighton and Hove Albion in May 1907.
Albion manager Frank Scott-Walford took over at Leeds City early in 1908 and tried unsuccessfully to recruit Morris as one of his first signings. He was more successful when he returned to Sussex in February 1909 to recruit Morris with the aim of strengthening a porous defence.
Morris' debut for Leeds was not auspicious; City lost 2-0 at home to Gainsborough on 13 March, prompting Linesman to write in the Leeds Mercury: "The Leeds City team seemed the strongest that has done duty for some time, the inclusion of Morris, the centre-half from Brighton, being expected to effect a considerable improvement. But everything worked out contrary to expectation, and Leeds City suffered defeat by two goals to nil. It should not be inferred from this that Morris was a failure in his debut for his new club, far from it. He did not play a brilliant game, nor did he convey the impression that he is a better centre-half than either Hamilton or Kennedy, but it would hardly be fair to judge him on Saturday's play, for the entire Leeds City team was a long way below par, and with all the other parts of the machine out of gear, so to speak, it could not be expected that Morris would distinguish himself. He is probably the biggest and broadest player in the Leeds City team, Jock Watson not excepted, and if he strikes one as being a trifle slow, he showed that he knows the art of feeding forwards, his passes being timely and very accurate."
The move paid dividends over the next few weeks, however, and City kept five clean sheets
in the nine games Morris played before the end of the campaign. Not for nothing was he often referred to as the best centre-half in the Second Division, with his fearsome tackling and heading prowess, though he was derided for lacking pace and mobility.
Morris continued to form an essential and powerful component of the City side over the next two seasons and he was appointed captain in 1911/12.
After 106 League and 3 Cup games in just over three years, Morris, now approaching the veteran stage, departed Elland Road in May 1913 and joined Scunthorpe & Lindsey United as player-coach, accompanied by winger Hugh Roberts. Morris remained there for a year and in May 1914 signed for Coventry City, where he was reunited with Frank Scott-Walford.
The onset of war brought an end to club football for Morris and he joined the Army in Match 1915. He was killed in action while serving as a sergeant in the Second Battalion, Lincolnshire Regiment.