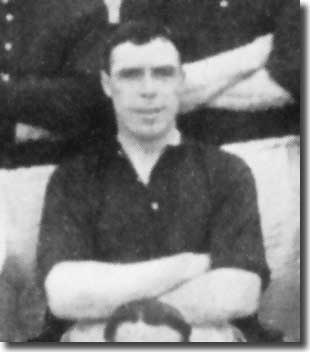 Born: Newarthill, Lanarkshire, Around 1884
Jock Watson, a powerfully-built Scottish defender, began his playing days with Clyde and impressed enough to be selected for a Glasgow Select XI. He attracted the attention of Newcastle United, and Clyde sold him to the First Division giants for £200 in November 1902.
He failed to make the grade with the Geordies and only managed three League appearances before moving to New Brompton and then Brentford. In July 1908, he was one of a number of players from the Southern League who were signed for Leeds City by new manager Frank Scott-Walford.
Watson was appointed captain and made his debut for City in the opening game of the 1908/09 campaign, at home to Tottenham on 5 September. City got off to a great start with a 1-0 victory. He formed an outstanding defensive partnership with Jack White and they hit it off almost immediately. Watson managed 28 League and 4 Cup appearances that year.
The two remained in harness at the start of the 1909/10 season, with Watson continuing to skipper the team. However, he lost his place after playing in the first ten games, and only featured rarely thereafter, amassing 17 appearances in total.
Watson departed Elland Road at the end of the campaign and returned to Clyde, where he remained for the rest of his career.