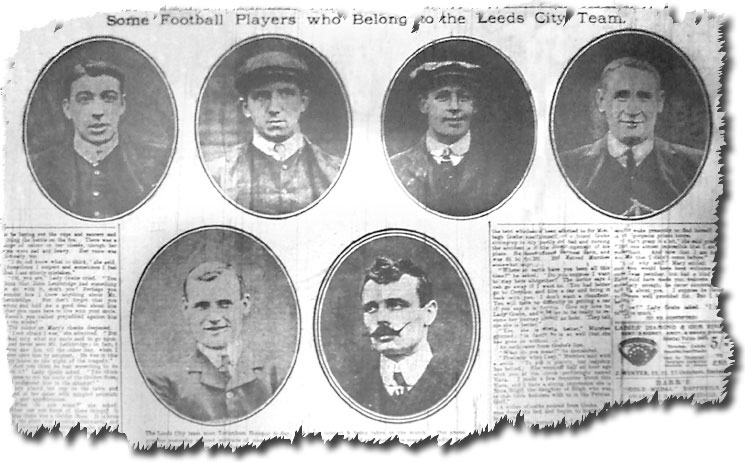 Part 2 - Results and table
After three years with nothing to show for their efforts but steadily emptying pockets, Leeds City parted ways with secretary-manager Gilbert Gillies in February 1908, the Scot choosing to go before he was pushed. Desperate to secure a passport to the top flight of the English game, the directors identified Brighton and Hove Albion manager Frank Scott-Walford as the man to take the club forward.
Scott-Walford had overseen some plucky FA Cup performances in his three years on the South Coast: the club made a spirited debut in his first season, beating Swindon Town 3-0. In 1908, they did even better, winning 1-0 at First Division giants Preston North End before taking Liverpool to a replay.
The Brighton board were reluctant to release the 36-year-old from the final two years of a five-year contract, but the persistence of City's directors eventually won the day. The appointment of the new general manager was a real feather in the cap for them and they were happy to grant him the carte blanche he requested. Flaneur in the Leeds Mercury: 'Mr Scott-Walford has been given a much freer hand than was Mr Gillies, who has now settled down comfortably at Bradford Park Avenue, and this should be for the good of the club. Mr Gillies did admirably in the first season of the Leeds City club, and had he been permitted to continue the team building process, I do not think that the shareholders' meeting after last season and the committee of inspection would have been necessary.'
Scott-Walford took up the reins at Elland Road on 1 April and saw his new charges gain six points from six games to finish 12th, hinting at better things to come.
He quickly gave notice of his intentions and the summer of 1908 brought radical team rebuilding. Only ten of the squad (goalkeepers Tom Naisby and Harry Bromage, full-backs William Bates and David Murray, half-backs Stan Cubberley, Jimmy Kennedy and Charlie Morgan, and star forwards Fred Croot, Jimmy Gemmell and Billy McLeod) were retained, with eleven men departing. The biggest names to go were regular right wing pair Fred Parnell and Bob Watson, both members of the Leeds side that made its Second Division debut in 1905. They usually operated in tandem on City's right flank, and had played more League games for the club thus far than anyone else (104 and 83 respectively). Among the other leavers were Jack Lavery, Harry Kay and Bob Jefferson, all signed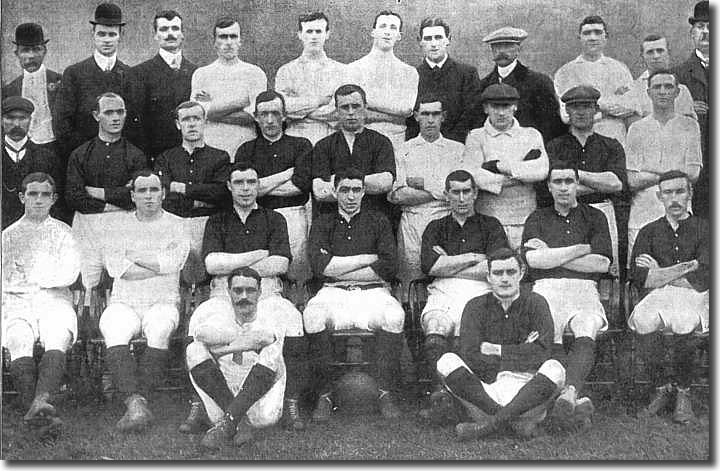 by Swindon Town, while club captain Tom Hynds returned to Scotland with Hearts after just a year at Elland Road.
Scott-Walford reinforced his ranks with a host of new players, all from the Southern League he knew so well. He returned to Brighton to sign Tom Rodger, Dickie Joynes, Jimmy Burnett, David Dougal and Willie McDonald, while Brentford yielded Tom McAllister, Jock Hamilton, John Watson and Scottish centre-forward Adam Bowman; Southern League champions Queen's Park Rangers provided full-back Jack White.
Brighton's Tom Morris was another target, but it was February before a deal was clinched for the giant centre-half.
Bedding in the newcomers would take time, but hope was high for the new season, with City's chances boosted by the fixture list. The Yorkshire Evening Post: 'Under the Fletcher system the Elland Road organisation are fortunate in having their first three Saturday matches at home with the Spurs, Hull City and Derby County respectively, and the home match with Barnsley has also been arranged for the 14th inst, Holbeck Feast Monday.'
As well as the recruits, City also boasted a new kit - a novel old gold pinstripe was added to the dark blue shirts giving them a distinctive new look.
The opening match of the new season brought 1901 FA Cup winners Tottenham Hotspur to Elland Road on 5 September - the Londoners had kicked off their own campaign four days earlier with an enterprising 3-0 win against Wolves.
Scott-Walford knew Tottenham well, having begun his playing career there as an amateur goalkeeper. He blooded seven newcomers, Watson, White (full-backs), McAllister, Hamilton (half-backs), Joynes, Bowman and Rodger (forwards), with Naisby (goalkeeper), Cubberley (half-back), Gemmell and Croot (forwards) retaining their places. David Murray would probably have played but for a cartilage injury, but there was some disquiet at Billy McLeod's omission - he had proven himself an adept goalscorer. For now, it was Adam Bowman, hat trick hero in a pre-season trial against the reserves, who played centre-forward.
The new era had a triumphant start and Flaneur reported matters in the Leeds Mercury:
'Had a stranger … dropped casually into the Elland Road ground at a quarter past five on Saturday afternoon, he would not have considered it necessary to ask which side had won. It would have been quite obvious to him … the home team had gained the verdict. Had he observed further that Mr Scott-Walford made a point of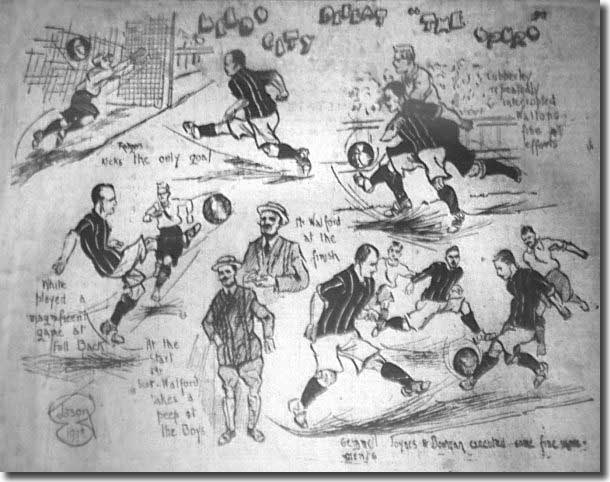 shaking hands with each of the Leeds City players as the teams left the field, he might have also deduced that the new manager of the club had passed through an anxious hour and a half, and was very jubilant at the result. And in both deductions he would have been correct.
'The new Leeds City team had justified the faith of Mr Scott-Walford in their powers by defeating the smart Tottenham Hotspur side by one goal to none, and the manager had justified his position as sole selector, in the eyes of the big crowd of nearly 20,000 people.
'I know enough of the average Leeds football spectator to feel sure that had the City team suffered defeat in this first match, Mr Scott-Walford's experiment in putting practically a new side into the field would have been severely criticised. The new manager took a bold sporting chance in selecting seven players who had previously not worn the Leeds City colours - his original selection was eight, but at the last moment Cubberley came in at left-half for McDonald, who is suffering from a bad eye - and the venture was justified by its success.
'It would be absurd to laud the new team to the skies on the showing of one match … but, without a single exception the men were triers, and when spectators feel assured that their players are putting forth every ounce they can excuse little weaknesses, and even forgive failures.'
Bowman, 'an admirable pivot', played a fine game, laying on a debut goal for Rodger and linking the forwards skilfully, while Jock Watson, who led the side, and Jack White had sterling debuts at full-back. The City eleven did not fully gel but outplayed gifted opponents and did much to reassure a cynical Leeds public.
However, the disappointing goalless draw that followed against Clapton Orient brought a shower of critical letters in the Mercury. 'Another Supporter' seethed, 'The present Leeds City team is not as good as the one that was on show at Elland Road last season. They represent an outlay of something about £2,000 and I would ask the team's supporters to compare last year's team, which cost £200 only, got together by Mr Gillies who had a free hand last year, with the present team. The first year's football at Elland Road was by far the best, most encouraging and most satisfactory we have had the pleasure of witnessing.'
Back came the more optimistic 'Enthusiast': 'If these so-called supporters would wait and see a few more matches, and not condemn a team on playing twice, it would save a lot of dissatisfaction both among the players and spectators, as it was this kind of humbug which was one source of trouble last season.'
It seemed that Frank Scott-Walford would suffer the same robust Yorkshire scrutiny as his predecessor. Even so, 2-0 wins against Hull City and Barnsley (Billy McLeod grabbing a brace of goals in the latter, his first appearance of the season) left City sitting proudly at second place in the table, yet to concede a goal. The doubters, it seemed, had spoken too soon.
Leeds were much brighter in those games, with Richard Guy, Jimmy Burnett and McLeod offering more threat than previous combinations, though left winger Fred Croot struggled to recapture the blistering form that made him City's player of the year in 1907/08.
Top of Division Two - 14 September 1908

Pos

P

W

D

L

F

A

Pts

1st

Birmingham City

4

4

0

0

11

3

8

2nd

Leeds City

4

3

1

0

5

0

7

3rd

Bolton Wanderers

4

3

0

1

6

2

6

4th

Bradford PA

4

2

1

1

4

4

5

5th

Tottenham Hotspur

3

2

0

1

7

1

4

6th

Blackpool

3

1

2

0

4

3

4

7th

Burnley

4

2

0

2

6

5

4

8th

Wolverhampton W

4

1

2

1

5

6

4
The club had every reason to welcome Derby County to Elland Road on 19 September; with Second Division leaders Birmingham City facing a stiff trip to Fulham, there was a real chance that victory against the Rams would see Leeds City assume leadership of the division.
It was a wonderful game, closely contested until the final half hour, with two well-matched teams going at each other hammer and tongs. Derby attacked for all they were worth, testing the City defence as they had not been tested all season. County broke the deadlock after twenty minutes when centre-half Ben Hall forced home a corner.
City responded immediately, Cubberley creating an opening. England keeper Harry Maskrey threw himself full length at McLeod's low shot, but could only touch the ball in off the post.
Back came Derby, and centre-forward Alf Bentley tapped the ball home from close range after Fred Bevan manufactured the opening.
It took City until the stroke of half time to get back on terms. McLeod burst through the County defence only to be brought down in the area. The referee had no hesitation in pointing to the spot and McLeod stepped up to notch his fourth goal of the season, though the luckless Maskrey again got his fingers to the ball.
The score reflected the closeness of the contest and it was anybody's game. With thirty minutes to go, Derby took the lead through Bentley, who promptly netted again to complete his hat trick. Bevan added his second and Derby's fifth goal shortly afterwards to give the scoreline a flattering look as City heads dropped. In the end, Leeds were well beaten by a team at the top of their game.
Defeats followed at Blackpool and Chesterfield without City troubling the scorers, and they slid down the table.
Some spirit was restored with a goalless draw away to Glossop North End before a 2-1 victory over Stockport County at Elland Road, achieved mainly through some bizarre goalkeeping from Jimmy Molyneux, as reported by Linesman in the Mercury:
'Molyneux was badly at fault in connection with both the goals scored by Leeds City … The game had only been about twenty minutes in progress when a smart bit of tackling by Kennedy resulted in the centre-half putting McLeod in possession. The City centre made straight for goal with one of his characteristic dashes, and, cleverly evading the backs, he let drive hard and low at Molyneux from fifteen yards range. The custodian got down to the ball and appeared certain to gather it, but the ball flew out of his hands and passed over his head into the net. This was a small mistake, however, compared with that which presented Leeds City with their second goal.
'Following McLeod's opening goal, Stockport immediately equalised through Whitehouse, the inside-right, who gave Naisby no chance to stop a high shot at close range. Thus the game stood till close on the interval, when Leeds City secured the lead with a sensational goal. Rodger burst away on the right, and Molyneux foolishly came out of his charge. After a short tussle with Waters, the left-back, Rodger sent in a long, high shot, and the ball sailed over the head of Molyneux. It hit the bottom of the far upright, however, and bounced back to the custodian's feet. Molyneux made to pick it up, but he stumbled and actually sent the ball trundling back into his own goal.'
After their poor run, City were in no mood to look any gift horse in the mouth and eagerly accepted their first win in five matches. They stumbled to defeat on 24 October at West Bromwich Albion with City's previously reliable full-backs, Jock Watson and Jack White, having a nightmare. A misunderstanding between the two led to the first Albion goal, while the second was down to Watson, who took the ball away from Tom Naisby in an attempt to dribble out of trouble, only to lose possession and allow Fred Buck to score. McLeod's fifth goal in eight games was mere consolation.
It was a sad outcome, and Wanderer commented in the Mercury: 'There are one or two improvements necessary in the team … and if the directors wish to see the club on a flourishing condition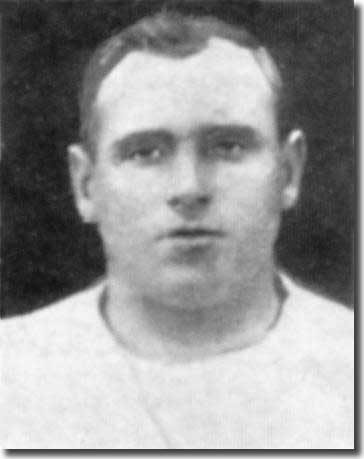 they should at once find the necessary material to make good the deficiencies. It is no use sitting still and hoping for better things. Prompt action is necessary.' By now, the club had reintroduced a Selection Committee, reportedly to assist Frank Scott-Walford, though it smacked of the directors' perpetual penchant for meddling with team affairs.
There was no relief with the final day of October bringing Division Two leaders Birmingham, who had dropped just four points from their ten games, to Elland Road.
However, City rose admirably to the occasion, as reported by Linesman: 'In beating Birmingham by two goals to nil at Elland Road, Leeds City created one of the surprises of the day, for few could have anticipated the failure of the leaders. Leeds City undoubtedly deserved their success, and they are to be congratulated on their performance. They played good football - better, by a long way, than I have seen them play since the season started. It was probably their best display of the season, and the fifteen thousand spectators were highly delighted. At the interval, when Leeds City led by a goal, the players were heartily cheered, and at the end of the game there was a remarkable demonstration of enthusiasm, which lasted several minutes.'
Both goals followed free kicks, with the deadly McLeod once more making the difference. Jimmy Kennedy's effort rebounded off a Birmingham defender and John Watson lobbed the ball into the area for the centre-forward to tap home the opening goal. Local papers at the time credited McLeod with both goals, though the second was eventually awarded to Tom Rodger.
It was heartening to see City suggest they could be a force to reckon with and the Birmingham triumph marked the start of a six game unbeaten run. City hammered Grimsby Town 4-1 and followed up with an enterprising single goal victory at Fulham, with Watson and White starring in defence, and McLeod taking his tally for the season to eleven goals in eleven games. The most encouraging result, though, came on 12 December when Elland Road hosted Cup holders Wolverhampton Wanderers.
The Black Country club were among the founder members of the Football League in 1888 and had spent 18 years in the top flight before relegation in 1906. They had won the FA Cup by beating First Division giants Newcastle United 3-1 at Crystal Palace, and though they were not having the best of times in the League they remained formidable opponents.
In the Leeds City side, Dickie Joynes, Jimmy Gemmell, Tom Rodger and Fred Croot were the regular foils up front for Billy McLeod, but Rodger ('the artist of the line, his dribbling being tricky and effective') fell ill after the Fulham victory, to be replaced by Richard Guy on the right wing. The former Bradford City outside-right had a tremendous time of things against Wolves, as reported by Linesman: 'It was indeed a fortunate circumstance that led to the re-inclusion of Guy. Guy had already figured in the team without accomplishing anything brilliant, but he seized his opportunity on Saturday with both hands (and feet), and showed so much dash and skill as to make himself the most outstanding forward on the field.'
28-year-old Guy had started his senior career with Manchester City in 1902 before joining Bradford City a year later and scoring their first ever goal. He never established himself at Valley Parade, and spent several years in the Second Division of the Southern League with Hastings and St Leonards before Frank Scott-Walford offered him another shot at the big time. The clash with Wolves represented the height of the fair-haired winger's footballing career.
The goalscoring action started within five minutes of kick off when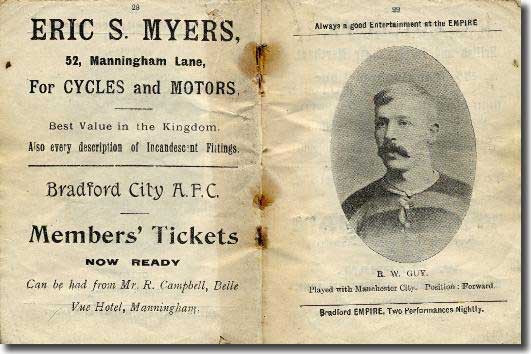 Guy shrugged off full-back Ted Collins and found space on the right. He made ground down the touchline before firing over a smart centre for McLeod to nod beyond goalkeeper Tommy Lunn's reach. It was a beautiful goal and set the Peacocks up for a marvellous afternoon.
City's second came after 25 minutes when Jimmy Kennedy began a move that Gemmell, McLeod and Joynes took up to feed Guy on the right. The winger's cross flew across the area but missed its mark. Croot screwed it back with a clever touch and Gemmell slammed the ball past the keeper with a stinging ground shot.
City went in at the interval with a 3-0 advantage after another goal involving Guy. He passed inside to Joynes, who laid it off to McLeod. The centre-forward's shot was blocked by Lunn, but ran free for Gemmell to hammer home with a full blooded drive.
Wolves finally hinted at their class after the resumption and dominated affairs for the first quarter of an hour as City rested on their laurels. Centre-forward George Hedley turned in Payne's centre from close range with the Leeds defenders AWOL.
The shock seemed to stir City from their complacency and within five minutes of Wanderers scoring they had raced into a 5-1 lead. Gemmell completed his hat trick by volleying home another Guy centre, and within seconds the roles were reversed: Gemmell's fiery shot was blocked by Lunn, and Guy raced in to slip the ball home and crown an impressive display.
The game was all but over as a contest, and even when Joynes had to be carried off, Wolves never threatened a real comeback. In the closing minutes they sneaked a consolation through inside-right Blunt after a defensive mix up.
Linesman in the Mercury: 'No doubt there were many among the fourteen thousand spectators who had turned out chiefly to see the Cup holders, and these spectators must have got a tremendous disappointment. It was not Cup winning Wolves they witnessed, but Wolves without fangs, Wolves with hardly a spark of vitality in them, Wolves so worried that they hardly knew which way to turn. The Wolves did not show as much football on Saturday as would win the West Yorkshire Cup. Those who expected to see a good football match were disappointed, but they were compensated to a large extent by seeing really good football played by Leeds City. Without a doubt, the play of Leeds City was often brilliant, and of such a class as they have seldom shown previously.
'In view of Guy's performance, the problems of the Leeds City right wing would appear to be solved, for the fair haired outside-right undoubtedly earned his place, and it is to be hoped he will keep it. The other members of the forward line all did well, with the exception of Croot, the outside-left, not being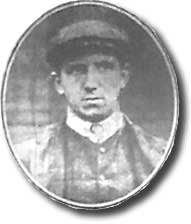 in the picture so much as usual. McLeod and Gemmell were both excellent, Kennedy again distinguished himself at centre-half, and overshadowed his colleagues in the line, though both worked hard, McDonald proving a capable substitute for Cubberley. Little fault could be found with Watson or White at back or Naisby in goal. Altogether it was a great day for Leeds City, and after this and recent displays their followers may be pardoned for beginning to study the team's chances of promotion.'
It might have been thought that such a well-crafted and clinically realised triumph would provide the kick-start for City's season. However, football in Leeds has rarely been either predictable or straightforward, as Frank Scott-Walford was to learn to his cost.
Other Football Highlights from 1908/09
Newcastle United won the league championship, their third in five seasons, despite crashing 9-1 at home to North East rivals Sunderland. They finished seven points clear of runners up Everton and Sunderland were a further two points away in third
Reigning champions Manchester United beat Bristol City 1-0 in the final to win the FA Cup for the first time in their history. United were also the first winners of the FA Charity Shield when they beat Southern League winners Queen's Park Rangers 4-0 in a replay after a 1-1 draw
England won the Home Internationals with a maximum 6 points and then represented the United Kingdom in the London Olympic Games, winning the gold medals by beating Denmark 2-0 in the final at the White City stadium. England's star was the dedicated amateur centre forward Vivian Woodward, who scored 29 goals in 23 full internationals and another 50 in amateur internationals. Woodward got the second goal in the final
back to top