Part 1 - Results and table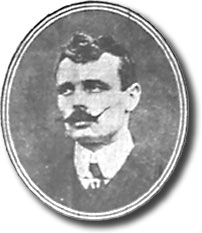 A blistering 5-2 victory against Wolves on December 12 1908 saw Leeds City rise to sixth place in Division Two, just a couple of points off the promotion spots. Under new manager Frank Scott-Walford, City had finally looked like they were clicking into gear and on the verge of a promotion challenge.
Inexplicably, the team simply fell apart a week later when they faced Oldham Athletic at Boundary Park. Tom Rodger returned at inside-right for the injured Dickie Joynes as the only change from the eleven that thrashed Wolves, but could have been forgiven for wishing that he had been overlooked.
Oldham ran riot against lacklustre City, with Len Newton, the former Bradford City centre-forward, notching a first half hat trick, and Scottish international Finlay Speedie making it 4-0 by the interval. The Scot grabbed another goal after the break and full-back Hamilton wrapped a 6-0 victory up from the penalty spot in the closing stages to send a shell shocked City back to Yorkshire with their tails well and truly between their legs.
Linesman wrote in the Leeds Mercury: 'There was not a man on the side who did himself justice. No one seemed capable of doing a single thing right, and the entire team was out of joint. As generally happens in these cases, the other side were at the top of their form. Everything went right for them; they simply did as they liked and treated the Leeds City men like so many boys. The reappearance of Rodger at inside-right was expected to strengthen the Leeds City team, but Rodger was no better than any of his colleagues in the line. There was not one redeeming feature about Leeds City's play, and not once did they furnish the spectators with a glimpse of their real merit. It would be hard to say whether the forwards or half-backs were weakest, and the backs were very moderate indeed. Though Naisby was so often beaten, he effected many clever saves, and never lost his self-possession. His job on Saturday was most unenviable.'
The assurance built up in the Wolves match was swept away as City lost a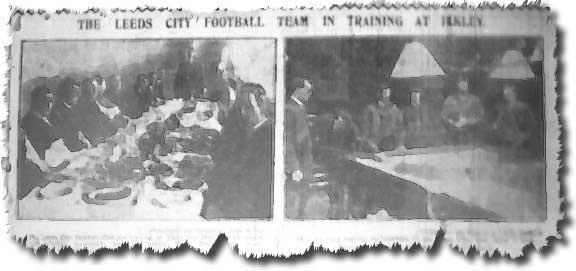 further six straight games in the league, including a 4-1 reverse at Hull and a 5-1 thrashing at Derby on 23 January. The poor run saw Leeds slump to 14th place in the table, a mere four points clear of the re-election places. It all made for a thoroughly depressing start to the New Year.
There was some light relief, though, as City enjoyed some success in the FA Cup.
Frank Scott-Walford took a party over to Ben Rhydding, near Ilkley, in the week prior to the game for special training, as was the popular practice before Cup games in those days. It freshened up the team's mood and concentrated their minds. On 16 January, Leeds City took the field at Boundary Park intent on revenging their thrashing of four weeks earlier.
The complacency of City's opponents was noted by Linesman in the Mercury: '[Oldham] never for a moment doubted of victory, and they were speculating not only who their opponents would be in the second round, but who would have the honour of appearing with them in the final at Crystal Palace in April. They believed that the match was merely a walkover for them, and they expected a repetition of the score of last month. So strong were they in this opinion that they did not go into special training, and the majority of the Oldham enthusiasts did not think it worth while turning out to witness the match, the result being that the attendance, instead of matching Cup-tie dimensions, was one of the smallest of the season. The official return was 7,000 and the receipts £213. There were nearly twice as many people at the Oldham v Halifax match at the other end of the town.
'But those who had anticipated a runaway victory for Oldham Athletic had reckoned without the weather; they had made no allowance for rainstorm or gale. On such a day as Saturday turned out to be, anything might have happened. The blizzard of the morning gave rise to doubts as to whether it would be possible to play at all. But Boundary Park appeared to escape the severity of the snowstorm, for if the ground was covered, it was not so bad as anticipated and as the snow stopped falling some time before the start the conditions were not so dismal as they had promised to be. Just before the teams entered the field, however, a gale sprang up, and blew with great force almost straight down the field.
'The Leeds City management had not left the weather out of their calculations, and it was no doubt this which led them to select the side which did duty. The eleven was not definitely decided upon until about half an hour before the start. Watson returned to right-back in place of Bates, and Cubberley appeared at left-half for the first time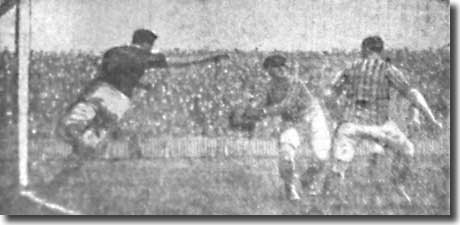 since his injury in November, McDonald dropping out. Though Kennedy was fit, Hamilton was retained at centre-half, and what looked a risky experiment was tried in the forward line. Rodger stood down from inside-right and Gemmell crossed to that position from inside-left, Burnett being chosen to partner Croot on the left wing.'
Skipper Jock Watson won the toss and City enjoyed the advantage of the gale force wind in the first half. They took the opportunity to pin Athletic deep in their own half for most of the opening period. Billy McLeod opened the scoring from close range after 15 minutes and Leeds threatened to score another three or four times before Athletic equalised from the penalty spot following a rare breakaway.
The change of ends threatened to make it one-way traffic after the interval, and indeed City had to fight a valiant rearguard action, but withstood all that was thrown at them to earn a replay at Elland Road.
There were more than 20,000 spectators in the crowd, 19,097 of whom paid, with receipts a welcome £625. City took the game to the visitors in the early stages but could not make their dominance pay for the first 25 minutes. Then, however, Oldham left-half Wilson handled in the area after misjudging his attempted header and McLeod opened the scoring from the spot.
The goal boosted the City eleven's confidence and they continued to press as Athletic showed their jitters. They were still a goal ahead at the interval though they had the handicap of McLeod being a limping passenger after a reoccurrence of a leg strain.
Oldham threatened to get back in the game after the break, but City broke out to increase their lead. An attempted clearance hit Dickie Guy and cannoned off him into the net, leaving an astonished goalkeeper helpless. It was a fortunate goal, but no more than Leeds deserved.
There was still time for Oldham to have a penalty opportunity of their own when Gemmell handled in the box, but full-back Hamilton hit his shot directly at Naisby and the chance had gone.
City held on to secure a memorable 2-0 victory and received this tribute from Flaneur: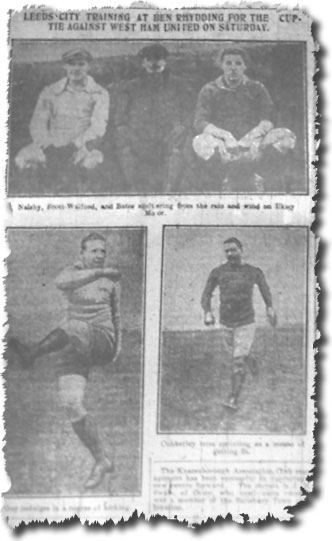 "There was not a failure on the City side, for McLeod played a very good game up to the time his leg gave way, and he showed considerable pluck in going through the second half, though he could not run a yard. Burnett, at inside-left, was the best of the forwards, and this player … should easily keep his place. Croot was excellent at outside-left, and was especially good earlier on, when McLeod was constantly swinging accurate passes across to him. The half-backs were splendid, and if McAllister was the best, Hamilton and Cubberley were both very good, the centre-half keeping Newton in check throughout. Watson and White were most dependable, and the latter was especially good, while the clean sheet speaks quite eloquently enough for Naisby's goalkeeping."
The reward for City's success was a home draw in the second round against West Ham United of the Southern League, and so intense was the local interest that it was decided to open the gates at 12.30 to ensure everyone could get in. City had finally ended their losing spell in the League with the first win in eight attempts coming against Blackpool on 30 January and the locals were enthused by the novelty of a Cup run.
31,471 paying spectators were in attendance for the game with the East Enders on 6 February, a figure that had only been beaten once thus far in City's short history, when 35,000 witnessed the 1-0 defeat against Bradford City in February 1908.
City were still without the injured Billy McLeod, and Dickie Joynes filled the centre-forward position for the day.
Despite pre-match optimism, West Ham threw Leeds into disarray right from the whistle. Their forwards swept upfield from the kick off in a concerted attack and capitalised on a miskick by Jack White for centre-forward Walter Miller to get in a shot. Naisby saved superbly, one handed, to deny the Hammers.
They dominated first half proceedings with some clever football, and took a deserved lead after 30 minutes when Miller headed in Fred Blackburn's centre.
City fought back in determined fashion after the break and were rewarded with a dubious penalty when Fred Shreeve was judged to have handled. Jimmy Gemmell hit his shot well enough, but it struck the bar. It came back to Gemmell who attempted to atone for the miss, but a free kick was given as he played the ball a second time before it was touched by another player.
City continued to press after the disappointment but with time fast running out it looked like they would be defeated. There was a dramatic conclusion, though, as reported by Flaneur:
'It came as near to being a defeat for Leeds City in this great Cup-tie of theirs with West Ham United at Elland Road on Saturday that, two minutes from the finish, the enterprising vendors of club favours and other merchandise dedicated to Cup warfare had bundles of City "In Memorium" cards - they, of course, left the West Ham packages unopened - and were actually engaged in trade when Burnett whipped in his equalising goal and made the game all square.
'It was a great and dramatic finish, and the huge crowd that had groaned in anguish when Gemmell missed the penalty shot that might have won the match arose as one man and lifted their voices to the heavens in one long roar of delight.'
West Ham were favourites in the replay, enjoying home advantage as they did. Their Boleyn Ground (now more popularly known as Upton Park) was tight and compact with the turf muddy and holding after a week of snow and rain, as commented upon by AWS in the Mercury:
'A team used to playing on a spacious pitch is invariably very much at sea when asked to work out problems on a band box pitch, and the City must see to it that their moves are directed accordingly. They are not likely to do wrong in this respect for want of instruction. Mr F Scott-Walford, the manager of the City team, knows the Boleyn Castle enclosure as well as he knows his own home, and he is bound to impart particulars of the eccentricities of the playing area to his men.'
With mighty Newcastle United awaiting the victors in the next round, City were still without McLeod, and opted for Adam Bowman to lead their attack. Against all expectation the Scot gave City a lead within two minutes with a well placed left foot drive, his third goal in three games.
City's confidence was boosted by the effort and they enjoyed the better of the first half, retaining their lead to the interval. West Ham fought back thereafter and City were forced to defend manfully. The home side equalised towards the end of the ninety minutes and the teams finished level, taking the tie into extra time.
City should have gone ahead in the first period when Jimmy Burnett was left with an open goal, but he scuffed his shot wide. Had he been able to take the chance it is doubtful whether West Ham would have fought back, but their escape gave them heart and they managed to snatch a winner in the final fifteen minutes.
Defeat was hard to take for City; they had played exceptionally well and Jimmy Gemmell had starred, as recorded by Wanderer: 'The pick of the forwards, and, in fact, of the whole twenty-two players on the field, was Gemmell. I have never seen him play better football. Exceedingly tricky, and making good use of his weight, he was always a thorn in the side of the West Ham men, and if not going for goal he was back helping the half-backs to keep the Londoners at bay. A great feature of his work was his untiring energy. He never gave in, and if robbed of the ball he was after his man in a trice, and not infrequently succeeded in gaining possession again.'
Bottom of Division Two - 6 February 1909

Pos

P

W

D

L

F

A

Pts

9th

Oldham Athletic

22

11

2

9

39

27

24

10th

Grimsby Town

24

10

3

11

26

38

23

11th

Burnley

24

9

4

11

37

40

22

12th

Leeds City

24

9

4

11

29

40

22

13th

Chesterfield

25

8

6

11

25

37

22

14th

Stockport County

24

10

2

12

27

42

22

15th

Glossop North End

22

8

5

9

31

32

21

16th

Blackpool

24

6

7

11

30

39

19

17th

Clapton Orient

23

6

7

10

22

30

19

18th

Bradford PA

25

8

3

14

30

41

19

19th

Barnsley

25

6

6

13

26

39

18

20th

Gainsborough T

24

6

6

12

29

57

18
With hopes of Cup glory extinguished for another season, Leeds City turned their attention back to the League and not a moment too soon. Even after getting back to winning form against Blackpool, the Peacocks still sat 12th, just four points above the bottom of the table.
Glossop, a point below City, visited Elland Road on 13 February and promised to make things difficult for the home side: they took the lead after five minutes and enjoyed the best of the early play. City started lethargically and owed a debt to Tom Naisby for another excellent goalkeeping display.
After 35 minutes, however, Fred Croot, finally recapturing his best form after an indifferent season, drew Leeds level.
Glossop had the best of things for the first twenty minutes of the second half, but then City came back to life and goals from Burnett and Gemmell settled matters.
A controversial defeat at Stockport followed, reported thus by Linesman: 'Leeds City's ill luck at Stockport is becoming notorious. On Saturday it was again a case of holding their own and then suffering defeat. They were beaten by the only goal scored in the game, and that came in the last minute, and was the result of a penalty kick, the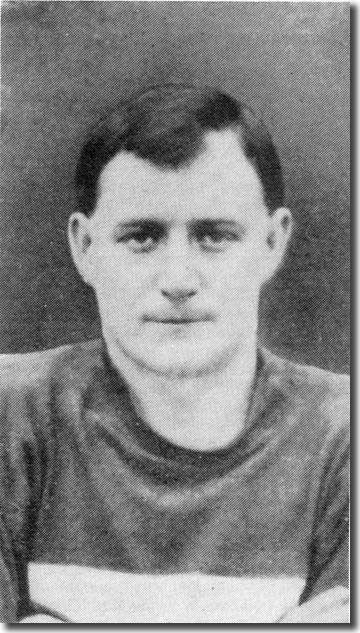 awarding of which was a very questionable decision on the part of the referee. The home team were making a final desperate effort to beat the Leeds City defence. They were awarded a corner, and Dougal, the Leeds City forward, and Horrocks the Stockport outside-left, had a duel for the ball just inside the penalty area.
'The referee thought he detected a case of hands by Dougal, and pointed for a penalty, and immediately there was a most unpleasant scene. The Leeds players crowded round the referee and warmly - but, of course, vainly - tried to show him that there had been no infringement. So persistent were the excited Leeds men in their attentions to the referee that, I understand, he threatened to report one or two of them. The penalty was allowed, and by means of it Waters scored Stockport's first goal in five matches, and secured for his side their first League points since December 12th.'
With a number of players out injured and needing to bolster his forces for the run in, Frank Scott-Walford returned to Brighton and Hove Albion in the last week of February and completed the signing of 23-year-old centre-half Tom Morris, whom he had tried unsuccessfully to sign in the summer months.
Morris watched his new team mates draw 1-1 at home with West Bromwich Albion on February 27 thanks to a goal from the restored Billy McLeod. He would have made his debut at Birmingham a week later, but the match was postponed because of snow. He made his first appearance the following week in a 2-0 defeat against struggling Gainsborough Trinity at Elland Road.
Linesman: 'It should not be inferred … that Morris was a failure in his debut for his new club, far from it. He did not play a brilliant game, nor did he convey the impression that he is a better centre-half than either Hamilton or Kennedy, but it would hardly be fair to judge him on Saturday's play, for the entire Leeds City team was a long way below par, and with all the other parts of the machine out of gear, so to speak, it could not be expected that Morris would distinguish himself. He is probably the biggest and broadest player in the Leeds City team … and if he strikes one as being a trifle slow, he showed that he knows the art of feeding forwards, his passes being timely and very accurate.'
Morris went on to find his true form and become one of City's most reliable performers. Flanked by Tom McAllister and the outstanding Stan Cubberley, he formed a solid and powerful half-back line for the Peacocks as their form began to pick up.
Jimmy Gemmell's goal was sufficient to secure a 1-0 victory at Grimsby Town and then City beat Fulham 2-0 with efforts from Bowman and Guy. There was another clean sheet a week later at Burnley, but City could not find the net despite many opportunities and had to settle for a point. Good Friday, April 9, brought a fourth successive shut out and Rodger, Gemmell and Bowman goals secured a straightforward win over Chesterfield, edging Leeds further clear of the foot of the table.
The decent run was ended in conclusive fashion the following day, though, when former manager Gilbert Gillies brought his struggling Bradford Park Avenue side to Elland Road. Speedie and McClarence tortured the Leeds defence and had a goal apiece in a 3-0 thrashing to give Gillies the immense satisfaction of putting one over on his former employers and securing some much needed points to boost Bradford's hopes of survival.
The game marked the start of a poor spell for the Peacocks with only one point and one goal coming from the next three games, resulting in them sliding towards the lower reaches of the table.
Bottom of Division Two - 14 April 1909

Pos

P

W

D

L

F

A

Pts

10th

Glossop North End

34

13

8

13

50

47

34

11th

Gainsborough T

25

13

8

14

45

68

34

12th

Clapton Orient

34

12

9

13

37

39

33

13th

Burnley

36

13

7

16

48

53

33

14th

Leeds City

35

13

7

15

39

49

33

15th

Barnsley

36

11

9

16

45

53

31

16th

Grimsby Town

35

12

6

17

35

52

30

17th

Stockport County

36

14

2

20

38

67

30

18th

Bradford PA

35

11

6

18

46

54

28

19th

Blackpool

36

9

10

17

44

65

28

20th

Chesterfield

36

10

8

18

35

63

28
The one point they managed in that spell (in a goalless draw at Clapton Orient on 13 April) was enough, however, to secure safety for City as Blackpool and Chesterfield simply ran out of games at the foot of the table. It was hardly a glorious performance, though, as AWS reported in the Mercury: 'Not even the kindest of critics could write in glowing terms of the Leeds City and Clapton Orient match at Homerton yesterday afternoon, for it was the poorest of poor games, that was shared by teams containing nearly half reserves, and ended in a goalless draw. It was a fitting result for perhaps the most inept display served up during the season, and it is small wonder that any interest engendered prior to the interval had expired long before the final whistle.'
One might have thought that the relief of being mathematically certain of avoiding re-election would have taken the pressure off Leeds and allowed them to relax and perform to their full potential, but they then lost 2-1 away to Wolves. The only notable feature for City was Billy McLeod netting his fifteenth goal of an injury ravaged season that saw him manage just 22 games in the League.
There was a much better display the following weekend when City hammered Oldham Athletic 3-0. The team were in impressive form, hitting the bar twice in addition to goals from Burnett, Croot and Dougal. Croot was the star performer, tantalising the opposition and representing a constant danger. It had been a disappointing season for the outside-left, but his form had now picked up of late.
Leeds City's curtain closer saw them visit Bradford Park Avenue and while they had nothing to play for, their opponents were still not mathematically safe. Gilbert Gillies' men were level on 30 points with Chesterfield but ahead of them on goal average. Blackpool were a further point back. It would have taken a phenomenal defeat for Bradford to swap places with Chesterfield, but nothing is ever certain in football.
As it turned out, there was never any doubt after Donald McClarence headed Park Avenue into the lead after five minutes. They dominated a lacklustre City side and emerged with a comprehensive 2-0 victory, confirming their League survival.
For Leeds and Frank Scott-Walford, it was a thoroughly depressing end to a very disappointing season that had promised so much. A 12th place finish was a repeat of the 1908 outcome and Scott-Walford's imports had been thoroughly unimpressive for the most part. On the plus side, Jock Watson and Jack White had formed a sound partnership at full-back and Tom Naisby, Jimmy Gemmell and Stan Cubberley had enjoyed splendid seasons, while Billy McLeod had been exceptionally productive in between injuries. These men were notable exceptions, truly diamonds in the rough.
News of a record financial loss of £1,200 for the season came as a major blow for the board, and it was clear that the gamble taken in funding Scott-Walford's ambitious plans had not paid off. The summer of 1909 would be a time for reflection.