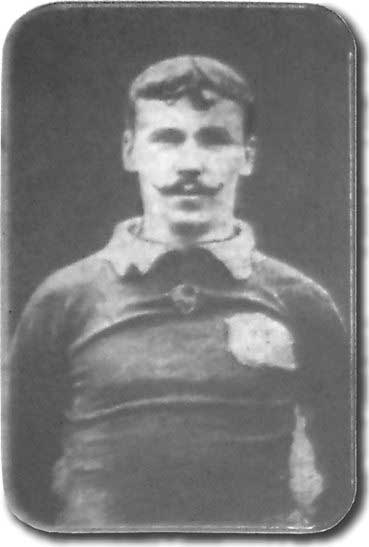 Part 1 - Results and table
After a hugely promising beginning to their 1907/08 campaign, when they had fleetingly topped the Second Division, Leeds City's form had collapsed during a very depressing autumn and the team lay in the lower reaches of the table as they entered 1908, with only their pride left to play for.
New Year's Day saw City visit Glossop North End, a team four points and three places below them, but boasting an unbeaten home record. The match brought some much-needed relief, ending with Leeds' first win in five games and their first away victory since 14 September.
The Peacocks played extremely well, as noted by Wanderer in the Leeds Mercury: 'The superiority of the Leeds men was apparent almost from the commencement of the game. They adapted themselves admirably to the hard, slippery nature of the ground, and their long, swinging passes were too much for the Derbyshire men. Their combination was excellent, and it was very rarely one saw the ball misplaced … The Leeds City forwards were very clever, especially the outside men. Croot and Parnell never missed an opportunity, and the result was that they overran the Glossop backs completely.'
Fred Croot, who had been in outstanding form for City all season after arriving from Sheffield United in the summer, scored one goal and made the other for centre-forward Billy McLeod in a 2-0 win.
About ten minutes from time, Glossop centre-forward Elmore had to be carried off after a clash with full-back David Murray. Wanderer: 'The affair was a pure accident - as the players themselves were ready to admit after the match - but a section of the crowd took up a disgusting attitude, and Murray came in for a storm of hoots and jeers. When he was leaving the field some snow was thrown at him, but this was the work of one or two irresponsible boys, who quickly dispersed at the sight of a policeman.'
As Flaneur later remarked in the Mercury, 'There is no doubt that the team has improved in a marked degree since the Selection Committee have discontinued the policy of change, and are relying match after match … upon one set of players.'
The same eleven went out for a third successive game, on January 4 at home to Leicester Fosse, and though they had to settle for a goalless draw, Flaneur was distinctly impressed by what he witnessed: 'Possibly, as one who only sees the City play at intervals, the improvement strikes me more forcibly than it will strike the regular follower of the club. It may be that in their match with Leicester Fosse at Elland Road on Saturday the team did not show to such advantage as against Glossop in the little Derbyshire town off the map on New Year's Day, but, comparing them with the side I saw out against Barnsley in November, I have no hesitation in saying that they are a distinctly better class lot now than then.
'There are, of course, still weaknesses, but what team is anything approaching perfect? I have a tremendous admiration for Tom Hynds, whose work is always brainy, and who places his passes with the artistry of a master, but Hynds is a trifle slow. Then McLeod could be more effective if he would infuse a little more dash into his play. He is too frequently robbed of the ball through finessing and juggling for the short pass, when a dash straight ahead or a long swinging pass might be much more effective. Gemmell, the new man from Stoke, might, I think, make more use of his fine physique, and should feed Parnell more effectively.
'So far as I can see, however, there seems to be a better understanding between the players all round and the present team is worthy of a higher place in the League table. It is true the City could not beat Leicester Fosse. Indeed, that the visitors had probably slightly the better of the play, but the Fosse are a decidedly clever team, and it was by no means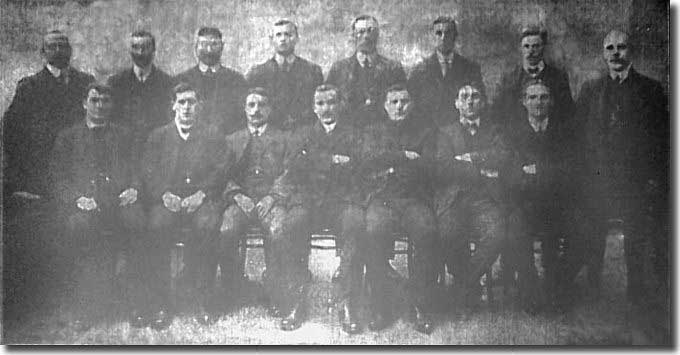 a bad performance on the part of the home side to keep their home record clean and share the points.'
The upturn in form, leaving Leeds unbeaten in three matches, gave some cause for optimism as the start of the annual FA Cup campaign beckoned. Immensely heartened by a change of fortune, City returned to their temporary headquarters at the Haddon Grove Hydro near Buxton, where they had been enjoying special training for the previous week, to ready themselves for a visit to Oldham Athletic.
Oldham were enjoying a strong season after being admitted to the League in the summer, and were sitting level on points with Derby County, Bradford City and Hull City at the top of the Second Division table. They represented a stern test for City's Cup ambitions.
If truth be known, the Peacocks were never in the contest, despite only losing 2-1 to a team that were unbeaten on their own turf. It was a poor game, but City were well beaten. Athletic opened the scoring after fifteen minutes and were two ahead by the break, choosing to settle for that advantage as they faced a stiff breeze in the second half. Leeds outside-right Fred Parnell flicked the ball over the keeper to reduce the arrears, but the goal failed to spark any sort of comeback and City's Cup challenge faded meekly.
The match was the first in a run of five straight reverses that left Leeds City in disarray.
A crushing 4-1 defeat at Hull City on 8 February left the team tottering uncertainly on the verge of slumping into the re-election zone. The clubs around them had games in hand, and Leeds seemed to have forgotten how to win. They had registered just one victory in nine games, and only two wins in fifteen. More worrying still, the forwards were going through the most unproductive of patches - Billy McLeod's late goal at Anlaby Road was City's first successful effort in five games. The defence, with goalkeeper Tom Naisby in fine form, was proving exceptionally difficult to break down, but the Leeds front line was profligate in the extreme.
Bottom of Division Two - 8 February 1908

Pos

P

W

D

L

F

A

Pts

11th

Stockport County

26

8

7

11

34

40

23

12th

Gainsboro' Trinity

25

9

5

11

32

48

23

13th

Barnsley

24

9

4

11

41

37

22

14th

Leeds City

25

8

5

12

36

48

21

15th

Clapton Orient

24

8

5

11

29

44

21

16th

Glossop North End

23

6

4

13

33

52

16

17th

Blackpool

25

4

7

14

35

45

15

18th

Grimsby Town

25

5

5

15

26

54

15

19th

Chesterfield

24

3

8

13

26

64

14

20th

Lincoln City

25

5

1

19

33

66

11
For all the gloom, however, the defeat at home to Bradford City on 1 February had seen 35,000 people pack into Elland Road to set a new attendance record with receipts of £682. The figures, though, were artificially boosted by the attraction of a local derby against a team pursuing promotion, who brought many of their own supporters with them across the West Riding - the home games either side of the Bradford contest drew attendances of just 10,000 and 8,000.
City could scarcely look forward to a 15 February tussle with Derby County at Elland Road with any enthusiasm - the East Midlands side was leading the table, without a reverse since 21 December.
Yet it was now, just when the odds seemed stacked against the Yorkshiremen, that Gilbert Gillies' ailing team finally got their act together and put on a breathtaking display, turning in as powerful and effective a performance as they had managed all season.
Their morale was boosted by the award of a penalty after ten minutes for a foul on McLeod as he raced through. Murray dispatched the kick with some assurance, blasting it in off the underside of the bar. Bevan equalised for the Rams after 22 minutes, but Croot soon restored City's lead with a tremendous goal.
There were no further scores before the interval, but Leeds routed their opponents effortlessly after the break, cruelly exposing the shortcomings of County's stand-in goalkeeper Ernie Scattergood,

deputising for England international Harry Maskrey.
Croot and Lavery combined smartly on the hour mark for the latter to give City a two-goal advantage with a decent shot. McLeod added a further two goals in the last fifteen minutes to complete a 5-1 demolition, which had the Mercury's Flaneur drooling. 'It can no longer be said that the City forwards cannot shoot, or that McLeod lacks the essentials of a centre. Whether recent criticisms have had their effect on the ex-Lincoln City man I do not know, but I do know that on this occasion he played like an artiste. Instead of hanging about on the off chance of getting an opportunity to shoot, he really led his forwards, and the manner in which he kept the whole line moving was very effective. One hardly knew which to admire more, his increase of energy or his deft touches to the wings. It was McLeod transformed, and the centre-forward will no longer be fearful of losing his place to Jefferson or anyone else.
'Whether McLeod's remarkable improvement made all the difference it would be difficult to say, but there is no doubt the forwards played their game of the season. Parnell and Watson, on the right wing, were not so effective as I have sometimes seen them, but the other three were brilliant, Lavery giving a delightful display at inside-left, and feeding Croot as I have not previously seen the old Sheffielder fed. Lavery has his off days, like other players, but he has always been keen and a thorough trier, and one is glad the directors, who do not appear to have been very clever in their search for an inside-forward, have fallen back on a really capable man. It is true Lavery made one or two bad shots in the first half, but he also made some very good ones, and his combination with McLeod and Croot was the feature of the match.
'In Croot, Leeds City possess a very brilliant outside-left, who only needs adequate support to prove one of the most dangerous men in the position in Second League football. His goal in the first half was a very fine effort, though the credit was shared by Hynds and McLeod, the former of whom opened out the play, while McLeod took advantage of a weakness on the part of the Derby backs to slip in between them and then pass prettily to Croot, who scored with a fine oblique shot.'
City's play had been astonishingly good. However, what came next was a more unpleasant surprise - five days later, the news broke that secretary-manager Gilbert Gillies had quit the club.
Flaneur hinted at unrest that had been brewing for some little time: 'Our announcement yesterday that Mr G Gillies had resigned his position as secretary and manager of the Leeds City club will no doubt have caused considerable surprise to the general public, though some of us have been quite prepared for the step for a few weeks past. It was hinted to me some little time ago by a gentleman who has considerable knowledge of the inner workings of the club that Mr Gillies would probably retire from his position at the end of the season, and the name of a probable successor was mentioned. Mr Gillies has not been altogether comfortable this season, and he has at length felt that he has no alternative but to resign his position.'
Gillies had successfully steered Leeds City's entrance into the Football League, as he had done earlier with Chesterfield, and overseen a decent first season for the club, but appeared to have lost his way since then. It was darkly hinted that the recruitment of players had been left to other, less experienced, staff, with Gillies engaged chiefly in managing the significant improvements to the Elland Road stadium and pitch.
Gillies was nearing the end of a three-year contract, but had become dispirited by poor results, criticisms by supporters and lack of support from the board. In many ways, he felt he was being made the scapegoat for inaction by the directors, a view which was echoed by some of the club's supporters.
A Thorough Peacock had written thus to the Leeds Mercury: I have been a member of the Leeds City FC ever since it started, and now I am about disgusted with the club I support. I noticed that the gate on Saturday (against Bradford City) realised £682. I think the committee would be economising if they put another £318 to that and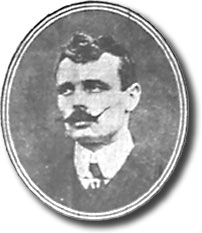 brought three good inside men. I say let them speculate and get a good team like Bradford City, and what they spend will soon come back again.
'If they only look round, they will see the gates are gradually falling off week after week. I should like to ask if there is any way or means of doing like our friends at Headingley - that is getting an open meeting of all members. I am an old Association player, and I should like to see a team in Leeds that would hold a good position in the First Division. I know very well "Rome wasn't built in a day," but the directors have had time to put a better team in the field. Good men are to be got if they will only speculate.'
Gillies' pride had been badly dented and he chose to throw in the towel, leaving the club to seek out a successor. He re-emerged within a few months to lead Bradford Park Avenue's successful campaign for Football League status.
The manager's passing was marked in spectacular style a couple of days later when City suffered a dreadful experience in their game at Lincoln City. The stadium was rocked 'by one of the most violent storms ever experienced on a football field, a storm which wrecked the members' stand and caused serious personal injury to several of its occupants. A gale of wind was sweeping the ground when the players began the match, and there were streaks of lightning and thunder rumblings in the near distance. In a few minutes the storm burst over the ground with great fury. Large hailstones pelted down, and the lightning, thunder and cyclonic wind made the game one not to be readily forgotten.'
The roof was ripped off the stand, injuring five spectators, with play impossible for some forty minutes. The match should have been abandoned, but referee Mr Horrocks decided to play on in atrocious conditions, with players struggling to keep their feet in the teeth of a horrific gale, and the half time break dispensed with to get things over more quickly.
The City players were a dispirited and dejected lot, seemingly unable to raise any resistance and slumped to a miserable 5-0 defeat. It was symbolic of their entire season, as a directionless ship drifted grimly into troubled waters.
It took well over a month of searching and negotiation for a sub-committee of the board to come up with a successor to Gilbert Gillies. On Wednesday, 25 March, it was announced that Brighton and Hove Albion manager Frank Scott-Walford had accepted the role of general manager. There were around 90 applicants for the post, but the selection of 36-year-old Scott-Walford was unanimous. However, a fortnight passed before the appointment could be confirmed, while City, the new man and his old club negotiated arrangements.
He still had two years left on a five-year contract with the Sussex club, who were reluctant to let him go. In the end, though, they agreed to allow him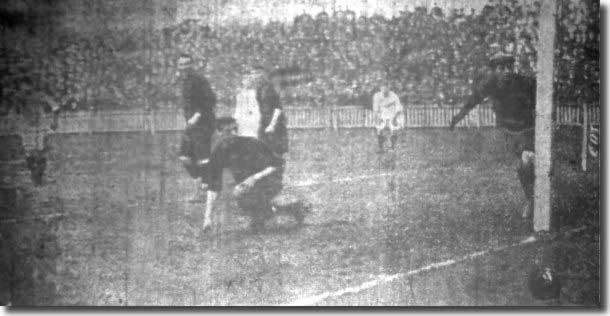 to commence duties from the beginning of April 1908.
After a number of years as a player with Tottenham, Lincoln, Small Heath (later Birmingham) and Aston Villa, Scott-Walford had established Brighton in the Southern League after taking over in 1905 and had clearly demonstrated his aptitude in management. He was banned by the Football Association for 4 months in 1906 for irregularities in approaching other clubs' players as he sought to rebuild a depleted team, but he impressed the City board as a man who could take their club on to the heights of which they had always dreamed.
Scott-Walford's initial job, however, was to ensure that Leeds retained their Second Division status, as Oldham's 2-1 victory at Elland Road on March 28 left his new charges in desperate straits, sitting fifteenth in the table, just six points clear of the re-election places.
The dismal form of Chesterfield and Lincoln City at the foot of the table gave Leeds breathing space, but they could not rely forever on the misfortune of others. They still required four points from their final four games to make their position safe.
After a goalless draw away to Clapton Orient and a 2-0 defeat at lowly Grimsby Town, Scott-Walford's reign was finally marked with a victory on 17 April, City's first since 7 March. As they played host to Stockport County, they had enjoyed just two victories in 24 matches and had only managed 10 goals in 14 games, with half of them coming in the 5-1 slaughter of Derby County.
It was a dismal game against poor opponents, and City struggled to impose themselves, but goals from Gemmell, McLeod and Croot secured a 3-0 win with goalkeeper Naisby enjoying an untroubled afternoon. The points were more important than the performance, and safety was ensured a week later when the team beat Cup finalists Wolves 3-1 at Elland Road. The Black Country men rested seven of their first-team with little riding on the result for them, but they still managed to take the lead. They allowed City back into the game after the break, however, and the Peacocks emerged easy winners, much to the relief of the directors.
The Yorkshire Post put the improvement down to the arrival of the new manager, headlining with 'Leeds on the up-grade", and going on, 'There have been better exhibitions on the Elland Road ground, but it is questionable whether spectators have ever enjoyed play to the same extent. Croot's runs along the touchline and accurate centres appealed forcibly to all. His flights held the spectators spellbound, a hush of expectancy accompanying every movement.'
Flaneur's notes in the Leeds Mercury during his piece on the home defeat to Oldham on 28 March captured the views of many in West Yorkshire as the season drew to a conclusion: 'If the Leeds City team were as satisfactory as the ground and arrangements at Elland Road, the directors of the club would have no misgivings on the score of ways and means. There is a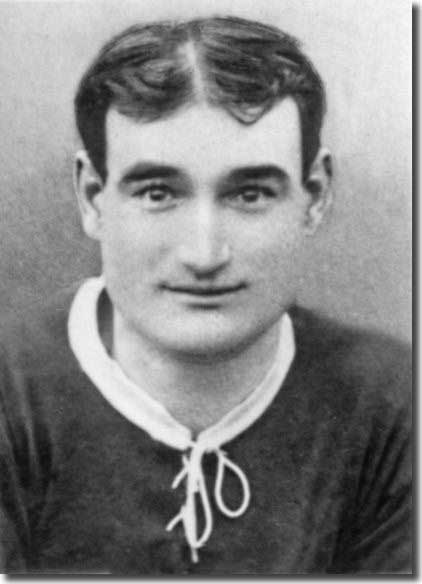 large and enthusiastic public for soccer in Leeds; there would be a larger and more enthusiastic public if the City club were making a fight, like the other young Second Division organisations, for a place at the top of the table instead of languishing among the bottom half dozen.
'Leeds City have accomplished one performance this year, their victory over Derby County, that has given them a claim to be regarded as a team of somewhat greater ability than the three or four clubs that are fighting to escape the anxieties attendant upon an application for re-election, yet they can still attract - or was it the opposition that attracted? - as many as 15,000 people to Elland Road.
'It will be for the new secretary-manager, Mr Scott-Walford, to so remodel the team that next season the City record shall be more worthy of the support the club already receives. Mr Gillies showed, when he was appointed to the position, that it was possible for an association manager of experience to build up a good side. Perhaps if the purchase of players had throughout been left entirely to him Leeds City would have had an equally good side today.
'Mr Scott-Walford may be given more freedom in the matter of team building than Mr Gillies was permitted, and, if so, Leeds City should rise out of the ruck at the bottom of the table next season. It is too much to suggest that the club will this year attain even the moderate position held twelve months ago, when, though they were below their three Yorkshire rivals, they occupied tenth place in the League table.
'Since January 1st Leeds City have captured six points by beating Derby County and Barnsley and drawing with Leicester Fosse and Chesterfield. They have been beaten by Stoke, West Bromwich Albion, Bradford City, Hull City, Lincoln City, Fulham, Burnley and Oldham Athletic (twice). And four of those defeats have been sustained at home. Indeed, they have only taken four points from the seven matches played at Elland Road this year. This is not a record of which either the team or the directors can be proud, yet the club can still command a gate of fifteen thousand.'
With City's immediate future secured by a 12th placed finish, Scott-Walford's thoughts turned to clearing the decks and starting afresh. He made his intentions perfectly clear as early as the first week of May. Bob Watson, Jack Lavery and Bob Jefferson all departed the club and the manager returned to Brighton to sign four of his former men, with a further two Southern League players also arriving at Elland Road. This was despite the club having suffered a new record loss for the year of £728, increasing their cumulative deficit to £944 - the directors gave the manager clear evidence of their faith in him by bankrolling an expensive recruitment campaign.
This was to be a close season of enormous change as the new broom sought to address the shortcomings that had been all too evident in a year to forget, and prepare a team that could finally challenge for promotion. Scott-Walford had decided to build his team around the axis of Tom Naisby, Stan Cubberley and Fred Croot, who had been both the outstanding performer and the only ever-present - Billy McLeod had finished top scorer with 17 goals, but it was the remarkable Croot who had taken all the honours: 'The star of the Leeds City front line was Croot. His brilliant runs down the wing and capital centres or shots at goal were quite a feature of the game, and he came in for quite an ovation.'