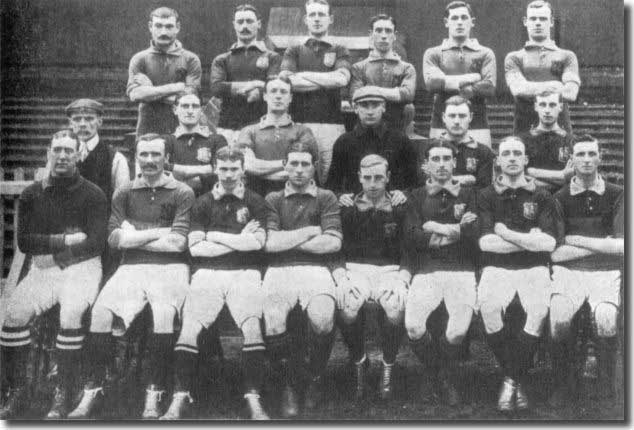 Part 2 - Results and table
By the summer of 1907, the appetite for success of Leeds City's ambitious board of directors had been thoroughly whetted by two years of hard competition in the Second Division of the Football League. They had fully expected to taste early success after admission to the League in 1905. Chelsea were elected at the same time as City, and secured promotion at the second attempt, prompting envious thoughts in the West Riding. If the Southern upstarts merited top-flight football, then the Peacocks deserved nothing less.
A sixth place finish was as promising as much of their football in the club's debut season, but their second campaign was disappointing, with some mediocre performances and a lowly conclusion. The board, led by chairman Norris Hepworth, expected better - promotion was the minimum target for 1907/08, and many felt that even the championship should not be beyond City.
The directors had poured money into the club from the start, and demanded that secretary-manager Gilbert Gillies deliver success this time around. The summer of 1907saw no let up in the team building process as Elland Road welcomed another couple of costly imports, Fred Croot and Tom Hynds.
21-year-old Croot, a dashing left winger of some renown, joined City from Sheffield United on 3 May and went on to become one of the club's most outstanding servants, making 218 League appearances over the twelve years that followed. He possessed a gifted left foot and was noted for his dangerous crosses, making him an ideal provider for centre-forward Billy McLeod. Croot was just as likely, though, to cut in and shoot himself, being one of the country's top scoring wide men.
Hynds was a mature and robust Scottish centre-half, cool, self-assured and accurate with his passing. He began his top class career with Celtic, but never became a first-team regular, going out on loan to a number of clubs before moving permanently to Manchester City in 1902. He won a Second Division championship medal a year later and added an FA Cup winners medal in 1904 when City beat Bolton Wanderers at Crystal Palace with a goal from the legendary Billy Meredith. Hynds was good enough to be picked for an Anglo-Scots representative side that played against the Home Scots in March 1905 but was suspended from football between June and December 1906 for his part in an illegal payments scandal before finishing the season at Woolwich Arsenal. His experience at the highest level in both England and Scotland made him an ideal choice as the new Leeds City captain.
The club also signed a couple of right-backs from Bolton Wanderers, Harry Kay and William Bates, in an effort to find a regular partner for the reliable Scot, David Murray. It was Kay who got the first opportunity to stake his claim, partnering Murray in front of Harry Bromage, the omnipresent custodian.
City had closed their previous campaign with a strong burst of form, losing just two of their last eleven games, and the Selection Committee kept faith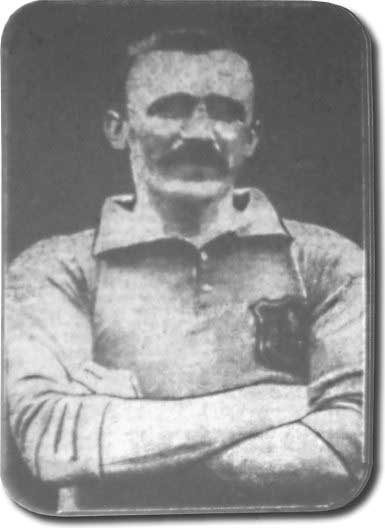 with most of the men who had featured in that run when they determined their choice to open the new season.
The half-back combination for the opening day saw Hynds partnered by Tom Tompkins, a close season signing from junior club Denaby United, and old hand James Henderson. Croot was the only change up front, coming in to partner Fred Parnell, Bob Watson, Billy McLeod and Jack Lavery.
As the City eleven took the field in their usual strip of dark blue shirts with old-gold trimming, white shorts and blue socks for the season's opener, hopes were exceptionally high. Their first test came on 2 September at home to Glossop, who had barely survived a year-long battle to avoid re-election, securing their position only in the final week of the season. The Peacocks looked forward to a soft curtain raiser to bolster their confidence for what they hoped would be a successful campaign.
Sure enough, they emerged with a win, the 2-1 scoreline meaning that for the first time in their short history the team had earned full points from their opening fixture. However, they struggled against a Glossop team that battled manfully and took a totally unexpected lead after half an hour when Mackenzie, their centre-forward, gave them something to show for a decent period of play.
In the second half, the debutant Croot turned the game City's way with some excellent football, laying on both goals. First, he went on a sparkling run down the left flank and pushed the ball inside for Lavery to beat goalkeeper Tustin; later, his canny lob into the centre struck the bar, dropping down for Watson to head the winning goal, though it was later recorded as an own goal by the keeper.
The former Sheffield winger was the day's star turn, as noted in the Leeds Mercury: 'In Croot, the club have obtained a really good man for the outside-left position. He pleased the crowd with his splendid turn of speed and the accuracy of his centres. He knows how to play to his inside man.'
The paper was less impressed with Croot's teammates: 'Parnell and Watson have not yet got into their best form … the forward line … playing somewhat raggedly … Tom Hynds … acted as captain yesterday, and although he has a fairly good control of the ball he struck one as being somewhat slow. No doubt, after a little more training, he will improve in this respect.
'Henderson was as warlike as ever, and he covered a lot of ground, doing a great deal of useful work. Tompkins, who played in the right-half position, did not show as good form as in practice games. He had some difficulty in keeping his feet on the slippery turf, and occasionally might with advantage have gone for the ball instead of waiting for it to come to him.
'With regard to the backs, Murray and Kay came out of trying situations in clever fashion. Yet they were not steady enough to inspire one with confidence. Murray was the better of the pair, and kicked with strength and tackled with certainty. Bromage in goal kept out some rasping shots, but he left his charge two or three times riskily, and a little coolness on the part of the attackers might have ended in disaster.'
Nevertheless, a win was a win and Croot's sparkling display hinted at some enjoyable moments to come in a season that brimmed over with rich potential.
Tom Hynds gave a better performance in the match that followed at Leicester Fosse, with the Mercury's Wanderer noting, 'Hynds was undoubtedly the pick. The manner in which he engineered the ball and placed it was exceedingly clever, and it is no exaggeration to say that he was the mainstay of the team. As a captain, too, he was exceedingly useful, and kept his men together cleverly.'
City played well and should have won - there was no score at the interval but the Peacocks fought back after falling behind to take a 2-1 lead with goals from Watson and McLeod. It looked like they would hold out to take both points, but Leicester luckily equalised in the final minute when Harry Bromage allowed a soft shot from Middleton to slip through his fingers.
The City players could have been excused for letting the disappointment of the dropped point affect their play, but two days later they bounced back in astonishing style with a breathtaking 5-2 victory at Elland Road against Clapton Orient.
In March 1906, the Londoners had shipped six goals against City, and while the winning margin this time was a mere three goals, the play was every bit as one sided. Clapton keeper Whittaker suffered a nightmare, surrendering goals to Watson and Croot in the first ten minutes with some schoolboy errors. Further efforts by Watson and Lavery built up a four goal lead by the interval before inside-forward Oliver pulled a couple of goals back for Orient in the second half. Stung by this, City rallied and Lavery scored his second and the Peacocks' fifth in the last few minutes to leave Leeds impressive winners. The victory saw the club sitting for the first time atop the Division Two table.
It was early days as yet, but progress was heartening, as noted in the Mercury by Flaneur: 'Leeds City may not maintain their present high position in the Second Division of the League; they will, in the ordinary course, suffer their defeats and disappointments; but they have, I think, a team capable of achieving a greater measure of success than fell to the lot of the club last season. Weak places have been strengthened by the acquisition of Tom Hynds and Croot, and, though one must keep an open mind as to the possibilities of Kay and Tompkins, the whole team seems better balanced than was the case a year ago.'
Top of Division Two - 14 September 1907

Pos

P

W

D

L

F

A

Pts

1st

Leeds City

4

3

1

0

12

7

7

2nd

Hull City

4

3

0

1

5

2

6

3rd

Gainsboro' Trinity

3

2

1

0

6

2

5

4th

Clapton Orient

5

2

1

2

8

12

5

5th

Fulham

3

2

0

1

7

2

4

6th

West Brom Albion

3

2

0

1

8

3

4

7th

Derby County

3

2

0

1

8

3

4

8th

Oldham Athletic

2

2

0

0

5

2

4
Their leadership of the table was reinforced by a hotly contested 3-2 victory at Blackpool on September 14. The Seasiders equalised twice after first Bob Watson and then John Lavery gave City the lead. Fred Croot produced another sparkling performance and laid on a late winner for Fred Parnell with a dangerous cross into the goal area.
City were rapidly becoming a force to be reckoned with, carrying all before them on the back of Croot's penetration. The winger was inspiring the men around him.
The opening run of games was just what the doctor had ordered. Many of the clubs below City had games in hand, but this did nothing to quell the joy of everyone associated with Elland Road - the Peacocks finally seemed to be living up to the expectations of Gilbert Gillies and the club's directors.
They were given food for thought a week later, though, when City's unbeaten run was rudely ended by a 2-1 defeat at Stoke on September 21.
The first four games had seen the same eleven on duty, but now a change was forced by the absence of young Tom Tompkins, missing through an injury sustained at Blackpool. 21-year-old Jimmy Thorpe thus made his debut, and he did well enough, proving himself, according to Wanderer in the Leeds Mercury, "a very capable half-back. He is very cool, and uses good judgement when passing the ball."
His colleagues, though, were not displaying the same confidence, as Wanderer commented: 'Leeds City were very disappointing. They did not infuse into their play the dash which has characterised their previous exhibitions. They were too slow on the ball, and in this respect gave their opponents a great advantage. The most disappointing feature

of the game was the poor display on the right wing by Parnell and Watson, who generally prove so effective. True, Parnell scored the only goal - the result of a neat bit of work; but with this exception, his play was far from brilliant. Watson spoilt himself by sticking to the ball too much. Time after time he would attempt to dribble past several of his opponents when one of his colleagues was waiting for the ball. The back division, too, was not as sound as one could have wished for.'
The Potters opened the scoring after 15 minutes, but City missed a number of chances before Parnell equalised just prior to the interval. Stoke made their dominance pay when Williams fired home from 25 yards, and they always looked the better side, benefiting from the Peacocks' lacklustre football.
The Stoke reverse looked to be a mere blip, though, when Billy McLeod opened the scoring a week later, after just three minutes against a strong West Bromwich Albion side. An enthusiastic crowd of 24,000 saw City retain that slim lead to the finish, making the most of a man advantage after Albion full-back Williams was taken off with concussion in the twentieth minute. Albion already had Pheasant, their centre-half, playing in some pain after being injured in an earlier clash with Tom Hynds. The Throstles, inspired by the superb Jesse Pennington, more than held their own and had the chances to equalise, but could not get back on terms, leaving City to take the points.
Pennington was a classy full-back, playing 455 League games over two decades for the Midlanders and winning 25 England caps. He towered over everyone else at Elland Road that day with a magnificent display, almost single handedly holding the City forward line at bay.
If Leeds enjoyed all the fortune against Albion, they had none whatsoever when they took the short trip across the West Riding to face Bradford City on October 5. Like West Bromwich the week before, the Peacocks conceded an early goal and were left in disarray after injuries to key players. There the similarity ended, for City exhibited a total lack of fighting spirit and were easily put to the sword.
Valley Parade registered a new record attendance as 21,000 people flocked through the turnstiles, and the fervent home fans saw their favourites go two up within four minutes, opening their account with a penalty.
Jack Lavery injured his ankle in the twentieth minute and was rendered a limping passenger. Full-back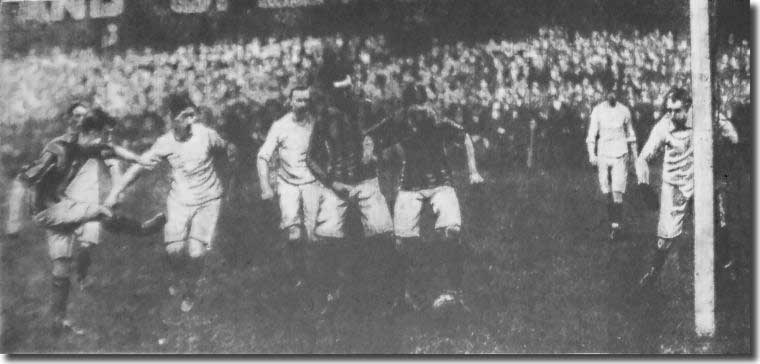 David Murray had earlier suffered a nasty gash after a clash of heads, but soldiered on for a while. Eventually, he had to leave the field, with City forced to play the second half with just nine fit men.
Leeds managed to prevent any further score until shortly after the hour mark, when the floodgates opened. The Peacocks conceded a further three goals before the conclusion, finishing on the wrong end of a 5-0 scoreline.
The team rallied the following week and won by the odd goal in five against new League leaders Hull City. Leeds came back from 2-1 down to score twice in the second half and register a thrilling victory. Stan Cubberley made his first appearance of the season at inside-left, peppering up the front line, but once more it was Fred Croot who took all the honours with a splendid performance. He laid on goals for Bob Watson and Billy McLeod and forced a penalty, though McLeod's spot kick was saved.
Croot was eminent in all that was good about City's play, and he had sustained his form quite splendidly throughout this entire opening run of games, while Tom Hynds continued to enhance his reputation with some solid displays at centre-half.
Neither man was on form, though, on October 19 at Derby County as City disintegrated in the face of some strong attacks, with Rams inside-left Alf Bentley netting four times in a 6-1 debacle.
Goalkeeper Harry Bromage, an automatic choice since City were first elected to the Second Division, was the scapegoat for two heavy defeats and was summarily dropped to make way for Tom Naisby, freshly signed from Sunderland.
The Leeds Mercury reported: 'The Leeds City Selection Committee have gradually been weeding out the players who were in at the formation of the club. The latest to stand down is Bromage, whose place in goal against Lincoln City at Elland Road is to be taken by Naisby of Sunderland, who has just been secured for the club. Bromage seems to have been very warmly peppered with shots in recent matches, and he has been unable to stand the fire successfully. Even the greatest goalkeepers will break down now and then. Perhaps the defence generally is capable of improvement. Bromage, no doubt, envies Muir of Bradford City, who is fortunate in having such strong backs and clever half-backs to take a lot of work out of his hands.'
There was some controversy over the change, as Bromage was a popular figure round Elland Road. The Mercury's Nimrod noted in his report of Naisby's debut, a 2-1 win at home to Lincoln City, 'The critics certainly looked forward to the appearance of Naisby in goal with some curiosity, and there were those who would have quickly said bitter things at the expense of the management for having the temerity to displace Bromage had Naisby failed to make a satisfactory debut. Bromage's ability is well known; he still has the skill, and one must sympathise with him on having so many goals scored against him of late. But he is not primarily to blame, for it must be borne in mind that the defence has not been above reproach, particularly in the wing half-back positions, though the backs have not been too steady. Naisby was fortunate in this respect on Saturday; he was well supported by those in front of him.'
Top of Division Two - 26 October 1907

Pos

P

W

D

L

F

A

Pts

1st

Hull City

11

8

0

3

21

10

16

2nd

Leeds City

10

6

1

3

20

23

13

3rd

Bradford City

8

5

2

1

26

5

12

4th

Oldham Athletic

8

6

0

2

15

5

12

5th

West Brom Albion

9

6

0

3

17

7

12

6th

Leicester Fosse

9

4

4

1

14

8

12

7th

Fulham

10

6

0

4

19

13

12
The win, with first half goals from Parnell and McLeod, lifted City back up to second in the table behind Hull City, but the team's form was definitely on the slide. On the positive side, Naisby proved an outstanding replacement for Bromage, Hynds and Croot continued their good work and Cubberley had brought a desperately needed work ethic to the team, but all the hope engendered by the first four games was fading rapidly.
The problem was that the rest of the side just could not maintain the consistency that was needed to mount a serious challenge for promotion - they could be brilliant one week and yet look like no hopers the next.
David Murray and Harry Kay were the regular partners at full-back but left Naisby far too exposed far too many times, though Murray was the sounder of the two men. A number of players had been tried at right-half, but none had been entirely successful at the side of Hynds and Cubberley.
The real deficit, though, lay among the forwards where there were too many chances missed after decent lead up play: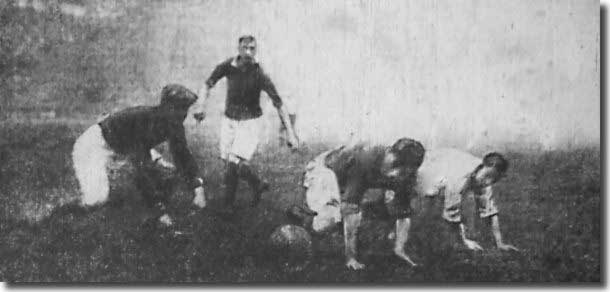 Parnell, McLeod and Croot had played every game, with the other places being filled by any two from Watson, Lavery and Thomas, but none of the combinations had really set the world on fire. Croot was a constant inspiration on the left flank, but he could not do it all on his own, and there was just too much insipid play.
'Leeds City were very disappointing. They did not infuse into their play the dash which has characterised their previous exhibitions. They were too slow on the ball, and in this respect gave their opponents a great advantage … The Leeds forwards were not great. One was always wanting them to go ahead as if they had some powder behind them, but instead they finessed and were robbed of the ball.'
The team went five games after the Lincoln victory without a win, and their dreary run was extended to just a single success in nine by a drab goalless draw at home to Gainsborough Trinity on December 28, City's final game of 1907 - the team had now sunk to thirteenth spot and were left sneaking edgy glances over their shoulders at the re-election zone.
It was an astonishing about turn in fortunes, which even the arrival in November of Stoke inside-forward Jimmy Gemmell (who had won a league championship medal with Sunderland in 1902) did nothing to improve. The team had lost eight of their games away from Elland Road, and were becoming an easy touch for even the lowliest opponents.
The home form was strong enough, though, and Wanderer wrote in frustration in the Leeds Mercury after a 2-0 defeat away to Wolves on 21 December: 'Leeds City seem determined not to secure another victory away from home. The only time they have notched two points on foreign soil this season was on September 14th at Blackpool, and since then they have not brought a point back to Leeds. And it is all the more aggravating when one takes into account the form shown by the team on the Elland Road ground.
'One can call to mind many matches on that enclosure this season in which the City team have been particularly brilliant. As recently as last week, for instance, when Grimsby Town were so handsomely beaten, there was an all round excellence in the home ranks, but a very different tale has to be told of Saturday's match.
'The outstanding weakness of the team was the lack of combination. At times the men seemed as if they could not put the ball in the right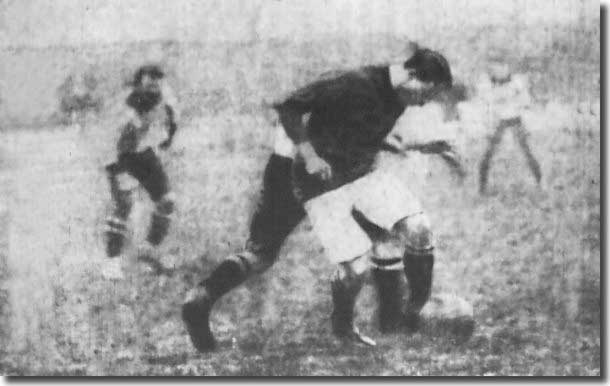 place, and consequently countless opportunities were put in the way of their opponents.'
A season that had opened positively and promised so much was rapidly turning into a nightmarish campaign to forget for manager Gilbert Gillies. Something drastic needed to be done and very quickly.
Other Football Highlights from 1907/08
Manchester United, in only their second season back in the top flight, took Division One by storm. Their extraordinary 6-1 win over champions Newcastle was their seventh out of 13 wins from their first fourteen games as they built up a commanding lead at the top. They faltered in the second half of the season, but such was their lead that they won the title by nine points
Newcastle appeared jinxed in the FA Cup with their 1908 final defeat at the hands of Wolves at the Crystal Palace ground their third runners up spot in four years
Celtic repeated their Scottish league and Cup Double success
England shared the Home International title with Scotland and played their first full international on foreign soil on 6 June 1908, beating Austria 6-1 in Vienna. Within a week, they repeated the dose - 11-1 this time - and then beat Hungary 7-0 and Bohemia 4-0
Manchester United's Billy Meredith chaired the inaugural meeting of the Players' Union on 2 December 1907 at the Imperial Hotel in Manchester