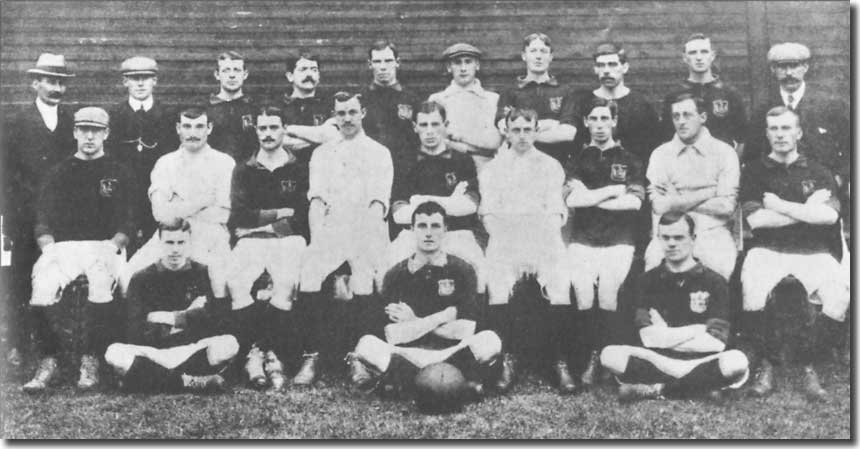 Part 2 - Results and table
Leeds City AFC had made remarkable progress since the club's formation in 1904, culminating in a promising debut among the Big Time Charlies of the Football League. City ended 1905/06 in a healthy sixth place in the Second Division and astounded many good football judges with the quality of their play.
The club's directors were determined to build on these hopeful foundations and took steps to ensure they had a home worthy of their ambition. The board appointed a Ground Committee, comprising D Whitaker, R S Kirk and R Younger, to oversee the development of the Elland Road stadium. They had first hatched reconstruction and expansion plans when the club bought the ground in 1905.
The board had been heartened by the patronage of football's powers-that-be, eager to reward the emergence of a potential new stronghold of the game in West Yorkshire. The Woollen County had always previously been a bastion of cricket and rugby; only the more enlightened pioneers from the Sheffield area had championed the upstart 'Socker', and the Football Association were determined to reward converts to the dribbling code. They provided official recognition by choosing Elland Road to stage a North v South England trial match in January 1906. A month later, the City directors launched the next stage of their development plans by paying out £420 to acquire 3,961 square yards of land on the Churwell and Geldard Road side of the ground from the Monk's Bridge Iron Company.
Building work took much longer than originally planned. On 3 September the Leeds Mercury explained the delay, reporting that the club "had been handicapped in the construction of the grand stand owing to the Corporation demanding that they should delve three feet below the level of the rhubarb in the adjoining field!"
On 17 November, before the home match with Chelsea, the Lord Mayor, Joseph Hepworth, father of the Leeds City chairman, Norris Hepworth, formally opened the new grand stand. The Mercury: 'Saturday marked an epoch in the history of soccer in Leeds, and of the Leeds City Club. The function was officially described as the opening of the new grand stand, but it was something more than this. It was really the opening of the new ground, and therefore an earnest beginning of what, it is hoped, will be a long and prosperous career for Leeds City. The club have now a magnificent ground, splendidly equipped in all departments.
'The new grand stand is a palatial structure, which has cost £3,000. It gives seating accommodation for 4,000 persons. Some idea of its size may be gathered when it is stated that it is 93 yards long and six yards wide. Over half a mile of steel has been used in the formation of the girders, and there are over 2,000 yards of corrugated sheeting in the roof. Running underneath the stand its entire length is a training track for the use of the players in wet weather. There are also dressing rooms and officials' rooms, while at the Elland Road end of the stand a motor garage has been provided, so that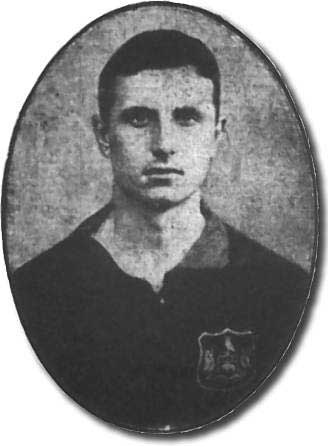 the management are quite up to date.'
In addition, extensive drainage work was laid under the turf to deal with the problems that had been experienced with waterlogged pitches all through the previous season. The City players needed dry and firm conditions to make the best of their passing game and had been forced many a time to ply their trade in conditions resembling a swamp.
It was not just off the field, though, that things were developing, as the club took steps to improve its playing strength during the summer of 1906.
Grimsby Town tempted away both Jock Macdonald and Welsh international Dickie Morris, while Bill Clay (Derry Celtic) and Harry Stringfellow (Preston North End) also moved on. The club's ranks were swollen, however, by a host of newcomers and there was a significant growth in numbers. Inside-left Jack Lavery, goalkeeper Jack Whitley, and four Tottenham players, John George (taking over from Dick Ray as captain), James Freeborough, Willie Murray and George Page, all arrived during the closing weeks of the season. The six were joined in the summer by Plymouth Argyle left-back Andy Clark, wing-half Stan Cubberley from non-league Cheshunt, Bradford City winger Bob Jefferson and Brighton half-back Jimmy Kennedy.
In those days a Selection Committee determined the make up of the team. Secretary-manager Gilbert Gillies owed them a debt of gratitude for so enhancing his resources and he looked forward with some enthusiasm to the new season, hoping that a decent debut was merely the precursor to a promotion push.
The season kicked off on 1 September, and the opening day brought West Yorkshire rivals Bradford City the short distance to Elland Road. Supporters from both sides flocked to the contest, boosting the attendance to nearly twenty thousand, although only 16,420 actually paid to see the game. The receipts were £454, close to being a ground record.
Bradford had finished below the Peacocks in 1905/06, but were an accomplished outfit, doing the double over Leeds. Their supporters looked forward to seeing their own new recruits, Robert Campbell, Fred Farren, Leonard Newton and James Garton, although their forces were depleted by the loss of fiery forward Jimmy Conlin to Manchester City in the world's second £1,000 transfer. The Bantams' followers could also marvel once more at the goalkeeping phenomenon, William 'Fatty' Foulke, one of the most famous players of his day.
Foulke joined Bradford from Chelsea five months previously, having won FA Cup winners' medals with Sheffield United in 1899 and 1902, sandwiching a final defeat in 1901. He won his only international cap in 1897, becoming, at 6ft 6in, the tallest footballer ever to represent England, and he peaked at a massive 26 stone during his spell with Bradford. In his time, goalkeepers did not have to stay on the line when penalties were being taken and Foulke used to race out to intimidate opponents with his massive physique, earning a reputation as an expert penalty stopper. He once forced a game to be stopped as a crossbar snapped under his weight when he made a save.
James Henderson, Charlie Morgan and Bob Jefferson were all unavailable for Leeds, but Andy Clark and Jimmy Kennedy made their debuts as the Peacocks lined up thus: Harry Bromage; David Murray, Clark; Jack Morris, John George, Kennedy; Fred Parnell, Bob Watson, David Wilson, Jack Lavery, Harry Singleton.
Many of those players had been stalwarts the previous season, with Bromage, Parnell and Wilson the pick of the bunch. It looked a decent side on paper, but they quickly found themselves getting the runaround from opponents who had enjoyed better pre-season preparation and looked considerably the fitter of the two teams.
Flaneur in the Leeds Mercury: 'It was not a fit day for football, with the thermometer 92 in the shade, and no player should have been asked to play in such a temperature … As a test of endurance the encounter must rank really high. The perspiration simply rolled down these well-trained athletes, while the straw hatted, flannel-suited spectators almost groaned in misery under the scorching sun.
'Those of us who had the fortune to secure some shade could well afford to sympathise with the unhappy players. We assuredly admired them for their pluck and stamina, and we admired the Bradford men more than their rivals … They played with more dash and fire, and certainly with more method. Their attacking movements were conceived with some skill, and with an apparent understanding of each other's play, and as tacticians they were far ahead of their opponents.'
Wallace Smith, a constant threat on the Bantams' right wing, opened the scoring for Bradford in the first quarter of an hour after a beautiful move. The goal only confirmed the visitors' dominance - they had a vice like grip on the game and knew it, as did Leeds City.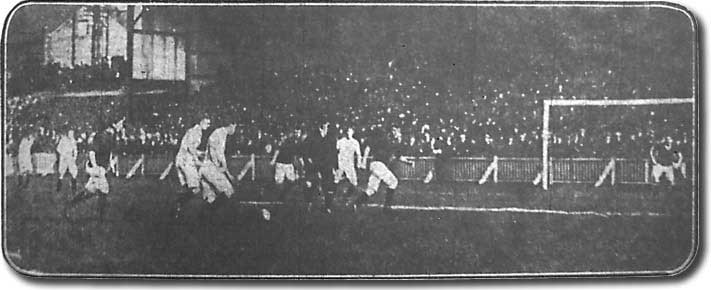 Harry Bromage denied Bradford time and time again, stopping everything that was thrown at him. The Bantams slackened off as time approached, convinced they had done enough to secure the points, but their complacency was their undoing. With five minutes to go, George, Morris and Wilson combined well to contrive an opening for Lavery, who equalised with a low, slow shot that goalkeeper Foulke never got near stopping.
City had been badly outplayed but emerged with an undeserved share of the spoils, as Flaneur observed: 'I heard two remarkable diverse opinions on the result as the huge crowd emptied itself from the remodelled and now excellently appointed Elland Road ground. One enthusiast asserted that on the run of play the draw was a fitting result. But he was, no doubt, a red hot Leeds partisan, and I imagine he had his tongue in his cheek. The other pointed out that Bradford City ought to have won by six goals. I am convinced he was a Bradfordian. The impartial man would strike a balance between these two rather wild party opinions. He would tell you, if he understood the game, that Bradford should have won on the play by two or three goals, and he would be right.
'With the exception of Bromage, in goal, and Murray, at right-back, the Leeds men were behind their opponents in all departments. Andrew Clark seemed unable to cover the deficiencies of his half-backs as well as Murray, who was always good. Both backs were, however, too hard worked.
'The half-back line was the worst department. Morris and George changed places in the second half, but neither this couple nor Kennedy showed such form as characterised the opposition. There was an entire lack of combination between them and their forwards, of whom Wilson was the chief disappointment. Parnell and Watson did fairly well, but Singleton lacked dash and enterprise, and Lavery was no match for the tall Bradford captain Robinson. It will not surprise me to find a few changes, especially in the half-back line, in the Leeds City team for the next match.'
The performance was a bitter disappointment for everyone connected with City, and the Selection Committee reacted anxiously with a number of changes for the following Saturday's visit to West Bromwich Albion. Right-half Morris was injured in the first half against Bradford, and was replaced by George, whose position in the centre was taken in turn by Fred Walker. Lavery and Singleton were summarily dropped, and Stan Cubberley and Willie Murray were installed as the new left flank pairing.
The changes made no difference. Or, rather, they had an adverse impact, and City returned from the Midlands on the wrong end of a 5-0 thrashing. Nimrod in the Leeds Mercury: 'Leeds City have not improved. Their exhibition against Bradford City was bad, but they gave an even more disappointing display at the Hawthorns on Saturday when they met West Bromwich Albion.
'Although one did not expect the Elland Road men to return with points, one hoped at any rate that the eleven would give a creditable account of themselves. To be candid, however, they failed to do so in most lamentable fashion, with the result that they were beaten by five goals to nothing. Nor does the score at all exaggerate the superiority of the victors. Fore and aft, individually and collectively, the Midland team were the masters, and it was evident that there will have to be a vast improvement in the general play of the Leeds City team ere points can be obtained.
'The great weakness in the half-back line was again emphasised. George, Walker and Kennedy certainly tried hard, but they absolutely failed to hold the nippy, clever and speedy forwards of the Albion team.'
City never got going, from the moment early on when Shinton opened the scoring. Buck added a second around the quarter hour mark, and the two scored again after the interval. Pheasant piled on the agony in the last few minutes with a long-range skimmer to complete a miserable day for Leeds City. It was very much a case of back to the drawing board for Gilbert Gillies.
The same pattern persisted for several weeks, as the Selection Committee chopped and changed the line up, to little benefit. By the end of November, 24 players had been tried with varying degrees of success, and only three victories had been secured from 14 games. Leeds lay fifth from bottom of the table, a mere two points above a re-election place.
Bottom of Division Two - 24 November 1906

Pos

P

W

D

L

F

A

Pts

12th

Grimsby Town

14

5

1

8

18

23

11

13th

Lincoln City

14

4

3

7

18

23

11

14th

Burslem Port Vale

14

5

1

8

24

36

11

15th

Chesterfield

14

4

2

8

16

24

10

16th

Leeds City

13

3

4

7

14

25

10

17th

Barnsley

13

4

1

8

21

20

9

18th

Glossop North End

13

4

1

8

19

40

9

19th

Blackpool

14

2

4

8

12

25

8

20th

Burton United

14

3

2

9

11

30

8
This was a totally unexpected turn of affairs, and prompted a bout of soul searching and derision from supposedly loyal supporters. The Leeds Mercury carried a series of angry denunciations in the opening weeks of the season, so pointed and barbed that they provoked retaliatory correspondence from Gilbert Gillies.
'True Peacock': 'It is quite obvious that some changes must be made … The passing of the forwards has been very weak, in fact, shocking to a team like Leeds City. There has been an entire lack of fire and dash in their play, and even when they get to the goalmouth they seem as if they don't know where the net is.'
'Pitchfork': 'Now that we have seen the practice matches and the opening match with Bradford City, and have been mercifully spared the blight at West Bromwich, and carefully marked and digested the efforts of the club's players, such as they are, it raises the above question in our minds.
'We take, for instance, Bradford City, who have as manager a tried and approved player, who has this season put in the field a team that is a credit to him and his club - a team that can practically do as it likes with the Leeds team - and who have sold a player for £1,000. We dare not allude to the eight goals' smashing the Reserves gave the Leeds Second Team at Bradford. The majority of his players are smart young athletic fellows gathered from various smaller clubs and so on.
'We take Hull City with its manager, Ambrose Langley, the old Sheffield Wednesday player, a man who can spot young talent when he sees it, and is capable of selling at a fancy price to the Leeds City Club David Wilson, a man who has had his day, and Ambrose Langley knew it, if the Leeds City management did not. Hull City Club's players are like Bradford City, for the greater part, rising young players secured from smaller clubs, at small prices.
'Candidly, leaving out these two capable and class men, Bromage and David Murray, the composition of the Leeds City teams can best be described as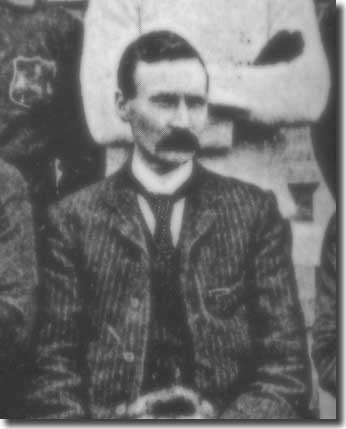 old crocks and League Club cast offs.
'Why not have secured as manager a man like Fred Spiksley, the old Sheffield Wednesday internationalist. Leeds City had him here in Leeds two seasons ago. What Fred Spiksley does not understand about football and young talent, surely, should not be worth knowing.
'In conclusion, I am not picking out imaginary faults, and what is more I have no axe to grind. What I like is to see a good football match, but I am honestly convinced that under present conditions I shall be disappointed at Elland Road.'
Gillies was stung into a sharp response and his letter was published in the Mercury on 12 September: 'I am rather surprised that the columns of your valuable paper should be open to letters such as the one written under the nom de plume of 'Pitchfork'. When consideration is given to the short period which Leeds City has been in existence, I think the success it has attained is sufficient reply to the scurrilous attack.
'Comparisons are drawn between myself and other managers, but Pitchfork seems to have forgotten that two of those named had teams and grounds when they were engaged. The City ground was covered with Pitchforks - weeds - when the club was formed into a company, and the team was not even a skeleton of a West Yorkshire team, as reference to your files will show.
'In reply to Pitchfork's attack on the players and myself … if he will only have the courage to sign his own name and address, he will receive a reply to that address which should remove his accumulation of bile and spleen since he found himself on the wrong end of the fork.
'As far as the players and myself know - and we have the best of grounds for saying so - we have only one enemy in Leeds. That enemy adopted several nom de plumes last season, and spent his Sundays in writing letters to the press when we had struck a bad patch, and Pitchfork's letter was in the same old strain. Perhaps he is a disappointed man, as his letters are all very much alike. Inquiries were made at one place last season, but no one knew the name of the writer, who had given a certain address. Having had some experience of Press work, and having on many occasions read the postscripts, "Whatever you do, you must not publish my name," etc, I may say that I have the greatest contempt for the man, if such he can be called, who attempts to injure others through the medium of the press under a nom de plume.
'Considering the difficulties under which the season has been started, I think the team ought to be at least given a chance until they are fully represented, as it is early yet to pass, or to be a party to passing, any such sweeping condemnations as used by Pitchfork. For True Peacock's information I beg to state that at the time of the writing, Henderson, Morgan, Walker, Morris, Wilson and Bromage are all on the injured list; and to add to these misfortunes, Jefferson's services have not been available up to the present.'
Gillies was not without his proponents and 'True supporter' offered an ironic comment regarding the views of Pitchfork: 'On reading his (Pitchfork's) letter, it makes one wonder how it was that the City officials missed such a chance. His letter showed him to be a rare man with rare qualities. Look at his reasonableness. Look at the unbounded confidence which he has arrived at.
'I should like to suggest to the City officials that they make every endeavour to get to know who he is and engage him. He would use such good judgement that they would not need any committee meetings. He would always do the right thing. He would never make a mistake, and before very long we should have a team that would be able to hold its own with any First Division club.'
The spat faded away after a while, but was evidence of the depth of local feeling at the time, and the intense disappointment with the team's poor form.
The three victories that were achieved during the first 14 games came in successive matches during October as City climbed to 8th place, and were quickly seized upon as evidence of a return to form. However, events conspired to nip any chance of a revival in the bud, and bring a cloud of despair to Elland Road, as tragedy struck the West Yorkshire club.
Centre-forward David Wilson collapsed in the second half of the home defeat to Burnley on 27 October. He died of a heart attack in the dressing room after returning to the field when John Lavery and Harry Singleton sustained injuries. In a misguided sense of loyalty to the team, Wilson threw away his life and left his team mates wracked with grief.
It was a tragedy of epic proportions and struck right at the heart of the club's spirit and morale.
The aftermath of the game brought four straight defeats which saw the club slump to the very edge of the re-election zone. Very soon, however, a newcomer was to appear who would revive the fortunes of a club that seemed dead on its feet and commence a celebrated association with Leeds City. Billy McLeod was to become one of the most lethal finishers in the game and establish a glittering reputation after he moved to Elland Road from Lincoln City.
Other Football Highlights from 1906/07
In winning the League title for the second time in three years, Newcastle United dropped only one point at home. This came in their last home match, but the point they earned from their goalless draw with Sheffield United was enough to clinch the title. Newcastle lost at home in the FA Cup first round to Crystal Palace, who were languishing near the bottom of the Southern League at the time
Newly promoted Bristol City came with a late run to earn runners up spot in the League and Nottingham Forest won the Second Division title
Sheffield Wednesday won their second FA Cup by beating holders Everton 2-1 in the final
Celtic became the first club to achieve the Scottish League and Cup Double and this was their third consecutive League title
Wales broke the Home International stranglehold of England and Scotland by winning the title for the first time. Manchester United's legendary right winger Billy Meredith was their inspiration