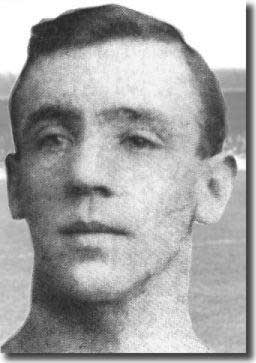 Born: Rhyl, Wales, around 1887
Hugh Roberts, one of three football-playing brothers, was a diminutive and skilful winger who relied on tricky footwork, speed and accurate centres to get the better of opposing defences. He was a slight figure and could be bullied out of the game, but on his day he was a real danger man and centre-forward Billy McLeod profited extensively from the service provided by the Welsh wide man.
Roberts began his playing career with Southport Central in 1908/09 and he was signed by Leeds City at the end of the season. He was soon established as the Peacocks' outside-right, though it was City's seventh game of the season, on 9 October at home to West Bromwich Albion, before he was given his debut. He did well, and though he had to wait a couple of months for his next appearance, from that point on he was an automatic choice. He ended the campaign with six goals from 25 appearances.
At the start of the 1910/11 season, Roberts was joined at City by brothers Albert and Dick, both full-backs. They moved in with Hugh in his house in Parkfield Grove, Beeston, in the shadow of Elland Road. The two defenders never made it into City's first-team but Hugh went from strength to strength. He missed the opening two games of the campaign, but just one thereafter, and scored four times, adding another in the Cup.
Hugh Roberts reached the peak of his powers in 1911/12 when he was consistently rated City's best forward. The comment in the Yorkshire Evening Post right at the start of the season that 'Roberts was the outstanding figure in the home front division,' was typical of the praise he received throughout the campaign. The Leeds Mercury after a goalless draw with Chelsea in September: 'Roberts was entirely excellent, and McLeod would have been well advised in giving him a wider berth so that he might have utilised his centres from a good shooting position. Roberts is one of those wingers who do not need dry nursing from their inside men. He can, and did, go it alone, and it was not his fault that so many of his good things went begging in front of the Chelsea net.'
Two months after City sold Billy Gillespie to Sheffield United for £400 in December, manager Frank Scott-Walford was forced to strenuously deny that Roberts would go the same way as Peacocks supporters murmured their discontent as their star players were stalked by other clubs.
Roberts lost his place the following season after being a regular choice for the first three months. He got the winner in a 2-1 victory at Nottingham Forest on 30 November, but, as Wanderer reported in the Leeds Mercury, 'Although Roberts improved in the second half, and scored the winning goal - for which he is entitled to every praise - he has yet to show that he is the Roberts of old.'
His loss of form might have had something to do with the birth of his third child that month, christened Herbert after new manager Herbert Chapman. The City boss signed young winger Simpson Bainbridge during November, pitched him straight into the first team and Roberts never got another sniff of senior action.
He moved on to Scunthorpe & Lindsey United at the end of the season with centre-half Tom Morris and a year later signed for Luton Town, with his playing days brought to a sudden end by the onset of war.