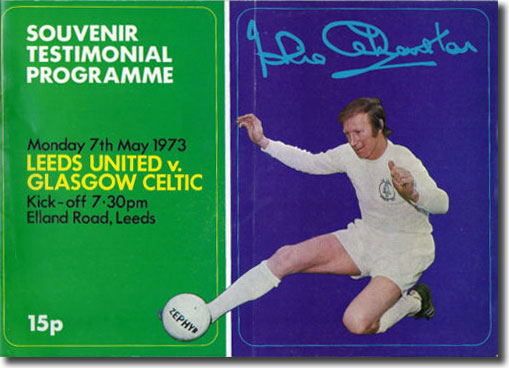 Two days after Leeds United's FA Cup final debacle against Sunderland, came a rather happier occasion, though it was one tinged with regret.
After more than twenty years as bedrock of the Elland Road club, Big Jack Charlton was finally calling it a day as a player and about to begin his managerial career at Second Division Middlesbrough. The moment was fittingly commemorated by Charlton's benefit game, against Jock Stein's Celtic.
Charlton's testimonial year had been launched at the start of August 1972 and the date with Celtic was fixed in November, much to the centre-half's delight.
United manager Don Revie was keen to see Charlton remain at the club in some capacity and had offered him a new two-year contract at Elland Road. Revie said at the start of the season: 'Two of the hardest things a manager has to face is to tell a 17-year-old he has not made the grade and to tell a senior player you are going to replace him. This is especially true when it is a player like Jack Charlton who has hardly ever been in the treatment room and has played for Leeds more than once with a broken nose and stitches in leg wounds.'
Commenting on the dropping of Charlton at the start of the campaign in favour of new signing Roy Ellam, Revie added: 'Knowing Jack, he will now train twice as hard to get back in the first-team.' He also disclosed that Charlton would take on a new role watching players, helping with coaching and playing in the reserve team while still being ready for first-team action if needed.
Charlton was given a speedy recall after Ellam was found wanting in the 4-0 opening day defeat at Chelsea. The veteran returned for the next game, against Sheffield United, and rose to the occasion, earning rave reviews.
But by February Big Jack had decided that his future lay away from the club, commenting: 'As I see things at present, I must make a complete break with the club and if I was offered a job at Elland Road I would not take it … I have had offers to go overseas to do some coaching and I may do that but having had such a share of the limelight with Leeds over the past years I do not think I could ever be really settled doing junior team coaching or anything like that.'
Charlton later revealed, 'Long before the end of the 1972/73 season, I had already decided to hang up my boots and go into management, I was approaching my thirty-eighth birthday, I had seen it all as a player and, frankly, I didn't fancy the idea of soldiering on for another year. I was no longer an automatic choice in the starting line-up. At the beginning of the season, Don had signed Gordon McQueen as my understudy - a tall guy and a good header of the ball, though he never knew where it was going. Don had taken me aside at the beginning of the season and explained that he would be replacing me in the first team from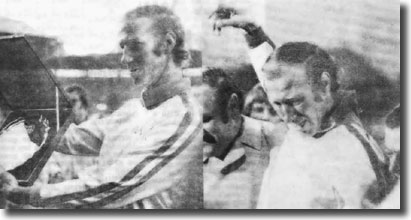 time to time. "The problem with you," he said, "is that you can now only motivate yourself for the big games" - and, on reflection, I had to admit that he was quite correct.
'When I told Don I wanted to retire, his initial reaction was that I had still something to contribute to the team. He offered me a two-year contract, and I think he had an idea that I might finish up on the staff at Elland Road. But he didn't push it too hard. Typically, he told me that his phone line was always open if I needed any advice after leaving the club. That was an invitation I appreciated. Don was the best in the business, and if anybody could set me right on my new career as a manager, it was him. As it transpired, most of my subsequent conversations with him were purely social - but it was reassuring to know that he was in the background if I needed him.'
After being written off at the start of the campaign, Charlton had a first team Renaissance when it became clear Roy Ellam would struggle to fill his boots. Big Jack lost his place in mid-season but then earned a surprise recall at Coventry on 2 April and retained his place for the FA Cup semi-final against Wolves. Unfortunately, he limped off with a hamstring injury after half an hour. His final official appearance came on 28 April at Southampton and once more he tweaked his hamstring, but he declared himself fit to at least begin his testimonial against Celtic.
The first whisper of a link between Charlton and the Middlesbrough job came at the end of January following the resignation of existing manager Stan Anderson. At that stage, Boro chairman George Winney told the Yorkshire Evening Post, 'I can state categorically that at this stage it is all rumour and speculation. We have no one in mind. We have no one lined up. Apart from myself, Anderson's resignation took the directors by surprise, so we have not had time yet to discuss his successor.'
Though Charlton's appointment as Middlesbrough manager was widely reported and was possibly the worst kept secret in the game, it was not formally confirmed until the day of Charlton's testimonial. Winney added, 'I understand Charlton received offers from home and abroad but he has stood by his promise to join Middlesbrough.' He said that Charlton's decision to move to Teesside was 'a scoop for the club … We feel we have got the best man available in the British Isles. Charlton has many qualities to admire. He has character, experience, drive and tremendous ability as a player and coach.'
Before Jack's benefit match with Celtic, the Elland Road crowd enjoyed a six-a-side match between sides captained by Don Revie and Tom Finney, who took over when Liverpool manager Bill Shankly dropped out. Revie's team included John Charles, Bobby Collins, Cliff Jones and Charlton's uncles, Jack and Stan Milburn, while Ian St John, Ron Yeats, Syd Owen, Jimmy Tarbuck and Les Cocker were on Finney's side. Revie scored twice as his side won 6-5 in a light hearted encounter.
For the main event of the evening, Revie had selected the classic United eleven: Sprake, Reaney, Madeley, Bremner, Charlton, Hunter, Lorimer, Clarke, Jones, Giles, Gray. Only Terry Cooper was not there, still convalescing after fracturing his leg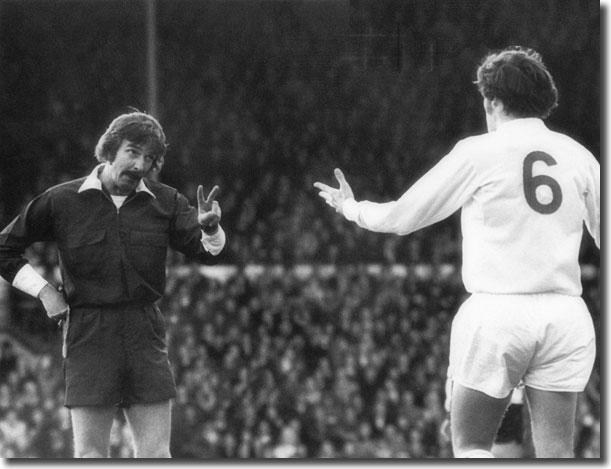 in April 1972.
Scottish champions Celtic had also lost their domestic Cup final, going down 3-2 to Old Firm rivals Rangers. The Glasgow side picked a full strength eleven for Elland Road, giving a debut in midfield to Stevie Murray, just signed from Aberdeen in a £50,000 deal.
Referee for the game was Bolton's Gordon Hill, revered by professional footballers everywhere for the way he officiated games.
The football magazine When Saturday Comes once wrote thus of Hill: 'Between Burtenshaw and Partridge came Gordon Hill, who, with his Sgt Pepper moustache and outspoken liberal attitudes, was a kind of anti-ref, a brief whiff of early Seventies radicalism in the most unlikely of arenas. Hill - denounced by both Burtenshaw and Partridge for his use of "industrial language" on the field - is described without irony as "a trendy, rebellious personality" by Jason Tomas, collaborator on the hugely entertaining Give A Little Whistle (1975).
'Hill, a teacher by profession, wanted to be mates with the players ("I will always look on Emlyn Hughes as a friend") and enjoyed being seen in their company. But he admits the easy going approach (he never sent a player off in a league match) was responsible for his worst games, a couple of rampant bloodbaths in 1971, and naturally it failed to win him friends in high places - the biggest game he ever took was the 1975 League Cup final.
'Perhaps the only thing the groovy Hill shared with the buttoned-up Partridge and the more old fashioned Burtenshaw (apart from a universal dislike of Peter Osgood) is a recognition of what makes refs tick. Hill calls it "a narcissus quality", while Partridge admits that 'all referees are egotistical". Surprising, then, that so few of them have felt the need to tell us about it recently.'
Hill was the perfect choice to referee the game, ensuring genuine bonhomie.
The Glasgow Herald: 'Celtic had come to this Yorkshire city to pay homage to a great footballer on an emotional night. In doing so they reminded people in another country that Scotland's champions can go anywhere in the world without feeling fear or looking for any favours. They were the honoured guests at a great English occasion and the flattery accorded them eased any pain remaining from Hampden.
'They were here to play against the same side that had shared the field with them in that epic European Cup semi-final of three years ago and to honour Jackie Charlton, that fine infantryman of England's 1966 World Cup winning side. After 21 years as a player he had the eminent good sense to invite Jock Stein to bring Celtic to play for him. At the end of the evening he was more than £35,000 richer and had the additional comfort of the manager's job at Middlesbrough waiting for him as well.
'This was the third time that Celtic had been so invited. They had drawn at West Ham and Manchester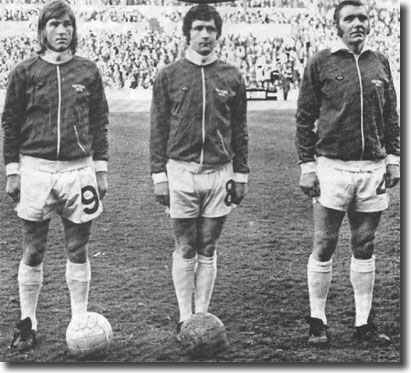 United in matches in aid of Bobby Moore and Jackie's brother, Bobby. Here the result in front of 34,963 spectators was better but, in the time honoured cliché, forget the scoreline.
'Here we had two fine British sides giving a sporting finale to the season and while it would be wrong to make comparisons between Scottish skill and English method, it is more valid merely to wonder that two countries of such different size can still produce teams of such contrasting styles and such similar stature.
'Only one discordant note spoiled the occasion. Celtic, after having presented a silver salver to Charlton and conducted themselves with superb good manners, were let down by their fans, who whistled throughout the National Anthem in the presence of the Earl of Harewood, president of the Yorkshire club. They are no credit to the man who leads them and who, 20 minutes after the match, forced Don Revie out of the dressing room to salute the spectators still massed on the terraces, waiting to pay their last respects to the club and its fine centre-half.'
Celtic were in wonderful form and showed a style to befit the occasion; within five minutes inside-left Tommy Callaghan struck an upright and there was little surprise when 22-year-old Kenny Dalglish gave the Scots an 18th minute lead, finishing off a move he started with a pass out to Callaghan. He came storming into the United penalty area to meet Callaghan's cross with a fine header, steered unerringly past Gary Sprake into the net.
Three minutes later Jack Charlton gave way to the inevitable and limped off with a recurrence of his chronic hamstring problem. His replacement was 20-year-old Gordon McQueen, who would fill Charlton's No 5 shirt permanently from the following August.
By the 28th minute United were level, though Celtic continued to have the better of the action. The Glasgow Herald claimed he was 'three yards offside', but Clarke was clinical in the way he collected the through ball, drew out goalkeeper Ally Hunter and then passed the ball into the net behind him.
The game was still tied at one apiece as the game reached the halfway stage.
In light of United having a fixture against Arsenal two days later, Don Revie rang the changes at the break, withdrawing Jones, Giles, Hunter and Gray and bringing on Jordan, Yorath, Bates and Cherry. Such mass team changes were unheard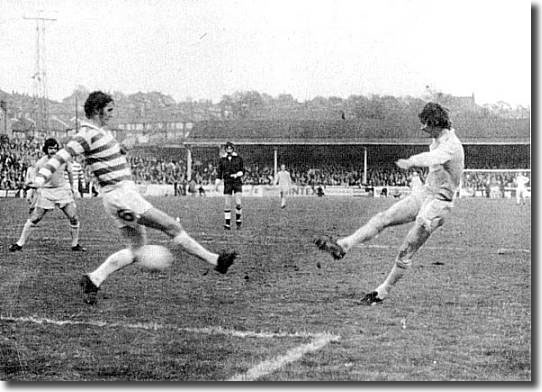 off in those days though they would become de rigueur in future years.
The substitutions were intended to freshen up the home side, but it was the visitors who were quicker to hit the ground after the break and in the 49th minute they retook the lead. Bobby Lennox showed up McQueen's comparative lack of mobility on the edge of the Leeds box, turning him this way and that, seemingly at will, before firing past Sprake with a left footed strike.
Back came United again and it was Clarke with another equaliser, chesting down a ball from Peter Lorimer and evading two Celtic challenges before scoring clinically.
Celtic responded twelve minutes later to edge ahead again. Bobby Murdoch, soon to become Jack Charlton's first signing as Middlesbrough manager, began the move with a pass to Dalglish. The youngster avoided two United defenders before finding Jimmy Johnstone, who was able to fire into an unguarded net.
United were nothing if not resilient and bounced back inside three minutes. Skipper Billy Bremner unleashed a right footed hammer blow as Celtic dithered in defence and the goalkeeper had no answer as the scoreline moved on to 3-3.
The game craved a decisive flourish to top it off, and it was possibly fitting that Celtic should register it, securing a seventh goal with five minutes remaining. Again it was the admirably tricky Johnstone who put Leeds to the sword, as he had done with his wing trickery in the European Cup semi-final in 1970. He made his way from midfield to the edge of the Leeds box without facing an effective challenge and then sent a slide rule shot past Gary Sprake to wrap things up in classic fashion.
This time there was to be no answer from United and Celtic were full value for the 4-3 victory.
Players from both clubs went on a joint lap of honour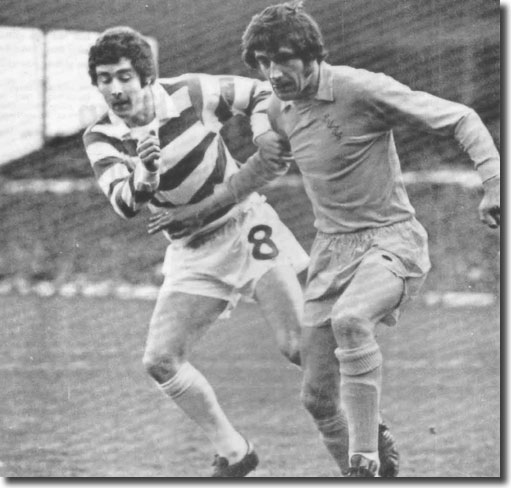 at the close, celebrating the entertainment provided and the career of Jack Charlton.
Elland Road was full of happy supporters, who joyously exchanged colours and scarves as a warm and fuzzy feeling descended over West Yorkshire.
Don Warters in the Evening Post: 'What a way to go! Jack Charlton, that man of many seasons for Leeds United, could hardly have asked for a more memorable climax to his 22-year-long career at Elland Road!
'Almost 35,000 fans for the United-Celtic testimonial game - 10,000 of them from North of the Border - gave the Big Fella a tremendous salute and sent him on his way to the managerial chair at Middlesbrough with an unforgettable experience behind him.
'The fans ensured that it was Charlton's night, and it was not surprising to see him overcome with emotion at the end of a thoroughly entertaining and skilful game.
'He lapped the pitch on which he has run his heart out for United over the years, going to every corner to accept a moving tribute.
'Then, when Don Revie, the man Charlton readily acknowledges as having played an important part in the moulding of his career, hugged him, the tears came.'
Big Jack said later: 'United have had a wonderful time during the past few years, and I have been fortunate enough to be a part of that success, but I firmly believe that there is a greater future ahead of the club. They are no longer just another club, as they were ten years ago. They are a great club, and as long as there is a manager like Don Revie in charge the future will continue to look rosy.
'As a parting shot to the people of Leeds and those from outside the city who support the club, I want to appeal to them all not to become complacent. Support the side as it deserves to be supported. Get behind United and stick by them. You have the greatest set of lads in the world and the greatest staff it is possible to have working for you.
'Appreciate what you have got. Many other towns would give the earth to be in your place. I mean it very much when I say I wish Leeds well in the future - except that is, when they play my team.'
Charlton also thanked United supporters for the tremendous finale given to him and for the treatment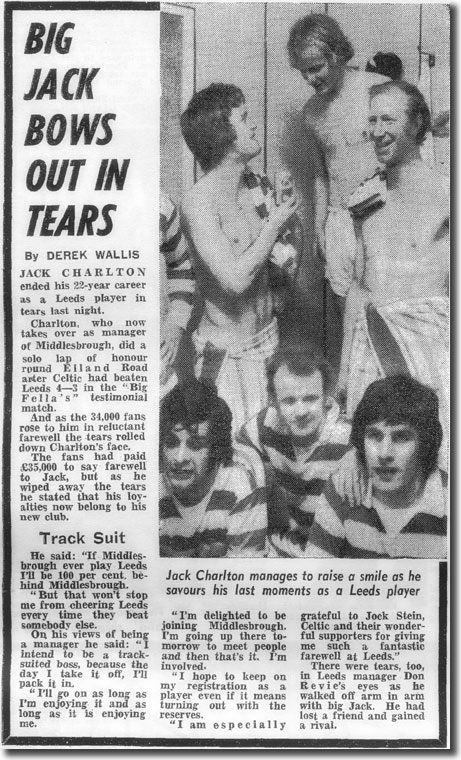 he had received throughout his 22 years at Elland Road.
'I have always been treated well, both by the club and by the people of Leeds. I have not been a footballer to Leeds people. I have always felt that I was a friend. I can count on one hand the number of times during the past ten years that I have not been called simply Jack by people who have stopped me in the street.
'Last night was a very sad time for me, having to stand in front of all my friends for the last time as a player with the only club I have known in my professional career. I have been fortunate enough to go on longer than most people with one single club and no matter where I go in the future I will always regard Elland Road as my real home.
'There has got to be change in every walk of life. It is happening to me now and it will happen to others in the team in the future. No player can go on for ever. I have many memories, but none will stick with me more than the wonderful send off everyone gave me at my testimonial game last night. To everyone, my heartfelt thanks.
'If Middlesbrough ever play Leeds I'll be 100 per cent behind Middlesbrough. But that won't stop me cheering Leeds every time they beat somebody else.
'I intend to be a tracksuited boss, because the day I take it off, I'll pack it in. I'll go on as long as I'm enjoying it and as long as it is enjoying me.
'I'm delighted to be joining Middlesbrough. I'm going up there tomorrow to meet people and then that's it. I'm involved. I hope to keep on my registration as a player even if it means turning out with the reserves.
'I am especially grateful to Jock Stein, Celtic and their wonderful supporters for giving me such a fantastic farewell at Leeds.'
There were tears, too, in Don Revie's eyes as he walked off arm in arm with Big Jack. He had lost a friend and gained a managerial rival.
Not everything was sweetness and light, however, and in later years, Charlton revealed some bitterness in his autobiography.
'The leaving of Leeds closed the book on one of the most exciting phases of my life.
'Twenty-three years earlier, I'd made the train journey from Ashington with not much more than the clothes on my back, Now I was going home with a tidy bank balance and almost every honour the game had to offer.
'To that extent, I'd good reason to thank the club. And yet when I walked out of the gates at Elland Road for the last time, I felt just a little bit let down by the club officials. It had to do with my testimonial game against Celtic. They took £40,000 at the turnstiles on the night, which was a nice sum for a man who had never earned more than £175 a week. But then I saw the deductions - £12,000! What really bugged me was that they included a match fee of something like £8,000 to Celtic - and Celtic owed us a game for a match at Parkhead the previous year. Now, the Leeds directors could have insisted on a reciprocal arrangement and requested the Scots to scrap their fee for my game. But they didn't. Instead, they kept it for themselves, an asset to be cashed in at their time of choosing. I mean, it wasn't as if Leeds United was a poor club.
'I thought that was just a little unfair. Perhaps they reckoned that I'd made enough during my time at the club and didn't need the extra money. It's true I wasn't strapped for cash. I collected the £28,000, put it in a trust fund for my kids, and haven't seen it from that day to this.
'That, however, was skirting the issue. I'd been with the club all my playing life, and in the process I'd put in a record number of appearances for Leeds, 629 in the League and 773 overall - a record that stands to this day, that will probably never be broken. I'd scored ninety-six goals for the club, making me the ninth highest Leeds goalscorer of all time. I'd represented Leeds on thirty-five occasions in the England team. But in the end, they still held back on me. And that rankled.'
Charlton was to make a splendid start to his managerial career, leading Middlesbrough to the Second Division championship at the first attempt and scooping the Manager of the Year award so often won by Revie.