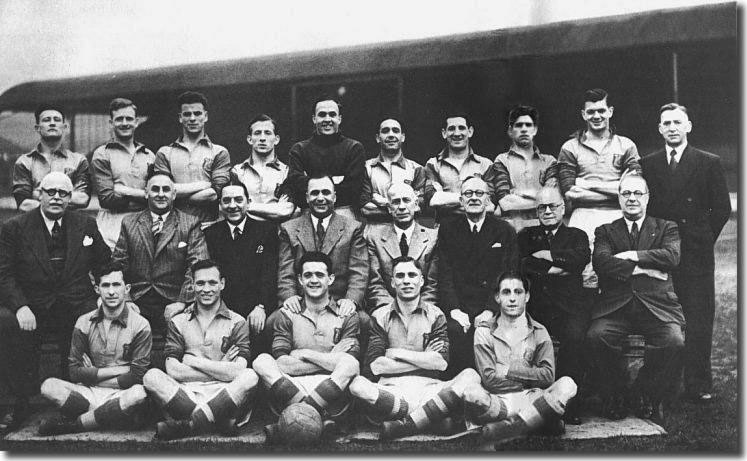 Major Frank Buckley had started making changes to the Leeds United set up in 1948/49, but they made little difference to fortunes on the field. The club finished just a couple of points off relegation, but Buckley had greater success in his next 12 months in charge. He had had the chance to take a critical look at the players he had at his disposal and had decided that many were simply not up to the mark - there was just too much dead wood.
There were many comings and goings in the summer of 1949 as Buckley commenced some fairly radical surgery. In some cases, that meant players who had only recently been brought in were disposed of. Cliff Marsh, Roly Depear, Albert Lomas and Walter Edwards were all Buckley signings who, for one reason or another, had left Elland Road by August 1949, and another two, Jimmy Rudd and David McAdam, followed by the end of the season. 35-year-old keeper Jim Twomey was on his way to Halifax in August and another 35-year-old, centre-half Tom Holley, retired after 164 league games for the club, replaced by the teenage sensation John Charles. Centre-forward Albert Wakefield, who had been top scorer in 1947/48, left in a player-exchange deal for Southend's 24 year old forward Frank Dudley. The big signing of the summer, though, was winger Harold Williams who cost £12,000 from Newport County. Williams, with his tiny feet and wonderful balance, had caught Buckley's eye the previous season when he had given the Leeds defenders a hard time in the Cup upset against the Welsh club. He already had two Welsh caps to his credit and could play on either wing, pleasing Buckley, who loved two footed players.
The Leeds side that year had an unmistakable Buckley-esque feel to it and gave him great hope for the future. Goalkeeper Harry Searson was a Buckley signing from Mansfield for £2,000 in January and was an ever present. Full-backs Jimmy Dunn and Jim Milburn had been at Elland Road when Buckley arrived but were his sort of players. John Charles had been blooded at the end of the previous season and was now a fixture at centre-half, playing alongside Jim McCabe, a big money buy from Middlesbrough at the end of Willis Edwards' reign, and skipper Tommy Burden, who had been a teenage prodigy at Buckley's Wolves. Both Charles and Burden played in every match that year. The defence finally started to provide the cohesion that had been lacking for years.
Williams and Irishman David Cochrane were wide providers up front, where Len Browning and Dudley were the main threat. But the attack did not always click. At 6ft 2in, Browning had an imposing physical presence and Dudley, who packed a fierce shot, could unsettle defences, with surging runs on goal; but neither quite had the craft or consistency to be persistently threatening in front of goal.
Those players who weren't Buckley signings were certainly being moulded to his grand design. By 1949/50 the Leeds United team was more settled and assured.
The side didn't start off very impressively, however, winning just one of their first 11 matches, and were struggling in the relegation zone early on, but gradually the Buckley influence was felt and the players got their act together. Charles was a surprisingly mature teenager at the heart of a defence which was now a tough nut to crack. They
kept thirteen clean sheets and conceded more than two goals on just four occasions in 47 matches. This was something that had been unheard of in recent seasons. Three of the clean sheets came in consecutive wins in October as Leeds got their season rolling, with Dudley scoring in each game. Hull City turned Leeds over 1-0 on October 29, but that was the only reverse in a run of 9 games that saw Leeds pull away from the bottom of the table.
It was around this time that Buckley signed Stalybridge Celtic's Eric Kerfoot, who went on to make more than 300 appearances for the club. He was an outstanding non-League half back and made his debut for Leeds after a single reserve game. He only played a few games that season, as cover for Jim McCabe, but made a more telling impact in later years.
Leeds lost 2-0 at Bury on 10 December but had taken on the proportions of a rolling juggernaut. As Leeds pushed up the table in mid-season, Buckley's team played before an increasing number of huge crowds at Elland Road: 41,303 saw a 3-1 win against Preston on Christmas Eve; 47,817 a victory over Barnsley on 27 December; and 50,476 a 3-0 win against leaders Tottenham on 14 January, during which David Cochrane, in irrepressible form on the right wing, tore Spurs' defence to pieces.
They had another unbeaten run, this time of 13 matches, which encompassed impressive progress in the FA Cup. United had probably the poorest Cup record of any side in the top two divisions. They had only ever made it to the fifth round twice in their history, in 1933 and 1936, and had progressed beyond the third round on just two occasions since 1936. However, 1950 saw a dramatic improvement in their fortunes.
Leeds easily disposed of Third Division side Carlisle in the third round, by 5-2 on their own pitch. That secured a difficult fourth round tie against First Division Bolton, whose centre-forward Nat Lofthouse was to be such a force in the 1950's. Leeds only managed to draw 1-1 at Elland Road, and were odds-on to go out in the replay at Burnden Park. However, the players showed real mettle, digging into their mental and physical reserves on a quagmire of a pitch at Burnden Park to win 3-2 in extra-time, a victory which amazed even their most loyal supporters. 51,488 fans had witnessed the first game against Bolton and more than 53,000 attended the fifth round match against Second Division rivals Cardiff on 11 February. Leeds had already beaten the Welshmen 2-0 in the league at Elland Road and gave them similar treatment in the Cup, winning 3-1. Ray Iggleden got the vital third goal, having fought his way back into the side at the beginning of January.
A fortnight later, Leeds visited Cardiff in a Second Division game and saw their long unbeaten run ended, as City got their revenge, winning by the only goal.
The sixth round was new territory for Leeds and they faced a massive battle on 4 March, away to mighty Arsenal, a club with a wonderful history, having been reshaped by former Leeds City manager Herbert Chapman to be the dominant club side of the Thirties. The Gunners had recaptured the league title in 1948 and were still a power in the land. Thousands of West Yorkshire fans made the trip to London for the game and made their presence felt as a new and vibrant Leeds outfit set about their illustrious opponents. Buckley's men, by no means overawed by the occasion or by the 62,973 crowd, played superbly, defending in depth and counter attacking effectively. But they were beaten by the only goal of the game, prodded in by Reg Lewis after 52 minutes and despite a desperate late onslaught, could not fashion an equaliser. The Gunners went on to win the trophy, beating Liverpool in the final, but Leeds had run them very close and proved that they were, indeed, a force to be reckoned with.
The team's form petered out thereafter and the efforts had obviously taken their toll. They crashed 5-2 at Sheffield Wednesday on 25 March in their worst display of the season as what had become a promotion challenge began to fade.
They closed their campaign with two straight wins, beating Bury 4-1 in the final match at Elland Road. Lapses in March and April had left them with too much to do, but they finished in a wonderful fifth spot, five points behind the two Sheffield clubs and Southampton, who all finished on 52 points. The gallant Leeds players could look back on an impressive season, which had included a marvellous 3-0 victory at Elland Road over eventual Second Division champions Tottenham, about to rise to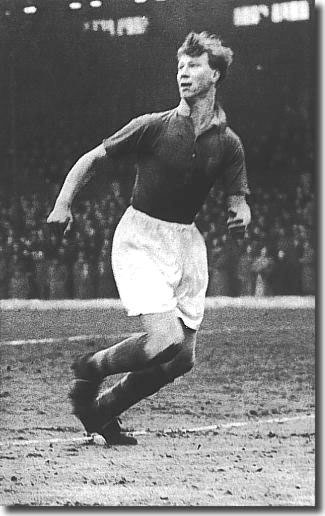 eminence in the Fifties and Sixties. A plucky Leeds team had proven that, on their day, they could handle the best in the division. Only Sheffield Wednesday of the teams above them had not lost to Leeds.
The long suffering United fans revelled in their new found form and pushed club attendances up to record levels, for the third successive year, with the average rising from 29,000 to 32,000.
Frank Buckley was starting to build a sound organisation at Elland Road and an effective youth development scheme was introduced. As well as the 18-year-old John Charles, the club employed another youngster by the name of Jack Charlton, who signed for the club on his fifteenth birthday in May 1950 at the start of an association with Leeds United that would last 23 years.
Other Football Highlights from 1949/50
Portsmouth won the league for the second year running, but this time the race was much closer, with several teams in the hunt and the title undecided until the end of the season. Wolves made the early pace, not losing until their 13th match. They were overhauled by Liverpool, who went 19 matches before being beaten. Manchester United were as strong as ever and Portsmouth, Blackpool and Sunderland were not far behind. Only one point separated the top three clubs as they played their last matches on 6 May. Portsmouth led Wolves on goal average and Sunderland were one point behind. All three clubs won emphatically on the last day to leave Pompey winners
Arsenal's ageing stars won the FA Cup with a resounding 2-0 victory over Liverpool in the final, a fitting finale for Denis Compton who retired through injury at the end of the season
Arsenal's North London rivals Tottenham also had a good season in the Second Division, going 23 matches without defeat, topping the table throughout the season and running away with the title by nine points
England lost their first international at home to non-British opposition when they were beaten 1-0 by the Republic of Ireland on September 21. The Irish victory was orchestrated by their captain Johnny Carey
FIFA decreed that the top two teams in the Home International Championship would both be granted a place in the 1950 World Cup finals. The Scottish FA decided they would only take part if they finished top. England beat the Scots 1-0, leaving them the only British competitors in the first World Cup finals after the war
It didn't do the English much good, however. Despite being among the tournament favourites, they suffered one of the biggest shocks in the history of the tournament when the minnows of the USA beat them 1-0 to effectively end their interest in the competition
The final stages of the tournament, held in Brazil, were played as a group. The host nation just had to draw their final match against Uruguay to win the trophy for the first time. They lost 2-1 and Uruguay, the first champions in 1930, regained the title