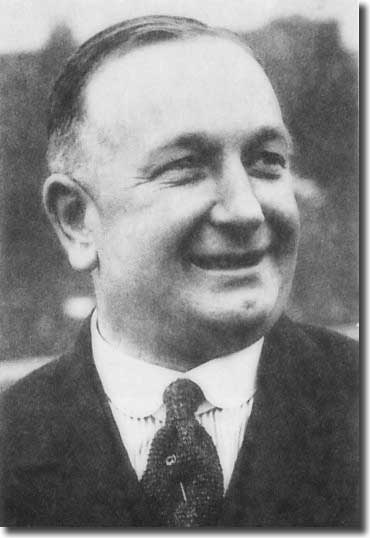 The First World War came at a bad time for Leeds City Football Club; there's never a convenient moment for a catastrophe of the proportions of the Great War, but the four years of strife in Europe certainly robbed City manager Herbert Chapman of an outstanding opportunity of putting the West Yorkshire club on the football map.
Chapman came within a whisker of leading the Peacocks to promotion in 1914, a couple of years after succeeding Frank Scott-Walford as manager at Elland Road. His first task after taking on the role had been to secure City's re-election to the Football League, which he did with energy and assurance. Thereafter, following the judicious acquisition of some high profile signings like Evelyn Lintott, Billy Scott and Jimmy Speirs, he quickly moulded his players into a competitive and high class outfit and in 1915 they finished fourth, just a couple of points short of promotion. The advent of war in August 1914 effectively brought an end to Chapman's dreams of the First Division, but City flourished during the war years.
In 1916, they won the Subsidiary tournament of the Midland Section, finishing top of the full Midland Section a year later and retaining that title in 1918. By then, Chapman had bid a temporary farewell to the club, taking up a managerial position at a munitions factory at nearby Barnbow in the summer of 1916.
City's retention of the Midland title in 1918 put them in contention for further honours. The previous October, it had been mooted that the winners of the Midland Section should meet the top team in the Lancashire Section over two legs, home and away, for the right to the unofficial title of league champions. The arrangement had been formalised in February, with the proceeds from the games earmarked for the National Football War Fund.
Leeds City had developed into an outstanding side during the war and their success in 1917/18 was due in the main to their goalscoring achievements - they returned a formidable 75 goals from their 28 games.
They had been in outstanding form all season, losing just four times since mid-September. They came into the game on the back of two goalless draws with Bradford City in the Subsidiary tournament, but these were the only occasions when their attack had been denied in a glorious campaign.
Leeds had managed to hold onto pre-war players like Tommy Lamph and Arthur Price and reinforced the team with wartime guests such as Billy Hampson, Clem Stephenson, Jack Peart, Bob Hewison and Harry Sherwin. Aston Villa inside-right Stephenson had been the star of the season for City, though he missed the two play off games, being unable to get away from his duties with the RAF at Crystal Palace.
The man the Peacocks brought in to offset their loss was 33-year-old Newcastle forward Billy Hibbert, who had been playing for Rotherham County. Hibbert had won an England cap against Scotland in April 1910.
Hibbert was accommodated on the left wing, with Corporal P J Barrett dropping out of the eleven. Tom Cawley moved from outside- to inside-right in Stephenson's stead, and Ernie Goodwin was recalled to play outside him. The only other change in the eleven saw Welshman Harry Millership return to partner Billy Hampson at full-back. Millership replaced Hampson's brother Walker, while another member of the Hampson clan, Tommy, continued to keep goal. The unrelated Jack Hampson was missing through injury, and in his absence Bob Hewison continued to captain the side.
City's opponents in the two-legged final were Lancashire Section champions Stoke. The Potters had come up strongly on the rails to overtake long time leaders Liverpool by dint of a superior goal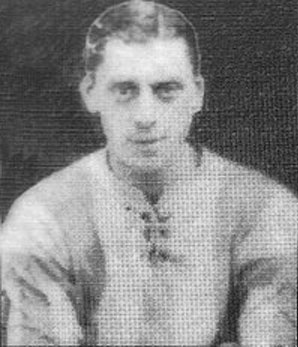 average.
On 23 February, Liverpool had enjoyed a three-point advantage over Stoke with four games left to play. They also possessed a superior goal average, though the Potters had a game in hand. The two teams were pitched against each other twice over the fortnight that followed, but Liverpool, having dropped just eight points in twenty-six games, went into the fixtures in highly confident mood.
The first game at Anfield ended 1-1, but Stoke then won 3-1 at the Victoria Ground to move to within a point of their rivals, though their goal average was still inferior.
On 16 March, while Liverpool were being held to a 1-1 draw at home to Bury, Stoke hammered Burnley 9-0 and thus drew level with their rivals. They retained their game in hand and crucially their goal average was now superior. Both sides were successful in their fixtures the following week.
Stoke had the luxury of going into their final fixture, at home to Rochdale on 27 April, knowing that even a 2-0 defeat would leave them champions by virtue of goal average. In the end, they lost 2-1, and it was enough to take the title.
The Staffordshire side had been in spectacular goalscoring form all season with a goals record of 109 against 27. Their results included 16-0 and 8-1 defeats of Blackburn Rovers, as well as the 9-0 thumping of Burnley and a 7-0 thrashing of Oldham.
Top scorers for the Potters were inside-left Billy Herbert and centre-forward Harry Howell, who had amassed 28 goals apiece. In the crucial defeat of Burnley, Howell had scored a hat trick with Herbert getting a brace. The Stoke line up included three Wolves players in Welsh international goalkeeper Teddy Peers, winger Billy Harrison and Howell. They also had Arthur Bridgett back on their left wing.
Stoke's form had dipped in the end of season Secondary Competition, with just two wins from six games, though that included a 6-0 trouncing of local rivals Port Vale. The resilience they showed earlier when chasing down Liverpool marked them out as a side to be reckoned with.
Leeds City had home advantage in the first leg, staged at Elland Road on 4 May. The visitors kicked the game off some 45 minutes late, with Stoke the first side to show though City full-backs Harry Millership and Billy Hampson repulsed their early thrusts with some good support from Lamph and Sherwin.
Then Leeds took up the running strongly, with Hibbert slotting in smoothly, as reported by the Mercury: 'The City struck while the iron was hot. They made the pace a strong one at the start, and the lovely understanding between Peart, Price and Goodwin repeatedly promised the downfall of the Stoke defence.' One movement by Peart, Price and Hibbert was only stayed by an offside decision and then Peart took Price's pass to launch an effort which many supporters thought had entered the Stoke net, though it actually shaved the outside of the post.
After Lamph cleverly checked Howell's thrust for Stoke, referee J H Palmer of Nottingham had to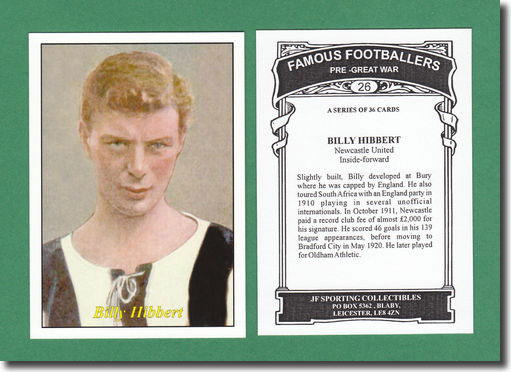 counsel one of the other visiting players to keep his cool after a show of temper.
City reaped the reward of their high tempo early burst when they opened the scoring after ten minutes. The decisive moment came following a series of attacks featuring Peart and Cawley. The latter failed to get his foot properly to the ball a couple of yards from goal when he was found by Goodwin's centre. The same man then fired against the crossbar and despite several attempts by goalkeeper Teddy Peers and his colleagues to clear, the ball dropped nicely for Hibbert to nod home.
Almost instantly, City came close to increasing their lead, but after a full-blooded attack Peart hammered his shot over the bar.
That was the signal for Stoke to push hard and City keeper Tommy Hampson was forced into a save by Harrison, though it was a straightforward enough shot which he gathered safely. When Howell got away in another move, it came to nothing after a melee in which Bob Whittingham and Billy Hampson ended up splayed on the turf after a fierce collision. There was a lengthy delay in proceedings before the referee restarted play with a free kick to Leeds.
Minutes later Harrison tried another long range effort for Stoke, which was deflected for a corner and then Bridgett was wayward. Then City had cause to be thankful to Welsh full-back Harry Millership for preventing the equaliser. Whittingham received the ball after a corner kick was cleared and he gave the ball out to Harrison who quickly retuned it. Whittingham snapped up the pass brilliantly and got in a goalbound shot but Millership got his head in the way of what looked a certain goal.
With Stoke trying everything they knew to force their way onto the score sheet, it was Leeds who were next to score, doubling their advantage as the game reached the half hour mark. When Peart managed to break clear on his own, Alec Milne might have cleared. but Peart got the better of him and then beat Billy Twemlow, whose challenge was sadly lacking. The centre-forward beat Peers from short range with an accurate finish.
The Stoke keeper was a busy figure for the next few minutes, having to save a low shot from Cawley and then another effort from Lamph. In between these chances, one Stoke assault ended with a foul just outside the Leeds penalty area; happily the resultant free kick came to nothing.
The game reached half time with the Peacocks retaining a two-goal advantage after a fast and energetic forty-five minutes. 'Old Ebor' reported in the Yorkshire Evening Post: 'The pace of the first half had been exceptionally fast, and the players had neither spared themselves nor each other, though the play had not been by any means rough. It was now largely a case of stamina, though the Leeds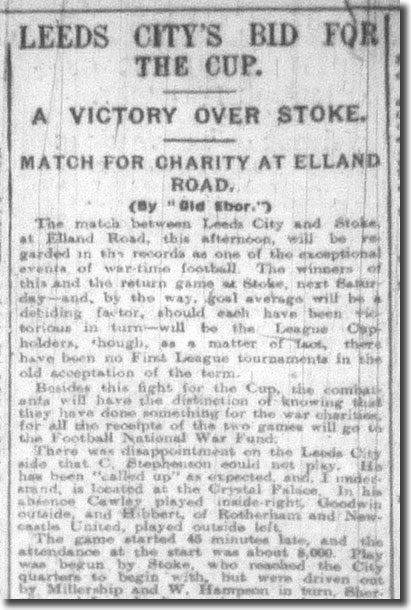 City lead was formidable to say the least.'
The Mercury commented: 'Stoke stuck to their guns grimly on Saturday, and, indeed, rallied so strongly after an exhausting first half, that the stamina of the City defence was rarely tested. In their long and dour fight for a recovery, however, Stoke lacked the winning quality of finish. Their admirably conceived movements were rarely pushed to a vital position. They forced five corners in fifteen minutes, just after the interval, two of them so superbly placed by Harrison that City had real cause to be anxious; but the skill they showed in midfield was missing here, as in all their efforts.
'It is true they were up against a very clever pair of backs. Millership generally seemed to find time to prevent a full development, and W Hampson always cleared with certainty; but their midfield cleverness ought to have produced more effective positions for their marksmanship. Apart from the two flag kicks by Harrison, cleverly cleared by T Hampson, a couple of grand drives by Howell and Parker and one or two good attempts by Bridgett and Whittingham, the City keeper was never really tested.'
After the resumption, it was Stoke who started the better, winning a corner; Tommy Hampson had to be on his mettle to gather Harrison's centre, though he did so with some assurance. There were two more Stoke flag kicks, and another telling centre from Harrison, but the City defence held out resolutely. When Harrison bore down in another attack, goalkeeper Hampson came out swiftly and emerged from the confrontation with the ball before then clearing a follow up shot by Bridgett.
According to Old Ebor, 'Stoke were persistent in their pressure for a time, their half-backs and right wing forwards playing smartly, but they were always up against a good defence in which Hewison, Lamph and W Hampson were frequently to the fore, though as a matter of fact, there was no personal failure on the City side. The City forwards were the more aggressive and combined set of the two, Cawley and Peart playing particularly well.'
The final ten minutes were characterised by almost relentless pressure from the visitors but City were in determined mood and put up a sterling rearguard action to hang on to their hard won advantage.
The Yorkshire Post: 'There was no question as to the title of Leeds City to the victory which they gained over Stoke in the first of the finals for the Association League Cup on the City ground on Saturday. They had the smarter and more enterprising set of forwards, and if honours were fairly even in the middle division, Leeds were more reliable at full-back, and gave their custodian more support than Peers got from the two men immediately in front of him.
'Harrison was the only real class forward on the Stoke side, his runs down the right wing causing more trouble to the City defence than any other movements. In one point only could Stoke claim to be superior, and that was in stamina. The match was played at a surprise pace in the first half, and this pace seemed to be borne better by Stoke than by the home team. At the same time there was never any appearance of a victory for the Staffordshire representatives. There was an attendance officially returned at ten thousand, the receipts, which go to the Football National War Fund, amounting to £435.
'In the second half of the match, Stoke could claim to have the balance of play, but there was little cohesion among their forwards, and Leeds always seemed to be the more dangerous when they neared goal. The Leeds halves and full-backs kept very cool headed under pressure, Hewison and W Hampson in particular being most industrious in repelling raids, such as there were. The pace palpably tired both sides, but Stoke finished the fresher of the two. There will doubtless be a big struggle in the return match at Stoke next Saturday, but meanwhile Leeds City have made a useful start towards winning the League Cup.'
It was a decent lead to take to the Potteries for the second leg. The Leeds Mercury sounded a cautionary note, however, saying, 'There could be no question as to the superiority of Leeds City over Stoke in the first of the League Cup final matches at Leeds on Saturday, and their two goals lead must be considered a useful one. It is quite conceivable, however, that Stoke will improve their form under home influences. Leeds City's task is by no means over.'