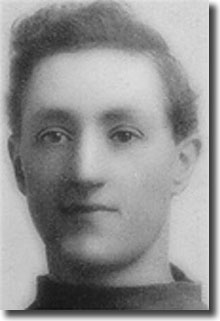 Born: Bury, 2 May 1898
Hampson was the younger brother of full-backs Walker and Billy, who both also played for Leeds City during the First World War; he was unrelated to City's other two Hampsons, brothers E and Jack. There were often three or four Hampsons in the side during the 1917/18 season and Tommy, Walker and Billy played in the same City eleven three times in April.
Goalkeeper Tommy had been playing mainly in the North Eastern League with South Shields and Walker Celtic when he began guesting with Leeds City in March 1917, though he was reported at the time by the Yorkshire Post as being associated with Accrington Stanley. He had not signed professional forms for any club at the time as he was only eighteen.
His debut came on 3 March when City were hosting Chesterfield in a Midland Section game with Willis Walker and Alf Robinson, the normal keepers, both unavailable. Hampson was unbothered in a 2-0 victory, the Post reporting, 'He had very little to do in the first half, during which period Leeds City, by reason chiefly of the clever play of their right wing, were the more often dangerous … Leeds City always held the upper hand and throughout the second half their custodian was never called upon to save.' The Leeds Mercury claimed on the other hand that Hampson 'accomplished good work in goal. He saved well on every occasion, but the shots he had to deal with were by no means so difficult to negotiate as those cleared by Lievesley.'
He held down the position for the remaining seven games, when he was more sorely tested than on his first appearance, but he conceded only ten goals in those nine games, just two of which were lost.
Walker and Robinson kept goal in the first four games of 1917/18, but Hampson then returned, missing just one game thereafter and conceding a mere 25 goals in 31 games. It was a glorious season for Leeds City: they won both the Principal and Subsidiary Tournaments and then beat Lancashire Section winners Stoke in a two-legged play off to claim the unofficial league championship title. Hampson maintained a safe and reliable last line of defence, none more so than in the games against Stoke; he kept a clean sheet in the first leg at Elland Road and conceded just once in the second game when City played the bulk of the game with only ten men.
He finished on a high for that was the end of Hampson's City career.
He joined West Ham in 1920, but it was 1923 before he pinned down a regular first-team spot as the Hammers earned promotion to the First Division in the season that followed. He left Upton Park to join Blackburn in 1925, but failed to make an appearance, quickly moving on to Annfield Plains and then Burnley. He continued to move regularly, seeing service with West Stanley, Darlington, West Stanley, Cardiff City and Notts County before ended up in junior football with Notts Co-op Dairy.