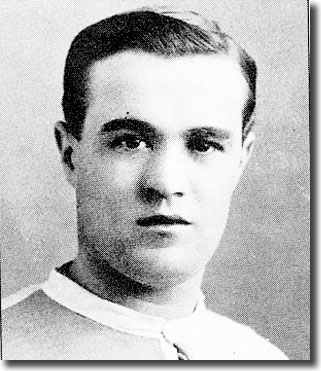 Born: Manchester, 1888
Alf Robinson was a redoubtable goalkeeper who gave Leeds City good service during 1917. He was well-known for his bravery and agility. Although only 5ft 9in tall, Robinson was a talented custodian, described by one reporter as 'a clever, daring and active keeper, who is not afraid to dive for the ball at an opponent's feet'.
His career in the professional game began when he joined Gainsborough Trinity of Division Two in 1908. He made such a name for himself over the next three years that he attracted the attention of First Division giants Blackburn Rovers who signed him in 1911 as understudy to Jimmy Ashcroft. He excelled on the pre-season tour of Austria and Hungary and took over as first choice keeper as Rover set off on one of the golden periods in their history.
One of the twelve founding members of the Football League, Blackburn had won the FA Cup five times between 1884 and 1891, though they had never finished above third in the First Division and had ended the 1910/11 season in a disappointing twelfth position.
The season began badly with Blackburn losing two of its first three games but their form gradually improved and the team went on an unbeaten run that lasted three months, taking them to the top of the table. Despite defeats to Bolton Wanderers and Arsenal, Blackburn went on another good run and by the end of the season they had amassed three more points than main challengers, Everton, to win the Football League title for the first time in the club's history.
Rovers began the following season in strong form, going undefeated until December, but this was followed by five straight defeats and they finished fifth. They were champions again in 1914, conceding just 42 goals, and were third in 1915, an extraordinary spell of consistency and dominance.
After the onset of war, Robinson joined the Army and worked his way up to the rank of Corporal. He was in training in a local camp when he played as a guest for Leeds City in 1917. He made his debut on 20 January away to The Wednesday, when he took the place of Willis Walker. J H Stainton in the Leeds Mercury: 'The game was notable for the good work of both custodians. This was mostly in the second half. It is true that Robinson was lucky when he let a long, low shot from Glennon beat his hands, and the ball cannoned away off his knee, but he came out with a lovely ball smothering save from Andrew Wilson.'
The game finished 2-2 and was the first of six games on the bounce for Robinson and he returned in September to make another two appearances
The keeper returned to Ewood Park after the Armistice, remaining with Blackburn until January 1923, making a toal of 144 ;eague appearances before joining Darwen.
Robinson's 1912 championship medal was sold at auction in June 2009 for £3,000.