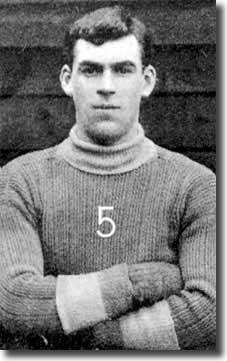 Born: Belfast, 17 May 1882
Renowned custodian Billy Scott, brother of Elisha, also a goalkeeper, saw his younger sibling eclipse him with two decades of long and distinguished service for Liverpool and Ireland.
It was Billy who helped his brother get his big break at Liverpool; he recommended Elisha to the Reds in September 1912 after an unsuccessful trial at Goodison. Everton considered the 17-year-old too young and rejected him. Elisha went on to spend 22 years at Anfield, making a club record 468 appearances and winning 31 Irish caps.
Billy Scott was born in Belfast in 1882. There are some differences of opinion as to the actual date, with various websites claiming a variety of dates from 1882 to 1884, but his birth certificate, as provided by family member Liz Hargreaves, conclusively verifies the correct date as being 17 May 1882.
A shade under six foot tall and weighing almost 13 stones, he was a great bear of a man, ideally built for a goalkeeper, with hands like shovels.
The young Irishman joined home town club Cliftonville as an amateur in early 1901 and later that year crossed Belfast to sign for local rivals Linfield. His debut for the Blues came at the end of August against Distillery. He was an ever present for the following three years, save for one County Antrim Shield game in 1903 when he was unavailable through injury. While on Linfield's books, he won the Irish League and Cup double in both 1902 and 1904, and a number of other minor trophies.
He represented the Irish League on three occasions and made his full international debut on 14 February 1903 against England. The Irish finished on the wrong end of a 4-0 scoreline, but Scott retained his place. In his second international on 21 March the Irish team secured the country's first victory over Scotland, with Scott keeping a clean sheet after recovering from an anxious start.
Ireland beat Wales 2-0 in the final match of the tournament a week later. The Times reported, 'Happily for the side, Goodall, Boyle and Scott all defended admirably and on the day the superiority which Ireland possessed in this respect determined the fortunes of the match.'
The Irish shared the title with England and Scotland, each team managing a couple of victories. Scott remained first choice keeper for Ireland for the next decade, captaining his country on a number of occasions.
In July 1904, Scott was given a shot at the big time when he was signed by English First Division giants Everton to take over from the ageing George Kitchen. Scott began the season as first choice, making his debut in a 2-1 defeat at Notts County on 3 September, but lost his place after conceding seventeen goals in 12 games. He made way for the colourful Welsh international, Dick Roose, just signed from Stoke, and featured in only four more games.
Manager Will Cuff was building one of the strongest squads in the country and his team challenged strongly that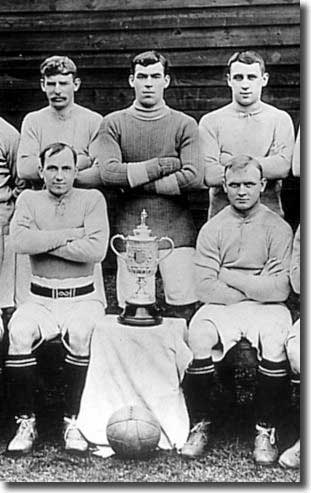 year in both League and Cup. They lost to Aston Villa in the Cup semi-final after a replay but went even closer in the title chase.
They were on top of the table as the season entered its final week and favourites to clinch the title. Unfortunately they had to play their final three games away from home in the space of four days. They could only manage two points and when Newcastle won their final two games they secured the title by a point.
In 1905/06, Scott established himself as first choice for Everton when Roose returned to the Potteries. The Irishman won an FA Cup winner's medal when the Goodison side defeated a strong Newcastle side 1-0 at Crystal Palace in April 1906 with a goal from Sandy Young.
Everton were back at the Palace to defend their trophy the following year and were favourites to beat Sheffield Wednesday. It was a poor match and Everton were undone by Wednesday's bustling style, the Owls winning 2-1.
Over the next few years, Scott established himself as a firm favourite with the Everton fans, making 251 League appearances for the Merseysiders, who were championship runners-up in 1909 and 1912. He kept 76 clean sheets for the club, a figure only beaten in later years by Neville Southall, Gordon West and Ted Sagar.
In June 1912, Scott quit Merseyside for the Second Division, signed by new Leeds City manager Herbert Chapman in a move which sparked some controversy. As part of the deal, Chapman agreed to pay the Irishman a full year's salary of £208 for the ten months to the following April. This meant that the player was receiving more than the maximum wage.
Chapman agreed similar deals with two other international signings, Evelyn Lintott and George Law. When Chapman identified the issue, he persuaded City's directors to raise the matter with the League Management Committee and plead for clemency. His honesty backfired and the League fined City £125, also censuring Chapman and the players, who were ordered to repay the excess amount to the club, much to Scott's annoyance. The 'bonus' had been part of the reason why he had agreed to join City.
Yorkist, writing in the Leeds Mercury in August 1912, welcomed the signing of the experienced Irishman: 'I had the pleasure of seeing the practice match at Elland Road yesterday morning, and I have not the least hesitation in saying that Leeds City will have a successful side this season … Mr Chapman is to be congratulated on the new men he has secured. Scott, the Irish international custodian from Everton, is a real capture. He had four goals scored against him yesterday, but he showed himself an artist, and it is a safe prediction that Leeds City will not have anything like 78 goals registered against them this season.'
Scott's first senior start for City was disappointing: they lost 4-0 at Fulham on the opening day. The Yorkshire Evening Post: 'One could scarcely realise that it was Scott, for so many years the mainstay of Everton, who had charge of the City net. He certainly had a particularly warm time during the afternoon, and the support in front of him was not very inspiring, but, generally, his work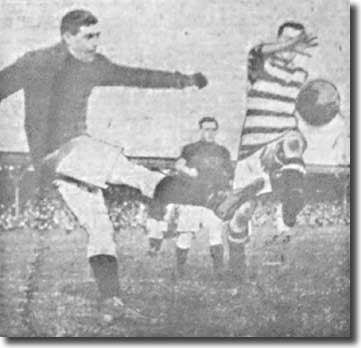 lacked the finish he has hitherto shown.'
However, Chapman's new side soon settled down and Scott kept clean sheets in his next two appearances, though he was to concede six at Hull on 2 November. He gave a string of outstanding displays; Old Bradfordian reported thus in the Mercury after a 1-0 victory at Bradford in September: 'The outstanding player was Scott, who barred the progress of Bradford a score of times when the Leeds goal seemed doomed. The play of the ex-Evertonian was brilliant in the extreme, and he thoroughly deserved the ovation he received at half time and at the conclusion of hostilities. His nimbleness and dexterity in parrying the shots by Little, Howie and Kivlichan in particular cannot be too generously qualified. To keep out a swift ground shot by Kivlichan he had to throw himself full length at the ball and with arms extended manage to parry it.'
Scott became the fourth Leeds City player to win international honours when he earned his 23rd Irish cap on 18 January 1913.
Martin Jarred: 'Scott's last international before he joined Leeds saw him on the receiving end of a 6-1 thrashing by England, but there was no way the Irish selectors were going to drop him. In those days the only Irish internationals were in the British championship and Scott retained his place for the 1913 Home Internationals. It started with a 1-0 defeat on Distillery's ground against a Welsh side including four new caps, one of whom, Wrexham's James Roberts, scored the only goal after five minutes. On the same day, Leeds City, with Hogg replacing Scott in between the uprights, beat Bradford City 2-0 in an Elland Road mud bath.
'Hogg kept his place, but Scott still played in Ireland's next game, a historic 2-1 win against England. It was the first time Ireland had beaten England in 32 attempts, and the sequence looked to be extended at Windsor Park when Charlie Buchan put the visitors ahead. With Ireland's inside-left Jim Macauley limping, it looked odds on England would win, but Scott kept them at bay with some great saves. Former Leeds forward Billy Gillespie, now knocking in goals at Sheffield United, scored twice to earn Ireland a wonderful win. While Scott was lapping up the plaudits, Leeds had lost 6-0 at Stockport the same afternoon and the Irishman won his City place back. However, nothing would have prepared him for the events that were about to unfold in Dublin the following month.
'Despite dominating for long periods, Ireland lost 2-1 to Scotland but the crowds were incensed that English referee Arthur Adams had allowed Alec Bennett's winning goal to stand as the Rangers man looked offside. At the final whistle, several Scottish players tried to grab the ball as a souvenir, Sheffield Wednesday's George Robertson emerging with the leather, only to have it knocked out of his hands by a spectator, Patrick Gartland. It was picked up by Ireland's American-born player, Billy Andrews, but in the struggle that followed Gartland was knocked over.
'Rumour quickly spread that Robertson had broken Gartland's leg, and a furious mob gathered outside the Scottish dressing room, smashing windows. The Scots were locked in for more than an hour and Robertson, a school teacher by profession, was arrested and taken to a police station. The Irish FA, keen to defuse the situation, agreed to pay the costs of the injured Gartland, who dropped the charges against Robertson, who was released. But the Irish mob continued to vent their fury and followed the Scottish party back to their hotel, where Swindon full-back Jock Walker was attacked outside.'
The match, Scott's 25th for Ireland, marked the end of his international career and a couple of years later brother Elisha became his long-term successor.
Billy lost his Leeds City place permanently to Tony Hogg following a 1-0 win against Hull at Elland Road on 8 March 1913; he made only two further appearances, early in 1914.
His final game for City saw him concede three goals in a controversial game away to Clapton Orient on 2 March 1914.
The Monday afternoon fixture was
scheduled to commence at 4.30pm in an attempt to maximise gate receipts, though only 7,000 people turned up. Floodlights were not yet widely available, and it was inevitable that the game would finish in semi-darkness.
City protested. Stephen Studd in Herbert Chapman: Football Emperor: 'After some argument they agreed to 4.20, but the referee and linesmen arrived late. The game was further delayed when the referee ordered Leeds goalkeeper Scott to change his jersey, in keeping with the League rule of 1909 that keepers must wear distinctive colours. By the time Scott had changed his blue jersey for something less like the blue and gold of his colleagues, the ten minutes' grace had been swallowed up. By half time it was obvious the rest of the game would continue in darkness, and to save time the referee ordered the players to stay on the field for an interval of two minutes only.'
'By a quarter to six,' the Yorkshire Post reported, 'it was practically impossible to distinguish players in midfield ... The referee asked the linesmen if they could follow the ball and, receiving an affirmative reply, the game was allowed to proceed. It was quite certain, however, that the players themselves could not follow the ball.'
City opened the scoring, but as the gloom thickened they conceded three goals in quick succession. Scott claimed he was unable to see the last two shots.
Studd: 'The result stood because the referee, after consulting his linesmen, decided that Scott could have seen the ball coming at him. A furious Chapman regarded the affair as an outrage, and assured the referee he would lodge an appeal against "this insult" ... The incident goes a long way to explaining Chapman's later enthusiasm for floodlit football.'
The Management Committee found in favour of City, but decided that there was no rule or precedent entitling them to overturn the result, which stood. Orient were fined 25 guineas and Leeds missed out on promotion.
In the summer of 1914, Scott returned to Merseyside to sign for Liverpool, though the First World War effectively ended his football career, and he made only 27 appearances for the Reds.
Billy Scott died on 16 August 1936 in Liverpool.