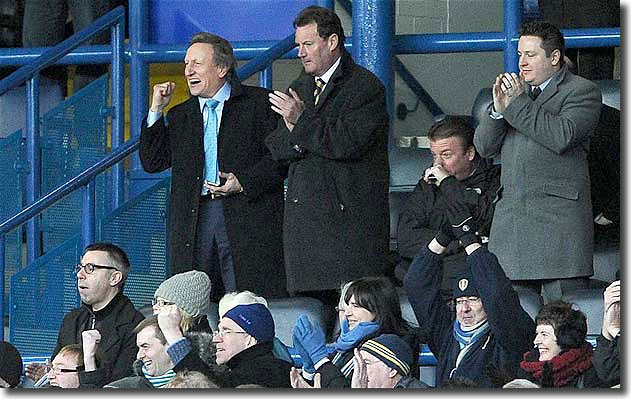 Part 1 Unrest and despondency - Part 2 Warnock - Results, table and transfers
On the morning of 18 February, the day of their home game with Doncaster Rovers, Leeds United formally confirmed Neil Warnock as the new manager.
Caretaker Neil Redfearn's time in charge would end with the fixture, for which he made a number of changes, moving Danny Pugh to central midfield, recalling Andros Townsend on the left wing and giving Alex Bruce a start at right-back.
United weren't in the contest in the first half and Warnock, watching from the stands, must have wondered what he was getting into when Rovers took the lead just after the half hour. Leeds keeper Andy Lonergan made a good block from a James Hayter effort, but the ball fell to Mamadou Bagayoko who stabbed it into an unguarded goal.
The advantage was no more than Rovers deserved and there was an accustomed air of resignation as United players trudged off to boos and jeers at the interval. Deciding to make his first intervention, Warnock set off for the dressing room.
Warnock: 'It was really frustrating being in the stands. After 10 minutes, I was really wishing I had put my name down on the sheet to be able to be in the dugout as there was a space on it.
'It wasn't a bad first team talk! They responded to the changes. Neil Redfearn was already shouting at them when I went in. I let him do that. I wanted to be the good cop!
'The little things were what I was desperate to change, maybe the ones the punters don't notice. For example, in the first half we defended a corner and Townsend was inside our six-yard box. This meant we had one lad, McCormack, up front with everyone else back. I got hold of Townsend at half-time and said, "Who told you to go there on corners? I want you on the halfway line on one side and McCormack on the other." That way the opposition have to bring three back, which is what happened.'
Warnock also ordered a tactical switch, Robert Snodgrass given a roaming role in the centre to make him more difficult for Doncaster to pick up.
Phil Hay in the Yorkshire Evening Post: 'His instructions were almost rendered redundant three minutes after the break. Giles Barnes sprinted over 40 yards of clear turf and laid the ball off to Hayter who, with Lonergan to beat and United's defence nowhere, clattered the ball against the crossbar. United's stroke of luck was huge but quickly wasted.
'With 54 minutes played, Spurr outran Alex Bruce on the left wing and crossed to the far post where Diouf's unselfish knockdown gave Bagayoko a tap in. Only then, at a desperate moment, did Leeds react as Warnock would have wanted.
'Their next attack stretched Doncaster's defence and Townsend met Danny Pugh's lay off with a deadly strike, driven into the bottom corner of Button's net. It raised Elland Road's smile for the first time since confirmation of Warnock's appointment earlier in the day.
'Leeds searched for a moment of class and it arrived 10 minutes from time when Clayton met Snodgrass' low cross with a flying volley and hooked the ball into the net off the underside of Button's bar. The noise was deafening and the tension rose after a clash of heads between Spurr and United debutant Robbie Rogers caused a lengthy delay on the cusp of injury time.
'As the 99th minute arrived, Becchio drove the ball against substitute Mikael Forssell and kept his head to sweep the ricochet into the net. Warnock shared in the pandemonium by clenching his fist, and celebration rapidly descended into violence. Welcome to Leeds.'
The game ended in a breathtaking 3-2 victory. It would have been understandable if the passionate and emotion-fuelled fightback had gone to Warnock's head, but not a bit of it.
The new manager was alarmed at a lack of leadership on the field and spent the week stressing that point to the players, saying publicly: 'We have good players, including some top class ones. But we need more leaders. It can't just be me off the field, I need one or two on the field as well.'
When asked if the United job would be his last in football, after saying that at each of his previous three clubs, Warnock laughed, 'I mean it this time. This is definitely the last one. I don't know how long I'll be here. Because of how the chairman is with me, we will know when the time has come for it to end … If I am not enjoying it, I won't want to stay. Likewise, if he is not happy with the job I am doing then he will tell me to call it a day.
'I can't imagine there will be many managers out there who wouldn't want a two-and-a-half-year contract, whereas I wanted an 18-month one. We could easily extend beyond that … but I will definitely not be going anywhere else in England after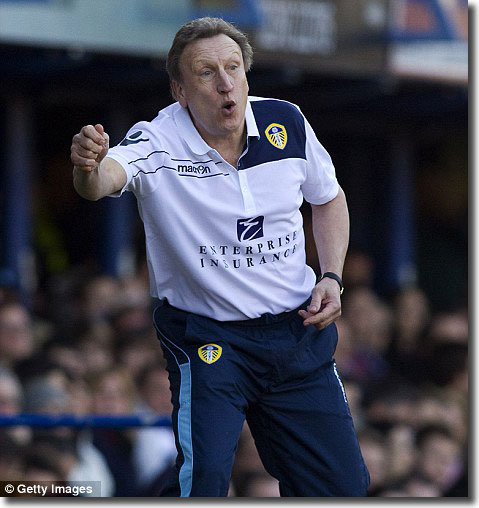 Leeds.'
As Warnock prepared for his first game in charge, a week later at Portsmouth, he revealed that Tottenham loanee Andros Townsend had left the club. 'When I talked to Harry Redknapp about changing my system for him, Harry said how pleased he was Andros was getting a regular game. The next minute Townsend's agent phones to say he's not enjoyed it at all. He said: "No disrespect to you, Neil, but he's wanted to leave for a while." I said to him: "He's only been here four weeks. I don't suppose it's anything to do with me hearing that Birmingham want him, is it?"
'I said to his agent: "I don't want anyone playing for Leeds who's not happy, but we'll have to play him at Portsmouth as I've worked on his role all week. Next week he can go to Birmingham or wherever." I go into training the next day and ask one of the staff to fetch Andros so I can put him in the picture. They return to tell me he's cleared his locker and gone back to London. By the time you read this he'll probably be at Birmingham. It'll be interesting to see how many games he plays between now and the end of the season.'
United earned a goalless draw at Portsmouth, denied victory by a 54th minute offside decision. Ross McCormack's exquisite chip from the left corner of the area came back off the bar and when Robert Snodgrass headed home the rebound he was adjudged offside.
Warnock: 'Overall I can't complain. I think the lads were trying to impress me early doors because it was 100 miles an hour, like Wacky Races. But when we calmed down in the second half we created some very good chances. One goal would have won us the game. Considering the bombardment from free kicks, throw ins and so on, I thought we defended really well. I didn't think we'd get many 0-0 draws having spent a week with the players and looked at the videos of the last few games. I've got to be pleased with that.'
Robert Snodgrass wore the captain's armband at Portsmouth and Warnock confirmed that he would continue in the role: 'I had a chat with Andy [Lonergan] and it's nothing against him … I think he was quite relieved really. He's taken it on board and wished Snods all the best. I said to Snods he'll be captain for the rest of the season and we'll see where we go.'
Lonergan backed Warnock's decision and claimed Snodgrass should have been given the nod two months earlier. The keeper had captained United through the final throes of Simon Grayson's tenure, replacing Jonny Howson after the midfielder's January transfer to Norwich. Grayson initially gave the armband to Lonergan in early January with both Howson and vice-captain Patrick Kisnorbo sidelined by injury. At the time, Snodgrass was recovering from emergency appendix surgery but the Scotland international revealed that he had asked Grayson to give him the captaincy.
Speaking after his first match as captain, Snodgrass said: 'I've been down here four years and this was one of the things to tick off in terms of things to achieve. I did fancy the job and I spoke to Simon Grayson at the time. He felt my form was going really well and he didn't want to affect that. That was his way of thinking but I didn't agree and I told him so … This manager is different. He tells you how it is because he's got a proven track record.'
Three days later, United signed free agent Danny Webber on a short term contract. Since leaving Portsmouth the previous summer after a campaign dogged by injury, the striker had spent the season training with QPR and Manchester United. He had worked previously with Warnock at Sheffield United.
United performed admirably at Elland Road against table-topping Southampton on 3 March, despite losing by virtue of a 15th minute strike from Rickie Lambert.
Southampton owed their victory to a fine goalkeeping display from the veteran Kelvin Davis, whose manager, Nigel Adkins, commented: 'His performance was right up there with the best I have seen. He was outstanding. In the first 15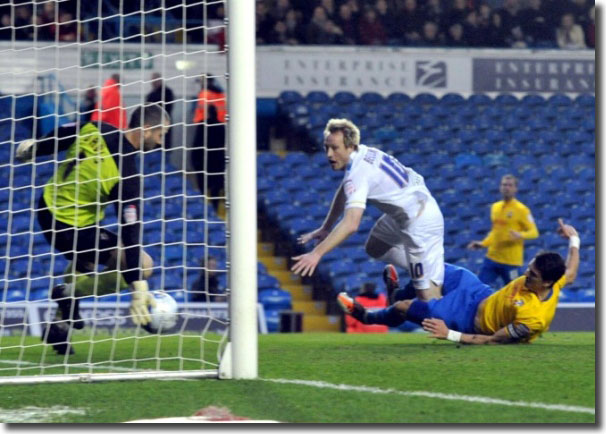 minutes we were chasing shadows for whatever reason. We looked second best to a very good Leeds team but Kelvin made some fantastic saves.'
Southampton were saved by the woodwork twice in the closing stages as headers came in from Snodgrass and O'Dea and then Lees shot wide. Becchio also hit a post and substitute Webber was twice denied a debut goal by the magnificent Davis.
Lambert's goal came from the only dangerous attack that Southampton could manage in a first period which saw them imprisoned in their own half as Leeds built some promising passing movements. They were no better after the interval and while Davis was overworked, Lonergan was a virtual spectator.
Neil Warnock insisted that United should have had a first half penalty when Jose Fonte raised his arm to block a Snodgrass cross, and said later, 'You don't always get what you deserve. It was a certain penalty when the lad raised his arm. I spoke to the referee and he said he had never seen it, which is worrying.
'That performance has whetted my appetite. I knew we had a vociferous crowd and we gave them something to get them going. The way we played, with real style, was very pleasing but we should have done better with our chances.
'We dominated the best team in the league for 89 minutes and you can't ask for more than that, but we need wins.'
Asked about United's chances of making the Play-Offs, Warnock said, 'We have to win eight or nine games out of 12, and everyone has seen the run in. We have Hull away, Middlesbrough away and West Ham at home in our next three games. If we beat those three, we have a hell of a chance.
'There is a lot of work to be done. The club has come up so quickly over the last few years that sometimes you go quicker than you imagine. To go to the next stage, there has to be things done. The chairman knows that. He has to support me when I ask for certain things over the next few months. He knows I want to do things immediately, not in two or three years' time.
'In my own mind, I am looking towards next season. But I am looking to win all these three games. If we come out with no points, we can forget all about it. If we get six or seven then we have a chance. That is how I look at it.'
In the days leading up to the game there had been press speculation that Leicester defender Matt Mills and Bolton left-back Paul Robinson were on Warnock's shopping list after loanee Adam Smith was recalled by Tottenham. After agreeing a loan deal, 33-year-old Robinson watched from the bench as Andy Lonergan's inspired performance secured a goalless draw at Hull on 6 March.
After the game, Warnock enthused about the contribution being made by Michael Brown. The former Sheffield United player had started only 10 League fixtures before returning to the side at Portsmouth, but Warnock saw him as a key member of the team. The midfielder had been a driving force in the Blades side which thrived under Warnock for several years, scoring 22 times in the 2002/03 season as they reached the Division One Play-Off final.
'Browny's been the unsung hero since I came to the club. He's been instrumental in defending and attacking by showing a cool head,' said Warnock. 'His game's changed since we were first together. Back then I gave him the freedom to get forward. Now he wouldn't be able to get back! But he still has a lot to offer and his contribution's been fantastic.'
Next up for United was a daunting task at promotion-chasing Middlesbrough on 11 March. Some dominating and disciplined football earned an accomplished 2-0 victory.
Louise Taylor in The Guardian: 'The Championship's promotion pretenders will be glancing, nervously, over their shoulders after Neil Warnock's first win as Leeds United's manager propelled his new side back into Play-Off contention. Although Leeds remain tenth, they are only four points behind sixth-placed Cardiff and six points short of Middlesbrough, who stay fourth. If a top two position looks well out of reach, few would bet against a Warnock side prevailing in the Play-Offs.
'On a soothingly soporific March day so untypically mild that the visiting manager patrolled his technical area wearing a T-shirt, Tony Mowbray's Boro played as if half asleep. To make matters worse, a frustrated Barry Robson was controversially shown a straight red card late in the second half and will be suspended for three matches.
'The familiar strains of "Marching On Together" were soon ringing around the Riverside as Leeds fans celebrated the first goal of the Warnock era. As this was the fourth game under Warnock's management, one was overdue and it duly arrived thanks to the influential Robert Snodgrass. When Darren O'Dea launched a long ball forward it was brought down and crossed low by Aidan White, leaving Snodgrass to direct a shot beyond Jason Steele.
'Poor Steele was beaten again before half-time. This time Luciano Becchio's low shot was too good for him following the striker's slick, defender-confounding exchange of passes with Ross McCormack. As Warnock celebrated with customary abandon, Justin Hoyte hung his head. Mowbray's disappointing right-back knew he should have cut out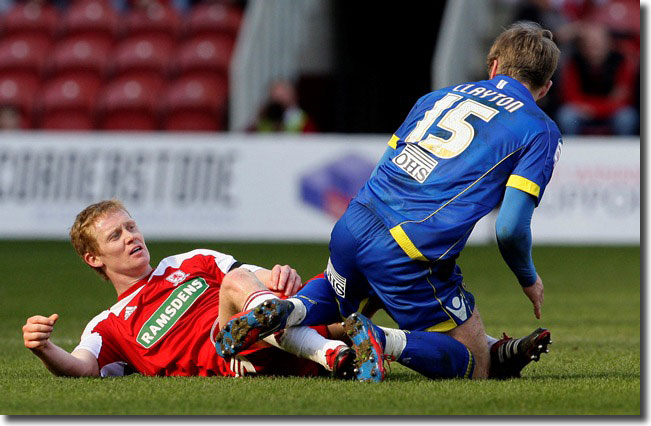 McCormack's dispatch.
'The Leeds goalkeeper was generally well protected by a defence that has tightened appreciably since Warnock's arrival. On the odd occasions when O'Dea and Tom Lees got themselves in a tangle, Robinson, newly arrived on loan from Bolton, raced across from left-back to sort things out.
'Warnock's side weathered a spell of fairly intense, if rather blunt, second half Boro pressure but the home side … never seriously tested Lonergan.
'All that remained was for choruses of "One Neil Warnock, only one Neil Warnock" to echo in the spring air as, arms folded, Mowbray contemplated his highly polished shoes.'
Warnock: 'I thought from the first minute we were on our game today and I suppose it was almost the complete away performance. We did the nasty things well today. The pressure was excellent and we put into practice what we'd talked about before the game and I thought the players enjoyed it. Every department did their jobs well, we didn't do anything fancy.'
Warnock, hoping that the improvement would continue, named an unchanged eleven as Elland Road hosted promotion-chasing West Ham on 17 March.
The manager stressed the importance of strong home support. 'Let's get the crowd up, forget the negativity and be positive… I need the fans to give everything … I said to the chairman "I want to make it my mission to get a 30,000 crowd against West Ham." I knew they'd bring 3,000 because they always do. The Middlesbrough game couldn't have come at a better time because it gave the fans something to enjoy. We'll find out something about our players now because we're playing the best side away from home in the division.'
The crowd numbered 33,366, the club's highest League attendance of the campaign.
The Guardian: 'Those inside had little to cheer about in a chanceless opening 10 minutes. Things livened up after that, with Leeds defender Tom Lees' scuffed effort scraping just wide and Robert Snodgrass jinking his way into a shooting position, only to be crowded out.
'West Ham's players were then angered by Paul Connolly's tackle on Kevin Nolan … but had more to be concerned about moments later when Nicky Maynard missed the game's first genuine chance. The striker nipped in ahead of Darren O'Dea to find himself through on Andy Lonergan's goal with 22 minutes gone, but his first touch was heavy and the goalkeeper was able to get out and smother the ball at his feet. Maynard's chance remained the best going into the break … but both sides had cause for complaint when the whistle was blown, with West Ham claiming a handball in the box against Michael Brown and Leeds confused as to why Snodgrass' touch beyond Robert Green was ruled out for apparent pushing by Becchio.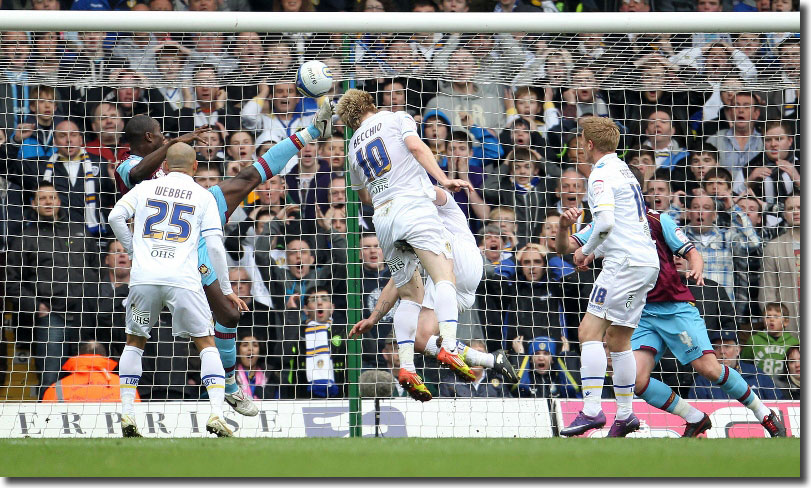 'With Maynard isolated and getting little change out of Lees and O'Dea, Allardyce opted to replace him with the more physical Carlton Cole and the former England striker nearly made an immediate impact, putting a ball across the six-yard box that evaded everyone.
'A couple of thundering tackles from loan defender Paul Robinson then helped whip up the home crowd, but it was West Ham who continued to probe with greater intent - Abdoulaye Faye nodding wide from a corner and Lonergan denying O'Neil after Jack Collison's shot flew loose.
'Green was forced to make his first save in the 70th minute when he showed terrific reactions to turn away a Connolly header. Connolly rarely ventures into opposition territory but, when he did again with 83 minutes on the clock, it created the opening goal. Snodgrass' cross got to the back post, Connolly headed against the bar and the ball fell to Becchio who did the rest. The lead would only last seven minutes for the home side, though, as West Ham secured a deserved point when Collins connected with Noble's well-taken corner.'
Warnock was disappointed not to take all three points: 'Since I've been here we should have won four out of five. We dominated Southampton and should have won today. We've dominated two of the best sides in the league and got one point. You've got to win games like that, I can't remember ever being this disappointed.'
After that, Warnock must have expected that the midweek game at home to Nottingham Forest would be a straightforward proposition, but it brought an astonishing setback.
Snodgrass converted a penalty to give United a fifth minute lead, but they were in the lead for just two minutes, Guedioura scoring with a speculative long range strike. Forest built on that equaliser when McCleary gave them the lead on the stroke of half-time.
When Blackstock made it 3-1 six minutes after the restart, the home fans must have feared the worst, but within three minutes they were baying their glee when goals from Becchio and Brown restored parity.
It was the calm before the storm, though, as Leeds collapsed. McCleary added three more goals to make it 6-3 by the 71st minute. United were well beaten long before Blackstock added a seventh nine minutes from time.
The Leeds players were jeered off by their fans at the end, and Neil Warnock showed his disappointment, commenting: 'I'm quite embarrassed about the result. But I don't think you learn much about your players when you're winning games, I think you learn things when things go against you, who stands up and who you want in the trenches with you. I've learnt probably more than I have in the other games tonight.'
Four days later, United returned from a difficult trip to Millwall with a professional 1-0 victory, secured by Ross McCormack's smartly-taken goal after 65 minutes.
Seconds after the goal, Millwall had the ball in the net, but referee Lee Probert had already awarded a penalty for a foul on former United striker Andy Keogh. Darius Henderson hammered his spot kick but Andy Lonergan got down well to make the save.
Moments later, Henderson was denied by the crossbar and thereafter Leeds gave a sterling defensive display to keep their opponents at bay and secure a resolute victory with a fourth successive clean sheet on their travels.
With seven games left, United were tenth, just three points shy of the Play-Off Places.
Away form had vastly improved, but results at Elland Road were dismal. Watford's 2-0 victory on 31 March meant United had secured just four points out of the 21 available at home since 21 January; the sole victory had required a goal in the ninth minute of injury-time.
Chris Iwelumo put Watford ahead after six minutes and wrapped things up with a goal a minute from the end. In between, United had been dire, prompting Warnock to conclude: 'I couldn't see us scoring in a brothel today. Watford are a streetwise team and we have been mugged in every department. We were so naive.
'It showed why I got the job. A major overhaul is needed and I don't think the 7-3 defeat against Forest was as bad as this performance. We will have to invest … It needs major surgery. This is as big a job and challenge as I have ever had.
'I learned more about some players today than I did against Forest. A few of them went missing.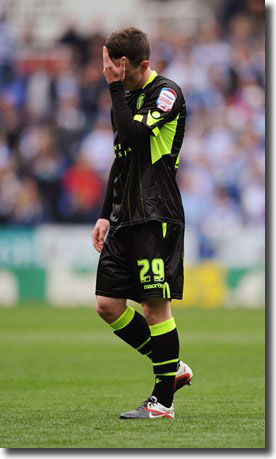 It hurts me that over 20,000 people have paid good money to see that. I have said for the last few weeks I need questions answering. You cannot expect 20,000 plus fans to turn up for that drivel. I am not putting up with it.
'One or two people have said that the stadium is too big and there is too much expectation. That is a load of rubbish. For me, when you play for Leeds United you have to play with your heart on your sleeve and you have to die for the cause … I saw a midfield player look away rather than head the ball. It does my head in.
'What we are missing are quality players. What we do not have is enough of everything. We have not got enough guts, quality and desire. You name it and we do not have it.
'I have to make sure we get enough good Championship players who have all the ingredients of what I require to make sure we are not in the same situation next season because there is no way I will tolerate biting my tongue like I have after being tonked by Watford.
'Heaven knows what team I will put out next week. We have Connolly and O'Dea suspended. The sending off [of Connolly] was irresponsible. He obviously does not want to play at Reading does he? That is how I look at it. If we have to play the kids we might has well. We are going to be beaten anyway with performances like this. I might as well put one or two in and have a look at them.'
Warnock brought in young Zac Thompson on 6 April at Reading, deploying Leigh Bromby, Alex Bruce and Paul Robinson in a three-man central defensive partnership, with Tom Lees and Danny Pugh given advanced roles on the flanks. The manager's plans were disrupted when Thompson was given a red card after 12 minutes for a lunging challenge on Jobi McAnuff, but United gave a spirited defensive display. Amidst their gritty defiance, Danny Pugh and Michael Brown were lucky to escape punishment for some fearsome challenges.
Just as they seemed to have weathered the Reading storm, United conceded two goals to substitute Adam Le Fondre in the last six minutes and ended the game with nothing to show for their efforts, but some snide 'Dirty Leeds' reports in the media.
Neil Warnock was pleased with the spirit shown by his beleaguered troops, commenting: 'The players were fantastic under the circumstances. We had a makeshift team and I didn't think they had a shot on goal until they scored. We played really well under the cosh.
'I've never seen players surround the referee like they did there … Straight away he gives the red card and I thought the kid was unlucky, having watched it three or four times. The ref only sees it once but when you've got the crowd and five or six players around you straight away, you tend to react. I don't think it's a red card, not when you see it in slow motion. I thought Pugh's tackle was worse. He should have been sent off and Hunt's challenge on Lonergan was a disgrace.
'I was disappointed with the winning goal … I thought Becchio was fouled in the build up to it. Gorkss is clever. He's gone up and pushed Becchio with his arm before playing the ball. When you've played the game you know Gorkss is fouling Becchio and you know that's a free kick … When you see Hunt's knee go right into the goalkeeper's ribcage, that's at least a yellow card. The referee didn't even see the knee going in. I had to tell him about it. He just thought the goalkeeper flapped at the ball.'
United slumped to a third successive 2-0 defeat three days later at home to Derby County, losing Michael Brown to a red card after 26 minutes. It was the third game in a row that they had ended with ten men.
Neil Warnock: 'Leeds are probably at the bottom of what they're going to be in the future and thankfully we're not in a relegation situation … I said to Nigel [Clough] "enjoy this Nigel because you'll never ever see another Leeds United team or a Neil Warnock team like this." That's how I feel. The end of the season can't come quickly enough.
'I don't think you can complain about the sending off. We all saw Mario Balotelli's tackle at the weekend and I think refs have been watching it. You don't have to put them in that situation and Michael is wrong to do so. Putting his foot high gave him an excuse. But the referee said to Danny Pugh in the tunnel before the game, "I saw your game on Friday." I think that's premeditated, totally wrong and out of order.'
The following week Warnock had what he described as 'productive talks' with Ken Bates. Warnock admitted to harbouring doubts but said he 'felt like taking the challenge on'. The manager was nearing the end of the first stage of his contract with Leeds - a deal running until the summer of 2013 but including a clause allowing him to leave the club at the end of the current campaign.
Warnock commented: 'I said when I first came here that I didn't want to be around mid-table. Next season's a big season for me. I don't want to work many more years and if I felt we couldn't get up there then it would be pointless picking up my money just to put a team out. I've never been like that.
'The chairman knows how desperate I am … I was very pleased with his reaction and I've spoken to him numerous times this week. But how I feel at the moment is irrespective of anything. I just feel like taking the challenge on.
'If the supporters had been negative towards me or if I thought they didn't believe in me then it would be easy to walk away at the end of this season. But I'm probably the best man for the job that needs to be done at Leeds. And it'll be as tough a job as I've ever had.'
Warnock was pleased by Bates' willingness to offer a new contract to club captain Robert Snodgrass which would make the Scotland international the highest earner at the club. It wasn't enough to prevent Snodgrass voicing concerns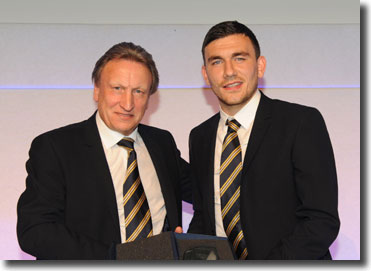 at an official club function.
When asked about his future, Snodgrass was non-committal, refusing to promise he'd be at Elland Road in five years' time, explaining that 'they have to show me some ambition … Last season I had offers of Premiership football, the manager told me stuff, but I didn't see much of it - whether that was him or the chairman. We're missing Howson. Weird that we never replaced him. How can you say you're aiming for promotion and then sell your captain?'
'I was very pleased with the reaction of the chairman,' said Warnock. 'Money's not everything with players. Some of them just want to see the ambition the club's got. I think Rob made that clear in some of his comments this week. It's also about getting the right players with the right attitude, and players who can play for Leeds. This isn't a normal club. You need a certain type of mentality to play here.
'I've already told the chairman of three or four players who I'm looking at and I'm speaking to agents regularly. We need to get cracking as soon as the season ends and that's why I want to get the first one in almost immediately.'
Warnock drafted Charlie Taylor, Robbie Rogers, Billy Paynter and Leigh Bromby into his starting eleven for the home game with Peterborough on 14 April.
The luckless Rogers, who had been stretchered off with concussion on his first team debut in February, had come off the bench in the two previous games. Ten minutes into his first start for the Whites, according to Phil Hay in the Evening Post, the American 'hobbled down the tunnel in a flush of pain and despondency', his season ended by an ankle injury.
In the first half, Leeds had slightly the better of an open game, with Paynter having a one-on-one with the keeper saved in the first minute and a header cleared off the line a minute later. Snodgrass was denied under the bar and Bromby headed against the woodwork. The Posh, though, took the lead after 37 minutes when Joe Newell capitalised on some sloppy defending and was able to work himself an opening before scoring from a tight angle.
United came back into the game in injury-time when Posh keeper Paul Jones dropped a Snodgrass shot and Paynter scored from a yard out. Peterborough collapsed thereafter with Ross McCormack scoring twice in the opening three minutes of the second half. First, a gentle volley from the back post and then, as Peterborough poured forward, Snodgrass, Webber and Clayton picked them apart to give the Scot a tap in from a couple of yards. Seventeen minutes from time, Paynter wrapped up a 4-1 victory.
The burly striker could and should have completed his hat trick, blazing wide when played in by Webber, before he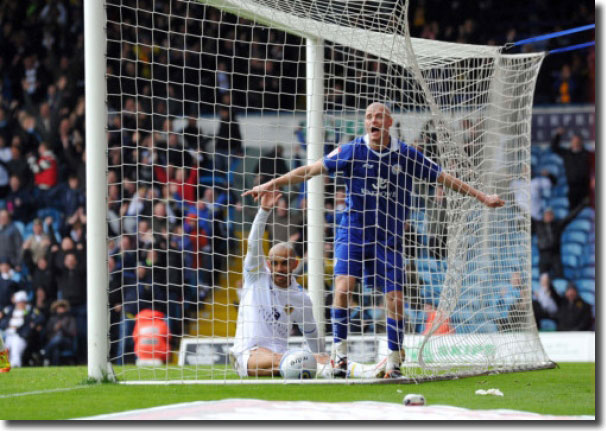 was given a standing ovation when Warnock withdrew him with seconds remaining. It was a welcome haul for a striker who had scored just once in 26 previous United appearances, but Warnock remained cautious about his future.
'Nothing has changed my opinion,' said the manager. 'I don't think anyone can tell me who is going to be involved but I think you would be an idiot if you wanted to leave.'
It was United's first home victory under Warnock, who added, 'It's been a long time coming … I really do not know what I am going to get at the moment. That is the Championship for you. You have to know week in, week out what you are going to get and that is what I am going to try to build over the next few months.'
Two days later, the long-anticipated clear out began when the contracts of Ben Parker and Mika Vayrynen were terminated by mutual consent.
On 17 April, United lost 1-0 at Blackpool, confirming formally they would miss out on the Play-Offs. Neil Warnock described the dismissal five minutes from the end of Darren O'Dea as 'quite deserved and stupid'. Two days later Warnock confirmed that the loanee would not be offered a permanent deal and would instead return immediately to Celtic.
O'Dea had made 35 league starts, but suspension ruled him out of the remaining fixtures. It followed a two-game ban incurred by the defender after he accumulated his 10th yellow card of the season at Millwall in March. Asked if the disciplinary indiscretions had influenced his decision to release O'Dea, Warnock said: 'I don't think it's helped. You can't be having people picking up stupid suspensions. It does nobody any good.'
After going a goal down at Cardiff on 21 April, United put up a spirited second half display and drew level when Becchio headed his eleventh goal of the season in the 73rd minute.
It was a decent point, but the loss during the first half of Leigh Bromby cast a pall over proceedings. The 31-year-old passed out and the players looked visibly distressed as medical staff tended to him. He would face months of rehabilitation after rupturing his patellar tendon, and Warnock commented, 'He was in agony and had to have oxygen straight away. He passed out. He'll have an operation and he will be out for a long, long time - I'd be surprised if he is back before Christmas. It could be a year. I'm gutted and disappointed for him because he has just come back in the team and done well.'
United wrapped up their season a few days later with a defeat at home to Leicester. Martin Waghorn capitalised on some sloppy defending to give the Foxes a 38th minute lead, but Danny Webber scored his first Leeds goal nine minutes from time, apparently securing a point. With seconds left, though, teenage debutant Harry Panayiotou scored to condemn Leeds to an eleventh home defeat, an unwanted club record.
Phil Hay in the Evening Post: 'History will remember this as the season when the stadium's hostile reputation collapsed like a house of cards… Eleven league defeats at home - a total never before seen in 90 years of existence - is not the only legacy of a wasted year but few are more symptomatic of the club's spineless struggle.
'United's players embarked on wha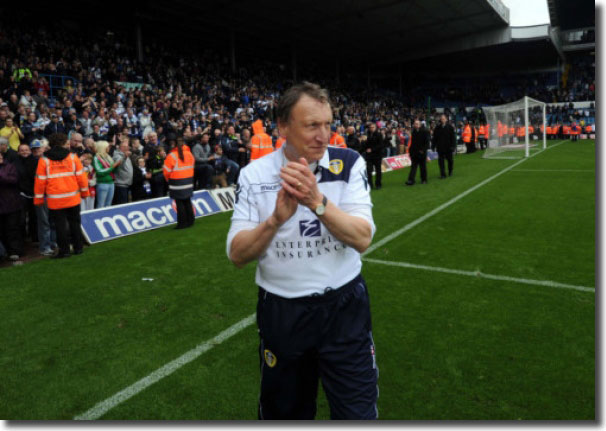 t is generally described as a lap of honour at full time on Saturday but their walkaround was nothing of the sort. Between driving rain, a 2-1 loss to Leicester City and a final league position of 14th, the stands were half empty by the time it began. A glance at the Championship table said it all: 27 points shy of automatic promotion and 14 below the Play-Offs. Perhaps as prominent as Leeds deserved to be.
'Neil Warnock wore a bemused smile as he paced around the pitch, wondering why it was that more than 25,000 spectators had been willing to endure more of the same.
'There was nothing to be read into United's line up on Saturday, aside from the absence of left-back Paul Robinson. Omitted for the last game of his loan from Bolton, it was an admission from Warnock that a permanent deal would not be in the post. His impact in 10 previous games failed to merit one. Leeds are at the stage where lockers will be cleared and shirt numbers handed back.'
Warnock: 'There's a sense of relief that it's all over. I'm disappointed with the way we lost but I've known for four or five weeks what type of job it was going to be here … It's bigger than I thought and it might be even bigger again. I don't know yet whether certain lads will re-sign or not.
"I know the players I want and I've already got one in line who I'm pleased with. I've got to find the sort of players who will revel here - who'll enjoy games at Elland Road like I do on the bench. I need to be able to rely on people and that's not been the case.
'I think the record's justified, it shows you how low we are. Instead of being a fortress to us, or an advantage, it's been a weakness all season. That won't happen again. It's not the lowest ebb I've ever had but for Leeds to lose that many games at home is about as low as you get.
'What we've got to use at Leeds is the advantage of the crowd. We've got to get pace in the side, power in the side and we've got to have energy. We've got to get the crowd up and at them, not the other way round. At the minute it's them trying to get us going.'
There was the hope of better things to come under Warnock if he managed to make the changes to the playing resources which he promised, but it was a gloomy moment as the bedraggled fans trooped sadly away from Elland Road.
Part 1 Unrest and despondency - Part 2 Warnock - Results, table and transfers