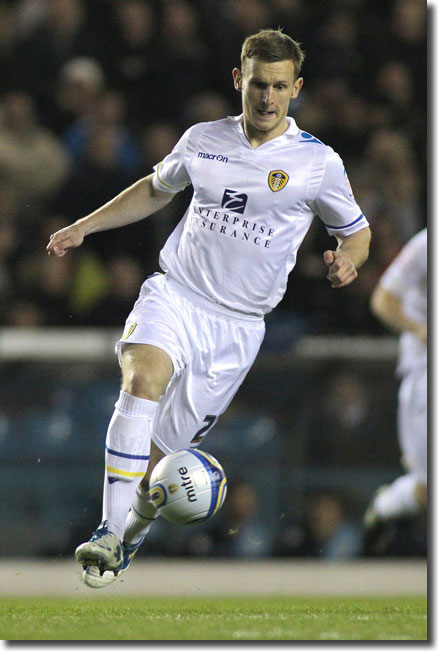 printer friendly version
Leeds United faced Nottingham Forest at Elland Road towards the end of the 2011/12 campaign determined to secure three points to boost their Play Off chances; the odds were on them achieving that goal.
Four months earlier at the City Ground, Leeds had romped to an emotional 4-0 triumph against Forest. Days earlier former United midfielder Gary Speed had taken his own life, and the victory served as an emotional tribute to a great footballer by his first club.
United's form slumped badly following that comprehensive victory, thanks in the main to the brittleness of their rearguard, but new manager Neil Warnock had steadied the ship, with just two goals conceded in five games.
Back in September, the Yorkshire Evening Post's Leon Wobschall highlighted the defensive shortcomings which the previous manager had been unable to resolve: "The switching around of Leeds United's centre-halves has resembled a game of musical chairs since the start of last season - with Simon Grayson's search for a harmonious and long lasting combination a wholly taxing one.
"A total of seven different partnerships were paraded in the heart of the back four in all competitions last term and with the 2011/12 season not yet two months old, the number count is already up to five as the United boss wrestles with a conundrum which is every bit as problematic as a Rubik's cube.
"For the record, the separate central defensive axes that have started for United since August 2010 are as follows: Collins/Naylor, Bruce/Collins, Bruce/O'Brien, Collins/O'Brien, Collins/Bromby, Bromby/O'Brien, Naylor/O'Brien, Kisnorbo/O'Brien, Kisnorbo/Bromby, Kisnorbo/O'Dea, O'Brien/O'Dea and Bromby/O'Dea. The pairing together of the latter two players, in United's roller coaster 3-3 draw at Brighton last Friday, was United's fourth already in the Championship this term. (By March, the list had been extended by the pairing of Tom Lees with first Kisnorbo and then O'Dea.)
"But instead of finding answers, Grayson - who fielded three separate combos in the first three League matches of 2011/12 against Southampton, Middlesbrough and Hull City - has received only more questions as the back four defensive charge sheet grows more damning. As it stands, porous United have shipped 15 goals in eight League matches, with only Ipswich Town (16) having got out the welcome mat more times in the Championship.
"A first clean sheet of the campaign in all competitions has proved elusive for United, who have played 11 matches so far this term and you have to go back the same amount of away League matches to February 12 for their last shut out on the road, in the polished 2-0 victory at Bristol City.
"It's enough to keep a manager awake at night and it will have occupied the minds of many supporters travelling back from the south coast to West Yorkshire in the wee hours after Friday's game with no obvious solutions in sight.
"Mean, streetwise and in some cases nasty is not something you can level at United's defence in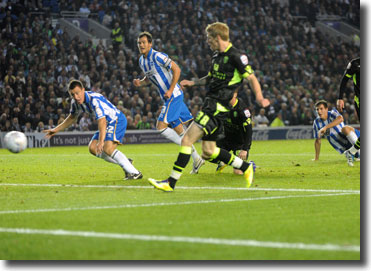 recent years, with their inability to box clever at the back summed up in a nutshell in their past three League matches.
"Having totally dominated the hosts and deservedly gone in two goals to the good following a wholly disciplined first half at The Amex Stadium, it's not rocket science to deduce that Grayson will have been cajoling his charges to keep it tight for the opening 10 to 20 minutes of the second period to take the sting out of the jaded hosts and effectively break their spirits. Job done.
"Just as he would have been stressing the need to avoid early concessions in the previous home games with Crystal Palace and Bristol City.
"What he got instead was his defence criminally yielding straight after the restart at Brighton, which followed leakages against the Eagles and Robins four and eight minutes respectively after the hosts had taken the lead."
By the time United hosted Forest, Lees and O'Dea had settled down to be the regular pairing. They had played together in every game since Neil Warnock's arrival and on nineteen occasions altogether, with eight of United's nine clean sheets achieved with the two men in harness.
Warnock's first game in charge of United brought a goalless draw at Portsmouth on 25 February; they lost by a single goal to table-topping Southampton a week later, but then drew 0-0 at Hull and won 2-0 in fine style at Middlesbrough. The Whites were unfortunate on 7 March, when a late header by West Ham's Danny Collins denied them all three points. The 1-1 draw left Leeds tenth, five points shy of the Play Off positions.
Forest had endured a trying campaign. When former England manager Steve McClaren took charge at the City Ground in June it was hoped he could lead a promotion challenge. But in October, after 111 days at the helm, he resigned with Forest 21st in the table. Steve Cotterill replaced McClaren and won four of his first six games, but the revival was short lived: Forest were in the bottom three at the turn of the year after an alarming seven-game run which produced six defeats and no goals. By the end of January, Forest were six points from safety after returning seven blank sheets in a row at the City Ground.
They were still struggling as they travelled to West Yorkshire at the end of March, just four points outside the relegation zone with four wins in 19 games.
Such contrasting form pointed to Warnock's momentum being maintained, though the manager freely admitted that United would require "fantastic form" to break into the Play Offs.
Warnock: "I think we have to win seven now. Not many teams in our League win four or five on the trot, let alone seven out of nine. So we've got to have pretty fantastic form and you've got to say we've got to start winning our home games. Of our ones left, we've got to go for maximum points because all the away games we've got left are tough, for one reason or another.
"You always look at that sixth position, don't you? And I think until that's gone beyond us, (we'll aim for that). Five points at this stage is quite a big gap, but when you look at the positions we've been in and the games we've had, there's no reason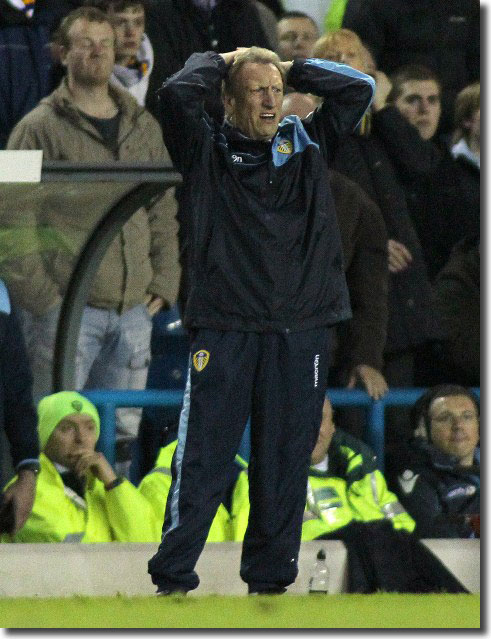 why we can't get the right results if we get things going the right way. Two or three results and you are right back in it.
"I can sit here and look at the games we should have won and that's frustrating. On Saturday we threw away two points. I can understand if it's a great goal, but it wasn't.
"There was Saturday we should have won, Southampton we should have won, and Portsmouth we should have won. Put in those six or seven points that we've missed and we all know where we would be. It's frustrating because I want everything done yesterday not tomorrow, and it's frustrating that we're not closer to sixth place.
"The games are running out, and you have to say that it's becoming almost impossible if we don't put a run together."
Warnock described the Elland Road atmosphere for the West Ham clash as a "raucous amphitheatre". While the crowd for the Forest game was significantly less than the season's-best 33,366 which watched the Hammers, Warnock was confident it would be as lively as ever.
He commented: "I asked for a 30,000-plus (crowd) on Saturday, which is easier said than done, and the fans responded in a magnificent way. I also think Elland Road under floodlights is a very special place as well. We won't get the same amount of people, but there's no reason why the atmosphere isn't the same. It was rocking against Southampton."
Warnock spoke with sympathy of Forest's tragic season, which had seen the unexpected death of chairman Nigel Doughty.
"They have been a club in turmoil," he said. "It's been a very, very traumatic year for them. What happened with Nigel was tragic. I got to know him well over the past few years, and he was a man who put a lot of money into the club.
"Nottingham Forest are a massive club. I know that from my time managing Notts County when the great Brian Clough was over there. They'll come back because big clubs do. They've just got to stay in this League - which I think they'll do - and they'll come back stronger next season."
Warnock stuck with the starting eleven that did so well against Middlesbrough and West Ham, with tough tackling Bolton loanee Paul Robinson continuing at left-back.
There was a heartfelt minute's applause before kick off in tribute to Robinson's Reebok colleague,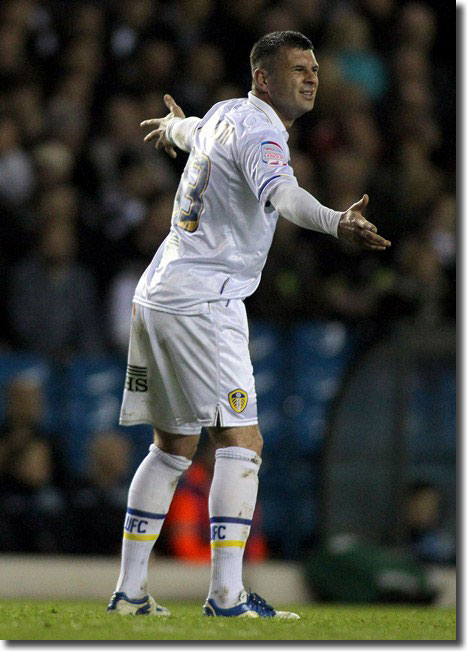 Fabrice Muamba, who three days earlier had collapsed after suffering a heart attack during the FA Cup-tie with Spurs.
Warnock: "I was in my office disappointed with life after throwing two points away then a flash came up on TV while the results were coming in. Suddenly the game and your own disappointments pale into insignificance when you hear something like that. Here was a lad fighting for his life.
"It brings it home that it's just a game of football. Your family comes first. I think what's happened has shocked everyone around the world, not just in this country."
United's tribute followed the lead of several Premier League clubs on Sunday and was in line with a number of other Football League clubs that evening.
The night's opening goal might have come in the first 45 seconds. Chris Gunter attacked the open space down Forest's right flank and Dexter Blackstock met his low cross with a sidefooted effort which clipped the outside of a post. United were fortunate to escape unscathed but there was much worse to come.
Neil Warnock had stressed the importance of seizing the initiative and his players duly took the lead after six minutes. Ross McCormack, partnering Luciano Becchio up front, had one early opportunity and then he earned a penalty for United. As he wriggled his way into space in the box, the Scot was cynically bundled to the turf by Adlene Guedioura and the penalty award was a formality. Captain Rob Snodgrass accepted the responsibility and confidently fired high into the top corner, sending goalkeeper Lee Camp the wrong way.
That should have been the catalyst for a decent night for the home side, but within two minutes the score was level. Guedioura, an Algerian midfielder on loan from Wolves, emerged with the ball after a clash with Michael Brown at half way. He was allowed space to unleash a speculative drive from 35 yards that soared past Andy Lonergan and into the net off the underside of the bar. It was the ideal way of making amends for his earlier indiscretion.
Phil Hay in the Yorkshire Evening Post: "A surprised Warnock stood motionless with his hands in his pockets, wondering where the goal had come from. Forest deserved it and were the more fluent of the teams throughout the first half.
"The odour of uncertainty wafted from United's defence, something Warnock believed he was well on the way to eradicating, and the force of Gunter's forays forward kept Lonergan on edge. Camp's only job for 45 minutes was to retrieve the ball from his net.
"Lonergan produced his first save of the night in the 24th minute, claiming an effort from Andy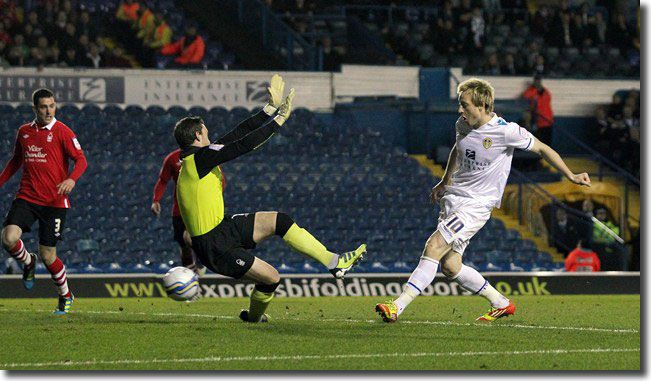 Reid after Garath McCleary passed the ball unopposed along the length of United's box, and Paul Robinson received the first booking of the evening after a trademark tackle on Blackstock. Nothing in the meantime promised another Leeds goal.
"The odd chance continued to fall for Forest, with a second Reid shot deflecting wide from an identical position and McCleary volleying an ambitious attempt high into the south stand. McCleary's wayward shot three minutes before half time, invited after Lonergan spilled a corner, was a far better opportunity to give Forest the lead."
The visitors continued to press their case and took the lead moments before the break. When Forest broke quickly, the ball fell to McCleary who danced into the box. Brown sought to block his shot but his intervention sent the ball looping over the advancing Lonergan and into the net.
Aidy White was sacrificed at half time, making way for Danny Webber as Warnock sought to restore order.
The visitors started the second half on the front foot, pinning United back, and in the 52nd minute, the ball fell to Andy Reid out in space on the left. The stocky midfielder turned adroitly to wrongfoot Adam Clayton before lofting a cross to the far post where Dexter Blackstock beat his marker to nod in Forest's third goal.
The 3-1 advantage was emphatic and there would have been little surprise if United had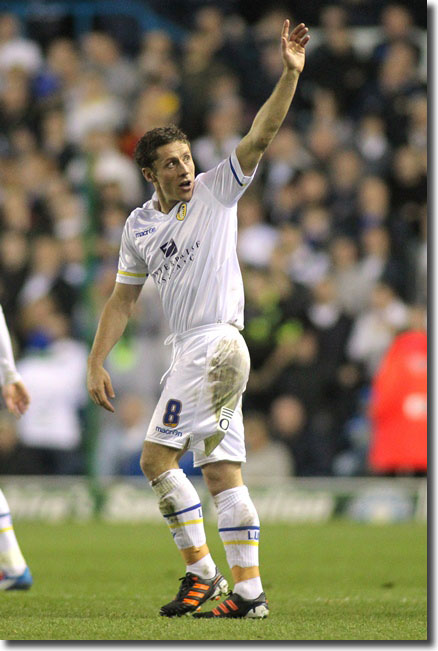 surrendered meekly at that moment, but seconds later they were back in the game. Forest defenders were found wanting when Snodgrass sent the ball over from the right, and Luciano Becchio calmly clipped home at the back post.
And it was 3-3 after 55 minutes when Michael Brown smashed home his first goal in a Leeds shirt. When a Paul Connolly throw in was half cleared, Brown chested it down a yard outside the D. The midfielder lashed a curling strike into the corner of the net with the diving Camp left clutching at thin air.
At that stage, Warnock was convinced his side would emerge victorious, but the farcical pantomime continued as Forest regained the lead within a minute. A ball over the top of the United defence by Blackstock sat up nicely for McCleary who allowed it to drop before volleying over Lonergan from an oblique angle.
That was four goals in the space of five minutes, and the mayhem continued as Forest moved into a 5-3 lead on the hour. Reid sent the ball skimming low across the area and McCleary sidefooted accurately home to complete his hat trick.
After 66 minutes, Neil Warnock brought on Danny Pugh for Paul Robinson, concerned that the defender might receive a second yellow card for any ill-judged intervention.
The game was still remarkably open, and Lee Camp made a terrific save in the 69th minute to deny Snodgrass' superbly struck effort.
But it was Forest who scored again after 71 minutes when McCleary once more displayed great confidence on the right, turning away from Danny Pugh before cutting inside and firing across Lonergan into the net.
With ten minutes remaining, Becchio was replaced by Billy Paynter, but there was to be no United revival.
Within a minute, Forest made it 7-3. The ball was played through a square United rearguard and as O'Dea appealed vainly for offside, Blackstock coolly collected. He came inside the wrongfooted Tom Lees before sliding the ball low into the corner of the net.
It was the first time Elland Road had witnessed United conceding seven times in the League. "I'm quite embarrassed by the result," said Neil Warnock, "but you learn more about your players at moments like this, rather than when you're winning. It tells you who is prepared to stand up and be counted, who you want alongside you in the trenches.
"We fought back really well, regrouped and got to 3-3 but their fourth goal's terrible. It's a Sunday League goal.
"I don't think anyone could look in the mirror after the goals we've conceded. Going back to my Sunday League days I'd have been disappointed then to concede two or three of those goals.
"I didn't feel it was appropriate to make changes on Tuesday because they were super on Saturday. On reflection I should have done. It was obviously a problem for one or two lads to do two games in four days. I didn't think it would be. To be fair, some of them were shattered. It wasn't a night for rollocking anyone.
"I don't think any of the lads could have given more physically but they were drained.
"We're a bit thin on the ground, but I don't think the centre-backs played poorly, I just thought every
shot was going to go in.
"You've got to be stronger mentally in certain areas to avoid results like that.
"You can always experience something new in football, even after a lifetime in the game, and this week I conceded seven goals for the first time. At least, I think it's the first time. I've been racking my brains to think of another occasion, but if it happened I've blocked it out. No doubt someone out there will enlighten me if I'm wrong.
"Conceding that many goals at home is as big a test of a manager's relationship with fans as can be, but if I had any doubts about how Leeds supporters would react to having a Sheffield lad as manager they were answered this week. On Thursday I had to sing for my supper at a dinner and Q&A at the club with more than 300 supporters. Not the ideal event after such a defeat.
"The fans were marvellous. The job is so much easier if the fans are behind you and I came away with a fresh realisation of how desperate they are for success, and how they trust me to deliver it. I said to them a few times, 'you do know we lost 7-3 the other night?' One guy stood up and said he was a QPR season ticket holder, last year had been the best of his life as a fan, and his club's loss was Leeds' gain. By the time I left I was much happier than 48 hours earlier.
"It was a strange game. It can't be often a team loses seven goals and you're left thinking, 'we could have won that'. When we got back to 3-3 I thought we would go on and win but some of our defending took me back to Sunday League. The frustration is that, because of the other results, even now the gap doesn't look insurmountable, but I don't think any top team gets beaten seven - apart from Arsenal, of course. It is fantastic the way they have recovered from losing 8-2 at Old Trafford.
"We're still aiming for the Play Offs, but I'm also looking to next season - though as I said to Ronnie Jepson, my coach, when the seventh goal went in: 'I wonder what odds you can get on us now for promotion next season?'
"In a way, Tuesday was useful; painful, but useful. I'm still assessing players with next year's squad in mind and you learn more about them in a match like that, you find out who is resilient. You do need to be a certain character to play at a club like Leeds, who get big crowds. You need to be strong, to want the ball in adversity. How we react today at Millwall will answer a lot more questions about my players. It'll be a good test, mentally and physically, at a difficult venue.
"You might think I went into the dressing room and gave them all a bollocking, but it wasn't a night for that. It was one game too many after the weekend's West Ham game. They put a lot of work into that game while Forest had a blank weekend. They were so much fresher than us. However, while the Championship is a tough league I do believe it is possible to play with intensity all season if you look after yourselves so I did say to them: 'Obviously some of you couldn't run, you have to look at yourself fitness wise, have you done enough?'
"What you want to do after a match like that is sneak off to a darkened room, unfortunately I had to face the press, some of whom probably quite enjoyed the idea of me losing seven. There was some levity. At half time, when we were losing 2-1, I went into an office with Mick Jones and Ronnie to gather my thoughts before talking to the players and we saw on TV that Notts County,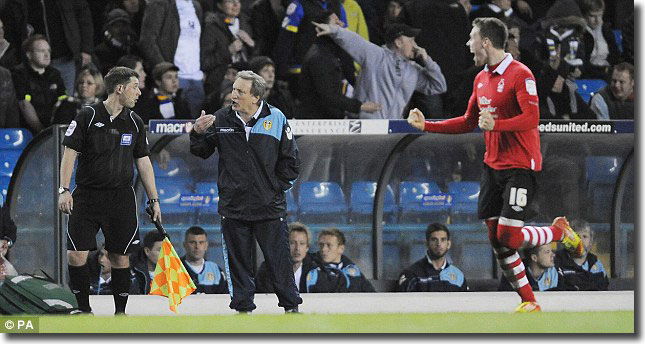 now managed by my former coach Keith Curle, were 4-0 down. We looked at each other and thought: 'That makes us feel better.' At the final whistle I got a text from Curly, who'd lost 5-2 in the end: 'Just seen your score, gaffer, makes me feel a lot better.'
"I spoke to the chairman, Ken Bates, the next day. It may surprise you to hear he was in a jovial mood. The good thing about having a chairman with so much experience is he's been round long enough to know you don't get too carried away when things go great, likewise you don't get downhearted when things go against you."
Months later, Warnock recalled: "The one thing about the fans since I've been here is that they have been magnificent. I'll never forget the Forest game at home in the last ten minutes of that game when I was talking to Ronnie Jepson and saying: 'Let's put something on this pitch next season for this lot to get excited about.' And that's what I'm trying to do."