Part 1 Unrest and despondency - Part 3 End of season blues - Results, table and transfers

With Leeds United manager Simon Grayson concentrating on preparations for the 31 January clash with Birmingham, the wheeling and dealing was left to Gwyn Williams and Shaun Harvey as the transfer window closed. They completed the loan signing of 20-year-old Tottenham right-back Adam Smith, but too late for him to be named for the game.

Ross McCormack gave United a 19th minute lead, but Birmingham levelled with their first serious thrust, Nicola Zigic heading home. That was just the start, for between the 61st and 67th minutes, the Serbian beanpole added three more goals against a shell shocked rearguard.

The Yorkshire Post: 'The closing of a transfer window has invariably left Leeds United fans feeling deflated. The sale of popular players such as Jonny Howson and Max Gradel has been a major factor behind any dips in mood, as has a policy of bringing in loan players rather than permanent signings. Last night, however, the passing of the transfer deadline at 11pm was met with an even deeper sigh than usual at Elland Road after a four-goal salvo from Nicola Zigic had condemned United to a fifth home defeat of the season.

'Birmingham's giant Serbian deserves the highest praise for the clinical manner in which he finished his quartet of goals. But, even so, surely even Zigic's biggest fan will admit the helping hand he was given from an accommodating Leeds defence whose idea of man marking seemed to be leaving the 6ft 7in striker to his own devices and hoping he missed the target.

'Perhaps the most galling part of last night was that for an hour Leeds had produced a performance immeasurably superior to the insipid efforts that had brought seven points from three League outings in 2012.'

A dispirited Simon Grayson said after the game, 'I spoke about how I wanted to turn Elland Road into a positive place and there were no complaints there. The way we started the game was fantastic. It's so hard to explain a result you couldn't see coming after 60 minutes but we showed our naivety and inexperience.

'You've got a 6'7" bloke who's difficult to manage and we didn't stop the source to him or get tight enough to him. You've got to be touch tight to someone like that and two yards away isn't good enough. It was too easy for him to score his goals and that's down to the inexperience in our backline at the moment.'

The comments were the final act of the manager's tenure at Elland Road. Within hours the club dispensed with the services of Grayson and his coaching staff, leaving Ken Bates to begin the search for the fifth manager of his seven-year reign.

The timing of the announcement was puzzling, with United allowing the transfer window to close before acting. There were cynical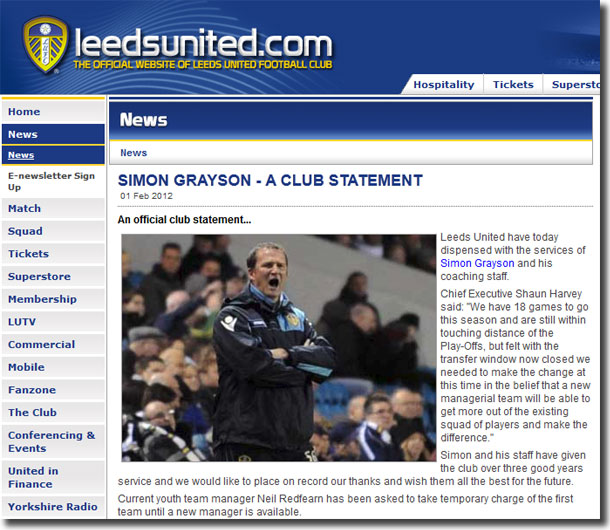 claims that this was intentional, with Bates unwilling to fund any player purchases.
The chairman retorted angrily: 'At 30 players, we have one of the largest squads in the Championship and bigger than some in the Premier League. We spent over £12m on wages so why are people blaming me for the recent results? All the money we have received has gone back into the squad. The manager decides who he wants to buy … I am a little bit disappointed he mentioned last night he has been working under financial constraints. We are over 30% over budget on players' wages.'
Jon Howe gave an incisive summing up on the Sabotage Times website: 'Grayson was clearly operating with both hands tied behind his back, having no power to keep his current players or bring in the players he would want to fulfil his dream, as a Leeds-born player and fan, of managing the club in the Premiership. For this reason I would forgive Grayson for the constant reliance on short term loan players (for which he had a very poor success rate) and I would also partially forgive him for the continual plethora of dead wood we seemed to collect each season.
'With jewels in the form of Max Gradel and Jonny Howson sold from under him, Grayson has seen a squad that over achieved last season slowly dissembled into a mixed bag of over the hill short term contracts, loanees and promising but unfulfilled youngsters. To what extent you can blame Grayson for the development of this situation is the key question.
'Debates are raging amongst Leeds fans, and whilst there can be no doubt that the finances and long term strategy are not in place to firstly attract and then retain players of sufficient quality to get us in to the Premiership, the fact remains that we still have a talented first eleven (if not squad).
'This was shown last night against Birmingham. For the first 45 minutes Leeds played fluent attacking football for the first time at home all season, and should have been at least a couple of goals clear at half time. It was all set up for a rousing victory in the second half, despite Birmingham drawing level, but instead the fans were treated to Grayson's Achilles heel once again: the art of defending.
'The worm began to turn for me this season as I realised that, after three years, we still simply couldn't defend. The points thrown away by sloppy defending are laughable, but the stark reality raises serious flaws about Grayson's management. The frequent chopping and changing of the back four screamed out that the manager had little belief in his players, and little structure to his game plan for defending.
'In summary, the sacking of Simon Grayson today is the pinnacle of the ongoing doom that is surrounding the club. I feel deep sadness for him because every Leeds fan wanted him to succeed and he was doing the best with what he had, but what he had wasn't good enough … Too many times this season I have walked away from Elland Road thinking, "I don't think Grayson can lift these players," and that comes down to management. His hands have been tied to a large extent, and you wonder how close he has come to walking, but he is also culpable of never solving the defensive issues, meddling with formations and substitutions with baffling frequency and ultimately not delivering in a results business.
'Simon Grayson delivered some good times to Elland Road, but, whilst the current regime remains in place, today was inevitable. This, unfortunately, is the only change in the hierarchy of the club we are likely to see in the immediate future, and it was clear that we had gone as far as we could under Grayson.'
Thoughts quickly turned to a replacement and the early gossip surrounded former Sheffield United, Crystal Palace and QPR manager Neil Warnock.
Glenn Moore in The Independent: 'A quiet life on the farm in Cornwall or a lively one working for Ken Bates? That is the choice Neil Warnock could be faced with … Within minutes of Grayson being fired, Warnock, who turned down the Leeds chairman 20 years ago when he was at Notts County and Bates was chairman of Chelsea, was installed as favourite to take over.
'Warnock heads a list of managers that includes those who played at Chelsea under Bates (Gus Poyet, Robbie Di Matteo), ex-Leeds players (Gordon Strachan, John Sheridan), out-of-work trio Steve Bruce, Dave Jones and Billy Davies, and Lee Clark, who is impressing at nearby Huddersfield Town. It is Warnock, though, who appears the preferred candidate of Leeds fans despite his association with Sheffield. One post on a message board summed up the prevailing mood: "I can't stand the man, but he's proven at this level and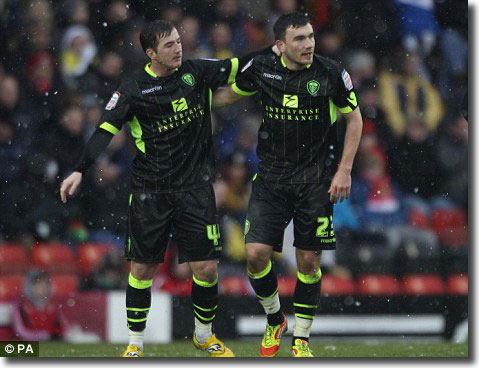 God knows we're desperate."
'In the immediate wake of his dismissal by QPR last month, Warnock's inclination was to retire with his young family to Cornwall, but the nature of his departure rankled. In a 30-year management career he feels he has not had the chance to do himself justice in the top flight. Leeds could offer that.'
As Ken Bates pondered, Under-18 coach Neil Redfearn took temporary charge of team affairs.
The 46-year-old had been in the professional game for 30 years including spells as a player at Crystal Palace, Oldham, Barnsley and Charlton. He had managed Halifax Town, Scarborough, Northwich Victoria and York City before being appointed coach of United's Under-18 team in December 2008, taking over as manager of the reserves two years later when Neil Thompson was sacked.
Redfearn was dismissed by the more cynical supporters as a 'yes man', a low cost pawn who would not rock the boat, but he enjoyed a dream start to his spell as caretaker manager.
United won 3-0 at Bristol City on 4 February under falling snow and on a surface only rendered playable by the hard work of the Ashton Gate groundstaff. Redfearn gave a debut to Tottenham right-back Adam Smith, choosing to omit the other Spurs loanee, Andros Townsend, and young Zac Thompson.
United were far from their best in the first half, but took the lead after 40 minutes when Robert Snodgrass provided the emphatic finish to a smart move involving Luciano Becchio, Danny Pugh and Ross McCormack. The goal was very much against the run of play.
Within seconds, the home team were reduced to ten men when James Wilson brought down McCormack, referee James Linington flashing a straight red card. Thirteen minutes into the second half, City also lost Yannick Bolasie when he received two yellow cards in the space of 60 seconds for fouls on Adam Smith.
After the game furious Bristol manager Derek McInnes accused Smith of 'making the most' of the incidents which he claimed 'killed the game', allowing the away side to complete a comprehensive victory against nine men.
United made no mistake with so much space to exploit and rapidly seized control. They twice had the ball in the net only for McCormack to see both efforts ruled out after straying offside, while only a last gasp clearance from Liam Fontaine prevented Snodgrass from capping a weaving run with a goal.
McCormack finally made United's superiority pay 11 minutes from time with a low angled drive inside the far post from the edge of the area. Becchio added a third in stoppage time to cap a memorable afternoon for United and their caretaker manager.
Buoyed by the victory, Ken Bates promptly confirmed that he would not be rushed into making a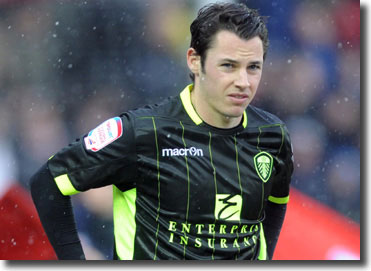 permanent appointment. He commented, 'I'm happy to say that Neil will be in charge for at least the next three games. That's Brighton, Coventry, and Doncaster. Those three games are all very winnable.
'We have been inundated with applications from the cheeky to the outlandish. We've had one from an 11-year-old boy who obviously has high ambitions in the game, and we have a PlayStation manager of 2010, who fancies his chances, having won a competition. We've also had Sven Goran Eriksson apply, but he won't be coming.
'There'll be no hurried appointment because the next one is a big appointment, not necessarily in name, but for the future of Leeds United.
'Leeds United is a big club with a big fan base. It's a one club city and any manager with ambitions wants to manage a big club. It also brings a wealth of unwanted applications for the wrong reasons and that's why we have to be careful. We don't want an instant miracle maker, although the fans think it's a good idea, but you rarely find one. It has to be someone who wants to come here for the right reasons.'
Redfearn commented: 'I have been told just to keep going and keep doing the job until I am told otherwise… I am not a fool and I know full well that it is a big club and there will be a lot of people interested in the job but I am making sure that I am doing the right things until a time when I am told differently.
'Managers always get touted about, but the most important people are the players, and it's important they're up for every game and that they're organised and in good condition. That's what we did on Saturday and that's what we'll focus on this week for the Brighton game, and so on until I'm told otherwise.'
Following the dismissal of Simon Grayson, the board of the Leeds United Supporters' Trust (LUST) called for a review of the club's strategy and financial policy, announcing a planned march from Leeds City Square to Elland Road before the game against Brighton on 11 February as they stepped up LUST's 'Campaign for Change'.
Trust officials met with West Yorkshire Police while United were in the process of ending Grayson's three-year reign, and LUST confirmed the staging of what chairman Gary Cooper described as a 'peaceful but important statement about the need for change at Elland Road'.
United's average home attendance had dropped by almost 4,000 from the previous campaign and the crowd of 19,628 for the Birmingham game was the lowest for a League match at Elland Road since February 2010. Cooper blamed the decrease on disillusionment, caused by a failure to invest in the playing squad or listen to supporters' concerns.
Cooper told the Evening Post: 'This march is part of our call for Leeds United to maximise their fan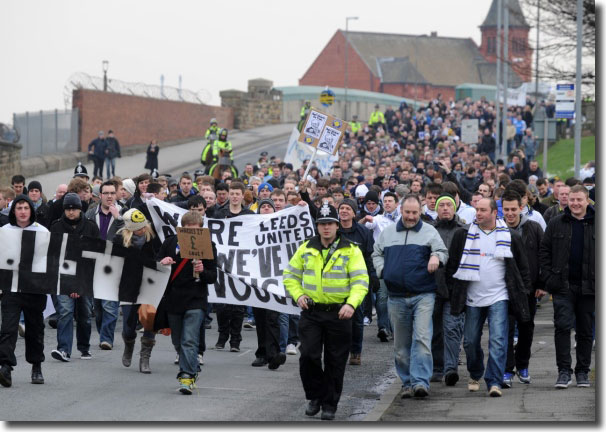 base and their potential as a football team. We're stressing to everyone that it must be a peaceful march and it will be … We've spoken with West Yorkshire Police and they're happy that it'll be a gathering of ordinary, honest and long-standing Leeds supporters who want to see a change in the way the club is run. In the first instance, we want the club's board to start listening to the concerns of ordinary fans. We don't believe that they're doing so at the moment. You can see from the crowds that people are walking away and our members tell us they feel increasingly aggrieved and disenchanted. Beyond that we want to see more investment on the pitch, to give us a team with a better future and a better chance of getting promoted.
'The Trust isn't advocating overspending or getting into debt, and our vision statement made that clear, but we do feel that the club's income over the years and the profit they've made allowed for more to be spent.'
Redfearn named an unchanged side for the Brighton match, but could not repeat the success of his first game at Bristol City.
Craig Mackail-Smith got on the end of a flicked on corner to stab the ball home at the far post after 76 minutes. Luciano Becchio equalised within two minutes with a header from a corner, but Brighton stole the points in injury time with an Alan Navarro goal.
Before the game, several hundred supporters joined the LUST protest march. Flanked by police on foot, horse and motorcycle, they waved banners proclaiming 'Premier League Not Premier Inn' and called stridently for Bates to go.
They marched to the ground, where they continued to sing anti-Bates slogans and wave banners as they gathered at crowd barriers put up around the entrance to the club. More than 1,000 people arrived at Elland Road.
Ken Bates dismissed LUST as a 'vociferous minority', adding: 'These people prancing up and down waving their banners have got no positive solution to what they perceive as a problem. If anything they add to it by deterring potential investors.
'People can see what we're trying to do. We're making progress. There's a guy who failed to take over Portsmouth because he didn't come up with the readies. I met him three months ago at the request of somebody else who said he was interested in investing in Leeds. They come through the door every week of the month… All these people who claim they have contacts and money, including the Leeds United Supporters Trust - well, they can put their money where their mouth is.'
LUST responded as follows: 'The Trust is today asking for any parties who may be considering an investment in, or outright purchase of, Leeds United, and who share the aims and ambitions of our fans, to contact the Trust with a view to working together to take Mr Bates up on his offer.
'In recent weeks Ken Bates has made numerous comments about the difficulty of attracting investment in to Leeds United. In his programme notes on 2 January 2012, Bates wrote that "on average, I am contacted every two weeks by some new would be overseas saviour or a middle man who claims to represent some Sheik Rub-A-Dub." Last week on Yorkshire Radio, he claimed that offers of investment "come through the door every week of the month". The Trust does not find this level of interest surprising given Leeds United's massive potential, and our current status on the fringes of promotion to the Premier League. We are surprised, however, that with an average of at least twenty offers of investment a year, none have proved credible enough to move forward.
'While Ken Bates' public comments suggest investment would be welcomed at Leeds United, his reaction to the interest of high profile Australian billionaire Frank Lowy in April 2010 suggested otherwise. Mr Bates claimed on Yorkshire Radio that "I had never heard of this Lowy, I think he runs Westfield, the property company. Aren't they the one that has completely buggered up the town centre of Bradford? ... It is no secret we would welcome further investment. But we are quite blunt - name and money." Despite Mr Lowy being a well-known and credible businessman, Ken Bates' widely reported comments appeared to bring his interest to an end, and we wonder if other credible investors have been similarly dismissed in recent years.
'A further barrier to investment is that the size of the investment looked for has not been made clear. It is not known how much Mr Bates paid to buy Leeds United from its anonymous owners in May 2011, and so it is not known how much he might be willing to sell for now. The investment that might be required for a stake in the club is also unknown. The latest available club accounts show that Forward Sports Fund invested £500,000 to acquire the club from administration in 2007 but subsequently loaned £441,000 of this to another company in the Leeds City Holdings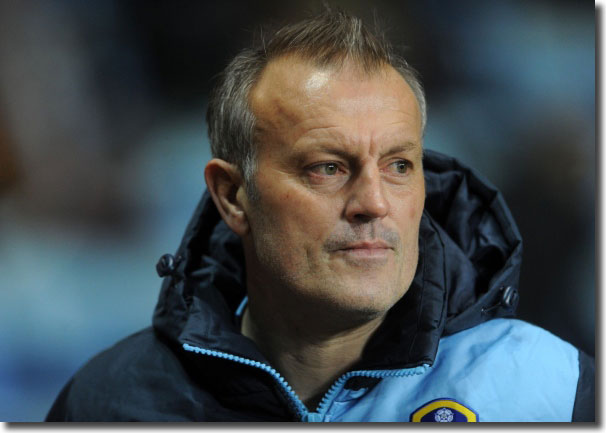 Group. We presume Mr Bates would be looking for greater investment than this from interested third parties, but would invite Mr Bates to outline exactly what level of investment would be welcomed at Leeds United, so that informed expressions of interest can be made that are more likely to satisfy the club's requirements.
'LUST has outlined its ambitions for the club in its Campaign for Change Vision Statement, and would welcome the chance to work with potential investors who share our vision. Two key aims of the Trust are for investment to be focussed on the playing side at Leeds, with a view to promotion to the Premier League; and for those in charge of the club to develop strong links with the club's fans. Establishing a dialogue from the outset with LUST would give fans the chance to ensure that any new investment is for the good of the Leeds United and will meet the ambitions of the supporters, and would give suitable investors the support of a formal supporters' trust, with a growing membership of around 2,500 Leeds fans, when dealing with the current owners of the club.'
The United regime's response to the protest was to exclude LUST board members from club membership, effectively barring them from away games. Gary Cooper described himself as 'gob smacked', adding, 'We are being victimised and it's insanity.' When he contacted the club, chief executive Shaun Harvey confirmed the situation by email.
United had another dismal evening at relegation-threatened Coventry on 14 February. Gary McSheffrey gave City the lead with a 20th minute penalty before Ross McCormack equalised on the half hour, but Leeds were undone when McSheffrey won the game with another penalty, awarded in injury time after Aidy White brought down Alex Nimely.
Neil Redfearn refused to mince his words afterwards, agreeing that 'we were poor from minute one … We conceded against Brighton after 90 minutes and we've done it again. It's unprofessional. We didn't compete well enough and we carried too many players… I don't think we turned up.'
A couple of days later it was announced that loanee Fabian Delph would be returning to Aston Villa after his campaign was ended by an ankle injury suffered in the Ricoh Arena.
The following day, as Redfearn was preparing his side for the home game with Doncaster, gossip had it that Neil Warnock had been interviewed for the manager's job. The rumours were substantiated by a photo published in the Daily Mail of Warnock deep in conversation with Ken Bates and Shaun Harvey at the Café de Paris in Monte Carlo's Casino Square.
Richard Sutcliffe in the Yorkshire Post: 'The 63-year-old spent yesterday in Monaco with Leeds chairman Ken Bates and chief executive Shaun Harvey thrashing out the details of a possible return to Yorkshire. No firm agreement is understood to have been reached before Warnock, whose main rivals for the Leeds job are Steve Bruce and Dave Jones, flew back to London Heathrow on the evening flight from Nice. But Warnock, who earlier this week settled his compensation package with QPR following his sacking last month, is expected to be confirmed as the permanent successor to Simon Grayson over the weekend.
'Former Sheffield United manager Warnock headed to Monaco after the White Rose club made clear their determination to head off serious interest from Wolverhampton Wanderers, who … had placed the former Sheffield United manager at the top of their wanted list to succeed Mick McCarthy. Warnock is interested in the Molineux role and another crack at managing in the top flight. However, as this newspaper made plain yesterday, the former Scarborough chief also remains very interested in the prospect of joining Leeds.
'So, when United made their interest known in the wake of Tuesday night's dismal defeat at Coventry City, he was more than willing to listen to what the Championship club had to say. A meeting was hastily arranged and Warnock flew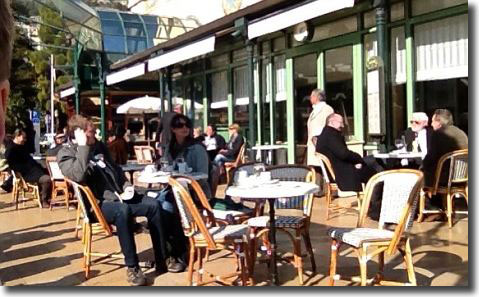 out of London yesterday morning before completing the rest of the trip to Monaco by road.
'The talks are believed to have gone well and, subject to a few contractual issues, an agreement that will see Warnock become Grayson's successor is expected to be confirmed some time over the weekend.
'Leeds moved for Warnock after the experiment to hand Under-18s coach Neil Redfearn the reins on a temporary basis backfired … With the 3,000 fans who made the trip to the Ricoh Arena voicing their displeasure at the failure to recruit a permanent appointment, the Leeds hierarchy recognised the experiment had failed and turned their attentions to finding a successor to Grayson.
'The fervent hope of the United hierarchy is that the appointment of a manager with seven promotions on his CV could be the key to ending an absence from the top flight that is now in its eighth season. Should Warnock take Leeds back into the Premier League, it will mean he sets a new record with Dave Bassett and Graham Taylor also having seven promotions apiece to their name.'
On the morning of 18 February, in the hours before the Doncaster game, United confirmed that Warnock had been appointed manager until the end of the 2012/13 season, officially taking charge the following day.
A clearly enthused Warnock said: 'I feel I have one big challenge left in me and believe Leeds is a club that should be in the Premier League. I want to be the man who is able to deliver this for a set of fans who never cease to amaze me with their numbers and their loyalty.'
Ken Bates: 'We believe the appointment is arguably the most important we have made. The objective was to appoint a manager who had a proven track record of getting teams promoted and in Neil we have a man whose record is second to none.
'Neil flew out to Monaco on Friday morning and we spent about six hours together. We discussed all aspects of the club, the squad, and we shook hands on a deal about 6pm before he flew home.
'We go back a long way. I first tried to recruit him as manager when I was at Chelsea… He has a proven record, he knows what it takes, and he gets value for money out of players.
'We've got everything else right, we're one of the most progressive clubs in the League, when you read about the troubles at others clubs which are coming out almost daily. We're stable, we have a good squad, a big squad, and an experienced manager and hopefully this is the last piece in the jigsaw to take us back where we belong.'
Henry Winter in The Telegraph: 'Warning: fireworks alert. Stand well back. The fuse has been lit on the Neil Warnock-Ken Bates axis and sparks could fly between the Old Irascibles.
'Yet look beyond their public images of prickly martinets and a picture emerges of old school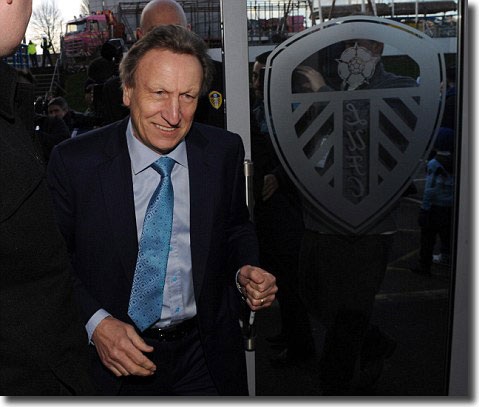 footballing men with much in common, notably a hunger to prove a point.
'It could just work. The chemistry may be right. Warnock and Bates, the Odd Couple of Elland Road, could be a marriage made in heaven for a while. It may eventually end in divorce, the papers probably served via toxic programme notes, but it could prove a productive relationship for Leeds United until then.
'Warnock and Bates are already being painted as Statler and Waldorf, the Muppets legends who spend their life heckling biliously from the balcony yet actually agreeing on many issues. Warnock and Bates care about the game and certainly care about their own place in the English footballing firmament.
'Each wants to get back into the Premier League. Each wants to answer critics. They know what they are getting into. Bates considered making Warnock manager at Chelsea. They are street fighters in suits, driven by what Warnock called yesterday the big challenge of revitalising the biggest club outside the Premier League in terms of support.
'Like Bates, Warnock is a figure of sustained controversy, although there was sympathy for the manner in which he was dismissed by QPR.
'Like Bates, Warnock is tough, obdurate and occasionally obnoxious. Yet these are precisely the gritty qualities Leeds require in the scrap to climb out of the Championship. It's no catwalk; it's a hard slog requiring resilience.
'Leeds fans will surely put aside their reservations about chairman and manager if they combine to lead the team back into the Promised Land.
'It is an oft-expressed adage in the game that Warnock is arguably better suited to the Championship, organising and motivating average players, getting them to 'run through walls for me' to borrow one of his favourite expressions. As a Crystal Palace fan reflected on Warnock's strength yesterday, "He's a one trick pony but a good trick until you're promoted."
'Even Warnock's critics, and he has many within the game following falling outs with officials and rival managers, would not be surprised if a re-galvanised Leeds went on a run, rising from mid-table into the Play-Off positions. Warnock at Wembley on 19 May? Don't bet against it. The fireworks could be celebratory ones. It will certainly be worth watching.'
Warnock told the Yorkshire Post: 'Last week I spoke to four clubs, while since then I have also had another couple on the phone asking if I was still available. I am not blowing my own trumpet but there aren't a lot of good managers around and it is difficult for clubs to get the right fit.
'To me, Leeds just felt right whereas when talking to the others there were one or two things that didn't. What I liked when I spoke to the chairman was that he didn't say, "Let's talk about the possibility of becoming manager." Instead, he made it clear on the phone before we even met that he wanted me to come here. Where the others wanted to interview me and talk about this and that, Ken just said, "We know each other, come over and we'll sort things out." I just thought to myself, "That's how you do business."
'Having said all that, the biggest thing for me was the fans. It is not the financial situation because I am on a lot less than I was on (at QPR) but instead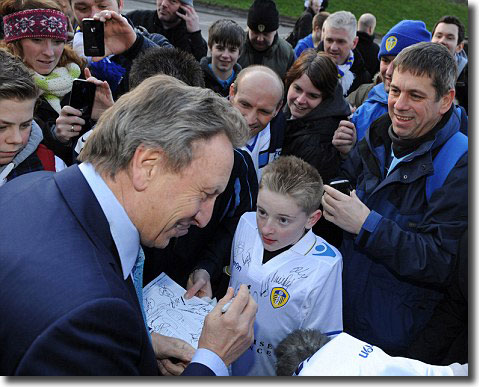 the potential to work with a 30,000 crowd. The thought makes the hairs on the back of my neck stand up. I remember coming to Elland Road when Manchester United played there once and I had never seen or heard anything like it. The crowd was magnificent. I have been back a few times to watch games and it always amazes me just how many fans keep turning up no matter how well the team is doing. That is true support.
'I have always got on well with Ken, right from when we first met to discuss the Chelsea job (in 1991 when Warnock turned down Bates' offer to stay at Notts County). When Sheffield United won 4-0 at Elland Road (in 2005), I went to see him. Then, when Leeds beat my Crystal Palace team 4-0 a couple of years later I went to see him again. I thought I owed him that bit of happiness. Things like that, he appreciates. I am not someone who just pops up when things are going well.
'The thing about the chairman is that I think he does a lot of good things. That is not me trying to creep round him and there will be times when I'll have to tell him what I feel is right for the club and he'll have to listen. But we have that relationship where he respects me and I respect him.'
Warnock in his regular column in The Independent: 'It is exciting to be back and it is even more so to be at a genuine, big club like Leeds United. I've spoken to three or four clubs in the last 10 days and I've been really pleased with being wanted. Leeds was the one that I listened to a lot and I saw the fans' forums. They seemed to be united that they wanted me. I do feel that when you've got potentially 30,000 people it's a bloody fantastic place to be. I reckon Leeds are the fourth- or fifth-biggest club in the country.
'I love it at my age. I have nothing to fear. If things go wrong, I will call it a day. As long as I enjoy it, I will see how it goes between now and the end of the season. My contract is until the end of next season, but I've spoken to Ken Bates, the Leeds chairman, and if we know it's not working - I'm not into contracts now, I was when I'm younger - we'll go our own way. I've always got on all right with the chairman. I know how he runs his clubs, he gets them organised. I know they've had lot of protests, but I'm saying to fans: "We've got 14 games to go, put everything to bed and let's have some fun."
'I would imagine a betting man would say the Play-Offs would be difficult. We have to win every game. If we lose a couple it's beyond us. But I've been in to the academy and you've never seen anything like it. It's the biggest academy complex at a club I've been at, by a mile. It's top of the Premier League standard.
'I tell you what: it feels good to be back!'
And so began a new chapter in the tortuous history of Leeds United.
Part 1 Unrest and despondency - Part 3 End of season blues - Results, table and transfers