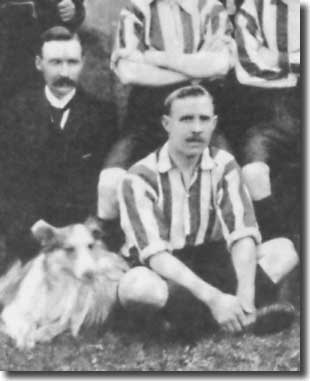 Born: Chorlton-on-Medlock, Lancashire, 27 May 1875
Harry Stringfellow, Leeds City's first centre-half, "made up for his lack of defensive inches with speed, positioning and accurate passing", according to Martin Jarred and Malcolm Macdonald.
He began his playing career with Southport Central before joining First Division Everton with inside-left Jackie Kirwan in February 1898 in a combined deal worth £130. Stringfellow couldn't make the senior team at Goodison and in 1899 moved south to join Portsmouth, though Everton retained his name on their books, officially at least, until 1905.
He remained at Pompey for the next five years, winning a Southern League title with them in 1902. He signed for Swindon Town in 1904 and was appointed club captain.
Stringfellow joined Leeds City after their election to the Second Division in the summer of 1905 and made his debut at centre-half in their first ever League game on 2 September. Linesman in the Leeds Mercury: "In Stringfellow, the Leeds club have got a highly skilled centre, who fully appreciates his duties, both as to attack and defence."
Full-back Dick Ray, the club's nominated penalty taker, missed a spot kick in the third game of the season, at home to Lincoln; Stringfellow stepped up to take a second penalty when it was awarded five minutes later. He shot wide, leaving centre-forward Tommy Drain to take the honour of being the first man to score for City in League football when he netted twice in a 2-2 draw.
Stringfellow was a regular choice for the opening four months of the campaign, and scored his first City goal in a 3-0 defeat of Grimsby on 11 November. He lost his way after Christmas and managed just one appearance in the New Year as Jack Morris and Fred Walker vied for the role of pivot. His final game (his 13th in the League, to go with 3 in the FA Cup) came on 31 March when City were short of numbers for a game away to Chelsea. Bob Watson had broken down en route to London and City had just nine fit men with them. A telegraph was sent to Elland Road requesting reinforcements, but the reserve team had set off for a game in the North East and only Stringfellow was available to travel. 36-year-old trainer George Swift, who had not played for three years, was an emergency debutant in the same match, so dire were City's problems. The team ended up crashing 4-0 at Chelsea.
Stringfellow left Elland Road at the end of the season and signed for Wigan Town on 4 September 1906. According to the Wigan Examiner four days later: "On Tuesday evening Wigan Town signed on a new centre-half in Stringfellow, a former captain of Leeds City, and who has figured with Everton and Portsmouth. Stringfellow has been selected to turn out with the Wiganers at Springfield Park this Saturday when Wrexham Victoria will be the visitors."
However, there is no record of him ever turning out for Wigan and he signed for Preston a few weeks later for a fee fixed by the Football League Management Committee at £40, remaining at Deeprdale until he retired.