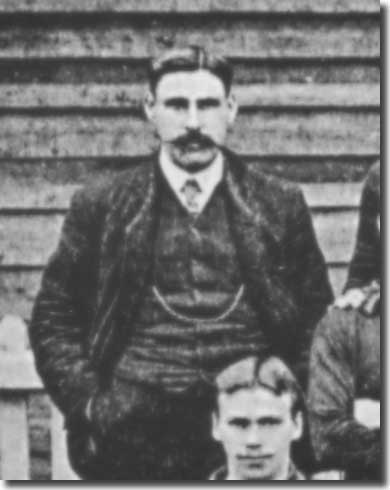 Born: Oakengates, Shropshire, 3 February 1870
George Swift, the club's trainer, made a shock debut for Leeds City at outside-left when the club faced Chelsea at Stamford Bridge on 31 March 1906. Aged 36 and having not played for three years, he was called up with Leeds woefully short of players.
Swift, a left-back, had earned a name for himself in the Midlands as football got off the mark as a competitive sport in the late 19th century. After leaving St George's School in Oakengates, Swift started his working life as an engine fitter. He began playing for the aptly named St George's Swifts and joined Wellington Town in 1885. He had trials for Stoke in 1886 before joining Wellington St George's and then Crewe in 1888.
In August 1891, he joined Wolverhampton Wanderers of the Football League. There was only one division at the time and Swift made his league debut on 14 September 1891 in a 5-0 win over Accrington, one of four games he played that season. He earned a regular spot at left-back and scored once in 59 league appearances for Wolves over the next four years. In 1892/93, he was an ever present and won an FA Cup winner's medal when Wanderers beat Everton 1-0 in the final at Fallowfield, Manchester, on 25 March 1893 before a crowd of 45,000.
In 1894, Swift left Wolves for Loughborough Town. He was selected to represent the Football League against the Irish League at the Victoria Ground, Stoke, in November 1895. After the game he was awarded a nine carat gold and enamel medal. He later put it up for auction but it failed to make its reserve price - Sotheby's had hoped it would raise £500.
Swift moved on to Leicester Fosse in August 1896 and was appointed club captain. He became almost omnipresent over the following six years, appearing in 186 league games and 14 Cup-ties.
In June 1902 he switched to Notts County and appeared 16 times. He had not played for a couple of years when he formally announced his retirement in 1905 and took on the role of trainer at newly-elected Leeds City.
Gilbert Gillies was nominally the manager at Elland Road, but his duties were essentially administrative and Swift exercised a significant influence over the playing side of things.
Swift made an astonishing comeback as a player at the end of March 1906 with City in disarray. They had come out of a fearsome confrontation at Grimsby on 17 March with a host of injuries. When they travelled to meet Chelsea in London two weeks later, they had only nine fit players with them. Bob Watson had broken down in Burnley on his journey down and City sent a telegraph to Elland Road seeking reinforcements. Unfortunately, the second team had already set off for a game in the North East and only Harry Stringfellow was available to join the party. Swift was still registered as a player and was drafted into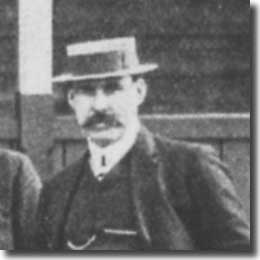 the side for the day, playing as a makeshift left winger, though he dropped into the defence when Dick Ray sprained his left knee early in the second half. The Londoners ran out easy 4-0 winners, and it was clear that Swift would be making no long term comeback.
He departed Elland Road in the summer of 1907 to take over as secretary-manager at Chesterfield on a two-year deal, on the recommendation of former Saltergate manager Gillies. Swift enjoyed little success in the role; Chesterfield finished second bottom in 1908, but were fortunate enough to be re-elected to the League. They finished in the same position in 1909 but this time lost their League place as a result. Swift was re-appointed at the end of his contract and it looked a good decision when Chesterfield won the Midland League in 1909/10. He rocked the club to its foundations, however, when he resigned one game into the 1910/11 season, claiming that the club couldn't afford to pay him.
In April 1911, Swift re-emerged as manager of Southampton, being appointed from a list of 140 applicants. He spent £820 on eleven new players in his first six weeks in charge, but the changes made no difference to a poor side and they ended the season 16th, prompting Swift to resign in despair.
He died in 1956.