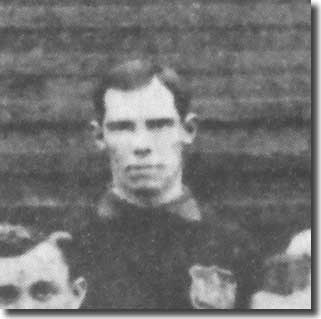 Fred Walker joined Leeds City from Barrow following their election to the Football League in 1905. Linesman in the Leeds Mercury: "Walker, late captain of Barrow, is said to have been the best centre-half in the Lancashire Combination."
He began as reserve to Harry Stringfellow, but was given his debut on 30 September, when City won 2-1 at Lincoln. The Mercury reported that he "was a capable substitute, and used his height to advantage by judicious heading of the ball".
He was given a decent run in the side towards the end of the season, and amassed 15 League appearances and 3 more in the FA Cup. Through most of that time he was at centre-half, though he also figured at right-back, right-half and left-half in times of need.
Walker stepped into the breach after captain John George was injured at the start of the following campaign, before he gave way to Jimmy Kennedy. The signings of first Gerald Kirk and then Tom Hynds saw him slip down the pecking order.
In August 1908, Walker was appointed player manager at Huddersfield Town, playing for them for the next two years in the North Eastern League and then the Midland League. He retired in 1910, as Town were elected to the Football League, allowing Dick Pudan to take on the job.