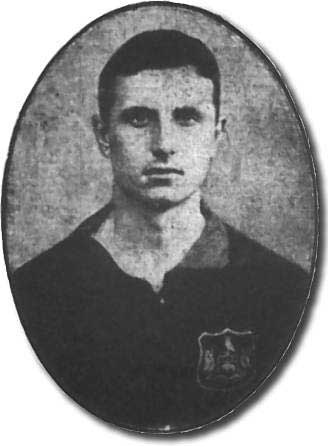 Born: Irchester, Northamptonshire, 4 February 1884
John George had an extraordinary fall from grace after signing for Leeds City in April 1906; he went straight into the side and was appointed captain for the start of the following season, but after just two matches he was dropped, and only appeared once more in the Peacocks' first team.
John Spencer George began his football career in the Southern League with Kettering in 1903.
In April 1904, he moved on to Tottenham Hotspur, a real force of the Southern League. Spurs had won the title in 1900 and captured the FA Cup in 1902, beating Sheffield United after a replay at Bolton.
George spent most of his White Hart Lane career languishing in the reserves He strruggled to convince the management he was worthy of a regular berth, scoring once in 16 first team appearances.
In April 1906, in pursuit of regular senior football, George signed for Leeds City and was immediately given his debut at home to Gainsborough Trinity at centre-half. He played in the following four games (one at right-half) and it seemed he would make a real go of his stay at Elland Road, even though he fell and dislocated his elbow against Manchester United on 21 April, ruling him out of the final match of the season.
He did very well during that spell and had shown enough to convince City secretary-manager Gilbert Gillies that he had what it takes to make an outstanding half-back. So much so, in fact, that George was appointed club captain for the 1906/07 season.
However, after an opening day 1-1 draw at home to Bradford City when he played at
centre-half, George had a nightmare the following week at West Bromwich Albion. He was required to play right-half with Jack Morris missing through injury and Fred Walker being recalled in the centre. City were hammered 5-0.
Nimrod in the Leeds Mercury: "The great weakness in the half-back line was again emphasised. George, Walker and Kennedy certainly tried hard, but they absolutely failed to hold the nippy, clever and speedy forwards of the Albion team. Shinton was always boring his way through the backs or sending out beautiful passes to the wings. Haywood and Dilly were extremely smart on the left, and George had a rare gruelling."
George was immediately dropped as Walker retained the position and Fred Hargraves took over at right-half.
Though George was recalled at right-half against Clapton Orient on December 1 and did well enough as City beat the Londoners 3-2 defeat, he was dropped the following week to make way for Fred Hargraves. It was an ignominious turn of events.
George never appeared again for City. He joined Croydon Common at the end of the season. A year later he moved on again, to Hastings and St Leonards.
He returned to Northamptonshire and died in Wellingborough on 29 October 1931.