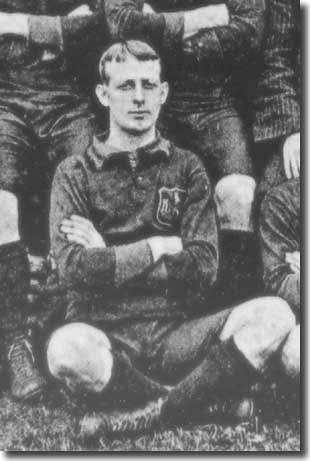 Born: Leeds, 1877
Fred Hargrave was one of the stalwarts of Leeds City's early years in the Football League, providing sound service at both centre-forward and in the half-back line.
Hargrave began his career with Atherstone Town, before spending time at Aston Villa, Walsall, Second Division Burton United in 1903 and scored 14 goals in 56 League appearances over the next couple of seasons.
When Leeds City were elected to the Football League in 1905, Hargrave was one of their early recruits, along with his Burton team mate, goalkeeper Harry Bromage. He was often mistakenly referred to in newspaper reports as Hargreaves, presumably because he had played alongside a player by that name while he was at Burton.
Bromage and Hargrave were both in the City team for the club's Football League debut, and, though he was replaced by Tommy Drain for the next two matches, he was soon back in the side. He opened his scoring record for City in his third game, the 3-1 defeat of Hull City on September 23.
He was a regular choice throughout the campaign, scoring 19 goals in 34 league and Cup appearances. Four of those came in the 11-0 defeat of lowly Morley in the FA Cup in October. He captained the team on a number of occasions when regular skipper Dick Ray was absent.
In his second season for City, Hargrave switched to half-back, and earned some good reviews. He played in all but five games, though he appeared just twice in 1907/08 and not at all the following season.
Hargrave left Elland Road for Stoke in December 1908 and later moved on to Kidderminster, Stafford Rangers and Atherstone Town..