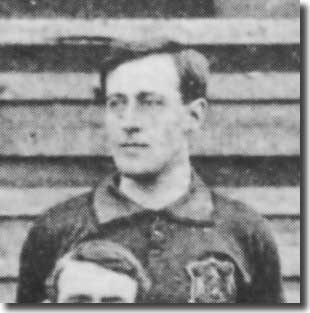 Born: Widnes, Lancashire, 8 September 1877
Harry Bertram Singleton's football career began with Liverpool South End in 1896, and over the next three years he gave service to Port Sunlight, Southport Central, Fleetwood Rangers and Macclesfield before getting his break with Stockport County in 1899, though he was limited to a single league appearance after their election to the Second Division for 1900/01. It came in a disastrous 5-0 defeat at home to New Brighton and Singleton departed shortly afterwards for Bury. He failed to make the senior team with the First Division outfit and moved to Division One rivals Everton in February 1902.
He made three First Division appearances for the Merseysiders before switching to Grimsby Town just weeks later where he had more of an impact, netting two goals in 18 First Division games.
After spells out of the Football League with New Brompton (Gillingham in the years to come) in 1903/04 and QPR the following season, Singleton signed for Leeds City after the club's election to the Second Division in 1905.
He was in City's side for their first league game, on 2 September 1905 away to Bradford City, and it was his goal a fortnight later against Leicester Fosse that earned the Peacocks their first win in the Second Division. He had a consistent season for Leeds, missing just one game and scoring seven times. Of the men who started City's first game, Singleton had the longest run in the side before missing a match, appearing in every fixture until 16 April, the 42nd contest of the campaign. He had been injured two days earlier against Stockport. According to the Yorkshire Post, Singleton was haring in on goal and had 'cleared both the Stockport backs, and then had only the County custodian to face. The latter left his position to meet the attack, and brought Singleton down in a very questionable manner.'
Singleton continued as first choice at the start of the 1906/07 campaign, though he was less reliable. The Yorkshire Post: 'If only Singleton had had a little more resolution when facing the backs, there would have been nothing at all to criticise. He took and gave his passes splendidly, but there was often wanting just that shade of devil which makes the last breach in the enemy's line.'
Singleton was injured in the game against Burnley on 27 October when centre-forward David Wilson tragically lost his life; the winger's absence gave new men Willie Murray and Tommy Wilson the chance to shine. He appeared just once more in City colours, though Flaneur wrote in the Leeds Mercury of his appearance in a 'thrilling victory over West Bromwich Albion' on 5 January, 'Singleton, who played for the first time since his injury in the fatal match against Burnley in October, was more effective than I have previously seen him, and his centres were always executed with great judgement.'
He never made it back into the City team and his season's work was limited to eight appearances.
In 1907, he signed for Leyton FC, moving on a year later to Huddersfield and then Grimsby Rovers in November 1909. He remained there until February 1913, when at 36 he moved to Grimsby Grosvenor Recreation, where he wound down his playing days.
Singleton died in Macclesfield on 5 July 1948.