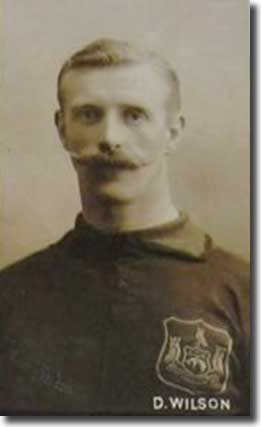 Born: Hebburn, Newcastle-upon-Tyne, 23 July 1888
David 'Soldier' Wilson had a short, successful, yet ultimately tragic period playing for Leeds City. He died during the Peacocks' game against Burnley on 27 October 1906, pushing himself beyond exertion as his outnumbered colleagues fought to get back into the match.
It came as a surprise to many who knew him that Wilson was only 23-years-old when he died. Most people who saw him would have taken him to be about 30, because of his heavy moustache.
He was one of three brothers who made their name as footballers in the Army, and this led him to be familiarly known as Soldier Wilson. The Yorkshire Evening Post: 'Wilson had had an interesting football career, the story of which he related to the writer only a few months ago. He was a native of Musselburgh, in the county of Midlothian, and in 1896 enlisted in the Cameron Highlanders, with whom he went out to Gibraltar, where he began playing Association football. Whilst at Gibraltar, Wilson transferred to the 1st Battalion Black Watch, which regiment he accompanied to India, and subsequently to South Africa, where, with Colonel Remington's column, he took part in some of the Boer drives.
'It was after returning to England that he was bought out of the army by the Dundee Club, for whom for a season or two he played at centre-forward in the Scottish First League. Just two years ago he had his knee badly twisted, and on his recovery he was transferred to the Hearts of Midlothian Club, for whom he rendered yeoman service until joining Hull City. He played at Anlaby Road in two or three matches last season, and then came to Leeds City, the transfer fee paid for him being £150.'
Wilson's stay at Hull was brief, but he scored three goals in ten games for the Tigers with another two in two Cup-ties. One of those goals came in Hull's 3-1 defeat at Elland Road on 23 September 1905. The Yorkshire Post: 'Wilson getting possession of the ball in the centre about twenty yards from the Leeds goal mouth, shot straight. The ball travelled at a tremendous pace, and completely beat Bromage.' His displays against the Peacocks persuaded the directors to offer him a deal.
Wilson's debut for Leeds came in a 1-0 defeat of Glossop on 23 December 1905, and he was an immediate hit, scoring 13 goals in 15 games that season. That haul included four in the 6-1 slaughter of Stockport County on 3 March, when he was almost unstoppable, having another effort disallowed and striking a shot against the bar. The Leeds Mercury: 'Four out of the six goals fell to Wilson, the centre-forward, who again showed what a dangerous man he is when within range of the net. His assumed indifference seemed to have a disconcerting effect on the opposition; and then, suddenly, without manoeuvring for a position, he drives the ball clean and hard. The number of times he deceives the opposition in this way is really remarkable.
'It was not only as a marksman that the City centre was seen to advantage. He led the front rank splendidly. He has a fine knack of drawing his opponents, and then passing out to the wings, and in this way the opposition were frequently beaten.'
The Mercury had reported as follows after the 4-1 defeat of Leicester Fosse on 20 January (a game Wilson missed through injury): 'Though the players often foundered and tumbled in the mud on Saturday, Leeds, both the forwards and backs, had a surprisingly good control of the ball. But the most pleasing feature of the home team's work was the way in which the forwards went for goal, and the determination with which they sent in shots. This is an improvement which I attribute largely to the influence of Wilson. As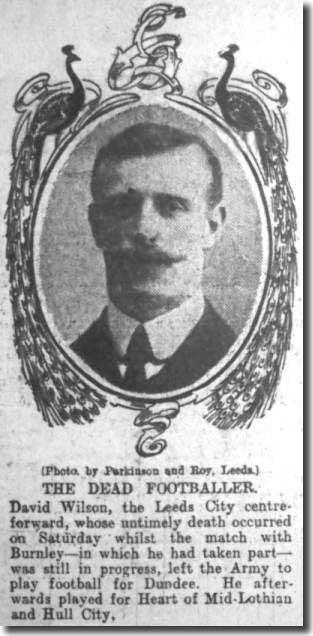 I have previously mentioned, the old Hull City centre has put a lot of life into the Leeds front rank, and although he was unable to turn out against Leicester owing to an injury he sustained at Manchester, the example he has set his new colleagues in shooting with all his strength on every possible occasion, and more especially the efforts which were made to follow it, were clearly apparent throughout the game.'
Wilson's contribution was brought to a sudden end when he tore ligaments during a rough house game at Grimsby on 29 March and he missed eight matches before returning in the final game of the season.
He just could not maintain the same momentum in the 1906/07 season; his form dipped and he missed a number of games with injury. He had failed to score in five appearances before his tragic final game on 27 October against Burnley.
Wilson went off for a period, complaining of chest pains, but came back on when Harry Singleton and Jack Lavery were forced to withdraw. He collapsed and was carried off, only to die shortly afterwards in the dressing room.
The Leeds Mercury paid him this tribute: 'He played his first match for Leeds City against Stockport, on December 26th last year, and before the season was over Leeds City could have had £500 or £600 for his transfer. They preferred to keep him, however, and the Leeds officials are still confident that he was one of the best centres in the country.
'Wilson, of course, had adverse critics, who held that he had fallen off his game, but in the words of Mr Gillies, the City manager, "Those critics did not know Wilson." If at times slow, he was always in his place, and his passes to the wing players were always well timed and well directed. "There were few better centre-forwards in the country,'#" is Mr Gillies' opinion, and that opinion is shared by all the Leeds City players and officials.
'Soldier was popular with all, and he was always of a cheery and good-natured disposition. Lately, however, his health had not been so satisfactory as before, and there is a suggestion that he suffered from a heart complaint, and that he tried to hide it from his friends. That this suggestion was pretty near the truth may be fully borne out by the inquest which will be held on the body today.
'Wilson married a Scottish girl, and the union was blest with a fine babe, which is not yet twelve months old. He adored his wife and child. Numerous messages of sympathy have been received at Catherine Grove, and the young widow's sorrow is shared by a large circle who knew and respected Soldier.'
The £96 takings from a benefit match against Hull City on 19 November, a 3-3 draw watched by 3,000 spectators, were donated to David's widow, along with a number of other sums realised through various fundraising activities.
The Football League Management Committee criticised City for the match paperwork they filed after the Burnley game. The minutes from their meeting on 5 November read: 'The secretary was instructed to write to the Leeds City Chairman and point out that the word "transferred" opposite D. Wilson's name in the result sheet for the match in which Wilson played and was injured, and his death took place before the close of play, was uncalled for and entirely out of place, as this was a national calamity.'