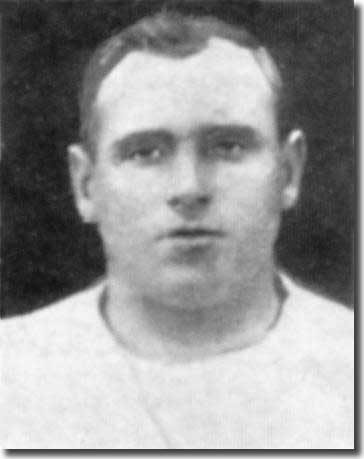 Born: Dundee, 9 June 1882
Tom Rodger was one of six Brighton players who followed Albion manager Frank Scott-Walford to Elland Road within twelve months of him taking the reins at Leeds City.
Rodger's playing days commenced with home town club Dundee in May 1903. In April 1904, he joined Manchester United for a trial period, but could not find a way into the first team and five months later left for Preston North End. After one goal in five First Division appearances for the Lancastrians, he signed for Grimsby Town in July 1906.
The move paid off for a while and he managed 13 goals in 35 appearances in Division Two, playing in two FA Cup-ties for good measure. The wanderlust continued, however, and Rodger joined Reading in June 1907, and then Brighton in February 1908.
Scott-Walford left for Leeds City within weeks of Rodger's arrival and the forward followed him in May 1908, accompanied by Albion colleagues Jimmy Burnett, David Dougal, Willie McDonald (all Scots like Rodger), and Dickie Joynes, with Tom Morris joining them nine months later.
Rodger was given his City debut at inside-left on 5 September, in the first game of the 1908/09 campaign; his goal was enough to beat Tottenham Hotspur. The local papers liked what they saw of Rodger, "a thorough trier who took a lot of shaking off the ball", according to the Leeds Mercury. When he added another goal in the 2-0 defeat of Hull City a week later, it seemed that Rodger had at last found his natural home in Leeds.
The Scot appeared in both inside-forward positions, as well as on the right wing, as Scott-Walford juggled his resources in search of the best combination.
Rodger was berated for a lack of pace when first tried at outside-right, though the Leeds Mercury's Linesman disagreed, reporting after a 2-1 victory against Stockport in October: "It was a bold experiment on the part of the Leeds City selectors to play Rodger at outside-right, but so far as Rodger was concerned the experiment was a success, for he distinguished himself in his new role, and it is not too much to say that he was the most consistent forward on the field. For a player of his burly build he showed a good turn of speed, and he centred and shot with the right boot as if he had always been accustomed to it. But there was little doubt that in taking him away from Croot the left wing was weakened."
A month later, Wanderer reported in the same paper after a poor display against West Bromwich, "In view of the fact that Rodger is not really an outside man, and also remembering that he had the international Pennington to face, it is not surprising that he did not shine; but in fairness to him it may be said that he and McLeod showed what little combination there was in the Leeds side."
After a move back to inside-right, he was described by Linesman as "the artist of the line, his dribbling being tricky and effective".
Unfortunately, things tapered off noticeably after a promising start to the season. Scott-Walford's experiments were all to little effect as City finished 12th after a thoroughly inconsistent campaign. Rodger's contribution was four goals in 25 appearances.
Discouraged by the lack of progress, the manager allowed Rodger and a number of his other recruits from Brighton to move on at the end of the season. Rodger returned to Scotland where he ended his career.