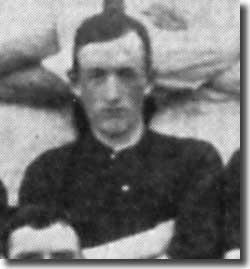 Born: Sanquhar, Dumfriesshire: 11 February 1874
Willie McDonald began his playing days with his local junior outfit, Nithsdale Wanderers, and joined Kilmarnock in April 1904. His brother John was also a Killie player at the time.
McDonald spent some time on loan to Lanemark, before joining Brighton and Hove Albion of the Southern League in the summer of 1906.
When Brighton manager Frank Scott-Walford took over at Leeds City in 1908, one of his first actions was to raid his old club for reinforcements and McDonald was one of a number of Albion players who travelled north. Fellow Scots Tom Rodger, Jimmy Burnett and David Dougal made the same journey.
The move was not a successful one for McDonald. He made his City debut within the first month of the 1908/09 season, but, as the Leeds Mercury reported, "he was naturally a little at sea", though he "gave promise of proving a useful man to the City". It was the middle of December before he got another first team opportunity and he only figured in 14 games all season, though he was unavailable for injury for some of the time.
It was clear that McDonald was not up to the standard of Second Division football and he returned to Nithsdale Wanderers in August 1909. Three months later he left to rejoin Lanemark, where he remained until his playing days ended in 1915 after the onset of the Great War.