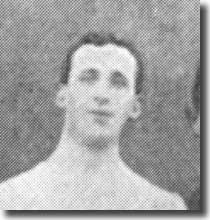 Bert Pickard, born around 1885, was one of a select bunch of local players who were given a chance by Leeds City when they were elected to the Football League in 1905.
He had played for one of the best teams in the Leeds League, Upper Armley Christ Church, and was a member of the side that faced Leeds City in a Leeds Hospital Cup game in February 1905. Pickard gave away a penalty but his team emerged 2-1 victors and the half-back impressed City's management, prompting them to sign him in June 1905.
He had to wait eighteen months for his first team debut, which came in the 6-1 defeat of Stockport on 15 December 1906, when he was reported to have played well. He remained in the side for the following week's defeat at Hull, but was then back in the reserves as the newly signed Gerald Kirk continued to impress.
Pickard's next opportunity came in November 1907 when he deputised for James Henderson against Barnsley. Pickard was out again following that game with Stan Cubberley moved to left-half, though he did play right-half when City beat Grimsby 4-1 on 14 December. According to the Leeds Mercury's Wanderer in his report of the contest, "There are still signs of weakness in the right wing defence. Pickard, whilst always working hard, lacks speed, and is considerably handicapped on this account. Taking him all round, however, he played as well on Saturday as any of his predecessors have done this season. It is the intention of the Selection Committee to play Watson at right-half when he has recovered from his injury."
Those two were Pickard's only appearances of the 1907/08 campaign and he did not feature at all in 1908/09, though he soldiered on in the reserves.
He played four times in 1909/10, with his appearances spread thinly across the campaign. It was his last season with the Elland Road club and he left in the summer, never playing professionally again, despite only being in his mid-twenties.