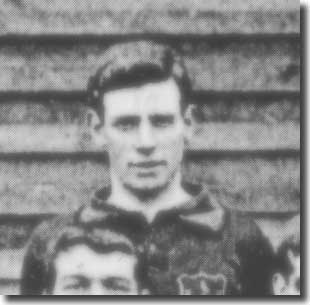 Born: Bootle, Lancashire, 1882
Charlie Morgan spent the early part of his career in reserve football. He joined one of his local clubs, Everton, in 1903, but couldn't break into the first team picture and signed for Tottenham Hotspur of the Southern League in May 1904. He suffered a broken jaw in pre-season for the Londoners and spent much of the following campaign again in reserve team football.
Morgan signed for Leeds City in the 1905 close season as they sought to build a side that could compete in the Second Division, and he was given his debut in their first League game, against Bradford City on 2 September. Leeds lost 2-1 but, according to Linesman in the Leeds Mercury, Morgan "hungered after the ball in a manner calculated to put any wing man off his game".
He was a mainstay of the side and did not miss a game until he was out injured for the 4-0 defeat at Chelsea on March 31. Goalkeeper Harry Bromage and outside-left Harry Singleton were the only men who were able to better that opening run. Morgan ended the season having missed just three games and his one goal, in December against Bristol City, was vital, securing a 1-1 draw.
He lost his place to Jack Morris at the start of the 1906/07 season, before former centre-forward Fred Hargraves settled down to monopolise the right-half position. One disgruntled City follower, 'True Peacock', mused in a letter to a local paper, "Where is Morgan, the star performer of last season at half-back?" Secretary-manager Gilbert Gillies responded with a testy assertion that Morgan was unavailable through injury.
In December, the Leeds Mercury reported, "We have received a host of letters from correspondents on the subject of the Leeds City team, which we are unable to find space for. They come from all quarters, and go to show the enormous interest which is being taken in the club. Most of the letters express surprise at the continued absence of Morgan. Morgan's admirers will be glad to learn that it is only a question of health that keeps him out of the half-back line, and he will probably make his reappearance before the season is much older."
When Morgan did return to the side for his third appearance of the campaign, a home game with West Bromwich Albion on 5 January, according to Flaneur in the Mercury, he received "a very hearty reception from the crowd" and "justified everything that had been written of his abilities. He was both dashing and resourceful, and defended cleverly while feeding his forwards with judgement."
Conversely, three weeks later, after the 4-1 Elland Road defeat to Nottingham Forest, Linesman wrote in the same paper, "Morgan's display was one of the feeblest he has ever given at Elland Road. He did some clever things, but he failed to show his usual energy ... It is true he was facing perhaps the best left wing in the Second Division but he never during the game suggested the form he displayed against West Bromwich. No doubt the fact that Morgan is always playing for his place affects his play. It is quite certain that on Saturday's form the Selection Committee will feel they have some justification for their persistent neglect of him. "
Morgan managed just 6 appearances all season. Indeed, after the 1-1 draw at home to Blackpool on 2 February (his 41st League appearance for the Peacocks), he never appeared again for City's senior team.
He remained at Elland Road for another couple of seasons before choosing to rejoin former Leeds City boss Gilbert Gillies at Bradford Park Avenue. He appeared once in the League for Bradford before moving on to Halifax Town, where he ended his playing days.
After Leeds City's expulsion from the League in 1919, Morgan was one of seven men elected as the first management committee of the newly formed Leeds United, along with Alf Masser, Joe Henry junior, Mark Barker, R E H Ramsden, Charles Snape and former team mate, Dick Ray.