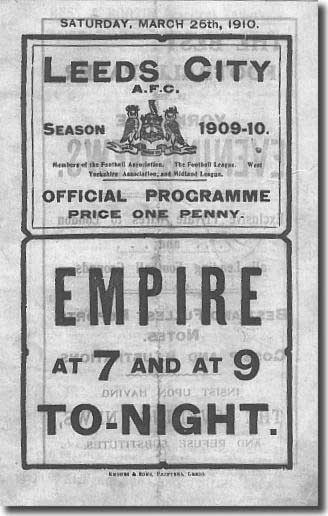 Born: Brightside, Sheffield, 9 December 1889
Tommy Astill began his career with junior outfit Sheffield Douglas.
In December 1908, he was signed for Leeds City by secretary-manager Frank Scott-Walford. Most of his time with the Elland Road club was spent playing for City's reserves in the Midland League.
He was called up for the first team for a West Riding derby against Bradford Park Avenue on 26 March, 1910. He replaced inside-left Jimmy Gemmell and played between two City stalwarts, centre-forward Billy McLeod and Fred Croot on the left wing. Leeds were 3-0 down by half time and in absolute disarray. Croot and Hugh Roberts pulled goals back after the break but City lost 4-2.
Hortonian in the Mercury: "On the Leeds side it is difficult to bestow praise on any section. Hogg was a fairly safe custodian, and White was the better of a rearguard which did little of note. Horsley was the best of a mediocre half-back line. Roberts was not seen to advantage in the front rank, and Croot was well marked by Gordon. McLeod developed the game well, and Mulholland contributed several well-directed efforts. The line as a whole, however, was weak."
That was Astill's only opportunity in the Peacocks' first team.
In the summer of 1911, Astill moved on to Doncaster Rovers at the same time as veteran City keeper Harry Bromage. The two men were members of the Rovers side that finished third in the Midland League in 1912 and won the Sheffield Challenge Cup a year later.
Astill joined junior club Mexborough Town that summer.