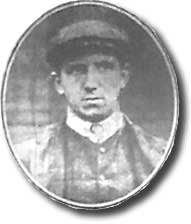 printer friendly version
Leeds City were fortunate to be able to call on the services of inside-forward Jimmy Gemmell after he spent years providing high quality service to Sunderland. Described as "a crisp and accurate shooter", by Martin Jarred and Malcolm Macdonald, "he proved extremely consistent and popular in his three seasons at Leeds".
Born in Glasgow on 17 November 1880, Gemmell began his career with local junior club Duntochter Hibernian before moving on to Clyde in August 1900. Within three months he had been snapped up by English First Division giants Sunderland. The Black Cats gave him his first team debut at centre-forward against Sheffield Wednesday on 8 December 1900. Sunderland won 1-0 and though he only played twice more that season he was a regular in 1901/02.
He played in 31 of the Wearsiders' 38 League games as they won the League championship. His first goal in Sunderland colours came on 28 September in a vital 1-0 victory at Newcastle, who ended the season third. His total of ten goals left him joint top scorer with England international Billy Hogg.
It was reported that "While not as commanding as their 'Team of All the Talents' of the mid-90s, Sunderland have won their first League title for six years. And again they have done it by packing their side with Scots, regularly fielding a team with at least nine men from across the border ... Only Everton have provided any kind of challenge to the new champions. But with games in hand, Sunderland kept their noses comfortably in front, and their 3-0 victory over Bury has clinched the title with ten days of the season remaining."
From then on, Gemmell was a Sunderland stalwart, monopolising the inside-left position.
The Roker club came close to the title again in 1903, though Gemmell missed the vital run in. He was not in the Sunderland side that went to St James' Park on April 25 for their last game of the season knowing that a win would ensure they retained the title. Unfortunately they lost 1-0 and Sheffield Wednesday, having finished their programme the week before with a 5-1 win against West Bromwich, secured the championship.
In May 1907, after 43 goals in 176 League and 14 Cup games for Sunderland, Gemmell joined Stoke, just relegated from the First Division.
He scored twice in his 11 appearances for the Potters in the first three months of a season during which, despite finishing tenth, they went into liquidation and lost their place in the League. Claiming 'family reasons', Gemmell fled back north and signed for Leeds City on 29 November 1907.
He tasted instant success at Elland Road, scoring on his debut in a 4-2 defeat at Oldham a day after he was signed by City secretary-manager Gilbert Gillies. Wanderer reported in the Leeds Mercury: "A good deal was expected of Gemmell, who was transferred from Stoke on Friday, but it must be said that he was rather disappointing. He was not quick enough and allowed himself to be robbed of the ball on several occasions. Of course, one cannot really judge a man on the form shown in one match - especially when playing in what might be described as a swampy mess - and he will perhaps give a better account of himself on future occasions."
A couple of weeks later, the same Wanderer noted distinct improvements. "Gemmell has undoubtedly done a good deal towards strengthening the quintet. He is by no means a showy player, and a lot of his work might pass unnoticed to the casual observer. But, watching him closely, one is struck by his general utility and untiring exertions. Cool and level headed, he knows what to do at the right moment, and is not often at fault in his passing."
He ended the campaign with three goals in 16 appearances and the following season returned 8 in 28. He started well in 1908/09, with the Yorkshire Post reporting that "Gemmell, for one, was again in fine form, particularly in the first half, and he has but to maintain the energy he has shown in these two opening matches to justify the good reputation which he had when he joined the Elland Road organisation."
He scored a hat trick in the 5-2 defeat of Cup-holders Wolves on December 12, with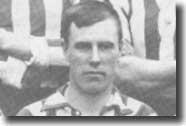 another fierce shot leading to a fourth goal by Dickie Guy after Wanderers keeper Lunn failed to hold onto the effort.
Gemmell earned particular praise for his contribution in the FA Cup reverse against West Ham in February. Wanderer: "The pick of the forwards, and, in fact, of the whole twenty-two players on the field, was Gemmell. I have never seen him play better football. Exceedingly tricky, and making good use of his weight, he was always a thorn in the side of the West Ham men, and if not going for goal he was back helping the half-backs to keep the Londoners at bay. A great feature of his work was his untiring energy. He never gave in, and if robbed of the ball he was after his man in a trice, and not infrequently succeeded in gaining possession again."
Towards the end of the season, Gemmell had a brief spell as City captain, and he was once more a mainstay of the team in 1909/10, though he lost his place in the closing weeks and departed in May to rejoin Sunderland.
He was past his peak and only played 38 games for the Black Cats over the next couple of years, eventually moving back to Scotland with Third Lanark in April 1912. He joined West Stanley as player-manager in July 1913 and ended his career with the club.
Gemmell is rated Number 34 in the list of the 100 best Sunderland players of all time by A-Love-Supreme.com, the independent Sunderland fanzine.
His son, James junior, played left-back for Southport and Bury in the 1930s and 1940s, appearing more than 250 times for the latter.