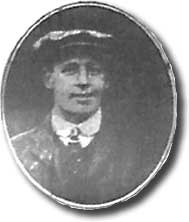 Born: Madeley, Shropshire, 4 August 1877
Dickie Guy was a tricky winger who began his career with Manchester City, but he made few headlines with the Mancunians. In the summer of 1903 he signed for Bradford City, following their election to the Football League.
He had the honour of scoring the Bantams' first goal in Second Division football, during their 3-1 defeat at home to Gainsborough Trinity on 5 September 1903. According to the Bradford Daily Argus, the goal was greeted with "a shout which awoke babies on the distant hillsides of Bolton and Eccleshill".
Unfortunately that was about as good as it got for Guy at Valley Parade. It was his only goal in six appearances before he moved on to Hastings and St Leonards.
In May 1908, Guy was recruited by new Leeds City manager Frank Scott-Walford. He was one of a number of men signed that summer by Scott-Walford, nearly all of them from clubs in the South.
Guy's first appearance for Leeds came in the third game of the campaign, a 2-0 defeat of Hull City on September 12. He laid on one of the goals for Adam Bowman with a fine cross and, according to Sportsman in the Leeds Mercury, it was "an exceedingly promising debut".
Possibly his best performance for the Peacocks came on 12 December in the 5-2 defeat of Wolverhampton Wanderers, when he scored his first goal. Linesman in the Mercury: "It was indeed a fortunate circumstance that led to the re-inclusion of Guy. Guy had already figured in the team without accomplishing anything brilliant, but he seized his opportunity on Saturday with both hands (and feet), and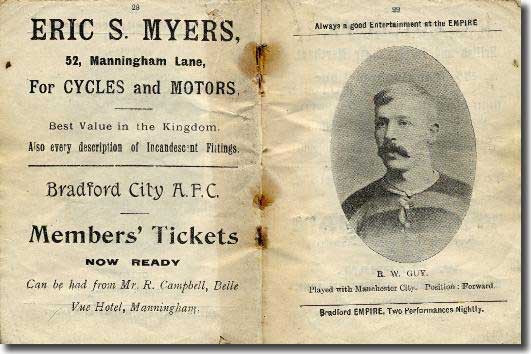 showed so much dash and skill as to make himself the most outstanding forward on the field. So big a part did he play that he had a large share in all the five goals scored for Leeds City. The three that were got in the first half were almost the direct result of his centres.
"In view of Guy's performance, the problems of the Leeds City right wing would appear to be solved, for the fair haired outside-right undoubtedly earned his place, and it is to be hoped he will keep it."
Despite that success, Guy had an inconsistent season. He scored four goals in 18 League and 4 FA Cup appearances and moved on to Portsmouth at the end of the campaign. He later returned to Hastings and St Leonards.