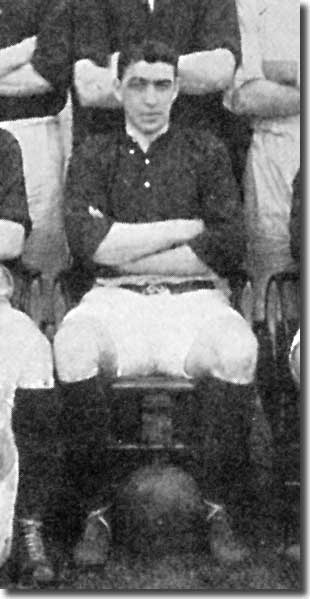 Born: Forfar, Angus, 4 August 1880
Adam Bowman was a much-travelled centre-forward who enjoyed a brief spell at Leeds City in his late 20s.
Bowman served his footballing apprenticeship in Scotland with St Johnstone and East Stirling. In the summer of 1901, he moved south to sign for First Division Everton, but struggled to break through into the first team.
His debut came at inside-left in an FA Cup-tie at Anfield against Liverpool on 25 January 1902; Bowman thus became the first and last Everton player to make his debut in the Cup against their Mersey rivals. The Blues earned a 2-2 draw.
In March 1903 Bowman was transferred to Blackburn Rovers, who saw him as the solution to their lack of goals in a relegation dogfight. Bowman came straight into the side for an Easter Monday contest away to his old club and scored twice in a shock 3-0 victory. That same week he added two more in a 3-1 defeat of Newcastle. In all, Bowman scored five goals in seven appearances during the closing run as Rovers survived, sending Grimsby Town in their stead.
Tony Hill: "Rumours began to circulate that Blackburn Rovers had bribed Everton players to lose the game. Officials at Grimsby lodged an official protest and the FA decided to hold an inquiry into the game. A report by the FA claimed that there was evidence that the Blackburn Manager, Joseph Walmsley, had tried to arrange a win for Blackburn Rovers. However, they believed that the Everton players had not taken any bribes and that the final League standings should remain unaltered. Walmsley was immediately banned from having any further involvement with football."
In 1903/04 Bowman netted seven goals in seventeen games and the following season was top scorer with 13 in 31 appearances. He repeated the feat in 1905/06 with fifteen strikes in 32 matches. These feats could not revive Rovers and, despite the club bringing in a number of expensive signings, they continued to struggle at the lower end of Division One.
In May 1907, Bowman dropped into the Southern League when he signed for Brentford. He was only at the London club for a season but notched 22 goals in 30 games, form which attracted the attention of new Leeds City manager Frank Scott-Walford, who signed him up in May 1908.
Scott-Walford, censured whilst in charge at Brighton and Hove Albion for some disreputable moves in the transfer market, was criticised by the League Management Committee for his part in the Bowman deal. The minutes recorded as follows: "In accordance with the resolution passed at the previous meeting, F Scott-Walford of Leeds City, attended, and reported that he had arranged with Blackburn Rovers for the transfer of Bowman. The Committee expressed strong disapproval of the line of action pursued by F Scott-Walford in regard to the steps taken to obtain the transfer, and administered a caution."
Bowman showed up well in pre-season trials for City, snatching a hat trick as the prospective first team beat the reserves by five goals to nil. The Mercury reported that he "was repeatedly in evidence, and proved himself a deadly
shot, who should do much to remedy the old weakness in front of goal." Bowman appeared at centre-forward with Billy McLeod partnering him at inside-left, but for the most part that season it was McLeod who led the line.
After playing in seven of the first ten games, Bowman lost his place and made only another eight appearances in the League, registering six goals. He was brought into the side for the FA Cup game against West Ham in February and scored as City lost 2-1 after extra time.
After failing to establish a first team place, Bowman departed for Portsmouth in November 1909. He then moved back to his native Scotland for periods with Leith Athletic and Forfar, where he captained the side and was converted to centre-half. In March 1912 he came back to England for a period with Accrington Stanley before retiring.