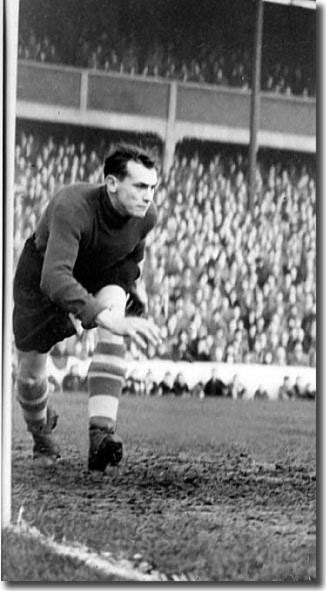 Major Frank Buckley's Elland Road revolution had started to bear fruit in 1950, when Leeds United ended the season in a promising fifth place spot in Division Two. He was already a fair way through a rebuilding programme that had started a couple of years earlier when he arrived from Hull City and most of the summer months were spent pruning more dead wood.
Buckley received £15,000 for half-back Tony Ingham and forward Eddie McMorran. He also divested himself of half-backs David McAdam, Dennis Kirby and Tom Casey, full-backs Eddie Bannister and John Williams and forward Joe Hilton during the summer. David Cochrane played a couple of games at the start of the season but then retired during October. Buckley's only import of any significance during the summer was Workington Town keeper John Scott.
Of the players that Buckley used in 1950/51, only Jim Milburn, Jimmy Dunn, Len Browning, John Charles, Jim McCabe and Cochrane had been there two years previously when the new manager arrived. Interestingly, though, apart from Cochrane, they were all key figures in his team. McCabe and Milburn were the old men of the side, at 31 and 30 respectively. Buckley had assembled a young and vibrant new side, which confidently went about their work.
They kicked off well enough when two Frank Dudley goals and another from Browning resulted in a 3-1 opening day victory at Elland Road against Doncaster Rovers. The crowd was in excess of 40,000 and was excited by what they saw. The visit two days later to Coventry City ended in a 1-0 defeat, but Leeds bounced back strongly with a 2-1 win at Brentford and then got their revenge against Coventry in the return at Elland Road, when they won 1-0.
Buckley had now got a half-back partnership to rival the legendary Edwards-Hart-Copping line up of the Thirties and Eric Kerfoot, John Charles and Tommy Burden made a good unit. Peter Harrison came in on the right wing for David Cochrane after a couple of matches. He was not the player that Cochrane had been, but did well enough, while Harold Williams on the left wing provided excellent service to the striking duo of Browning and Dudley.
After the win over Coventry, Leeds had a setack, losing three games in a row, and had a poor autumn. They enjoyed a wonderful 5-1 away to Leicester on 11 November, thanks mainly to a Dudley hat trick, but that was only their 6th win out of 16 matches played and it looked like they were set for a bottom half position, or mid-able at best.
Their form started to improve, however, from December on and they climbed steadily up the table. They beat Birmingham 3-0 at Elland Road on 2 December and came away from a trip to Doncaster with a 4-4 draw, before putting together a nice little run around the turn of the year. They beat West Ham 2-0 on Boxing Day, won 1-0 against Middlesbrough in the FA Cup third round, saw a Browning hat trick make the difference in a 5-3 win against Southampton and won 2-1 away to Burnley thanks to a penalty and an own goal. A 4-0 thrashing away to First Division giants Manchester United in the fourth round of the Cup ended their winning streak, but Leeds bounced back to beat Yorkshire rivals Sheffield United on 3 February. Making his debut in that match was Ernie Stevenson, who had arrived at Elland Road days before in a swap deal that took Frank Dudley to Southampton. Stevenson, like Tommy Burden, had been a junior player with manager Buckley in his Wolves days. Leeds were now eighth, eight points behind clear leaders Preston and four below second placed Coventry. At the beginning of November they had been fourteenth.
A week later, Leeds lost 2-1 at Blackburn, but Stevenson then scored in the next two games as away wins were achieved at Luton and Bury. March went badly, however, and the side were knocked back on their heels by a run of 5 games without a win. Injuries to Stevenson and Browning left Buckley short of options up front and he opted to play Charles at centre-forward with Burden alongside him in the Easter Saturday match against Manchester City at Maine Road. Charles never got a kick as Leeds went down 4-1, but he held his place for the match against Hull City at Elland Road on Easter Monday. He
scored twice, with another from the returning Stevenson, in a 3-0 win. Charles missed the next match when two goals from Burden at centre-forward were enough to beat Leicester and reverted to his No 5 shirt for a goalless draw at Notts County on April 7, but he got the only goal of the game on 14 Aprilwhen Leeds beat Grimsby.
Leeds then proceeded to win their last three games of the season without conceding goal to stretch their unbeaten run to seven matches. The run had seen them climb the table to finish fifth, the same as the previous season. They were again just four points off promotion, but could not have done more over the closing six weeks. They had dropped back to 13th at the beginning of March, so their final rally had seen them achieve a quite respectable closing position.
The Elland Road attendances had fallen back from their heights of the previous season and the average was down by 5,000 to 27,000, but they twice pulled in crowds of more than 40,000, first on the opening day, and then 42,114 fans came to see Leeds try to beat high-riding Preston on 3 March. The Lancashire team had the brilliant Tom Finney in their side and won 3-0, one of the highlights of a season which saw them regain the First Division place they had lost in 1949. They ended the season as Second Division champions, five points clear of runners up Manchester City and nine above Leeds.
There was some disappointment that Leeds United had not made greater strides, but that wonderful closing run had given a great deal of hope for the future.
Other Football Highlights from 1950/51
Second Division champions Tottenham Hotspur took Division One by storm under manager Arthur Rowe with their push and run style. Spurs won eight games in a row in the autumn and kept the momentum going. They made sure of the title, the first in the club's history, in April with a match still to go
The transfer record was broken twice in swift succession. First Sunderland paid £30,000 to Aston Villa for centre-forward Trevor Ford. Shortly afterwards Jackie Sewell moved from Notts County to Sheffield Wednesday for £34,000
Wor Jackie Milburn, Newcastle United's star centre-forward, hit both their goals at Wembley as they beat Blackpool 2-0 to win the FA Cup for the fourth time. Stanley Matthews had played his heart out for the Seasiders and at times seemed to be taking on the whole Newcastle defence by himself, but it was all to no avail
Leslie Compton became the oldest player to make his debut for England when he played against Wales aged 38 years and two months
Preston equalled aleague record by winning their fourteenth successive match in the Second Division in March as they strode to the title
The two sections of Division Three were each increased to 24 clubs
England continued to struggle following their humiliation in the 1950 World Cup finals by drawing 2-2 at home to Yugoslavia, who thus became the first continental team to draw a full international in England. They then lost the decisive Home International match 3-2 to Scotland and had to come from behind to beat Argentina