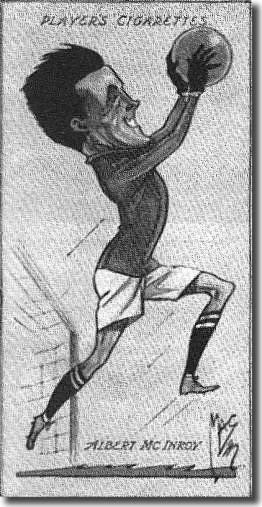 New Elland Road boss Billy Hampson had to preside over an end of season fight against relegation when he joined United in March 1935. Leeds United managed to survive comfortably enough in the end, but had struggled against teams in the relegation zone over the last two months of the season. Hampson was inexperienced as a manager (he had spent five years with lowly Carlisle and Non-League Ashington), but he had lengthy years of football behind him and he recognised that changes had to be made to the side.
During the summer he engineered a major turnover of personnel at the club. Out went forwards Harry Roper, Bert Worsley, Joe Firth and Johnny Mahon, keepers John Daniels and Stan Moore, and reserve centre-half Charlie Turner. He brought in newcomers, mainly from the lower Leagues, in centre halves Bob Kane and Dominic Kelly and forward Jimmy Carr, but he made a couple of notable buys in experienced former England internationals Albert McInroy and George Brown.
Goalkeeper McInroy was 34 years old and had played for Newcastle (winning the FA Cup in 1932) and Sunderland (in two spells, either side of his time on Tyneside). Brown was a 32 year old centre forward who had led the Huddersfield Town attack as they swept all before them during their dominance of English football in the Twenties. He scored 142 League goals in eight years at Leeds Road, with 35 of those coming in 1925-26 as Huddersfield secured the third of their three titles in a row. He had moved on via Aston Villa to Burnley when Hampson signed him.
Hampson went on signing new players through the autumn: he bought winger Sammy Armes from Blackpool, a player he had with him at Carlisle; he paid £1,500 to Derry City of Ireland to secure wing-half Bobby Browne, the first of a number of young Irishmen he signed for Leeds; and he revisited Ashington to enlist two of his former charges, centre-forward John Trainor and 16-year-old full-back Jim Milburn, uniting him with brothers George and Jack at Elland Road.
A bluff character, Hampson had a reputation for fair dealing, and continued grooming one of Dick Ray's notable proteges, right-back Bert Sproston, who had made his debut two seasons earlier and won the first of 11 England caps in October 1936. Sproston was a versatile, stylish defender but chronic lack of funds forced Leeds to sell him to Tottenham in 1938 for £9,500. It was a depressingly familiar story.
George Milburn had now been ousted from the side by the emergence of Sproston, but brother Jack had a remarkable year. He was now the club's established penalty taker and had slotted home six the previous year, but in 1935/36 he contributed an unprecedented 9, including three in successive games during October.
McInroy was put straight into the team and missed just one match all season. Willis Edwards was still Mr Dependable at right-half, but Ernie Hart played only four times, with Jock McDougall and Bertie Kane competing all season for his No 5 shirt. Bobby Browne was the regular left-half following his arrival in October and in the forward line George Brown, Jack Kelly, Billy Furness and Tom Cochrane were regulars, being variously partnered by any one from Harry Duggan, Arthur Hydes (injured for much of the season), Sammy Armes, Eric Stephenson and the outgoing Johnny Mahon and Mick Kelly.
It was goals that were the problem in the early part of the season. Jack Milburn's first penalty came in the 3-1 opening day defeat at Stoke, and Hydes was the only other scorer in the first five matches, netting a consolation during a 4-1 drubbing by Blackburn at Elland Road. The only point from those five games came in a goalless draw at home to Birmingham, who had themselves narrowly avoided the drop the previous year. Hydes was injured in the Blackburn game and only played once more before April.
George Brown came in for Hydes at that point, but was quite slow getting off the mark, scoring just once in his first seven matches for the club. Indeed, following the draw with Middlesbrough on October 19, amazingly, Jack Milburn was the leading scorer with five goals. By now, however, Leeds were starting to settle down. They had managed a couple of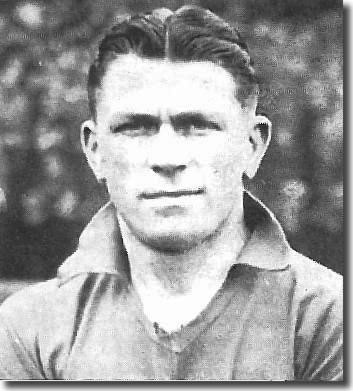 victories and were unbeaten for six matches. They beat Aston Villa 4-2 in their next game with Brown and Jack Kelly getting two apiece. They were starting to climb away from the basement.
The next game, away to Wolves on November 2, saw a 3-0 defeat, but Leeds then put together another unbeaten spell, this time of six matches, commencing with a 7-2 romp over Sheffield Wednesday, inspired by a hat trick from Duggan. Duggan got another in a 5-2 thrashing of Bolton, and Brown was now finding his form with two in the Bolton win and then one in each of the next two matches.
United's early season jitters were now well behind them and even two successive defeats in Christmas week could not halt their rise as they then won four of the next five League games and started the annual Cup campaign. They needed a replay to beat Wolves in the third round, but saw off Bury at the first attempt in the fourth. The FA Cup curse that seemed to afflict the club continued, though, when they crashed out 3-1 in the fifth round at Second Division Sheffield United. Leeds had reached the same stage three times in six years, but gone out each time, twice to opposition from the lower divisions.
Their league form was holding up well, however, and even though they continued to lose too many matches away from Elland Road, the side were heading for a comfortable 11th place finish. They were never in the running for the title (Sunderland romped home by a clear 8 points), but even winning just one point from their final two matches (which included a 5-0 disaster at Preston North End) left them six points clear of relegation. If they had taken maximum points from those last two matches, they would have finished seventh.
After the gloom of the previous year, it was a heartening improvement for Hampson in his first full season. Crowds had started to pick up too, and it was the first time in six years that the average attendance at Elland Road had bettered 20,000.
Other Football Highlights from 1935/36
Arsenal centre-forward Ted Drake had a tough time with injury, but still managed to hit seven goals in one match away to Aston Villa in December. He also scored the only goal in the Cup final against Sheffield United to secure the Gunners' sixth trophy in seven years
Joe Payne went even better than Drake when he hit ten goals in Luton's 12-0 victory over Bristol Rovers in the Third Division South match in April. Payne was a reserve wing-half and only played up front when Luton's regular centre-forward and his deputy were injured
A record league crowd of 82,905 saw Chelsea draw with Arsenal at Stamford Bridge on 12 October
Aston Villa and Blackburn Rovers, founder members of the Football League, were both relegated from Division One for the first time